We first launched in February 2002 as Social Enterprise magazine – the first magazine in the world dedicated to social enterprise and social entrepreneurship.
Social Enterprise was originally a printed publication, published every month, at a time when it took minutes, rather than seconds, to send an email and when smartphones and tablets didn't yet exist.
With the onset of the digital revolution and subsequent rise in online media, we also went online – first as Social Enterprise and then under our new brand, Pioneers Post. Over the years the ability to source and share content digitally has helped us to develop a global following – and digital content continues to be our key focus.
But back in 2015, we had an 'itch' to try out a printed publication again, so decided to launch a quarterly magazine. We loved producing the quarterly, though ultimately it didn't make sense to continue when digital could offer so much more – both for the opportunities it offers for producing and sharing multimedia content, and for the positive impact we can make through sharing our content more widely.
Launching Pioneers Post Quarterly
The very first issue of Pioneers Post Quarterly was launched in 2015, in the blistering 35 degree heat at the Social Enterprise World Forum in Milan, Italy. Delegates of the forum were caught sipping on a refreshing drink whilst flicking through the pages of the new magazine, which includes an exclusive interview with Professor Muhammed Yunus. The Nobel Laureate famed for his work as a pioneer of microfinance reflects on the progress make on an ambition he revealed nearly 10 years ago to put poverty in a museum. 
To see all editions of Pioneers Post, click here.
Also featured in the first issue is an interview with the executive chair of one of the most successful social enterprises in the world – The Big Issue. Nigel Kershaw OBE takes us on a London taxi ride to the places that hold special value to him around the UK Capital – and talks through his social enterprise journey, in the first of our Black Cab Interviews.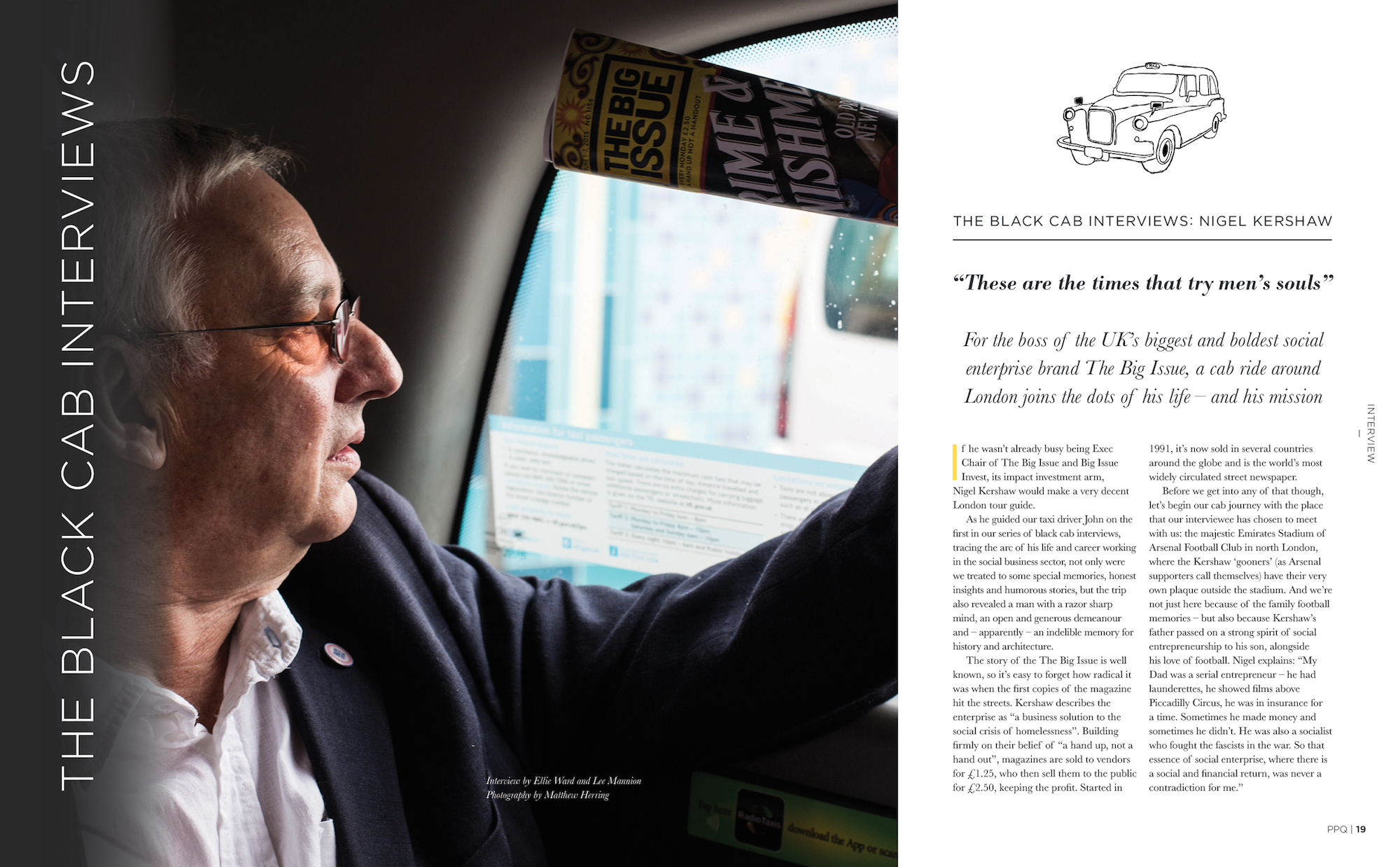 Love for the new publication has been felt in the Twittersphere:
James Taylor from Bridges Ventures tweeted:
"Loving the new @PioneersPost quarterly. Bravo for doing a mag in the first place; bonus points for doing such a nice-looking one."
Meanwhile, the CEO of the London Early Years Foundation, June O'Sullivan MBE, posted:
"First edition of @PioneersPost #socent magazine. Delighted it's reappeared. Love interviews with @nigelkershaw @Mohammedyunus @OnPurposeUK."
And lastly, the stars of this issue's review section We Walk the Line wrote:
"So proud to get 5* Review in the first print edition of @PioneersPost  #coffeewithaconscience #buysocial".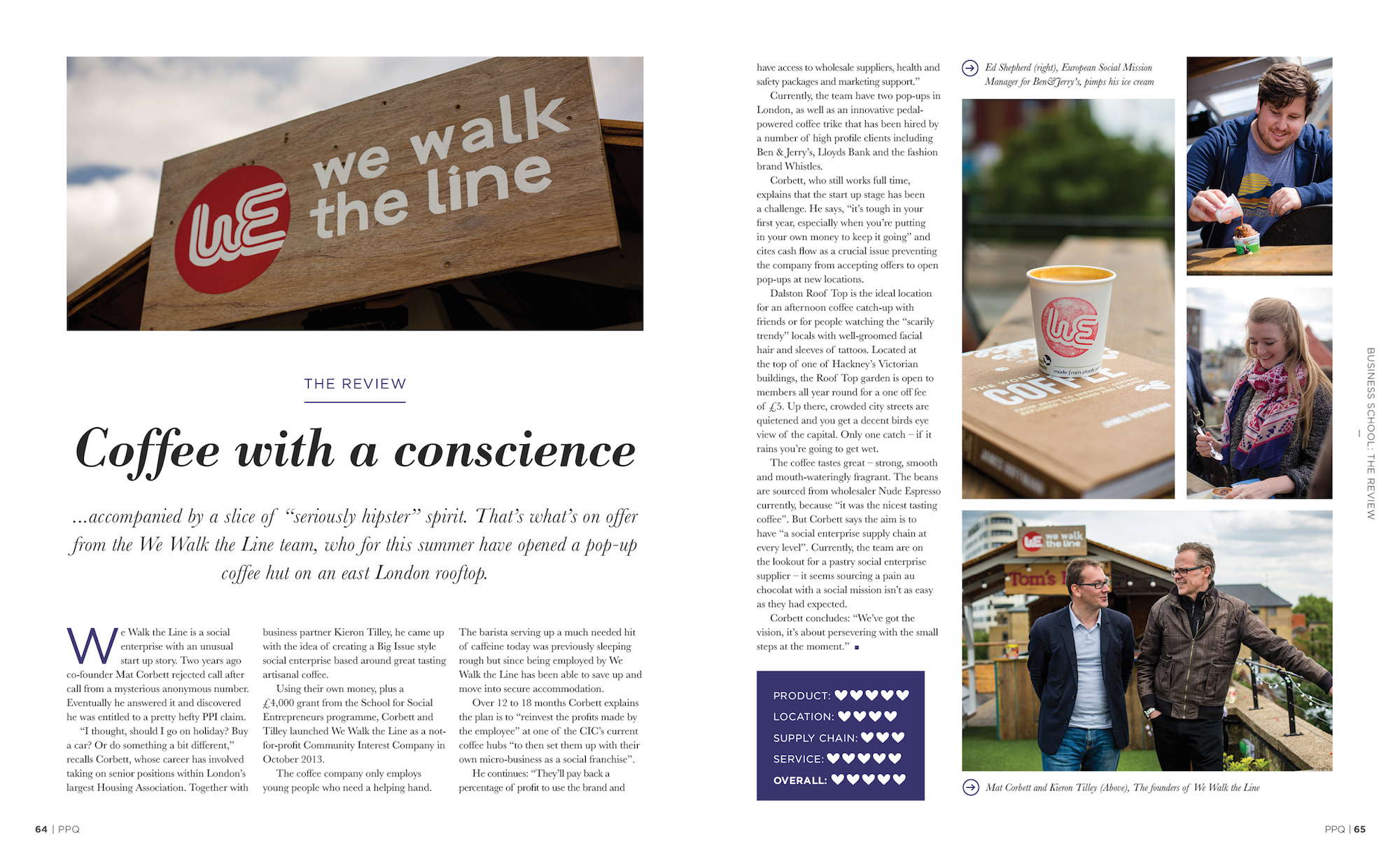 Purchase a back issue
In 2020 we decided to fully focus on our digital content, and for the foreseeable future we are no longer producing a quarterly print magazine.
If you'd like to purchase a back issue, please get in touch (hello@pioneerspost.com).
Pioneers Post is a social enterprise itself – committing all profits to the production of brilliant news, views, features and analysis across the global social innovation space. We rely on your subscriptions to keep the good news going! To find out more about subscribing, click here.