Biting the hand that feeds: a new era of social enterprise
Does too much focus on operating in the political middle ground prevent the UK's social enterprise sector from reaching its full potential? And has Russell Brand got it right by using his newly opened social enterprise in east London to make an "overtly political" statement? UnLtd's Stephen Miller explores the issues.
Social entrepreneurship – uniting the social values of the Left with the market logics of the Right – offers an attractive option to all political parties. Indeed this is sometimes one of its strengths, but it can lead to compromises having to be made, and many social entrepreneurs will acknowledge it is often unwise to bite the hand that feeds.
It has also been noted by a number of commentators recently that social entrepreneurship serially avoids politics, often positioning itself as an 'ideology free, no politics zone'.
But does occupying the political middle ground prevent social entrepreneurship from reaching its full potential? Could a new social enterprise in East London point towards a new type of social entrepreneurship – one which isn't afraid to bite the invisible hands of state and market, and has partisan, political activity at its core? 
New era, same old scandal 
I live next to the New Era estate in Hoxton, where 93 households were recently saved from eviction, in part helped by support from comedian-come-political activist Russell Brand.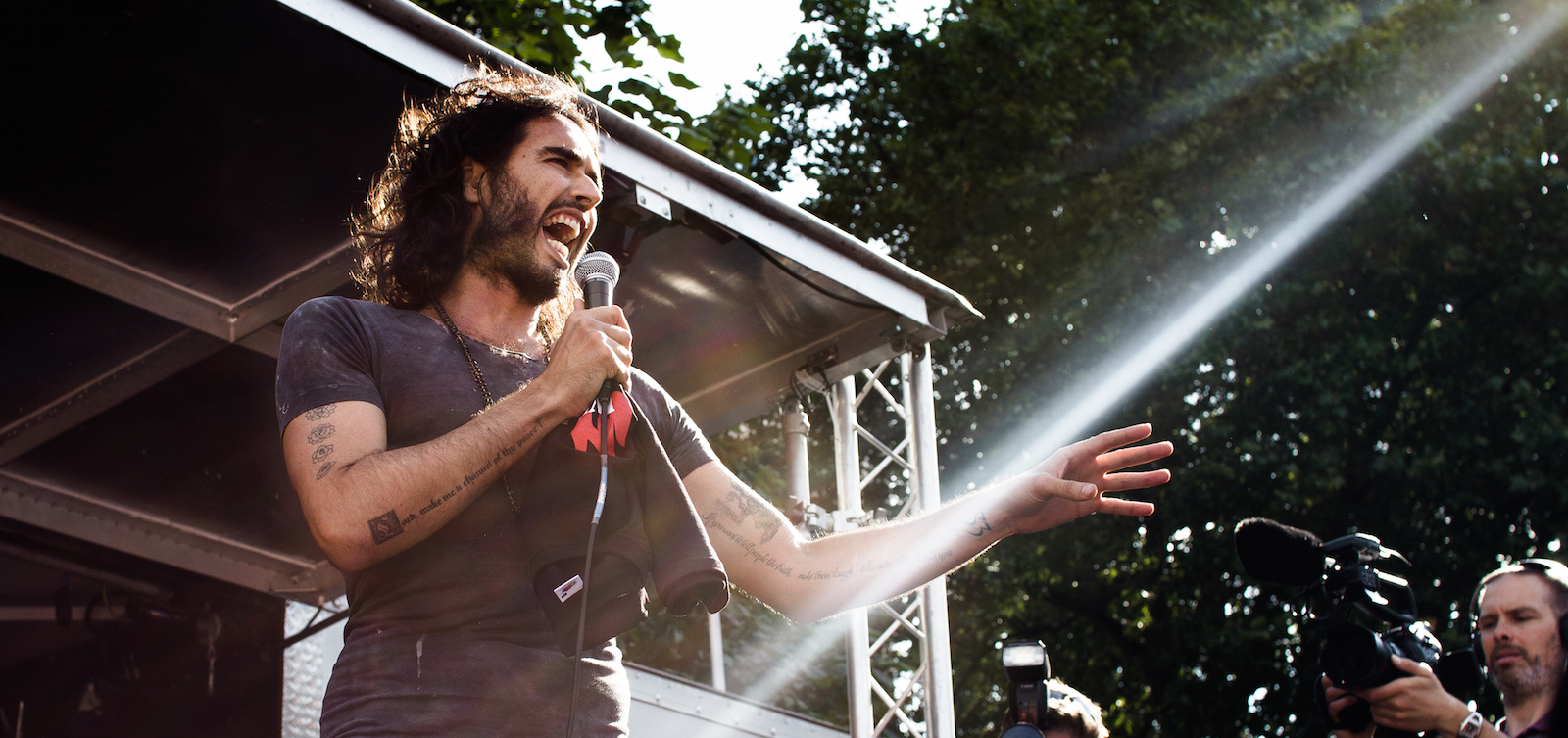 Russell Brand. Photo credit: D.B. Young
After their whole housing estate was sold out from underneath them to American fund manager Westbrook Partners in 2014, New Era residents faced the prospect of their rents trebling. Hackney Council estimated that this would have resulted in 'enforced homelessness' for at least half of the households. This is a scandal which is happening across London. 
But recently speaking to one of the local residents, they told me the key elements in their fight against Westbrook Partners was not having just one charismatic leader, but rather three women from the estate, who successfully got the weight of a wider network behind them.
Not only were New Era residents able to organise themselves, they gathered support from the local community and beyond, with 300,000 people signing a petition calling for rents to be kept at affordable levels, a number of senior politicians eventually waded in, including Labour MPs Dianne Abbot and Sadiq Khan, and even public sector workers Stateside threatening to withdraw their money from pension funds managed by Westbrook Partners. 
Just before Christmas the estate was sold to the Dolphin Square Foundation, a charity dedicated to providing affordable homes for low and middle income Londoners. Following this, in March 2015, the Trew Era café was opened, a social enterprise staffed by former drug addicts, initially funded by profits from sales of Brand's book 'Revolution'.
The café plans to raise a segment of its income through the crypto-currency 'StartCOIN', which describes itself as 'a crowdfunding platform designed to change the way wealth is distributed and used'. Thus a social enterprise forged in the heat of political activism continues its journey, in part using technology which is overtly political in both its design and application.
Using Tech for good
Trew Era customers are actively encouraged to join the StartCOIN platform, given a free scratchcard providing a first few Startcoins. The most active users are rewarded with further coins.
Brand outlined his vision for choosing this technology at the launch, telling The Guardian: "We'll start more and more of these social enterprises. Eventually, we will trade with one another in our own currency. We are going to create our own systems, our own federations, our own currencies, our own authorities... Politics is dead, this is the end of politics".  
Whilst Brand's rhetoric may not be to everyone's tastes, what it points to is an interesting model of social entrepreneurship grounded in political philosophy. Whilst this isn't new, it is increasingly rare, and in Brand's case social enterprise is a vehicle for realising a form of 'anarcho-syndicalism', a political theory which emphasises direct action, direct democracy and worker solidarity.
The eventual aim of anarcho-syndicalism is to replace the whole economy with such organisations, resulting in the invalidation and thus dissolution of the State as we know it. This is what Brand means when he talks about the death of politics. 
Those familiar with the practicalities of social enterprise may find Brand's hyperbole naïve, yet this would be to miss the point about the potential of social enterprise and entrepreneurship, and the new form in which it is emerging'.
Change is being affected by groups of social entrepreneurs, rather than the lone wolf to which we have become accustomed, engaging with the political system as it currently exists, challenging the status quo and identifying and building credible alternatives, in part facilitated by the political application of technology.
This is a dramatically different vision of social entrepreneurship to that which has been peddled around the world since the 1990's. Perhaps it's time to show our teeth? 
Photo credit: Duncan C