Educating Greece: social entrepreneurship in the classroom and beyond
In a pioneering programme, Greek students are gaining the skills and knowledge they need to have a positive impact on the world around them.
What if a series of six, hour-long workshops could equip students all over the world with the life skills needed to be champions of equality, conscious consumers and confident enough to have a tangible, positive impact on the society they live in?
This is exactly what the Life Skills: Developing Social Entrepreneurs programme being delivered in schools across Greece right now aims to do.
Maria Nomikou, social economy project manager at the British Council in Greece, explains that the programme "focuses on real life issues that young people face" in order to achieve this Big Hairy Audacious Goal (BHAG).
The Life Skills programme, she says, "encourages young people to think for themselves, involves a lot of teamwork and allows them to participate more actively in the learning process, which is different from what happens in the traditional way of learning in school," in Greece.
The term 'life skills' refers to those skills that enable people to effectively handle issues and problems commonly encountered in daily life. For this programme, they are defined as:
Self-respect and respect for others
Communication
Social skills
Social innovation skills
The Life Skills programme, which is funded by HSBC, involves six teaching hours of workshop sessions, led by a specialised trainer, as well as additional support and a teachers' manual. This ensures that the school continues to build on the concepts taught and teaching methods used in the programme.
Topics covered by the programme include an introduction to the concept of social enterprise, studying the social, cultural and economic make up of the local area and planning a business model for a social enterprise.
Developing "conscious people"
Nomikou emphasises: "This is not a programme to develop social entrepreneurs specifically but it is about developing conscious people – consumers, employers, employees. That's the aim of the programme.
"In the end it doesn't matter if you go on to create a social enterprise or if you will work in a social enterprise… at least you will be aware that our actions have a social impact and that everything around us influences society and the community where we live. That is the most important thing, in our opinion."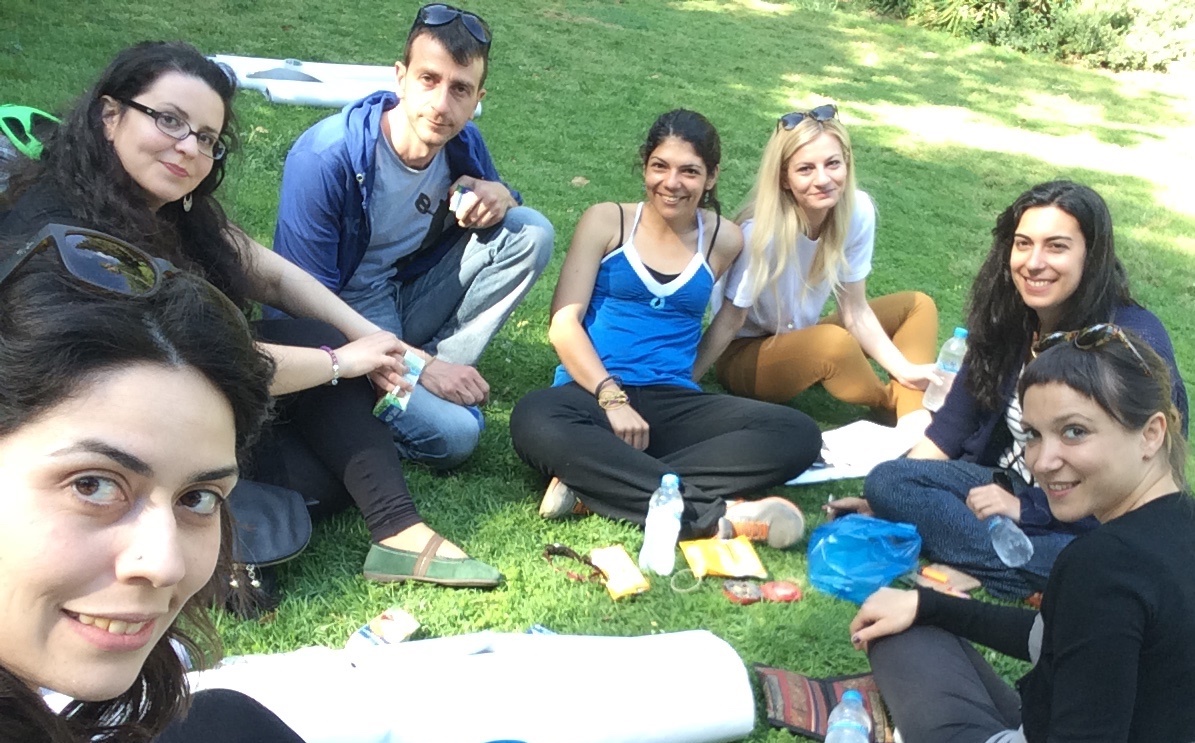 Teacher training in the park
Ioanna Dinou is a school advisor at the C' Athens Directorate, Ministry of Education in Greece. She says: "One of the best features of the programme is its manual, as it works as a compass, leading teachers to the right direction for each activity while it also allows them the flexibility to adjust according to the students' needs."
It doesn't matter if you go on to create a social enterprise or if you will work in a social enterprise, at least you will be aware that our actions have a social impact
There are currently 22 trainers across four cities implementing the Life Skills programme in Greece. It has so far been delivered in deprived areas and in schools for students with special needs. Nomikou says that her team is planning to deliver the programme in a prison as well.
"This way we reach a variety of students, although it can be challenging. For example, we work with some students with extremist beliefs. This is when you need to step back and start discussing what community means, as well as human rights and diversity.
"You need to spend time on developing and creating a basis where the concept of social enterprise can be introduced and built on afterwards," continues Nomikou.
A new concept for Greece
One of the other challenges has been the scepticism of some teachers. Nomikou says this is largely due to the concept of social enterprise being relatively new in Greece and not widely understood by the general public. "They say the word social and the word enterprise cannot fit together."
Despite these challenges, the Life Skills programme continues to grow. Over the pilot year of this version of the programme, trainers worked with 7,000 students directly and it is planned to reach 14,000 in total. The success of the first year means that the programme has already been rolled out in Armenia.
Another school advisor at B' Athens Directorate, the Ministry of Education, Varvara Petridou says: "What strikes me the most about the programme is that it creates a comfortable environment for people, students and teachers alike to express themselves and develop their way of thinking without suggesting solutions but by letting them reach them themselves.
"The main impact that the programme has towards the students and educators is that it allows them to think differently, to be active listeners and to put things into perspective, that of the common good, which is beneficial for every member of the society including themselves."
To find out more and watch a film about the Life Skills programme in Greece, click here.