RBS SE100 Awards: secrets of growth success
Edward Finch and Hugh Swainson from chartered accountants Buzzacott were two of the judges for the 2014 RBS SE100 Awards, which celebrate the UK's most impressive social enterprises. They explain why an excellent management team and sound business sense made Goodwill Solutions CIC the winner of the Growth Award.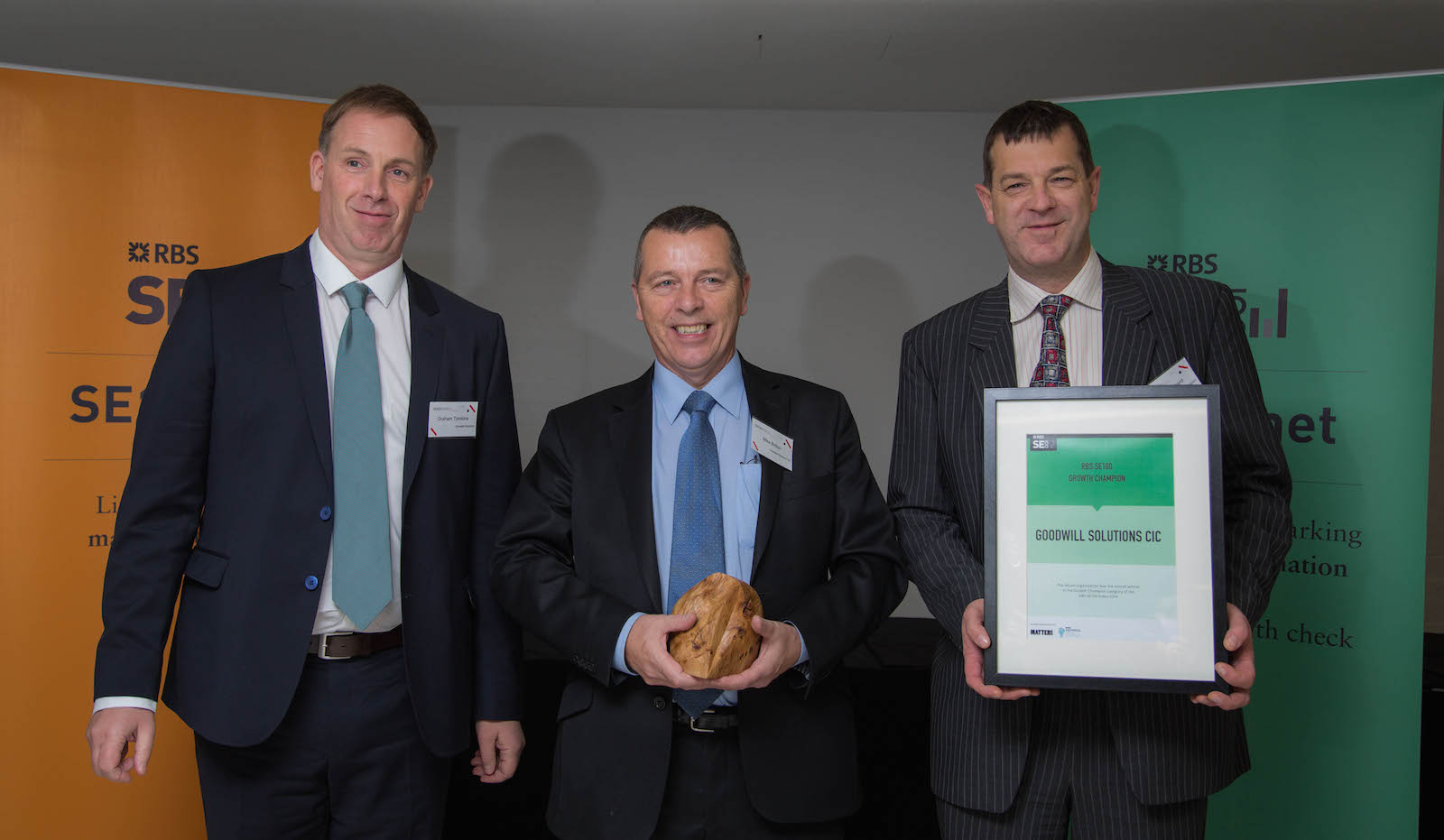 The Goodwill Solutions team receiving the SE100 2014 Growth Award
The success of Goodwill Solutions CIC in this year's SE100 growth category was driven by an effectively growing business model, ability to demonstrate social impact plus a passion for social enterprise. 
The growth category has thrown up dilemmas for the judges in recent years. Measured purely on year-on-year increases in turnover, many of the enterprises identified in the SE100 database have tended to be organisations benefiting from major but time-bound government employment or training programmes. Other examples have been start-up businesses with huge proportional growth but at very small overall levels of activity. 
Organisations that grew through the Future Jobs Fund or apprenticeships risk being here today and gone tomorrow. Many of the funds essentially pass through, rather than helping to create a sustainable business.  
Also, there are many organisations that have grown from a small income base, such as £1k turnover this year and £50k the next. But how can this be compared with an organisation that has grown from £10m turnover to £15m? 
The judges were delighted that a 'business first' enterprise such as Goodwill Solutions CIC came into the shortlisting process with a very strong growth story. The business grew from a marginal loss and £146,000 of turnover in its first year in 2009 to a turnover of £3.7m and a profit of over £50,000 in 2013. 
Although the social value creation was less obvious initially than for some of the other organisations considered in the category, the judges were impressed by the management team's articulation of the benefit of its Back to Work training programme in partnership with the probation service and local employers. Moreover, it was independently assured. 
Of note in this case is that the management team members, led by founder Mike Britton, have brought their extensive experience in the mainstream commercial sector and network of contacts to create a new business in their local area, employing those who can most benefit from training. 
This business credibility has also played a significant part in the ability of the team to create partnerships and attract investment including funds from the University of Northampton. It is a commonplace observation that it is people with proven successful business experience and robust financial projections that attract investment. Goodwill Solutions has also attracted investment and partnerships though applying these skills to its social impact model. 
Attracting investment presents more of a challenge for 'impact first' operations that might begin with a desire to address a social need (such as employability of offenders) or to generate profits to resource other unfunded work but without the core ability to establish a business. 
The lesson learned is that successful businesses are built on a platform of expertise and understanding of markets – the success of Goodwill Solutions was achieved by a team that had succeeded in a 'past life' making a conscious decision to structure their new venture to also deliver social value. 
Emerging social enterprises may have to find other ways to bring this experience into their teams to enable them to create vibrant and viable business models. One option is to pull in non-executive support at board level. Alternatively, social enterprises can benefit from introduction of experience and expertise from organisations such as On Purpose – established to facilitate cross-sector skill and experience transfers and helping to fuel business development in the sector. 
Buzzacott chartered accountants is based in London and provides specialist services for social enterprises, charities and not-for-profit organisations.
The SE100 Awards for 2014 were presented at Good Deals, the UK social investment conference in November. 
Header image: the 2014 RBS SE100 Awards
Photo credit: Matter&Co