Create your own content stream with Pioneers Post
Pioneers Post speaks to the leading innovators, entrepreneurs, investors and advisors who are building a better world through good business. Our audience range from social enterprises, impact investors, academics, charities, ethical businesses and policy makers. We reach 200,000 unique website visitors, have over 30K followerd on our social channels, and thousands of like-minded impact pioneers read our e-Newsletter being sent out every week. 
We can work with you to deliver bespoke, multi-platform campaigns to speak directly to your target audience. There are several partnership opportunities on offer. Content partnerships involve agenda-setting, high quality content, which puts your brand at the heart of the sustainable business agenda. Collection partnerships: we release Collection content regularly throughout the year, and we compile collections into one publication. This means our partners are regularly communicating with our audience through content significant to your services or brand.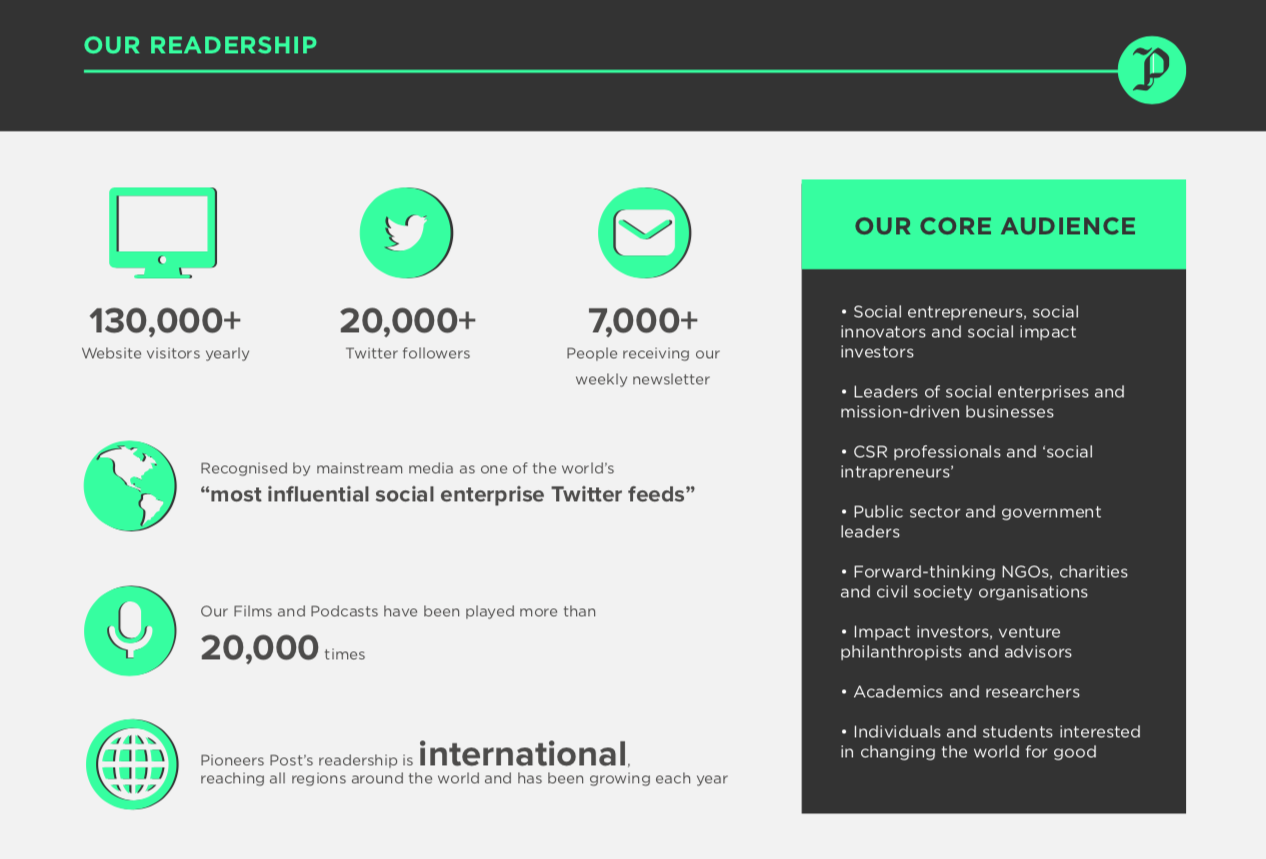 These partnership opportunities come in a variety of packages, which can involve various elements such as a set number of co-created articles, written with journalistic extpertise, online advertising, films that showcase your social impact and we can help promote your events or conference. To read more about these opportunities, please download our media pack below. 
Our website is designed to deepen user engagement, allowing our audience of decision makers throughout many of the most forward-thinking businesses, charities and governments interact with and understand your brand's position in the sustainable business arena. Showcase your expertise. Engage with our worldwide community of readers, thinkers and doers, committed to the power of social enterprise, impact investment an responsible business.
Pioneers Post is itself a social enterprise, with clear social aims and profits ploughed back to support our community of socially progressive readers. We strive to build the success of social businesses, to promote shared value, social responsibility and sustainability alongside entrepreneurship, innovation and business excellence.

For more information, please get in touch with Simone via simone@pioneerspost.com
Some examples of our partnerships: