Social investment: disrupting services to improve outcomes
If social investment provided the answer to austerity, "that would be fantastic". Jeremy Swain, CEO of London-based homelessness charity Thames Reach, talks pitching, building relationships with investors and making the case for social investment to board members.
Social investment is "disruptive" by it's very nature says CEO of Thames Reach Jeremy Swain midway through a hectic Tuesday afternoon in the office.
Thames Reach is a charity that helps homeless and vulnerable people off the streets and into decent homes. The London-based organisation aims to use innovative approaches to help these individuals build supportive relationships and lead fulfilling lives, and has been a leader within the UK charity sector in embracing new social investment models. 
Thames Reach outreach workers. Photo credit: Thames Reach
Having gained experience delivering payments by results public service contracts, Thames Reach received a £62,630 grant from the Investment and Contract Readiness Fund. This was managed by the Social Investment Business to fund the development of a proposal to attract investors and convene partnerships to fund large scale service provision through a social impact bond (SIB).
Structuring the SIB: lessons learnt
Jeremy and his team were involved in structuring the Greater London Authority's £5m SIB for rough sleepers, which started in November 2012 and aimed to help more than 800 people find secure places to live. Thames Reach and St Mungo's Broadway were both chosen as the service providers in the SIB, making them each responsible for improving the outcomes of approximately 400 rough sleepers.
Jeremy says: "We got increasingly enthusiastic about the bond as time went on… We liked the fact it was based on five outcomes metrics. We felt that the outcomes were sensible and that it was important that the outcomes were being assessed externally."
The big five: getting the right outcomes
To reduce rough sleeping in the capital
Help people move away from the streets, out of hostels and into sustainable accommodation
Helping to reconnect individuals with their families or services in their homeland
Helping people to find work, volunteering opportunities or vocational qualifications
Help people improve their health, manage their healthcare better and reduce admissions to A&E
The SIB structure means that the Greater London Authority pay investors when outcomes are achieved by Thames Reach and St Mungos. Investment came from a number of sources including a £250,000 loan from Big Issue Invest. Thames Reach also invested £250,000 themselves.
Jeremy explains that pitching to social investors was a new experience for his team, who had previously been used to talking with commissioners. He admits: "Frankly, we had no idea whether we could raise the £800,000 needed, but we did.
"You have to be of a certain scale and also be able to confidently talk about the way you deliver services."
Due to the nature of the social issue being addressed, it was a challenge to finalise outcome specifics, which are extremely important to investors. Jeremy says: "The numbers of people we were due to work with kept changing, which was incredibly confusing to some of the potential investors and meant getting the finances correct was incredibly complicated.
"In the end some of the people we'd been due to support didn't then need that support because they'd already been helped off the street. Meanwhile, new people had been added to the pool. 
"You could put together a really compelling case but if the finances are wrong it doesn't matter." Despite the challenge at hand, it was made easier by dealing directly with investors. 
Jeremy says: "We wanted to create a really strong collaboration that would exist not only during the time of the SIB for rough sleepers but long into the future."
Putting the social investment case forward
One of the biggest challenges for some charities looking to explore social investment is the lack of knowledge about it among board members.
By it's very nature, social investment is going to be disruptive... because essentially what you're doing is focussing on a group of people who have been failed by an existing system.
The Thames Reach board includes people, including its Chair, Ken Olisa – founder of boutique technology merchant bank Restoration Partners – who are very conversant with social investment.  However, other board members knew little about social investment and social impact bonds at the point when Thames Reach was engaging with social investors for the first time.
The CEO says that it was essential to "have a strong board" and also an unorthodox one "in terms of the fact they want us to take risks that are planned, measured and sensible".
Jeremy's tips for making a strong social investment case
Identify the burning platform. In the homelessness world what is absolutely stark is that the amount of money from central government, either in the form of grants or in terms of commissioning for work, is decreasing. So you have to look for money elsewhere.
If you can stay where you are so be it. But it isn't a growth strategy to stay as you are and won't help you increase the social impact your organisation creates.
By it's very nature, social investment is going to be disruptive in a good way, because essentially what you're doing is focussing on a group of people who have been failed by an existing system. We had to change our way of working internally to achieve the outcomes, behave differently, and find different routes off the streets for homeless people. It was also very disruptive externally for the existing commissioners because suddenly there was a layer of commissioning outside of their control.
If you want to do things differently and transform lives in a way that hasn't been achieved before, you need the disruption that social investment creates.
Addressing the critics
Momentum and rhetoric around SIBs is increasing globally, but many remain unconvinced by the model. In 2009, Civil Society reported on the criticism received by Thames Reach and St Mungos for their involvement in the SIB that was deemed too financially risky. 
The Thames Reach board concluded that even if they could not deliver on any of the five outcomes metrics, the amount they stood to lose was £200,000, "making it pretty low risk for an organisation with our level of reserves". Thankfully, the outlook is positive. The most recent report on the lessons learnt by Thames Reach through the SIB process found it was "on course for the SIB to break even" financially for the charity, "after payments to investors" have been made.
Jeremy says: "One of the great criticisms of social investment and social impact bonds is that the sector is giving itself another form of debt finance that other sectors have had to live with and deal with. The voluntary sector on the whole has escaped it, and here we are now creating a millstone around our necks called social investment. 
"I would battle against that notion because if you can get it right, you can get a surplus, and it brings in new partners. It is not a panacea but as an initiative it is very important."
At an event held at the School for Social Entrepreneurs earlier this year, former Labour MP Les Huckfield and CEO of Children England Kathy Evans said that the sector had got it wrong when it comes to social investment.
Huckfield said: "The way that you gradually withdraw public provision is to replace it by private or third sector provision wherever possible funded by private investment – that's what social investment is all about." Later Evans said that it is "flawed to think market forces" can replace the role of the state in some public services that support the most vulnerable in society.
Taking a different stance, Jeremy says: "If this was an answer to austerity that would be fantastic. In essence what we're trying to do is improve the lives of people who have fallen out of various systems.
"I just think we have to not be in any way ideological about this. In this country we have a very strong safety net in some areas – and I'd be the first to campaign to maintain that – but I think that any sense we're using vulnerable people as pawns is really unhelpful."
Assessing the outcomes
The Key Areas of Learning report on the outcomes of the SIB for rough sleepers finds that of the 415 people supported by Thames Reach, "67 remain on the street, with most people moving to temporary or settled accommodation". 
It also finds that "82 people have been able to sustain their accommodation for at least one year" and "30 have successfully taken up employment or volunteering opportunities". To download the report in full, click here.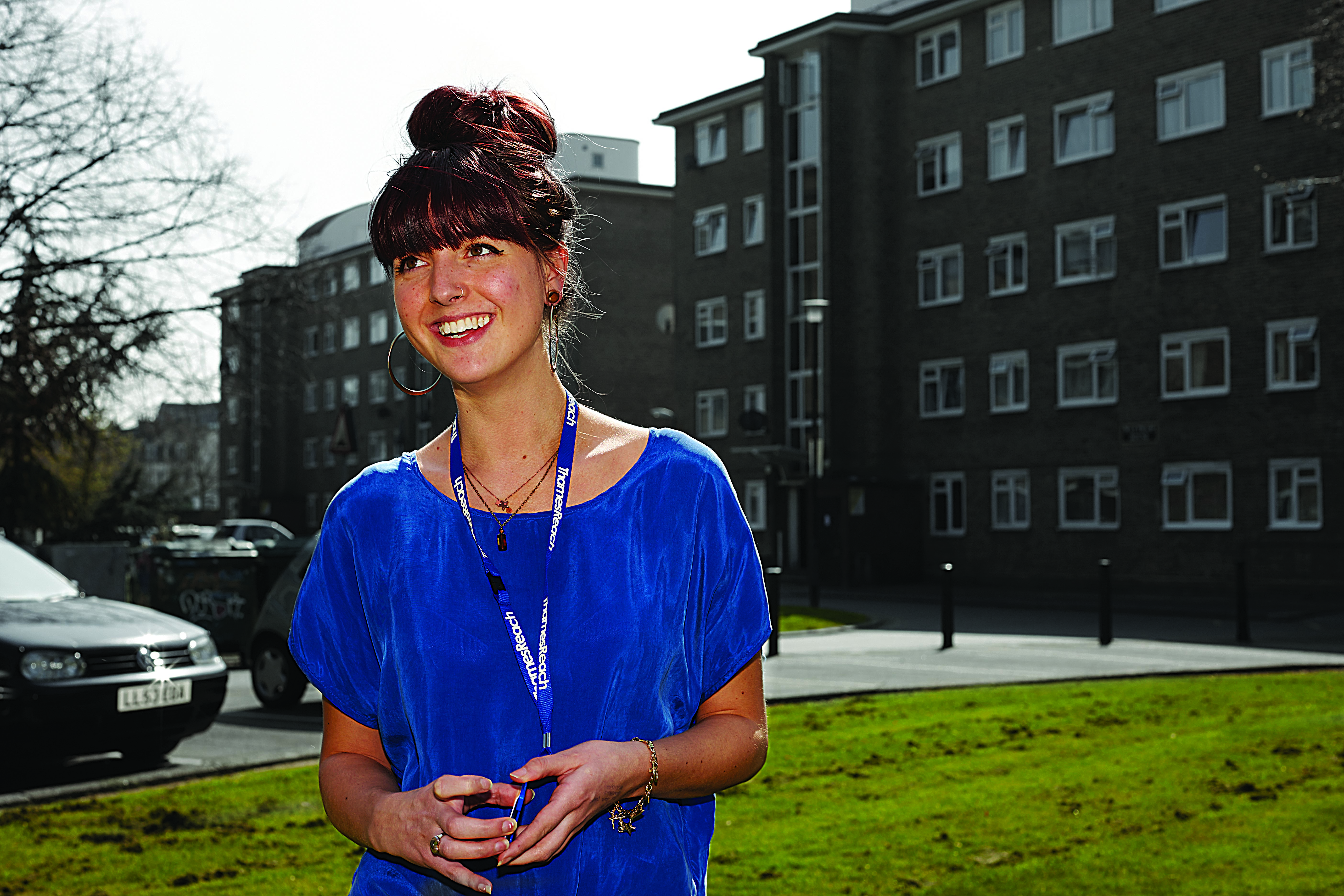 Robyn, Thames Reach staff member. Photo credit: Thames Reach
Header photo credit: Matthew Fern