Want your social enterprise to grow? Stick to your values
'Social businesses are thriving because of, not in spite of, a commitment to values.' Rob Drake-Knight and James Gray from Rapanui and uktshirtprinting.com explain why. 
Most would be forgiven for thinking that a career in social enterprise sometimes sounds more like altruism than ambition. After all, are not strictly-for-profit organisations by definition more competitive and faster growing than more charitable organisations?
Can social enterprises compete with purely profit driven businesses? According to a 2015 British Council report Developing a thriving social enterprise sector, social businesses are 20% more likely to be trading after 5 years than corporate startups. That's a remarkable statistic that says perhaps the assumptions are all wrong. And clearly there's something to be learned from social enterprises. Ask any social startup that has succeeded in outperforming their commercial rivals and they'll reveal a fairly consistent secret sauce. It's their values.
One in three UK customers are looking for a product with a positive social or environmental impact according to the UK Department of International Trade and values based businesses are tapping into this new kind of consumer.
So whilst many big businesses are operating on the business-as-usual assumption that consumers demand value and price, social enterprises see demand for values and principles. It's a big if, but what if purpose is part of the new profitability? What if big businesses have been caught napping?
And some social enterprises are helping traditional firms, including some of the biggest brands in Europe, take steps to becoming more sustainable. Uktshirtprinting.com is the B2B arm of award-winning fashion brand Rapanui.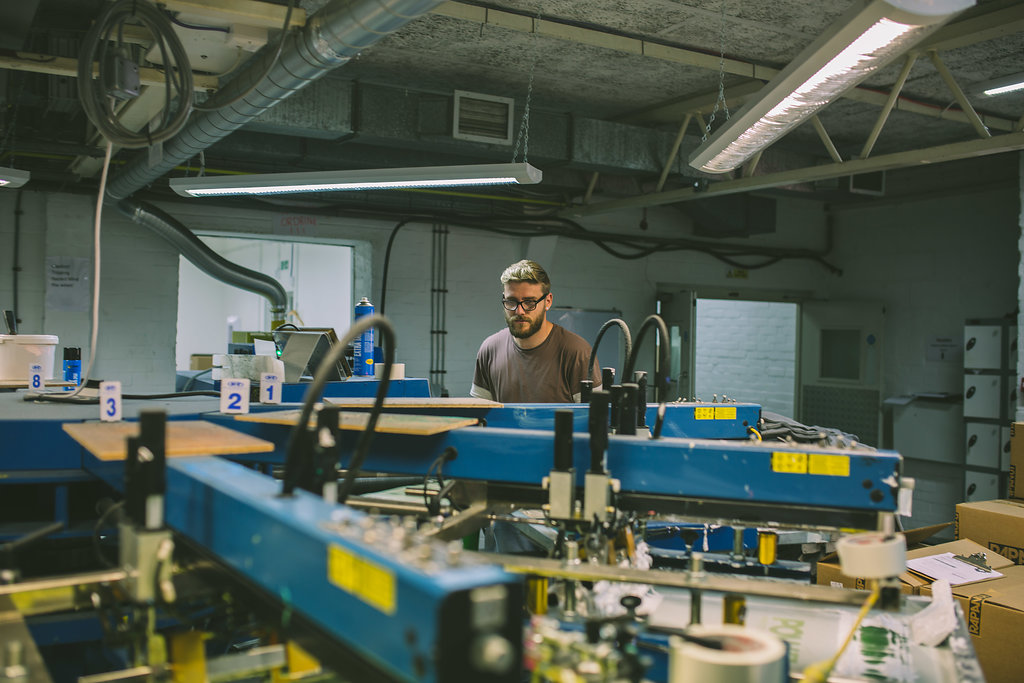 Production line
Peeking under the bonnet of the Isle of Wight company reveals some interesting use of Artificial Intelligence (AI) that automates large parts of the manufacturing process.
"Rather than replace jobs, these systems make it easier for less skilled young people to get into work, because the systems make it less likely that a mistake will be made," says James Gray, part of the uktshirtprinting.com team. 
"The efficiency gains allow us to use more sustainable materials and low waste printing tech in our renewable energy powered factory. It's those values that we're seeing other businesses tap into."
The B2B department of this social enterprise is reporting over 150% growth year-on-year with an average staff age of 23. The team attribute these statistics to big firms becoming increasingly conscientious about their social impact, and opting to purchase more sustainable printed merchandise for retail, promotional or staff wear.
Most of the printing team were recruited and trained internally, through vocational training programs for graduates and apprentices. Investing in young people creates fresh new solutions and creates a can-do culture that the company says is the number one reason for rapid growth.
There are already around 70,000 social enterprises like uktshirtprinting.com in the UK. Perhaps the consensus is changing: that social businesses are thriving because of, not in spite of, a commitment to values.