Ben & Jerry's: How to embed values in your business
A three-part mission statement ensures that ice cream company Ben & Jerry's remains true to its founders' aims, even after Unilever bought it in 2000. Rebecca Baron explains.
It all started in a bagel café
Ben and Jerry were just two high school friends who wanted to have fun, do good in the world and maybe make some money. After settling in Vermont in their mid-20s (and after failing at a few other separate ventures), they came up with the idea of opening up an ice cream café. Well, more accurately, they came up with the idea of opening a bagel café, but the bagel machine was too expensive and so they had to settle for ice cream.
Jerry liked to say, 'if it's not fun, why do it?'
Right from the word go, our co-founders put their values into the heart of the business – values of social, economic and environmental justice and equality. Everything was organic and sourced locally from small scale farmers and producers. Staff and partners in same-sex relationships received the same benefits as married couples. The café was an intentionally inclusive space, open and welcoming to all. Ben liked to say that business has a responsibility to give back to the community. (Jerry liked to say, 'if it's not fun, why do it?' – which is also an important maxim to live life by.) And because it was their names on the front of the business, this purpose was personal.
Over the years, as the company grew, Ben and Jerry realised that their beloved company might outlive them – and when it did, it would still be their names on the pints. So they wrote a mission statement to make sure they could always be proud to be associated with Ben & Jerry's.
A sweeter tasting business mission
This mission statement was, in fact, three missions: the product mission – to make exciting, super premium ice cream that pushed boundaries and delighted fans; the economic mission – to make sure that all stakeholders, everyone up and down the value chain, benefitted from the prosperity the business generated; and the social mission – to use the business as a force for good, both through internal programmes and practices and through using their platform and voice to advocate for change.
This mission statement has guided us ever since. An interesting (and crucial) feature of this statement is that the three parts are always displayed horizontally, side by side. No one mission is more important than another, and all three have to be pursued for the business to succeed.
Keeping up the good work
In reality, maintaining all three is a complex balancing act and sometimes one has to take priority over another. For example: we have been fully Fairtrade certified since 2011. However, when we first came to sourcing Fairtrade almonds, we couldn't find any of high enough quality that could withstand being frozen. For a time, we sacrificed social mission for product until we found the right supplier. But there are often times when the scoop is on the other foot and we prioritise a social mission goal over all else.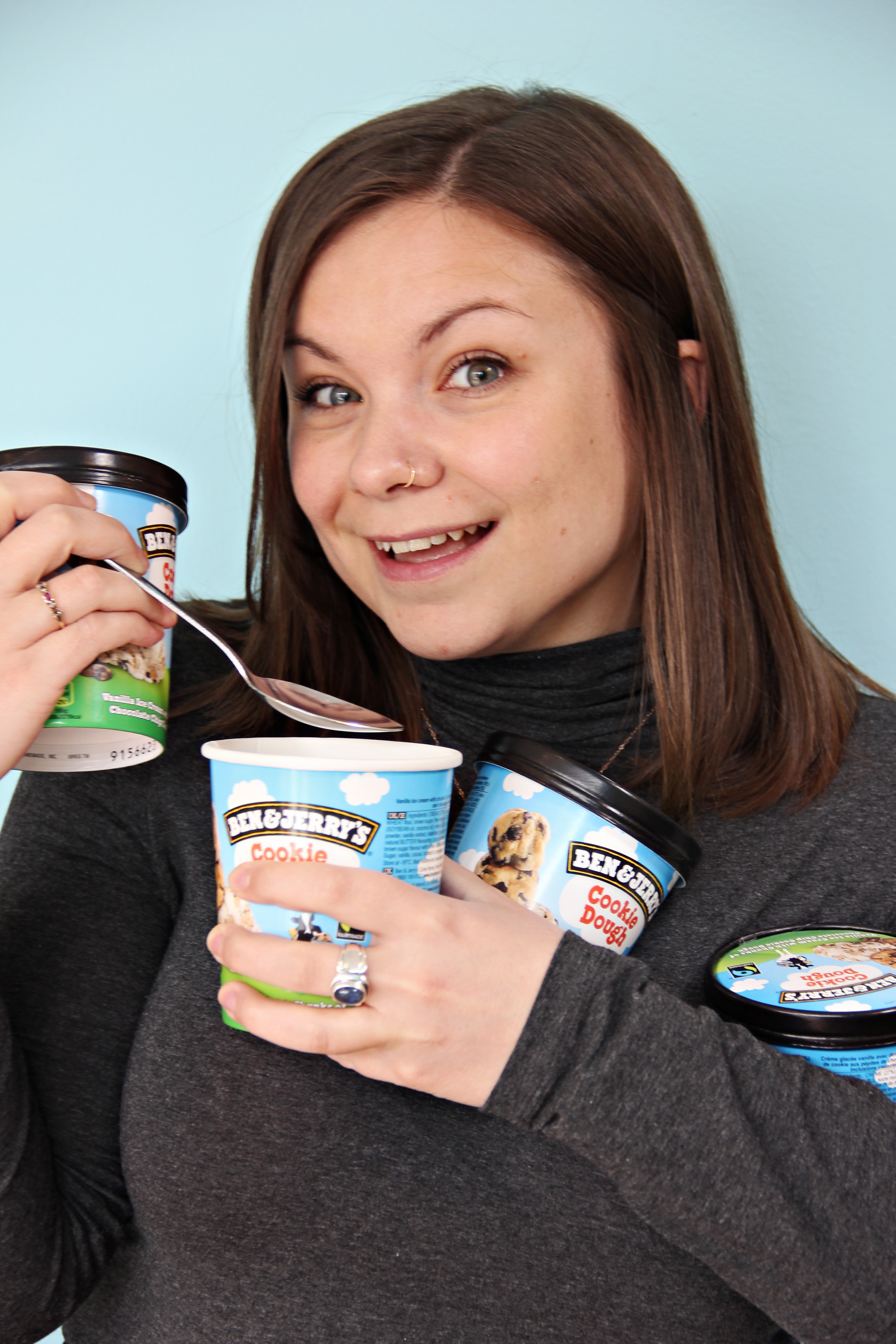 The three-part mission is truly the foundation of Ben & Jerry's as we are today. It formed the basis of the acquisition agreement when Unilever bought us in 2000. It instigated the establishment of an independent board of directors – a group of activists and changemakers who are responsible for making sure we stay true to our mission. When we set our individual goals for the year, we do so across all three parts. This means that everyone – from the CEO to the innovations team, from the retail to the operations team – has social mission embedded into their role. Like our famous swirls, social mission runs right through Ben & Jerry's.
Like our famous swirls, social mission runs right through Ben & Jerry's
Happy cows, happy farmers, happy planet
Our social mission also goes into every pint. Ben & Jerry's ice cream is fully Fairtrade certified and non-GMO. The milk and cream that goes into each euphoric scoop comes from farms that are part of our Caring Dairy programme, which holds farms to standards on three sets of metrics: happy cows, happy farmers, happy planet. We source ingredients from values-led suppliers such as Greyston Bakery, a social enterprise that operates an open-hiring policy – meaning that everyone gets a second chance, no matter what their history or record. We put our values right there in our product for everyone to see.
This is also true for our activism campaigns. Part of our social mission is to use the platform to speak out against injustice and to enable our fans to take action on issues we care about. Some of our flavours have been used to raise awareness for specific campaigns – like Save Our Swirled, One Sweet World and most recently Home Sweet Honeycomb.
We don't rely on our social mission to sell ice cream; that's what the product mission is for. This means that we can be bold in our campaigns and go after issues we feel strongly about, even if we think it's going to lose us fans. Often people tell us that they don't want politics mixed in with their ice cream – and that's fine! There are plenty of other ice creams out there. All people, all organisations, all businesses have an impact on the world, and it's our responsibility to make sure that impact is a positive one. We take that responsibility seriously – but we have fun doing it.
Rebecca Baron (above) is the UK campaign manager at Ben & Jerry's. This article is based on a talk she delivered at the launch of Purposely, a free government-back tool, launched by UnLtd, that helps founders embed purpose within their business.
Header image: In February the Ben & Jerry's team met European leaders in Brussels as part of the company's Together for Refugees campaign which aims to change legislation to help refugees resettle safely in Europe.