Bionics, blockchain and more: how to scale tech for good
Imaginative new technologies will change millions of lives for the better all over the world. But how do you scale up a successful socially-motivated tech venture? Following the Nominet Trust's research into hundreds of projects, Vicki Hearn gives some insights.
It's estimated that the 'digital social innovation' sector has doubled in size since 2015. However, there's still enormous potential for further growth, which is pivotal to our ambition of a future where social transformation is the driving force behind tech development.
In 2013, Nominet Trust launched the Social Tech Guide, a global directory of 'tech for good' initiatives. It's also home of NT100, our annual celebration of socially transformative tech from around the world. 
While curating NT100, we've learned a great deal about what it takes to establish and scale socially motivated tech ventures. We're sharing those insights to help foster the next phase of growth in the social tech sector. Our research has also helped us identify five trends in emerging social tech that we believe have the potential to transform lives at scale.
Achieving social impact at scale
We researched 400 projects previously recognised by NT100. Here we share five distilled insights into what it takes to enable social tech ventures to flourish:

The future of socially transformative tech
Our research has identified five emerging trends in social tech that have the potential to transform lives at scale:
Transforming lives with tech
We're working to build a future where social transformation drives tech development. 
We understand the challenges social entrepreneurs face, such as limited resources, funding gaps and regulatory concerns. From fake news to 'robots taking our jobs', we've seen tech come under a harsh spotlight, with its negative social impact under scrutiny. But there is also significant latent potential to use tech for social good so that it enhances and enriches our lives. We're working to put social purpose at the heart of tech development, so that it can fulfil its potential.
Five years of NT100 have shown us what's possible; now we're sparking a global conversation about how all sectors of society can help make this happen at scale.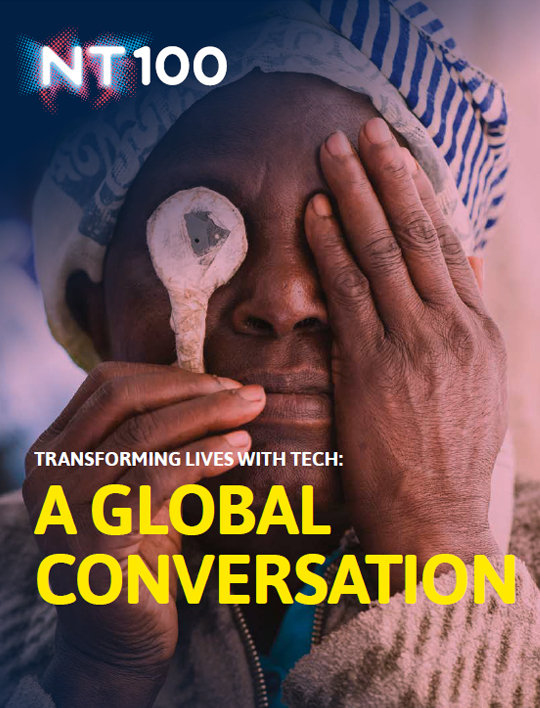 Read Transforming Lives With Tech: A Global Conversation here. The Nominet Trust also has a podcast series, Our Lives + Tech, which explores the relationship between tech and society with leading experts and practitioners.