Selling authenticity: Airbnb's Social Impact Experiences
Airbnb's Social Impact Experiences were recently launched in Edinburgh and London, with ambitious plans to expand further throughout 2018. Are they a potentially lucrative opportunity for social enterprises? Anna Patton explores
Fancy a pastry-making class(£59) on your next trip to Paris? How about a guided walk through New York's tattoo scene(£23), or a tour of the Sydney Startup Hub(£4-7)?
These all benefit good causes, and are on offer via Airbnb 'Experiences', a relatively new feature from the homesharing platform that taps into our growing appetite for authentic local experiences and alternatives to the well-trodden tourist trail.
For hosts — who design, run and price activities themselves, but whose listing is subject to Airbnb's approval — it's an opportunity to reach a huge audience, backed by a genuinely global brand – created in 2008, Airbnb today lists homes in over 190 countries.
First introduced in late 2016, Experiences have quickly proven their appeal, with bookings growing 25 times faster than for Airbnb Homes in their first year, according to the firm. 
While Experiences include various categories such as arts or food and drink, those designated "Social Impact" allow host organisations to keep 100% of profits (other categories incur a 20% fee). To qualify, hosts must be registered charities, according to global TechSoup definitions— though in the UK, Airbnb is also accepting some applications from Community Interest Companies (CICs).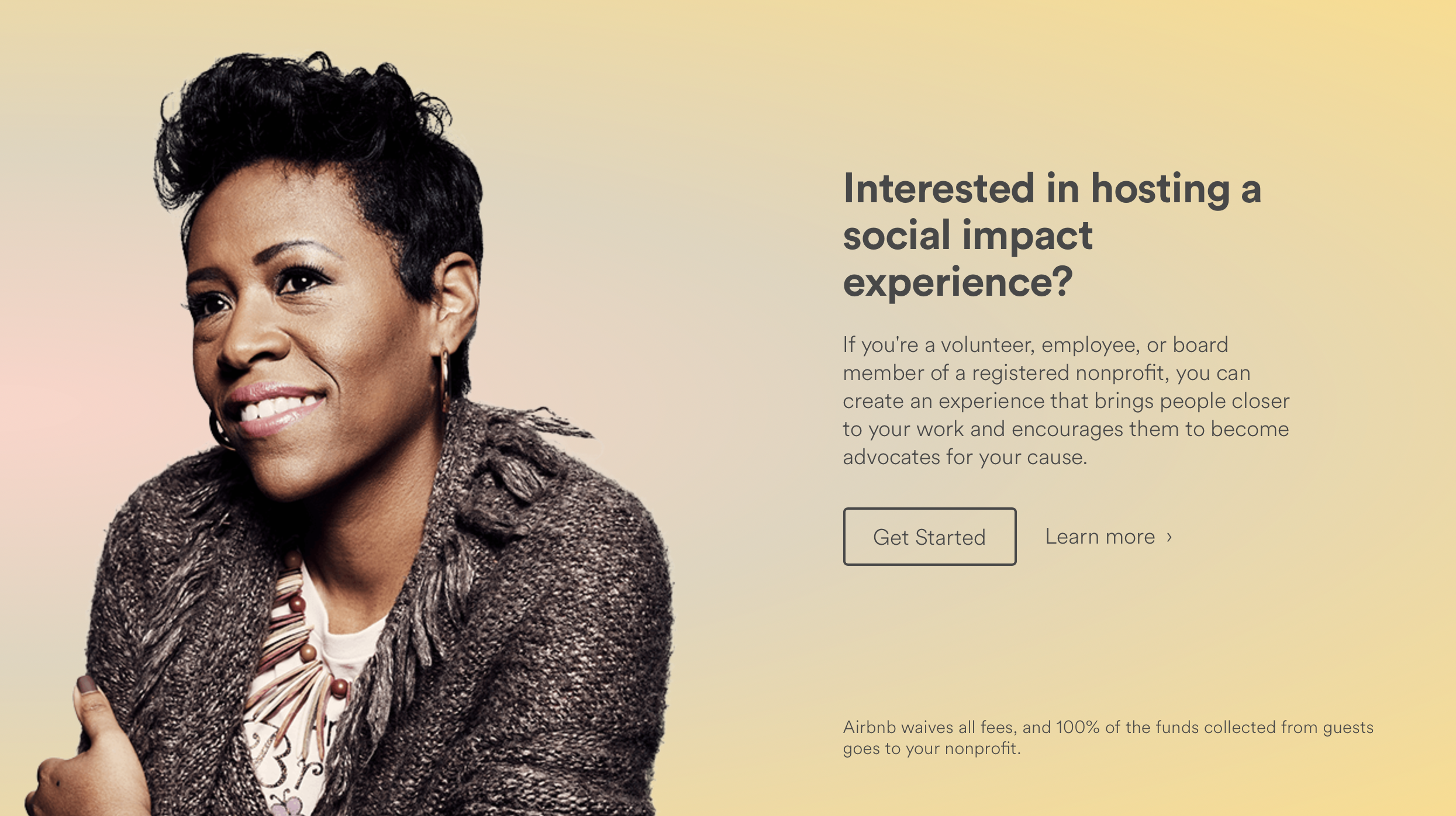 Airbnb's social impact experiences "propel impactful organisations", says the company
The new feature is "empowering nonprofits by giving them a platform to fundraise, promote their mission and by driving Airbnb users to engage in social causes around the globe", a spokesperson told Pioneers Post. "With these experiences, Airbnb uses its global footprint and peer review system to propel impactful organisations, including in neighbourhoods that are not normally on the tourist map."
Airbnb has ambitious plans to expand Experiences to 1,000 destinations by year end, and in the social impact category, to "work with more than 1,000 nonprofits" worldwide. In March 2018 Airbnb launched Experiences in Edinburgh — the second UK city after London — where one-fifth of those listed on launch day were Social Impact ones.
Attracting new customers
Airbnb approves Experiences based on expertise, hospitality and "insider access", and says 91%of bookings get five-star reviews. Globally, over 65,000 people have applied to date, with around 8,000 Experiences currently listed. 
But can they bring in serious money? The company doesn't share figures for average Social Impact Experience revenue, but cited one NGO which was facing closure until it started using this channel to advertise its tours. In one month, bookings generated US$4,000. 
The new feature is "driving Airbnb users to engage in social causes around the globe"
One potential issue is that new hosts may need to price their activities very low to begin with, to build up crucial early reviews and appear higher in search results.
Some social enterprises are keen to at least test it out. The Clink restaurant, based in a south London prison, joined in February 2018. Marketing assistant Gemma Holford says their listing has attracted "a different type of customer", including diners from abroad. "It's a helpful addition to the business we already get", she adds.
Those not eligible for the Social Impact category can also benefit financially.
Juta Shoes, also in London, supports women who face barriers to work by training them to make reclaimed leather espadrilles. Around two-thirds of its income comes from hosting various shoe-making workshops, including those advertised on Airbnb. As a limited company, Juta Shoes pays the 20% fee — but founder and director Joanna Hamer says it has still been "a great way of bringing in revenue".
The social enterprise was among the first to join Experiences when launched in London last autumn. By the end of March, nearly 30 bookings had been made via Airbnb, with reservations continuing even after Hamer increased the price to £90 to offset the fee.
Managing the process
Juta Shoes markets its workshops on several sites, including two London-based marketplaces for creative classes, Creoate and Obby, and is also looking into visit.org, which aims to build "the world's leading platform for social impact travel experiences". Hamer admits it's "super confusing" managing bookings from multiple sources, but plans to monitor each site's performance and then "cut them down". 
So far, Airbnb looks positive. Their initial support was "amazing", Hamer says: she attended an induction that covered pricing strategies and workshop design, and Airbnb sent a professional photographer to shoot a workshop. Holford is also positive, highlighting free copywriting services during setup phase and responsive customer support.
The process isn't always entirely smooth. Workshops must take place even if only one person signs up, says Hamer — another reason she increased the price — and it's not possible to mix groups from different booking sites. As a result, Juta Shoes has held "quite a few" workshops with two facilitators and one participant. (Hosts can however set a cutoff time, so that if no one books by a certain number of days before the activity it will be cancelled.)
Airbnb promises 24-hour customer support and has created a fairly extensive online resource centre. But hosts do need to put in the hours, especially if hosting regularly. Holford recommends making one member of staff responsible for handling Airbnb bookings, and setting up a separate email address to keep track of bookings and all communication with guests.
"It's not as easy as I thought it'd be," Hamer says. Designing and marketing an activity takes time, she adds: "it's not something you can whip up in a day." 
Beyond bragging
Hosting visitors is not just about bringing in money. Hamer says a five-star rating on Airbnb is "useful clout" when pitching to others, and also considers social media sharing by visitors valuable.
But whether Experiences can convert visitors into "long-term donors, volunteers and ambassadors" as Airbnb suggests — rather than just offering one-off, easily forgotten Instagram-bragging opportunities — remains to be seen. One volunteer tourism expert, at least, is sceptical. Cited by Fast Company, Kristin Lamoureuxfrom New York University argues that travellers seeking out such experiences tend to be less motivated by altruism, and more by a desire for something to talk about.
And while primarily targeting charities, Hamer suggests that hosting Experiences, Social Impact or otherwise, may actually be more suited to businesses that have the capacity to look after paying customers.
"My job at the company is to perfect the customer experience," she says. "A charity might not have someone in that role. It's a lot of time and effort… it could be easy for them to miss out on the opportunity."
Header photo of a Juta Shoes workshop by Kanahaya Alam