Five insights into how social entrepreneurs learn
How can social enterprise support organisations help entrepreneurs learn – and what skills do they need most? Ian Baker, head of learning at the School for Social Entrepreneurs, has sifted through the findings of SSE's latest evaluation report. Here's what they've discovered
There is masses of learning available for people who want to build businesses driven purely by profit. But social entrepreneurs are a different type of leader, and they need a different type of support. Because let's face it: learning how to balance income with impact, often while working with the most marginalised people in society, is no easy feat.
The School for Social Entrepreneurs (SSE) has supported the learning of social entrepreneurs for 22 years. We help 1,000 people a year develop the skills, strengths and networks they need to tackle society's biggest problems. We've just published an independent evaluation of our biggest UK programme: the Lloyds Bank and Bank of Scotland Social Entrepreneurs Programme, jointly funded by the National Lottery Community Fund. This supports social entrepreneurs for a year – with a learning programme, grant and mentoring. The programme supports them at three stages: Start Up, to support people to get their idea off the ground; Trade Up, which helps them learn how to build their project's sustainability; and Scale Up, for established organisations looking for a step-change in reach. The 1,350 social entrepreneurs on this programme have gone on to help 328,000 people in need, while creating 4,000 full-time-equivalent jobs.
Here are some of the things we've discovered about how social entrepreneurs learn.
Social entrepreneurs learn by doing
Social entrepreneurs thrive on action and on making things happen. Our learning focuses on taking action in the real world, on live projects. There are no essays or textbooks in sight. Instead, we bring people together in groups to learn from other entrepreneurs' experiences. We encourage people to try things out, then reflect on what's working.
This approach – practical rather than academic – also ensures social entrepreneurs from any background can learn with SSE. Educational qualifications should never be a barrier to leading change.
They want to hear from other social entrepreneurs
Social entrepreneurs tend to have a rebellious streak. They don't want to hear a teacher standing at the front of a classroom telling them what they have to do.
Instead, we create space for people to come to their own conclusions, by learning from peers. Social entrepreneurs on our programmes are in cohorts, so they're always sharing with each other.
When we asked our students about the different elements of our programmes, they ranked our "witness sessions" and "expert sessions" most highly – 97% of people agreed or strongly agreed these contributed to the development of their enterprise. In these sessions, experienced practitioners and social entrepreneurs share their stories with our learners: the good, the bad and the ugly of running a project.
Social entrepreneurs want to lead their own learning... rather than being spoon-fed theories by a traditional teacher-figure
This works because social entrepreneurs want to lead their own learning. They dig out the insights they need from people who have the credibility of shared experience, rather than being spoon-fed theories by a traditional teacher-figure.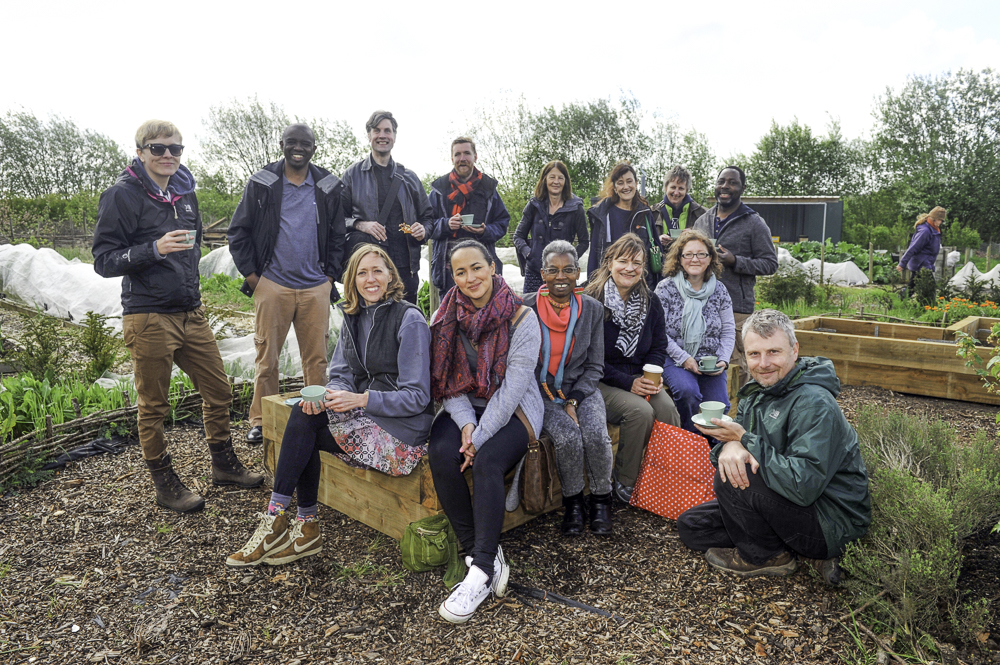 Above: a cohort of the Lloyds Bank Social Entrepreneurs Start Up Programme, learning with SSE East, on a project visit to a social enterprise.
Social entrepreneurs often struggle with sales
Sales is the lowest-ranked business skill among social entrepreneurs before they join our programmes. Financial management and income generation are, respectively, the third- and fourth-lowest ranked (read on to find out what's the second-lowest!). This might explain why many social enterprises are still small: more than half in the UK have a turnover of less than £100,000, according to Social Enterprise UK's State of Social Enterprise 2017 report.
Why? In our experience, social entrepreneurs generally have deep understanding of the issue they're tackling, and they really know the people they want to support. But they're not motivated by making millions, and often aren't so focused on how they can meet the needs of paying customers.
They need support with the "enterprise" part of "social enterprise". Our learning focuses on developing business skills, as well as social impact. Developing these skills takes time. But over the course of a year of learning and reflection, social entrepreneurs improve in every one of the 16 business skills we focus on.
They need support to keep their work-life balance in check
When social entrepreneurs first join our programme, the two personal skills they rank themselves lowest on are "time management" and "looking after yourself/work-life". But without these essential wellbeing skills in place, you're at risk of burnout. You can't lead an organisation if you yourself are suffering. And being a social entrepreneur can be lonely and exhausting.
So we include learning on emotional resilience and wellbeing on all our long-duration programmes. We also bring social entrepreneurs together for Action Learning Sets (find out more about those here), to help them overcome difficulties with each other's support. Underpinning all this is peer support. Being in a cohort of other people who are in the same boat as you, over the course of a year, means you build a network of people you can turn to. You can always find a shoulder to cry on – as well as someone who understands the peculiar pleasure of successfully submitting your tax return!
They need support to be good employers
Many social entrepreneurs work with people with complex needs. That means their role as employers is especially demanding. Some 44% of social enterprises employ those who are disadvantaged from the labour market, according to Social Enterprise UK.
Before they join SSE, "being an employer" is the second-lowest-ranked business skill among social entrepreneurs we support. (Confidence in this area increases significantly by the end of the programme.)
As your organisation grows, looking after your people becomes one of the most important and time-consuming leadership areas
Our sector needs to focus on developing employer skills, to enable social entrepreneurs to create meaningful jobs. Becoming an employer is part of the journey of leadership: from starting up as an individual, mobilising support through networks and volunteers, to growing and scaling. It all requires you to build teams.
You need to think about your leadership style and values. How will you embed a culture in your organisation and recruit people who are aligned with it? As your organisation grows, looking after your people becomes one of the most important and time-consuming leadership areas.
Support must account for diverse learning styles
We want to champion people to tackle problems that have personally affected them. Some social entrepreneurs have specific learning needs, such as having dyslexia or Asperger syndrome, and we must account for that in approaches to learning. (One in 10 of the people we support self-identifies as having a disability.)
In our experience, this comes down to having excellent facilitators. Learning managers must have the expertise and experience to know how to manage different learning styles within a group, so everyone has the opportunity to learn at a pace that works for them.
For example, we supported Indie Flynn, who has dyslexia and dyspraxia. She runs Square Peg, which delivers animation and film workshops to kids with special needs or from challenging behavioural backgrounds. Indie says: "I was given freedom to learn differently. I can't sit still for long periods of time so I would get up and walk around, and the group adapted to me. I never felt like a burden."
We're always happy to share our learning with other support organisations – and of course with social entrepreneurs themselves! After all, we've got to practice what we preach: sharing know-how is essential if we want to strengthen the social enterprise sector together. Share your experiences of learning with us on Twitter: @SchSocEnt.
Header photo: Social entrepreneurs learning together at SSE Midlands, on the School for Social Entrepreneurs' biggest UK programme.
Thanks for reading our stories. As an entrepreneur yourself, you'll know that producing quality work doesn't come free. We rely on our subscribers to sustain our journalism – so if you think it's worth having an independent, specialist media platform that covers social enterprise stories, please consider subscribing. You'll also be buying social: Pioneers Post is a social enterprise itself, reinvesting all our profits into helping you do good business, better.