'I hope we don't forget the lessons we're learning now' - Zoe Portlock, Bikeworks
There's no guide to steering a social enterprise through a global pandemic. How do you shore up cash? How do you keep your customers on side? How do you reassure and guide your team, keep everyone healthy, and stay semi-sane yourself? Zoe Portlock, co-founder of London-based community interest company Bikeworks, on revamping the business model, giving restless cyclists a sense of purpose – and the unexpected lessons of life under lockdown.

"I can't quite relate to the people who have been saying: "I'm really bored". We haven't really paused for breath. Even over the Easter break we didn't stop working and planning. We're now operating from the front room of my house again, which is how it was in the founding days of Bikeworks. It's been crazy. But that's the life of a social entrepreneur.
Bikeworks is all about using bicycles for a social purpose. We provide free cycle clubs to people who are less likely to use a bike – including people with physical or learning disabilities, and people with mental health support needs. Our clubs are paid for by the funds raised from team building events with corporates. During some of these workshops, teams learn how to build bikes – and the bikes we make are then provided to nurseries run by the London Early Years Foundation. We've provided the nurseries with 200 bikes so far.

We had incredible plans for this year. We were founded in 2006, on the basis of London hosting the 2012 Olympics. So we were planning to use this year and the 2020 Tokyo Games to highlight our legacy since 2012 and really focus on communicating who we are and what we do. We also had an "inclusive active travel" conference planned for autumn. 
The outbreak has allowed us to develop other parts of our business that would have been on the back burner for years
Now, of course, those plans are on hold. But actually, the outbreak of the coronavirus has allowed us to develop other parts of our business quite quickly in a way that would have been on the back burner for some years – or that we'd never have had the foresight to come up with at all.
Hitting 1,000 deliveries
When we first understood the gravity of the situation, our priority was to make sure that our staff felt that they would have security within their jobs. We were able to repurpose our contracts with local authorities to see us through with our PAYE staff [those on employee contracts], our core team of 11 people. But we were very worried about our pool of 30 freelance instructors. So we repurposed our organisation so that some of our cycle instructors and staff could provide a cycle delivery service. This not only would enable us to support our community, but keep them in employment.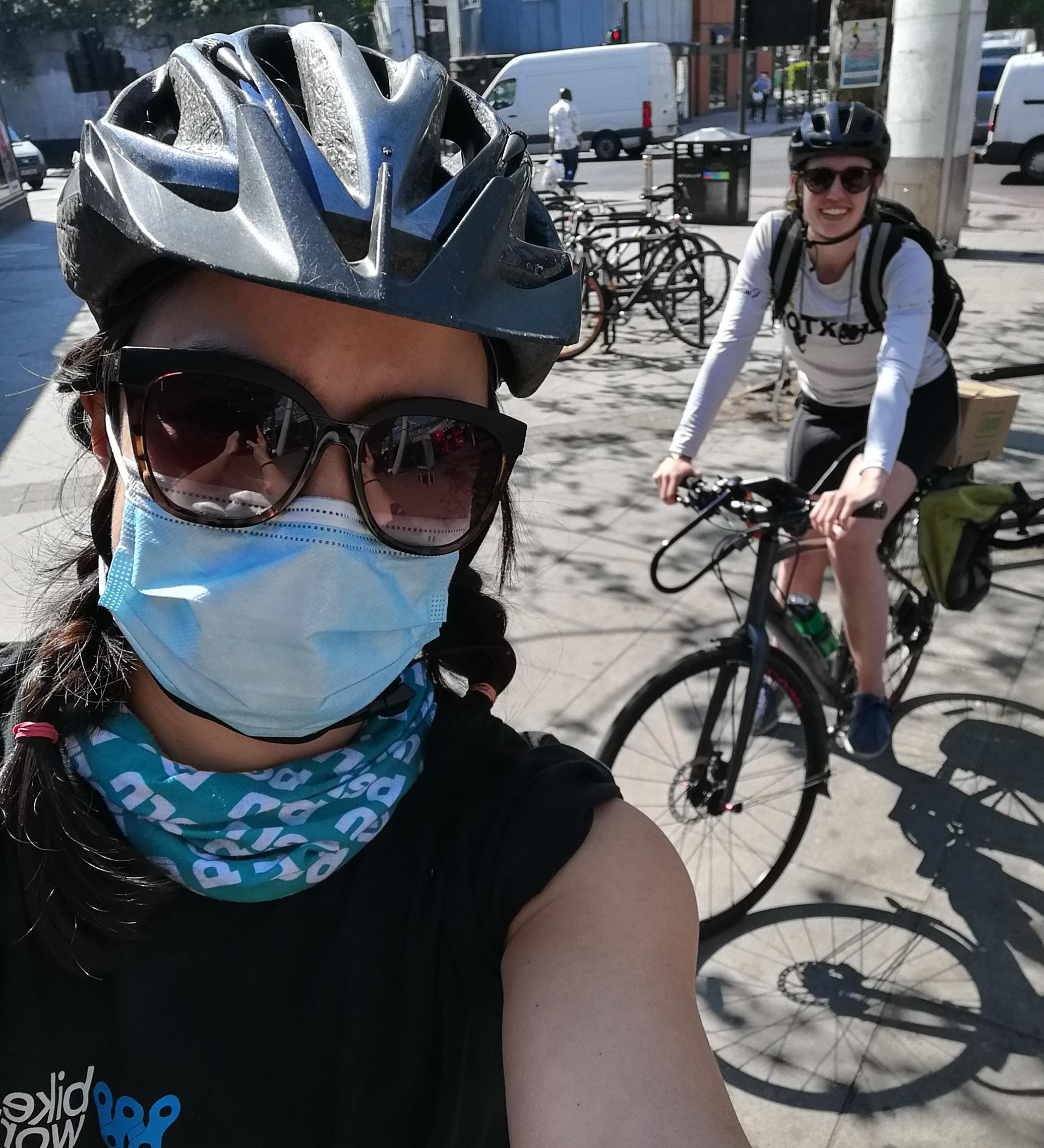 Currently, 10 of our cycle instructors and PAYE staff are delivering food, medicines and essential supplies to people who need them. In two and a half weeks we went from never having done anything like this, to hitting 1,000 deliveries. So for us, that's just incredible. And it's been great for team morale as well, it's keeping everyone very focused on a sense of purpose. 
We're funding the cycle deliveries through two streams: firstly, through repurposing money that we already had in place with local authority contracts, but also through support from funders – including the London Funders, who on the back of learnings from Grenfell [the 2017 fire of Grenfell Tower, a residential block in London] have been really agile and quick in getting funds to community activities. We've been able to receive funds from them to pay for PPE equipment. We're also enhancing our communications and marketing so that if we need to crowdfund at some point, people are aware of who we are and what we're doing.
Going the extra mile
Word has spread that we were doing a good job, so we're expanding. In the first week we worked across four London boroughs, and now we're up to borough number six. We think we've got the potential to scale up to 11 during the lockdown period. We have been working with local authorities so that they can contact us if they identify vulnerable residents who need support picking up medicines and prescriptions. We also now have home testing health kits and Covid-19 testing kits, and we're working with GP networks and federations to get them out to people with symptoms. And we're not just delivering, we're also checking in on people. So we're designing processes with NHS and local authority partners to enable us to feed back if people are looking more vulnerable than we were expecting – in either their physical or mental health.
Our cycle instructors have been doing either half-day or full-day shifts, Monday to Sunday. For a lot of them it's enjoyable, because you know cyclists… they enjoy spending a lot of time out on their bikes, especially in this weather. And they were dreading the thought of not being able to get out on one. One of our cyclists, Niall, has really gone the extra mile. He's made really strong relationships with his local pharmacists and even made Whatsapp groups with them, checking in to find out if there's anything he can help with each day.
Normal rules don't apply anymore. Things that would usually take many meetings are suddenly possible with just one or two phone calls
Normal rules don't apply anymore. We've found that – particularly in our conversations with the NHS and local government – things that would usually have taken a long time and many meetings, are suddenly possible to do with just one or two phone calls. In more usual times, we can be quite comfortable with things taking six, nine, or twelve months, rather than just a few quick conversations with a 'can-do' attitude. So I think there's some lessons to be learned there.
I think I'm more anxious about what we find when lockdown finishes. As much as economically things are difficult now, and it's sad not being able to see friends and loved ones – I do have some fear about what's on the other side, particularly knowing how broken and underfunded our health and social care systems have been for the past decade.
But I do also feel very heartened. And I really hope that we hold on to the strength of collaborative work, and how building partnerships really can change the world quite quickly. I'm hoping that we don't forget the lessons that we've learned now, and that we use them in a really positive way."
Zoe Portlock was speaking to Caroline Hailstone. Read more about Bikeworks.
Photos: Cycle instructors on a delivery (credit: Bikeworks).
Check back soon for more stories from the frontline of running a social business through the Covid-19 crisis. If you'd like to share yours, email us at news@pioneerspost.com.