The nation's mental health faces new challenges. Can social enterprise step in?
What does it take to grow a social business in the field of mental health? As the world grapples to understand the impact of Covid-19 on people's long-term wellbeing, three seasoned social entrepreneurs share their tips for starting out, identifying a market – and looking after themselves along the way.
One positive to come out of the coronavirus lockdown is an increased sensitivity to our collective mental health.
Alongside the anxiety and stress associated with changes to our routines and structures, any number of virtual coffee breaks and digital drinks are being embraced by those feeling isolated at home. Not only are we all trying to look after ourselves in a changed world, we're also looking out for people around us too.
"This has been the greatest experiment in human disconnection ever; we are disconnected from the people we care about," said Fintan Connolly (pictured below), the founder of Northern Irish social enterprise Take Ten, speaking in a webinar hosted by Expert Impact last week. But, he added, while some are enjoying the calm, "others are really struggling with it and how things are going to be in the future".
'We're in a different era and we need resources that are going to help support us in that'
"We are going to have people who are phobic about infections, people worried about social isolation. We're in a different era and we need resources that are going to help support us in that."
Aside from the current situation, the last decade has seen an increased awareness of a spectrum of mental health issues thanks to a lessening of stigma and an increasing number of celebrities lining up to be honest about their struggles without embarrassment or shame. So, is this a fertile area in which social enterprises can sustainably operate?
Networking to success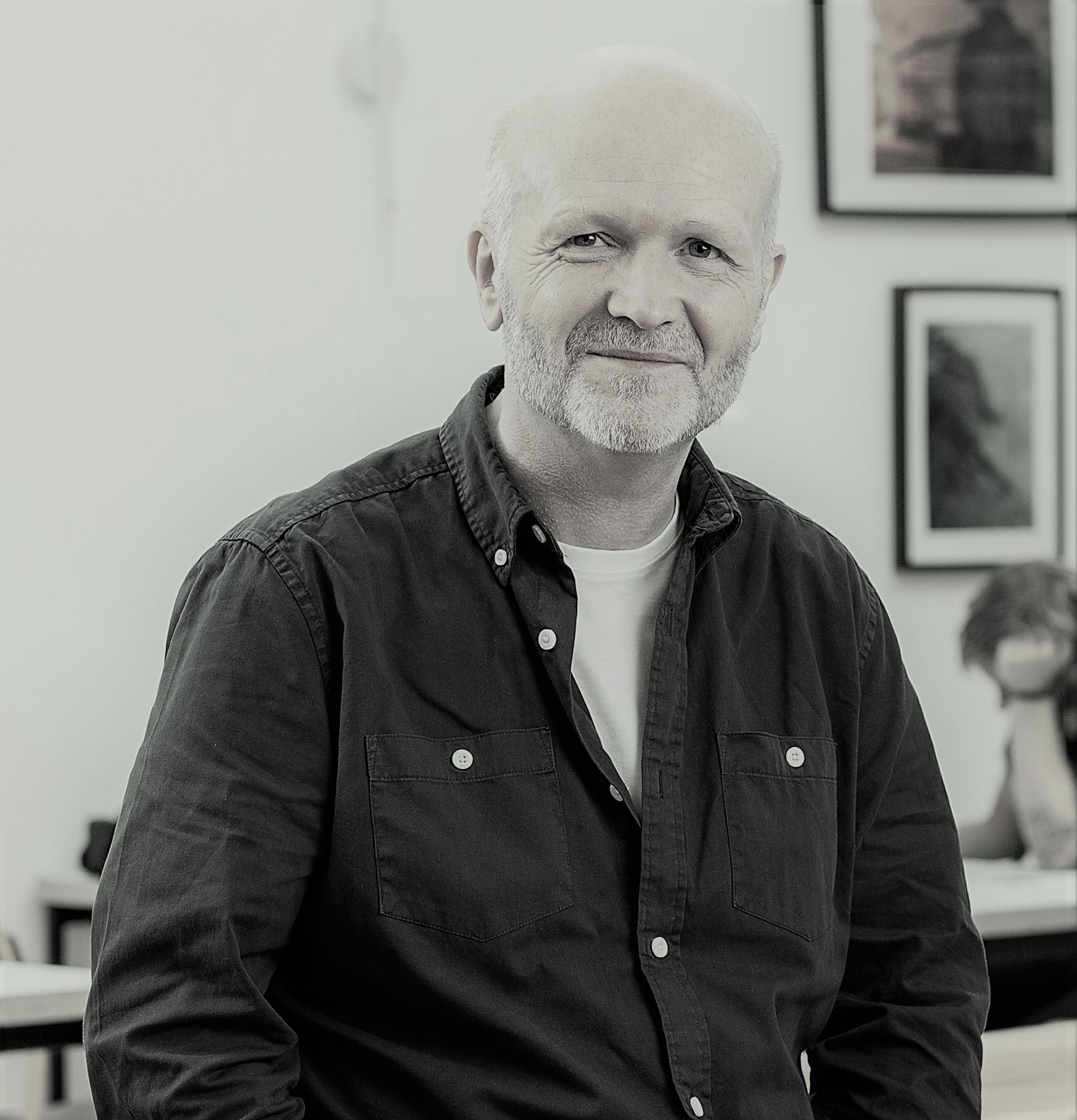 Take Ten is an app that teaches children and adults to manage their stress and anxiety. Connolly was previously a pharmacist who became disillusioned at the amount of drugs he was dispensing for stress-related illness and thought there had to be a better way. So he researched his idea for stress control app. 
He credits the influence of UnLtd, which backs social entrepreneurs around the UK, for what happened next. The funding they offered was useful, but he feels their support was equally so, just in less obvious ways. "It opens you up into a network of social enterprises and other business development agencies and charities," said Connolly.
"People get to know who you are and what you do and they will refer to you, and that's what happened to me with Barnardo's."
Having got wind of what Take Ten was doing, the children's charity offered to work with them to trial the product in West Belfast. The value of networking would again prove itself when Camden council later came knocking to see if he could help with 20 of their schools.
Connolly's main customers are schools – 300 of them at the last count, with either schools or councils paying for the service – but he's exploring how to grow a new market among adults, at the request of the parents and teachers whose children the app has helped. 
"The stress cycle starts at home. If we can help employees deal with their stress and anxiety by giving them digital resources, it means those employees can use that with their families as well," said Connolly.
That's brought in a new possible revenue stream: corporate clients. An initial trial with employees at Danske Bank has gone well. After eight weeks, 60% of those testing it were still using the app at key times of the day – before and after work and last thing at night – the times when people feel most pressure. "It's allowing people to take back control from moments of stress and anxiety," said Connolly.
Speaking from experience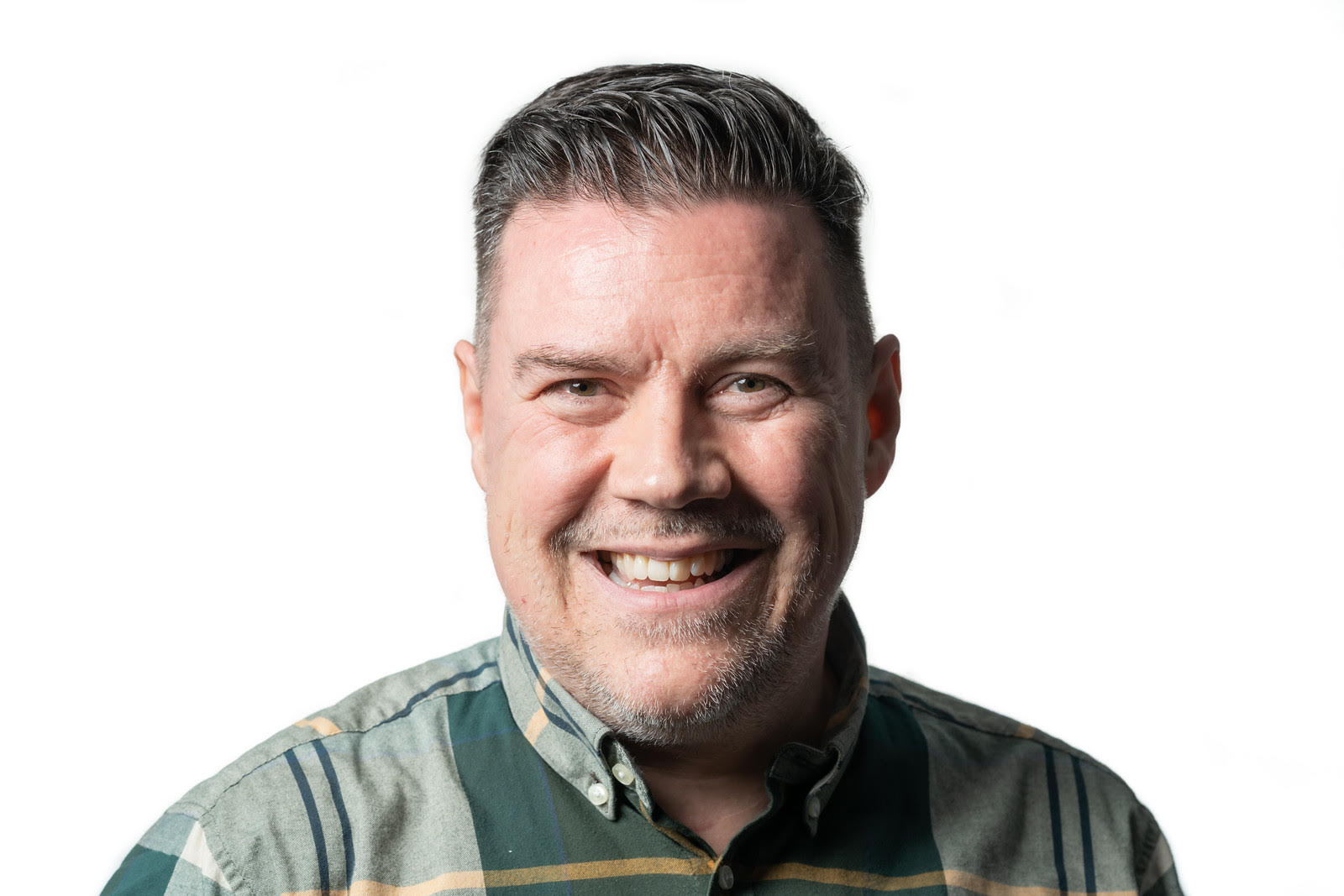 Growing up, Martin Hogg (pictured) had struggled to manage his own feelings – in his case, anger – before eventually seeking counselling while he was working in hospitality. 
He then spotted an opportunity in his local area of Birmingham 15 years ago. Having volunteered in the mental health field, he had seen that waiting for counselling took too long, or it was expensive.
"You only got anger management if you could afford to pay a lot of money or you ended up in the prison system. I saw a lot of people locked up but no one was really breaking the cycle," said Hogg.
So in 2005, he started community interest company Citizen Coaching to make it easier to access counselling and coaching. Following a few bumps in the road – "we did silly things and made mistakes and lost money" – today his social enterprise is delivering 20,000 counselling sessions a year via 40 counsellors and has an annual turnover of £500,000. About 70% of those sessions are free to access and paid for by grant funding, through contracts with the NHS and Forward Thinking Birmingham, with the remainder paid for by companies paying for employee assistance benefits and by individuals.  
'Once you've got the proof of concept, it's about who's interested in buying those results'
To those thinking of working in mental health, Hogg advises researching your market. "Once you've got the proof of concept, it's about who's interested in buying those results," he said.
His referrals come from the health service as well as other social services like the police or family centres. Citizen Coaching is also well set up for online services and is currently offering an online anger management course for free during the UK's lockdown.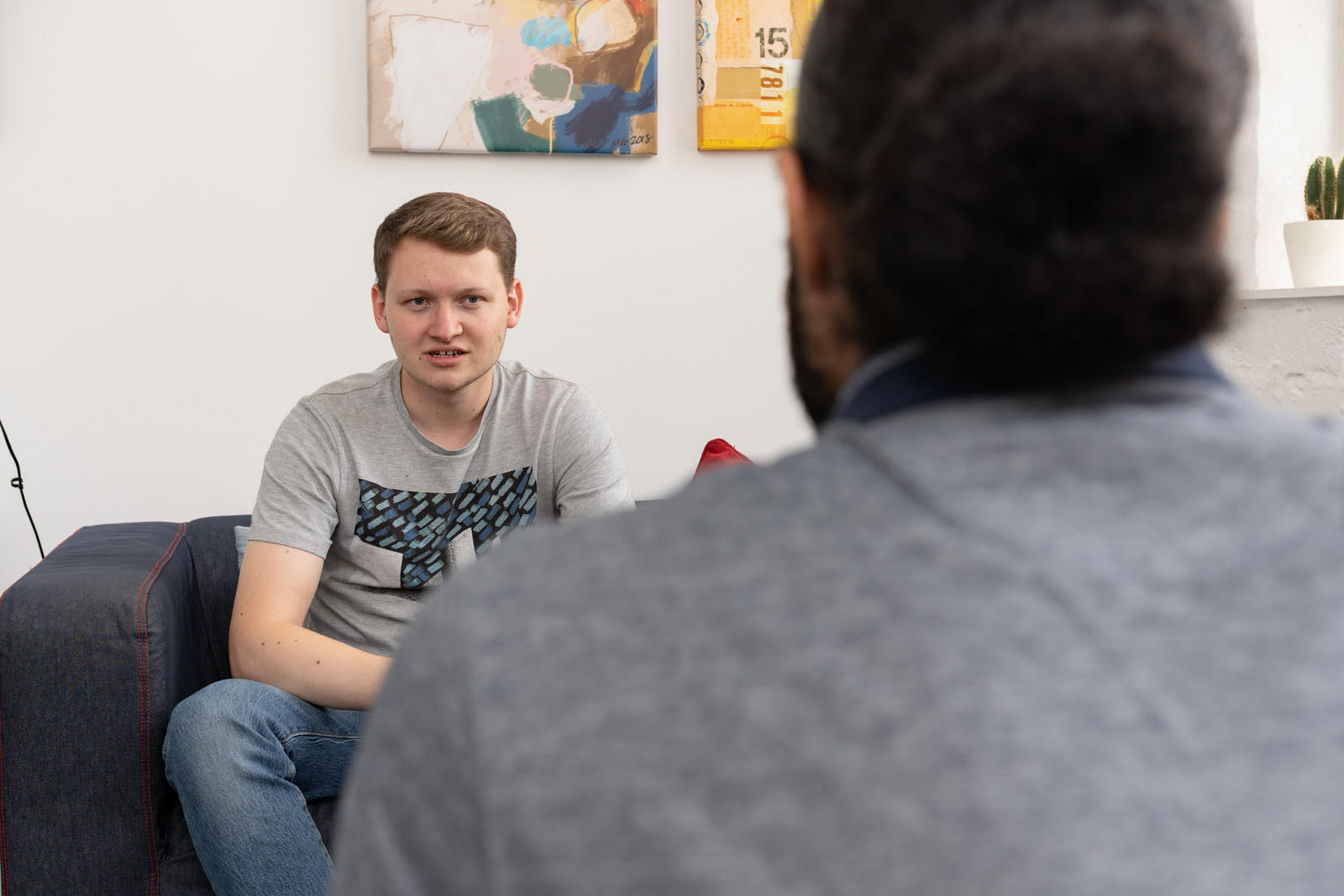 Above: a coaching session with Citizen Coaching underway. The social enterprise was born from the founder's own experience of mental health issues and the realisation that accessing support either took too long or was too expensive
Looking after yourself
As a social entrepreneur working in the field, you're not immune to mental health challenges yourself, of course. Michelle Morgan found this to her cost after leading the youth marketing agency (and social enterprise) Livity for 16 years.
"I experienced a horrifying moment when I realised my purpose and passion for Livity had well and truly worn me out. For those of us who are trying to prove that you can place equal importance on profit and purpose, there's a lot of pressure and stress that comes with that," said Morgan.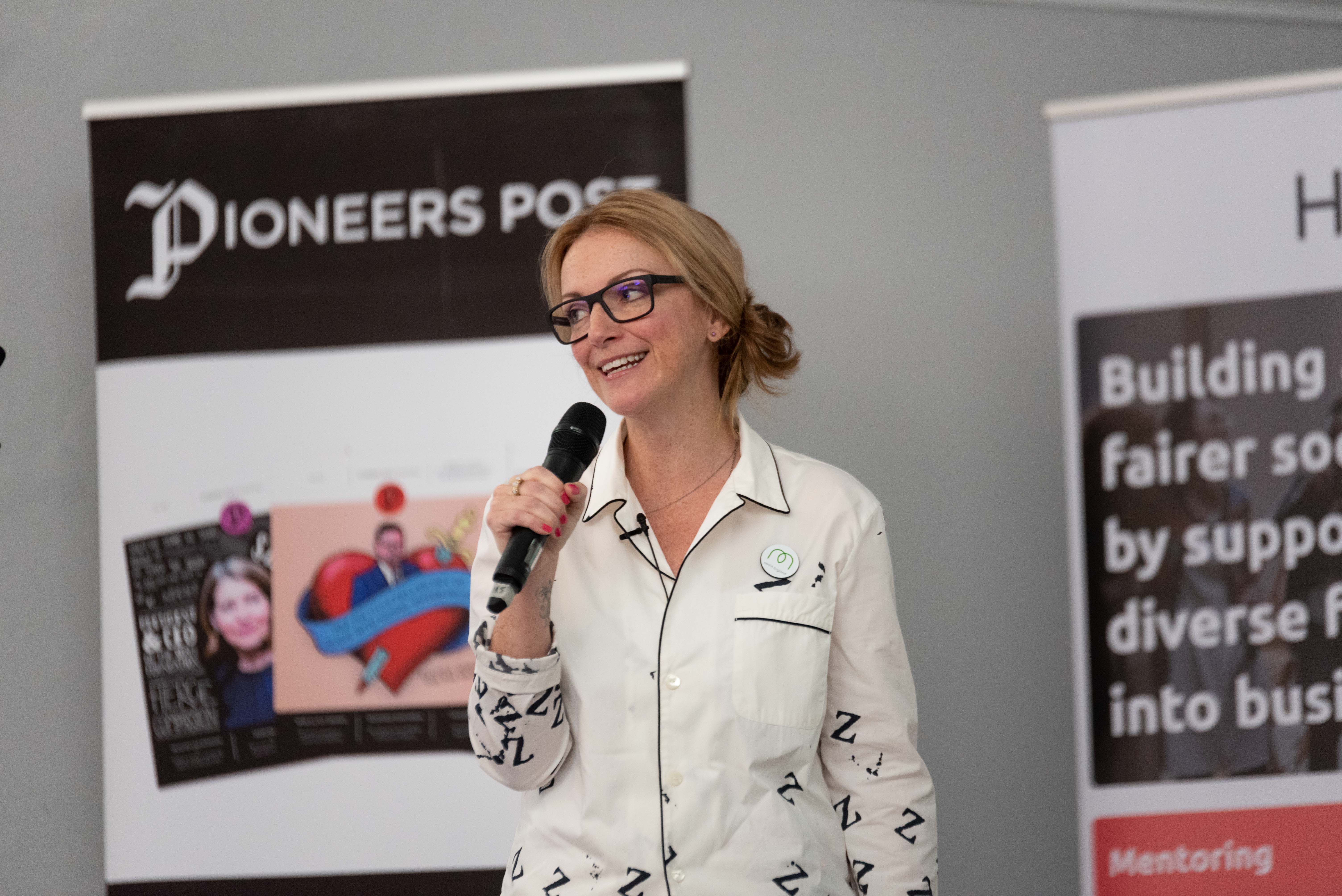 Above: Michelle Morgan of Pjoys speaking on stage – in her pyjamas – at our Good Deals & Beyond Good Business conference in 2019. The business uses pyjamas as a tool to raise both awareness and funds for mental health issues
Anxiety and depression followed, along with a moment that would define what she would do post recovery. The incident happened as she withdrew from Livity to look after both her physical and mental health.
"Someone said to me, 'You know, Michelle, it's a bit awkward when you talk to the business about your mental health'. That was silencing and I did stop talking about it. So I stayed in that place of depression and anxiety for some time," said Morgan.
Morgan raised £60,000 on Crowdfunder and generated a tonne of publicity to launch Pjoys in March 2019
Reading about the experiences of others led her to seek help from her doctor and set her on the road to recovery, but the comment stuck with her. She was also spending a lot of her time in her pyjamas, which she began to wonder might be a conduit for getting people to open up about mental health. 
After raising £60,000 on Crowdfunder and generating a tonne of publicity using her extensive experience in marketing, Pjoys launched in March 2019 with the aim of making mental health an everyday conversation. Profits from the sale of Pjoys pyjamas and accessories help fund that awareness-raising work and also support mental health charities.
Coronavirus has meant the business has gone a bit quiet, but, given her experience, it's perhaps no surprise to hear that Morgan isn't panicking.
"It has given us a moment to reflect on our social impact, both our customers and the supply chain. We've got these ideas to push our social impact in terms of people and in terms of planet and in terms of purpose," said Morgan.
Meanwhile the company has decided to contribute by donating fabric for personal protective equipment (PPE) and pyjamas to organisations working with victims of domestic violence. 
Supporting each other
Last week's discussion was the most recent instalment of our Profit With Purpose events, intended to bring transparency to the startup and scaling chronology of social enterprises. A question from the audience spotted a potential gap in services available – did our speakers know of any organisation dedicated to looking after the mental health of founders?
This initially drew blank looks from our social entrepreneurs. Hogg suggested investigating Action Learning Sets, which are groups of 5-8 people who meet regularly to learn new ways of working, share experiences and help with problem solving.
Morgan emphasised the value of having a decent network to lean on when times are tough. Expert Impact fosters this sense of community among more than 200 social entrepreneurs who make up the alumni of the Human Lending Library, also providing courses and workshops to further their development and resilience.
For those considering launching a social enterprise in the mental health space, the advent of coronavirus might well be the right time. As Albert Einstein once put it, "In the midst of every crisis lies great opportunity."
Lee Mannion is head of communications at Expert Impact. Header photo: Take Ten encourages users to take some time outside the classroom and calm down when needed (credit: Take Ten).
At Pioneers Post we're working hard to provide the most up-to-date news and resources to help social businesses and impact investors share their experiences and get through the Covid-19 crisis. But we need your support to continue. As a social enterprise ourselves, Pioneers Post relies on paid subscriptions and partnerships to sustain our purpose-led journalism – so if you think it's worth having an independent, mission-driven, specialist media platform for the impact movement, please click here to subscribe.