Eight top tips on scaling a social enterprise through mass disruption
Leading social entrepreneurs from around the world share some hard-won pearls of wisdom on how to sustain your work and grow your impact in tough times. By Erin Worsham and Kimberly Langsam, executive director and senior programme director respectively at CASE at Duke University; and Ellen Martin, an independent consultant.
Covid-19, Ebola, overturned governments and civil unrest. As a leader of a social enterprise, are you prepared to navigate these times of increasing disruption?
In response to Covid-19, CASE at Duke University developed a video series, Scaling Through Mass Disruption, as part of the Scaling Pathways project to capture lessons learned by social enterprise leaders. To wrap up each interview, we asked them to share one key piece of advice with their peers on navigating crises. These are the top eight hard-won pearls of wisdom.
1. Focus and stay true to your core.
"It's simple: just fight through focusing. We're sticking to our mission, we're sticking to our core competency. We've had a lot of pressures on us – whether expanding our scope or moving up the value chain to supporting clinics, running Covid treatment centers, expanding our work to include more urban settings – and we make careful choices. We are doing some of those things, but really trying to make sure that we're staying focused at the intersection of where we actually have organisational talent and competency which intersects with the needs during Covid-19, and not taking on some whole new identity as a result of the crisis."
James Nardella, chief programme officer, Last Mile Health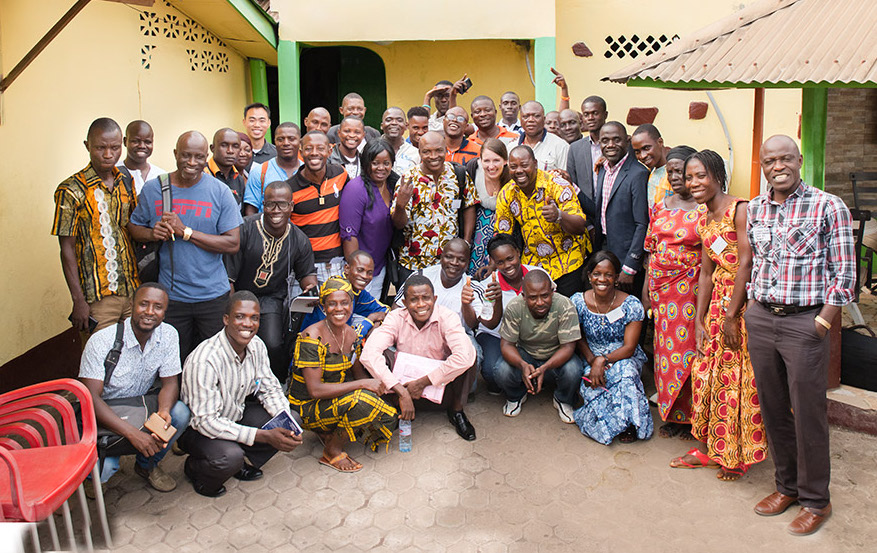 Above: Last Mile Health works to save lives in the world's most remote communities by supporting governments to build national community health systems so that every individual is within reach of a health worker (credit: Last Mile Health)
2. Don't wait until the last minute. Cut costs now.
"I'll actually give advice that one of my mentors gave me in terms of making tough decisions. He said, 'Greg, imagine you are about to run out of money in a month's time. What decisions do you make today to extend that runway? Do it.' So, my advice, if you are thinking about financial sustainability, is don't wait until it gets to the last minute before you think of the decisions that you are going to make. Instead, make those decisions right now. It may be hard right now, but you'll be glad you did it now."
Gregory Rockson, co-founder & CEO, mPharma
Imagine you are about to run out of money in a month's time. What decisions do you make today to extend that runway?

3. Be alert to new opportunities arising from crisis.
"As a result of the situation that we're in [Covid-19], and the particular crisis that's playing out in school systems now, we know there will be groups that are particularly affected. I think that means there is an openness among ministry partners, for example, to explore new ways to ensure the needs of those most vulnerable children are met. I think there will be more openings to look at how to scale initiatives that respond in this kind of context at this time. So, that would be my one piece of advice – be alert to the openings that there will be as a result of this crisis."
Lucy Lake, CEO, CAMFED
4. Phase in what's possible now as you build back to your new normal.
"Consider that your scaling plan post-Covid-19 might not look at all like the plan you had pre-Covid-19 in terms of the business units that can be operated safely and the customer base that still has purchasing power. For VisionSpring, we had so much momentum at the beginning of this year but not all of it is going to come back at the same time. Building the bridge to our new normal and getting back to our scaling plans has a huge safety lens because we're in eyecare. Eyecare is a full contact sport… there is no option to stay two meters or six feet apart. So we're looking at what can come back first. For us, reading glasses, which is a low-touch intervention, is the safest service that we can initially come back with. And so I would encourage folks to figure out how to build your bridge back to the new normal by phasing in what can come back first and be comfortable with it not looking the same as before."
Ella Gudwin, CEO, VisionSpring
5.  Communicate clearly and openly, and treat it as a two-way street.
"My one piece of advice would be to really clearly and openly communicate with your team. You need to tell them what the crisis is that you're dealing with, and what, as a leadership team, you're doing to plan for it. Communication should also be a two-way street – the team should be able to provide input on your plans and you should ensure there is a 'seat at the table' for every stakeholder in your business. We also prioritise communicating openly, consistently, and in a responsible way to our external customers. Try to put yourself in their shoes, even speaking to customers or other stakeholders if that helps to really understand what they're worrying about, so you can consider that in your planning and communication. They should know that you're all in this together."
Noushin Ketabi, co-founder, Vega Coffee
6. Keep your staff engaged and connected so they can pivot with you.
"Keep your people engaged and connected. That is so critical in times of crisis because when you're out of this, you won't have to start all over again because you've been moving along with your people. So keep your people informed, be transparent, keep them engaged and loving the work. We talk about not falling in love with the solution but staying in love with the problem and I think we're keeping everyone engaged so that they can keep loving the problem and not be so attached to the solution – because who knows what that is going to look like in the future."
Lebo Nke, chief culture officer, Harambee Youth Employment Accelerator
We're keeping everyone engaged so that they can keep loving the problem and not be so attached to the solution – because who knows what that is going to look like in the future

 
7. Relentlessly pursue strong unit economics as a basis for future growth.
"Focus on your unit economics – what you have to put in to get $1 out. Even just a few months ago, our focus would have been on growth and seeing that the top line figure [revenue] continues to go up. I think the shift now is more focusing at the bottom line level, i.e., our actual costs to deliver our service and how can we really double down on improving that. Your business doesn't operate in a vacuum, so start by understanding the impacts of the crisis on your unit drivers and how they interact with one another. If your average purchase per customer goes down, what does that mean for your ability to acquire customers, especially if you have high customer acquisition costs? If your volumes are going down, are there going to be cost changes on that side? Be thorough with planning and build out strong financial models. By doing so, I actually think that long term, we will be much better positioned as a business because, at the point in which the market shifts back into growth mode, we will have a stronger and leaner operating engine."
Daniel Yu, co-founder & global CEO, Sokowatch
8. Innovate, adapt, and try things you otherwise would not have considered.
"I encourage you to constantly be testing and practising and piloting your adaptations. That should be an ethos and a part of your culture all the time but is especially important right now [during the Covid-19 crisis]. In this context, you're just going to try things that you otherwise would not be so willing to innovate and adapt – be flexible."
Leigh Morgan, chief operations & strategy officer, Nia Tero
For more on strategies for navigating a crisis, watch the full interviews plus thematic highlight videos in the Scaling through Mass Disruption series at ScalingPathways.com. Scaling Pathways is a partnership between the Skoll Foundation, USAID, Mercy Corps Ventures, and CASE at Duke to curate and share scaling insights from the world's leading social entrepreneurs.
Header image: VisionSpring provides affordable, high-quality eyeglasses to people living on less than $4 a day by bringing eyeglasses and vision screening to customer's doorsteps through a network of distributors and "micro-franchises" (credit: VisionSpring). Interview quotes have been edited and condensed for clarity.
Thanks for reading Pioneers Post. As somebody working in the impact economy, you'll know that producing quality work doesn't come free. We rely on paid subscriptions and partnerships to sustain our purpose-led journalism – so if you think it's worth having an independent, specialist media platform to share your news, insight and debate across the globe, please consider subscribing. You'll also be buying social: Pioneers Post is a social enterprise itself, reinvesting all profits to help you do good business, better.