Long distance driver: How crowdfunding startup Beam is steering towards growth
The former boss of sharing economy business JustPark hopes to disrupt conventional ways of tackling homelessness by combining technology with community goodwill – and by tapping into the "exciting migration of talent" from the tech startup world into social enterprise. But even ambitions for global domination – starting with growing the team four-fold by the end of 2022 – need to unfold at the right pace, he tells Pioneers Post.
Some bosses run startups like they're racing a car around hairpin bends, says Alex Stephany. "It's all about speed, but it's also very dangerous. And a lot of those cars come off the roads after a year or two."
The startup Stephany founded in 2017, Beam, is also driving round the mountain – but it's not trying to win any races. "It's very difficult and it's complicated, but we go at a safe speed."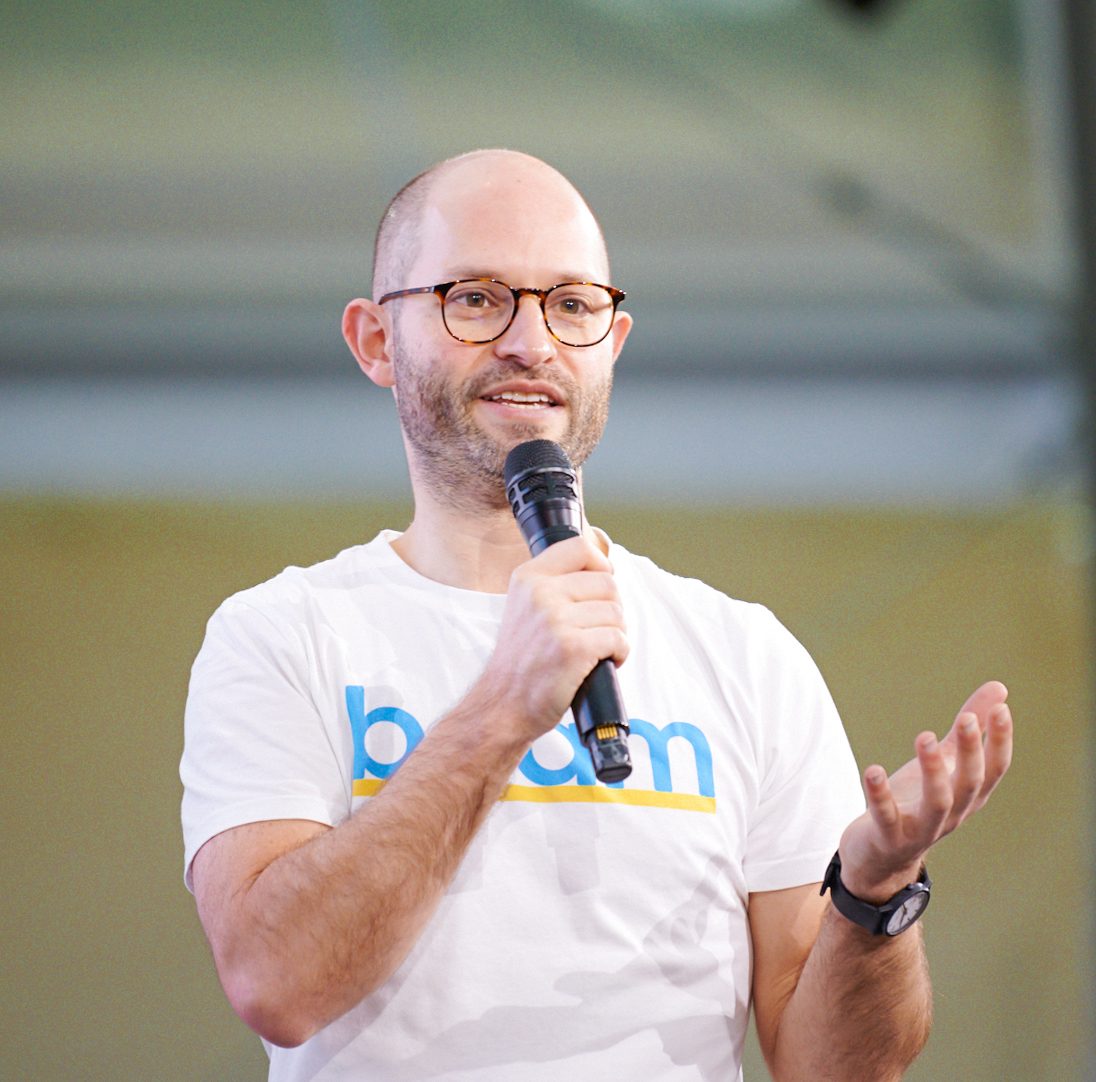 The social enterprise, which helps homeless people into work by crowdfunding from the public, only supports individuals in London for now. But it is looking to expand around the UK – and one day, Stephany tells Pioneers Post, he wants it to be a "globally important organisation". 
The roughly 25-strong team is expected to double its workforce by the end of this year, and double again next year, to around 100. A job description for one of its open roles (there are 10 listed currently, and the CEO says the biggest portion of his own time now is spent on hiring) talks of ambitions to grow from 50,000 donations to more than 50 million.
But that may take a little time. In its articles of association, Beam is described as a company that "thinks long-term" and "will grow at the right pace" – which in practice, according to Stephany, means "the quality and safety of the services remaining at least constant, and ideally improving".
Crowdfunding meets homelessness support: how it works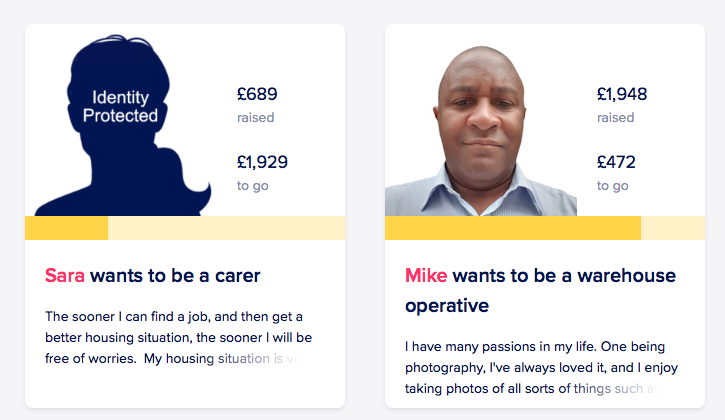 A charity or local council refers a homeless person to Beam
A Beam case worker is assigned to them and helps them develop a career plan
A personal profile is created on Beam's website explaining what job they want to do and their budget to get there (eg for training, equipment, clothes, and sometimes for temporary housing)
People can donate to the person's crowdfunding campaign – and leave a personal message – or split their donation among all those fundraising
Beam ensures that everyone ultimately gets funded by staggering campaign start times, adding a 10% contingency to every campaign, and topping up slow-moving ones if needed 
So far, the company seems to be doing something right. Beam beneficiaries – around 540 to date – have given it an average rating of 9.7 out of 10. And it boasts of 20 awards and accolades. Among them, it was one of 25 'trailblazing newcomers' named in last year's NatWest SE100 awards. 
In 2021, it's shaking off that newcomer status. Stephany says they have now "validated the model" – one that was developed with input from charities and homeless people – of crowdfunding as an effective, scalable solution to long-term unemployment.
"I think that's the most fundamental thing, because when we got started it was an experimental model. We're trying to take a much more socially collaborative model of welfare, and to use technology to make that scale to help thousands or millions of people… we were confident but we didn't know [it would work]." 
We're trying to take a much more socially collaborative model of welfare, and to use technology to make it scale to help millions of people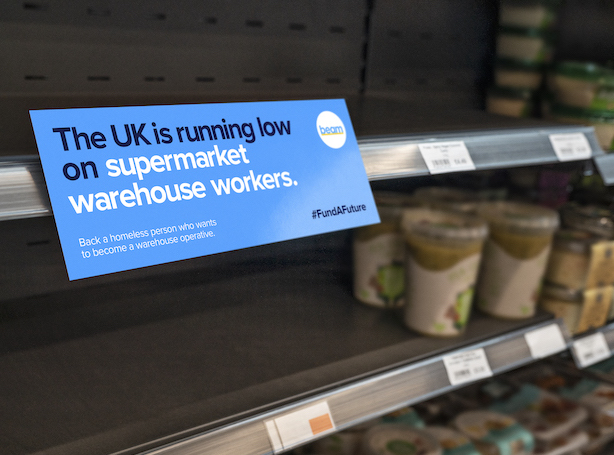 With a name that references a physical structure of support or a beam of light, Beam claims to be the world's first online platform that crowdfunds employment training for homeless people. Three-quarters of them go on to paid work (earning an average full-time salary of £28,000), and three-quarters of those in employment stay there for at least three months, according to company data. This translates into savings for the public purse of £31,300 per worker over two to three years, Beam says. 
There are wider benefits too. During the first wave of the Covid-19 pandemic, Beam encouraged supporters to 'fund a future' (pictured), by helping homeless people to get trained and ready to work in various key worker roles. "In a short space of time, people have gone from a sense of being reliant on other people, to providing some really critical services for people," Stephany says.
A foundation and a company
Beam is structured as a charitable foundation, and a separate company limited by shares whose mission is to provide quality employment to disadvantaged people.
100% of donations go to the Beam Foundation, which pays the individuals who are crowdfunding, while the company covers all the costs (including payment processing). Founder Alex Stephany claims this makes it one of the world's "most efficient giving experiences" for those donating to tackle homelessness.
Supporters can add a tip when they donate to contribute towards the company's running costs; around two-thirds do so. But most costs are covered by philanthropic grants (channelled through the foundation if necessary) from the Greater London Authority, Nesta, UnLtd, UFI VocTech Trust, Social Tech Trust and Three Oaks Trust plus some individual funders; Beam has taken on some debt and equity investment. It also has some outcomes-based contracts with local authorities to deliver services on their behalf.
Stephany's answers are peppered with the language of tech startups: "flipping" the old model (that is, of homelessness charities that use a portion of donations to pay for their operating costs), "validating" a new one, creating an "efficient giving experience". That's not surprising: before founding Beam, he was the CEO of peer-to-peer sharing platform JustPark, a sort of Airbnb for car parking spaces.
And he suggests growing a social business isn't all that different to a commercial one.
"With any normal business, you are focused on delivering amazing services and building amazing products for customers," he says. "One of the things that really motivates us is that we have an opportunity to really, really raise the bar on the quality of services and technology that is provided to the most disadvantaged people in our communities. And technology is absolutely a crucial piece of this." 

What if we were to build for homeless people, technology that is every bit as good as wealthy people enjoy from Airbnb, or Netflix, or Spotify?
Investment has "flooded" into venture capital-backed businesses to "build technology for rich people, basically, or for businesses", he adds, "and I'm one of the people that has reaped the benefit of all of that investment." JustPark has raised almost £16m since it was set up in 2006, according to Crunchbase (Stephany left in 2015, after overseeing a crowdfunding raise of £3.7m, the maximum allowed under EU law).
Startup capital neglects huge groups of people, though: "What if, actually, we were to build for homeless people, technology that is every bit as good as wealthy people enjoy from Airbnb, or Netflix, or Spotify?... It's kind of time that people with serious tech experience start working on these problems."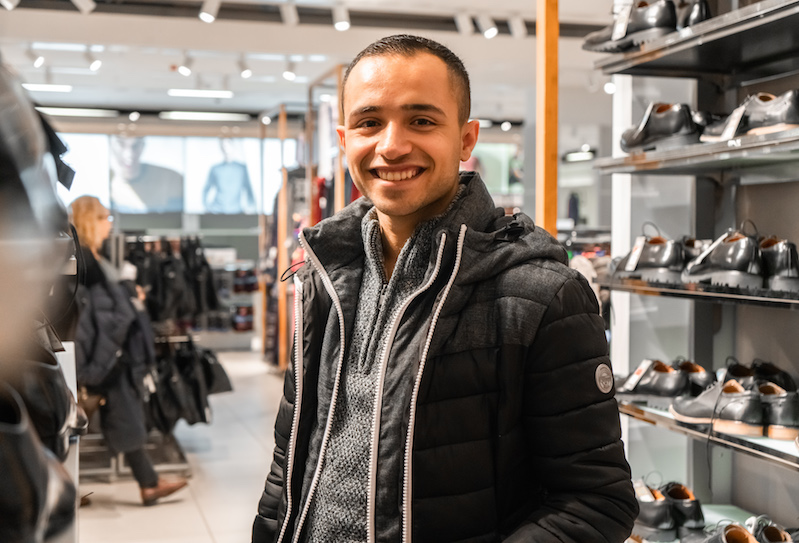 Above: As well as covering the costs of relevant training or qualifications, campaigns may also help individuals cover the costs of clothing or equipment. Alla, who left Syria due to the war in 2017, is pictured above shopping for interview clothes 
Part of Beam's growth strategy is to take on people with precisely that "serious" experience. It recently lured the former director of product at fintech unicorn Monzo to join as its own first head of product. And Stephany says the company is bringing in people from leading tech companies on a "pretty regular basis" – part of what he describes as a "very exciting migration of talent" from the for-profit world into socially-driven business.
"There's a zeitgeist – this is a moment in history, really, where people are thinking about bigger problems. And people are thinking about the preciousness of their time, and how they want to use that time."
But how do they adapt to a new work environment?
We focus on getting an absolutely incredible service to people, and we believe that the financial KPIs will follow
"Culturally we're like a tech startup," he says. That means fast-paced and KPI-driven – but with an underlying mission that "gives people a lot of energy and focus", so the KPIs are about numbers of people starting jobs or being housed. "Those are the things we really, really focus on – getting an absolutely incredible service to people, and we believe that the financial KPIs will follow."
The company side of Beam currently covers its costs (which totalled around £550,000 in 2019) with a mix of grant funding, donor tips, and contracts for local authorities (see box above); it has also taken on debt and equity investment, though a company spokesperson says they cannot yet share names of investors. It also hopes to start charging a recruitment fee to the corporate employers who take on Beam beneficiaries.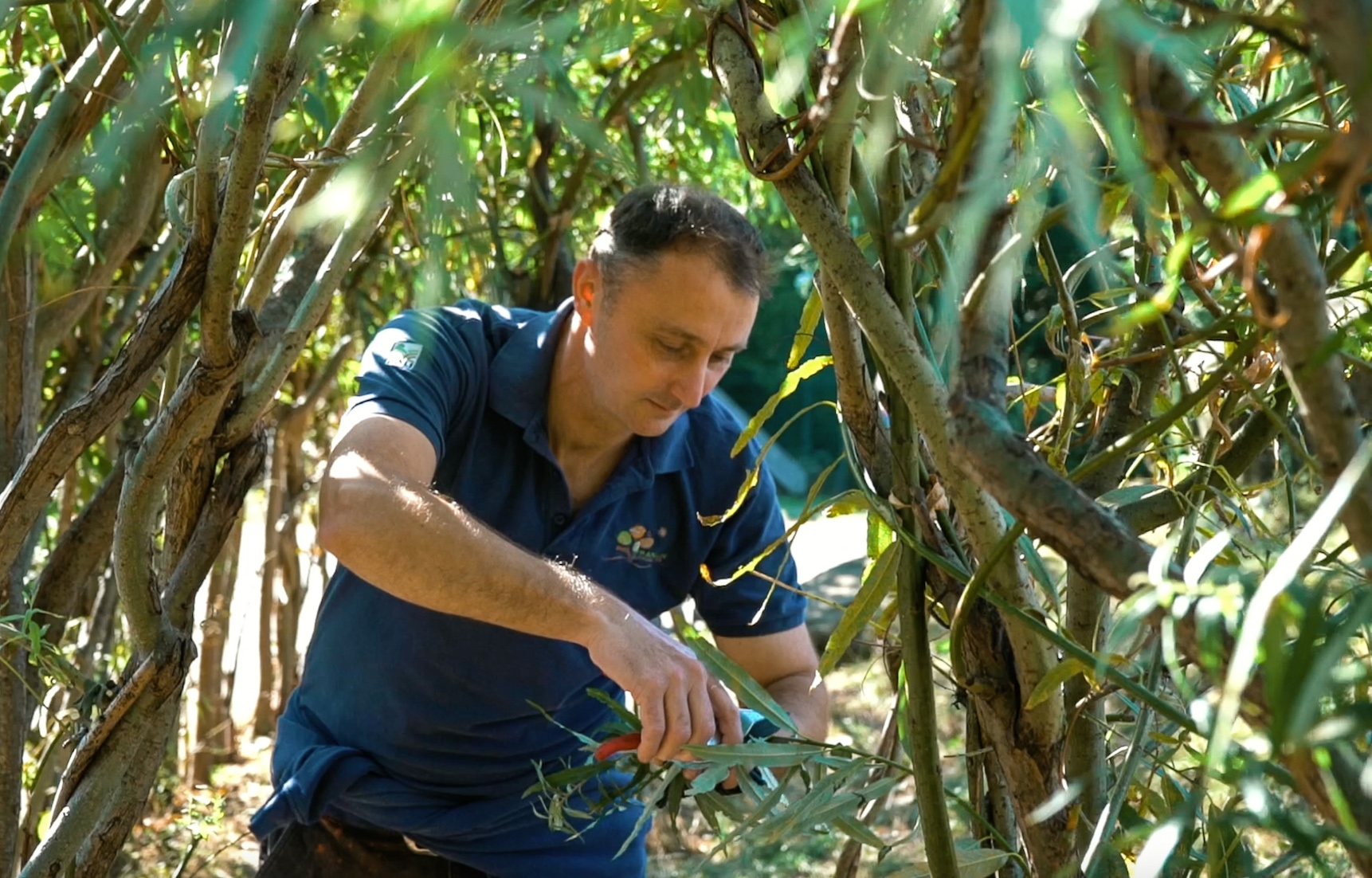 Above: John now works as a gardener, having raised £1,300 from Beam supporters
Like many tech startups, Beam offers its employees share options, which it says is a way to attract good people given it cannot compete on salary with commercial companies. But it expects to be loss-making "for the foreseeable future", Stephany says, prioritising instead "growing our social metrics and impact". Asked about future projected revenue, the CEO does not share numbers but says he has signed up to the Founders Pledge, under which entrepreneurs commit to donating a "meaningful" portion of any future proceeds to charitable causes.
For now, the firm is in talks with authorities in other UK cities about expansion. Does the fact that it's a technology platform mean that the model can be relatively easily implemented in new locations?
"Nothing is easy when you're working with such complex individuals and cohorts," says Stephany: Beam candidates may come with a history of self-harm, poor mental health or substance abuse. Around two-thirds of staff are case workers, who support candidates throughout their campaign. But the hope is that investing in product development will make at least that side of the expansion more straightforward.
"If you bring the right people and the right funding around a problem, you can solve it… It's fundamentally about the people, and that's why my biggest single focus is making sure that we can hire, and hire absolutely stellar people, and make sure that we continue to make Beam an awesome place to work," Stephany says.
"Increasingly my role is just bringing people together, and hopefully watching the magic happen." 
Header image: Sabrina, who used Beam to raise more than £3,000 from supporters to train as a beautician. All image credits: Beam
Thanks for reading our stories. As an entrepreneur or investor yourself, you'll know that producing quality work doesn't come free. We rely on our subscribers to sustain our journalism – so if you think it's worth having an independent, specialist media platform that covers social enterprise stories, please consider subscribing. You'll also be buying social: Pioneers Post is a social enterprise itself, reinvesting all our profits into helping you do good business, better.