How to: run an activist enterprise and compete with Google
Can you run a business as a form of climate activism? Ecosia founder Christian Kroll reckons so: read on to find out how the online search company protects its environmental mission, encourages protest and – even in a 'David vs Goliath' market – influences its competitors.
Berlin-based Ecosia, founded in 2009, is a search engine that uses the profits from advertising to plant trees. It currently funds a new tree every second, and has planted more than 125 million to date.
The social business became Germany's first B Corporation in 2014, and four years later, founder and CEO Christian Kroll handed the stewardship of Ecosia to the Purpose Foundation, meaning shares cannot be sold at a profit or owned by people outside of the company, and that no profits can be taken out of the company.
Online search is dominated by Google, and Ecosia has just 1% market share, said Kroll, speaking at the Impact Summit last week. "It's still very much David against Goliath." But the potential to do more is "huge", he added. "Imagine if we had 100% market share – we could reforest the entire planet… If you're David then you just need to do things differently."
Ecosia does things differently in a number of ways. Here's how it combines activism for the planet with a purpose-driven business model, as shared by Kroll last week.
1. Protect the mission through steward ownership
A golden share model means the Purpose Foundation has a 1% veto share without dividend rights: it can block a sale of the company or any change that would undermine its mission. 
"That's really strong. It gives us a lot of credibility, because this is legally binding, it's irreversible," Kroll said. "People can be really sure that they're contributing to tree-planting – and not to Christian buying himself a fancy car or a big yacht."
If you're David then you just need to do things differently
Ecosia never took on any external funding, said Kroll – in some ways, "a bit of a weakness" because it meant growth was "rather slow". But that also felt like a healthier way to grow the company – and turned out to be a wise choice for the later switch of ownership. "If we had taken on venture capital money probably those investors wouldn't have been happy to basically devalue their shares of Ecosia." (The company did raise €15,000 from an individual investor in 2014, according to Crunchbase, but he later waived the right to get his investment back.)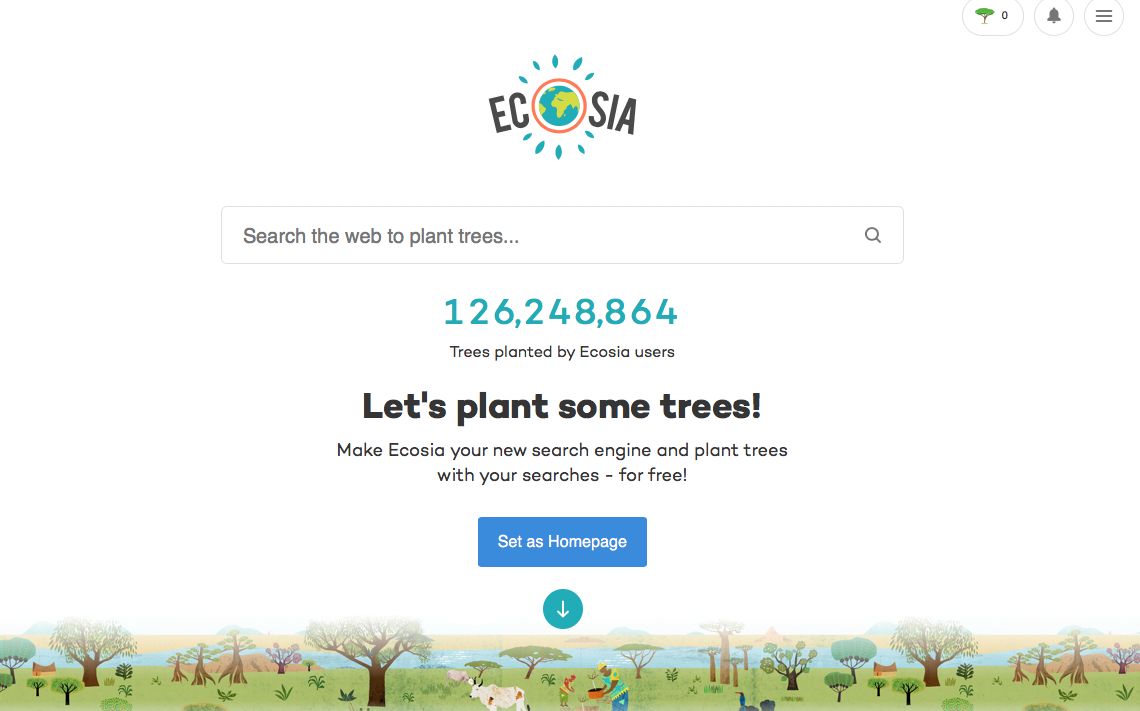 Above: revenues from Ecosia's search engine fund the planting of a new tree every second
2. Back employee activism – even if it gets them in trouble
Kroll wanted to make an impact on the world, but knew he wasn't suited to a career in politics or fundraising. "What I'm really good at is building businesses, that is my type of activism," he said.
But he also encourages employees to be activists. In a 2019 blog, the company describes its 'climate leave policy', which allows all staff to 'engage in climate activism' during weekdays without having to take time off or call in sick. If they incur legal problems, Ecosia 'will support them and cover any related fees', and will even count time behind bars as work time if their activism gets them arrested. 
3. Raise the bar for your competitors 
Last year, the company shared that it was not only producing enough solar energy to power all Ecosia searches with renewable energy, it was actually producing twice as much, making it '200% renewable'. 
"Through my company I have the opportunity to go way beyond the minimum," Kroll said. That was a form of activism, he suggested, since it could influence others. "All the big tech companies also observe what we're doing. We're still tiny compared to them. But they're very much aware of us and they also need to start moving." 
One day consumers might ask not only if companies were 100% renewable – but if they were 500% renewable, said Kroll. "If those big tech companies don't have a good answer, well, then they lose market share."
All the big tech companies observe what we're doing
4. Influence through partnerships
Ecosia uses Microsoft Bing's search technology – virtually all search engines use either Google or Bing, Kroll explained. While he had reservations at first, he soon realised Microsoft was "really supportive" of the mission and it has sparked a "really good" collaboration. 
The partnership may even be swaying Microsoft's own approach. In 2020 the company made an ambitious pledge, announcing that it would become 'carbon negative' by 2030. "When I looked at Microsoft's climate agenda, I saw a lot of words that we used in our communications towards Microsoft, and where we nudged them to be more ambitious with their climate targets," said Kroll.
 
5. Keep innovating 
Society needs to "move away from sustainability and towards repairing and regenerating our planet," Kroll said – something he hopes to do through his company. 
While Ecosia will continue to plant trees, it's also looking to develop features that help users to make greener choices. For example, someone searching for a flight from London to Paris could be prompted to consider a more environmentally-friendly train journey. 
"Through technology we can influence people's behaviour a little bit, help people make greener choices and also have a big impact on the behaviour of society."
Header image: Christan Kroll (credit: Ecosia)
Thanks for reading Pioneers Post. As an entrepreneur or investor yourself, you'll know that producing quality work doesn't come free. We rely on our subscribers to sustain our journalism – so if you think it's worth having an independent, specialist media platform that covers social enterprise stories, please consider subscribing. You'll also be buying social: Pioneers Post is a social enterprise itself, reinvesting all our profits into helping you do good business, better.