Ex-head teacher strict on social business survival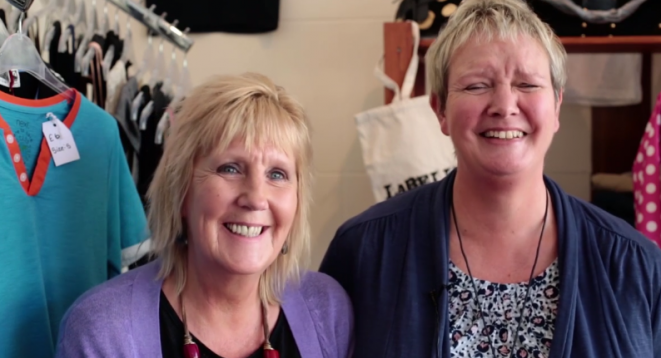 You don't get many head teachers turned social entrepreneurs, but when you do they take a strict approach to business survival. "In the public sector you're constantly waiting for permission, but in business you just get on and do it," Gill Walker, former head teacher, now chief executive of Patchwork People told me.    
When she was made redundant, she took a leap of faith out of the comfortable regimen of timetables into the unpredictable world of social enterprise. With a 'get on and do it' attitude she turned a promise and a car full of young people into a train-on-the-job shop in Darlington.    
Now she has plans to create a chain of shops across the UK where young people furthest from the job market train and trade at the same time.
Pioneers Post: Talk us through your start-up survival journey.   
Gill Walker: I had a successful career as a teacher, head teacher and assistant director of children's services and I was made redundant. I had to make a choice, I could have stayed in the public sector, and worked for other local authorities but I wanted to work outside of those structures.   
I decided to set up a social enterprise that would give young people experience of work in customer facing environments. We couldn't afford a shop so we started out by trading on market stalls for about 8 months. I had gone from a job with a budget of £8m and 400 staff, to an enterprise with no premises and no office. We had nothing! We were meeting on landings of leisure centres. And in the absence of a shop, we used camping tables and a gazebo instead. We did some festival training with a team of young people, got out there and started selling. We started out as a sort of mobile training and trading enterprise.   
PP: Do you think this early experience of struggle and determination has affected the endurance of your business 3 years on
GW: Yes absolutely.    
It's these experiences that help you to think creatively in times of struggle. Even in the mobile trade, we didn't just trade fashion and accessories; we asked our young entrepreneurs if they'd like to set up a hook a duck stall and other fun events. They did and made £150 in two hours. We were always looking for little opportunities that they could lead on without overly committing ourselves.   
Once we'd established ourselves and got our first shop in Darlington, we had to turn the heating off after a year. It was bitterly cold, money was getting less and less, and we weren't sure what was going to happen. That was one of the lowest times. But we always had this massive sense of belief that we'd survive. It had to work not only for the young people we had made a promise to but also for our own families. My business partner Marj and I are the main wage earners in our house, and we were managing on redundancy and the early funding we received. It was income for our own lives too that we were trying to generate.    
So we had to think outside of the box. We immediately started looking at other opportunities to generate income. We used to "set rabbits off" metaphorically speaking. Marj would set a rabbit off here and I'd set a rabbit off there and see what came of it. We contacted people and suggested things we would be able to do for them, and offers would come back and generate us some money. Struggle made us think more creatively- what else is there, what else might we do, how else could we approach this?  
PP: Once you had the shop up and running and some stability what became your key priorities?   
GW: Someone told me you've got to watch your marbles. And at 55 I thought you're right about that! But what he meant was it's all about marbles in the jar. If you get some marbles in the jar you can spend them if you haven't then you can't. We had to get marbles in the jar.    
Our priority, as we developed was to look for multiple income streams. Once we had the shop we were able to set up as an approved training centre. We focused on building up placements for young people from local schools, academies, social care teams and job centres. It was all about making ourselves known to many, as a small facility that were doing solid useful work.   
Next, it was key to start trying to build an evidence base and formal recognition of our impact. I was used to having external validation from Ofsted, but now I was working in a shop with young people and no external badge of approval. We started seeking Social Return on Investment, through an external consultant, and the Centre for Excellence and Outcomes approved us as a validated local practice. Later we entered the RBS SE 100 Index, and were recognized as a trailblazing newcomer to the social business world. You really need to work constantly at validating yourselves to evidence your good work.   
Surviving has to be about self-belief, because you haven't got anything else have you?
PP: How did you get organisations interested in the alternative training service you offer?   
GW: We made a deliberate effort to be visible. You need to try to appear bigger than you are at the early stage. We have two Twitter accounts and Facebook pages. We foster some interest through social media. At one point, I ended up in a twitter exchange with Mary Portas, the English retail consultant, and broadcaster and Hugh Pinn, business editor on the BBC. It was by being a bit cheeky really. Hugh Pinn later rang up to ask if we were doing any work in Manchester. He had just done a broadcast on youth unemployment, I tweeted him, and now he's interested for us to keep in touch as we develop.    
It's been hugely important for us to be visible, and timely. We use Twitter and enter a lot of competitions both local and national. We got trailblazing newcomer in the RBS SE 100 Awards last year, and are entering Big Venture Challenge this year.   
Our partners have come to us, and are usually established organisations working with young people in drop in centres, or with learning disabilities for example. They see our training and enterprise model as a way of extending their offer.    
One of the most important things for us was putting safeguards in place, policies, procedures and risk assessments before we started working with young people. We became known as "the safest hands on the high street" and this has been key to us replicating.  
We've built up enough interest and support now to go beyond our training and enterprise centre in Darlington.  We're piloting replications, in Nottingham, South Shields and Newcastle. We've also had a license prepared, and this summer we'll be launching it nationally to work with people across the country to take on other training and enterprise models.    But we've got to be careful here. Marj and I don't have a pause button, and if you set too many things off there's a danger you won't be able to meet the need. So we have to remind ourselves to press pause.  
PP: What gets you up in the morning?   
GW: I care massively about what we're doing, the people we work with might be struggling at school; they might have additional needs, health needs or learning disabilities. We see them flourish and move onto successful futures. They look after every aspect of the shop they clean and decorate it, sort the stock, and make products to sell… There's a real sense that running a shop in Darlington is incredibly empowering experience for young people who've been through various schemes and nothing has come of it.    
PP: What keeps you up at night?   
GW: I used to wake up at night with conversations in my head. Is this going to work? Is this the right thing? I'd gone from a very secure position to a very unpredictable place. There was a lot of financial anxiety and a lot of professional anxiety as to whether this was the right thing to do.    
Now I sleep very well. I work until I'm exhausted. If anything keeps me up it will be a decision. Marj and I are both 58 this year, and we haven't got 10 or 20 years to build up to something. There's a real sense that every decision has to be the best. If there's any doubt going on it would be the middle of the night that those thoughts enter my head.   
PP: If you could play your start-up survival journey to a sound-track what would it be?   
GW: Everyone probably says "I will survive." But for me it's "You're sexy and you know it" (by American rapper duo LMFAO), it's all about self-belief. When I'm doing the great North Run I had to play that several times over to keep me going!    
I'm a big believer in personal strength. I don't look like a runner, I don't run like a runner but I run every day. I've done the Great North Run, many times and have recently booked myself into a course of running workshops. Keeping myself fit and well affects my mental state, it's massively important that people keep up their personal and physical strength. You've got to hold your nerve and have self-belief.   
Surviving has to be about self-belief, because you haven't got anything else have you?   
Pioneers Post Business School content is delivered in partnership with Inspire2Enterprise. Inspire2Enterprise provide a unique, free-to-access social enterprise support, information and advice service – from start-up through to initial growth and beyond. Call them on 0844 9800 760 or visit www.inspire2enterprise.org to find out more.