Zoona's ambition to democratise Zambian banking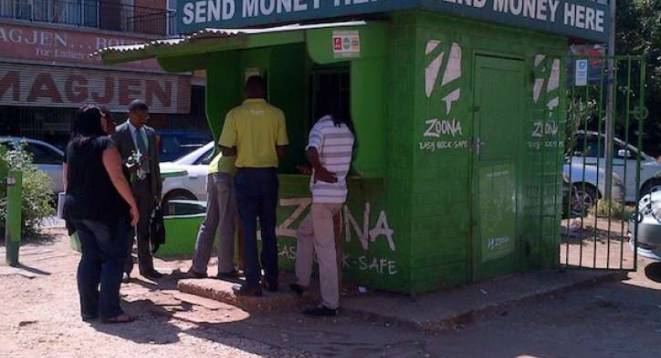 In the first of a fortnightly series of interviews with inspiring entrepreneurs, Fergal Byrne speaks to Mike Quinn, CEO of Zoona, a mobile payments system in Zambia that aims to provide mobile cash solutions to Zambia's unbanked population.
Mike Quinn is an entrepreneur with a passion for business in Africa. He has an MBA with Distinction from Oxford University, where he was a Skoll Scholar for Social Entrepreneurship, and an MSc in Management Development from the London School of Economics. Under his leadership Zoona became the first technology startup company in Zambia to secure venture capital from international investors. Now it's gearing up to scale.
Fergal Byrne: Can you tell me a little about Zoona?   
Mike Quinn: Zoona is a mobile payments business, primarily operational in Zambia, although our headquarters is in South Africa, and this is where our IT is done. In Zambia approximately 80% plus percent of the adult population has never had a bank account, doesn't have any access to credit cards and debit cards. In addition, in countries like Zambia, and, indeed, throughout South Africa small businesses - typically 'mom and pop shops' have poor access to capital and the banking system. Zoona provides micro and small business with a technology platform that allows them to provide financial services to consumers -the largest service is money transfers.   
Today, Zoona process approximately twenty million dollars in Zambia payment value every month. We have sixty employees in our Zambia and Capetown offices and are really gearing up to expand into new countries. We had the honor of being the first start up technology business in Zambia to ever attract international venture capital. We raised $4m in equity with the Omidyar Network and ACCION International in early 2012 and have been really accelerating the business since that investment.  
FB: How does Zoona work?   
MQ: We have a network of about four hundred small businesses across Zambia that work with Zoona. Consumers can come into these shops and send money transfers from one point to the other. The shop earns a commission every time a consumer sends money. It started as a payment platform and we have added a financial services component. We have been adding other services for these shops/ small businesses such as the ability to sell prepaid air time, the ability to pay their suppliers to stock Coca-Cola, for example, and other products in their shop. We provide short term financing so that they have overdraft facilities to buy stock and we provide them with working capital in the form of longer term loans to expand, to open new outlets and new shops, or to build their working capital base.   
FB: Can you tell me about some of the challenges you've faced as you have grown?   
MQ: There were three very distinct phases in the growth of the business-each with distinct challenges. In the first phase it was pure "survival" – it is all about trying to make payroll at the end of the month. At the time, you are very naïve you always feel you are on the verge of success. But looking back, you realise you were nowhere near success. These were very difficult days. At one stage, I remember before Christmas, we had to tell employees there would be a pay cut and we had to let some new employees go. We had no choice if we wanted to survive. But we managed to hang in there, getting clients to pay early, investing our own money, and attracting small amounts of angel finance.   
The second phase of the business was after we managed to raise external financing from impact investors. You get a false sense of security with all that money in the bank. We did things that everyone said you shouldn't do: we gave raises to employees, long underpaid, and hired lots of new people. Then we had a wake up call –we were spending $250,000 a month. So we had to go back to be more frugal and focus the business on becoming "cash flow positive" again.   
Zoona is now in the third phase: and we are facing what is probably the biggest challenge. We have already proven ourselves as a business, we have something that is proven, it is valuable, and we don't want to lose it. We are always worried about not being as successful as we know we can be. To some extent, we are driven by the fear of failure.   
FB: Its notable that few social businesses succeed in scaling-up. What are some of the challenges involved in scaling up a social business?   
MQ: Scaling up any business is hard – it takes time. Most companies fail. You don't hear about all the businesses that have tried and failed. You have a number of particular challenges scaling up a social business in the emerging markets. One is capital. We have been quite successful in attracting investment from impact investors, this new class of investors that have the mandate to invest money in early stage social businesses like ours. Without this capital it is very easy to fizzle out. In our early days, we were running out of money all the time. Luckily, we were able to hang on long enough to get enough traction to get this investment and then luckily we were able to think about the business a little bit more in the long term and a little bit more strategically. Another major challenge is attracting top talent. If you are a Silicon Valley start-up you have the world's top graduates who will work with you for stock options or as interns. In countries like Zambia you just don't have that that deep talent pool. And you are competing with banks and large organisations that pay a lot for top managers.   
FB: What is your ultimate ambition for Zoona?   
MQ: We have put a stake in the ground: we want to build a billion dollar business.  I'm a believer in big goals: If you don't say it and aim for it you can't ever achieve it. but I also believe in focusing on goals that are achievable. Also, goals weed out people from the business, people who don't fully support your vision and growth. This is a huge part of our growth story and also our overall story.     
Fergal Byrne has been interviewing entrepreneurs, executives and thinkers of every stripe for almost 20 years. Look out for the next Q&A in the series here on Pioneers Post. You can hear Fergal's interview with Mike Quinn and other inspiring social entrepreneurs and changemakers here and on iTunes.   
Find out more about Zoona.