'They planted trees instead' - Why social enterprises need to be better at marketing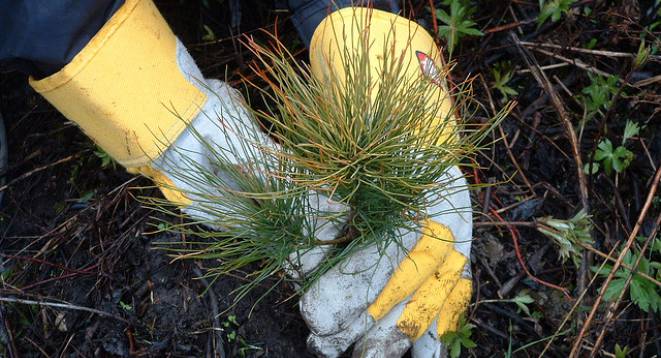 Social enterprises have a complex marketing job to do with products and services as well as social value and impact. Read Simon Denny's guide to marketing your social enterprise to CSR teams.
Last month I met with a group of managers and directors of social enterprises based around Northampton. Conversation turned from ways of measuring social value to what the larger private sector businesses in the county were doing to support social enterprise. The director of a social enterprise providing back to work training for ex-offenders said that his contacts in the local Business in the Community group had recently told him that they had had a great day out planting new trees. With great feeling he said, "they could have used their CSR budget and expertise to help reduce offending, but they planted trees instead!"
So, the obvious question is, how many of the social entrepreneurs at the meeting had effectively marketed themselves to the big corporates? None! Chats about 'what we do and how you might help us' don't count, nobody had a marketing strategy targeting private sector companies.
Social enterprises have a more complex marketing job than private sector businesses. Not only do they have to market their products and services, but they need to market their social value and impact. They need to do both tasks because they normally have multiple customers, the people paying for the product and services are often different from the people that are paying or would pay for the social value. 
To market social value and impact, a social enterprise must have material – brochures and web based information – that clearly and concisely describes what the business does, which individuals or groups it supports, and how effective that support is. This marketing material must be produced using words and images that each of the current and potential 'social customers' will understand. Therefore, the social enterprise must understand the wants and needs of each of its actual and potential social customers.
If we look at large private sector businesses (e.g. a PLC) as potential social customers, social entrepreneurs have to get information about what their wants and needs are. All large corporates have a CSR strategy with objectives and a budget. Many corporates are very good at managing their CSR work, but some have a problem, they are not sure that what they are doing with their shareholders money is effective or aligned with their strategic business objectives. 
So, social entrepreneurs have an opportunity, and they need to realise this opportunity by putting into place a 10 stage plan :
1.

The first stage is for the social entrepreneur to produce a 'hit list' of corporates it wants to target. The list could be by geography or business sector.
2.

Then study websites and publications to see what CSR activities the corporates on the hit list currently do, and look for any lack of obvious alignment between these activities and overall business strategy. Look out for tree planting, painting things, unstructured volunteering etc, these could give the social entrepreneur a chance. Produce a short list of corporates to approach.
3.

Devise marketing and promotional material that make it clear how what the social enterprise does is going to be of value to the corporates on the short list.
4.

Don't send the material to the MD of the corporates on your short list. It will go in the bin!
5.

Arrange to meet the CSR manager or director of the corporate, this is the man or woman that has a problem that you can help solve. If you can't get a formal business appointment, meet them at business networking events, find out who knows them and get an introduction, do what you legally and ethically can to meet them.
6.

At the meeting give a short (5 minute maximum) verbal account of how your social enterprise can help the CSR manager. You will improve their reputation in their business, tell them how! Give them your prepared, colourful and interesting social marketing material so they can read it later. Use their language, talk about logistics, retail, IT, construction – whatever their business is, and relate your social value to their business objectives. 
7.

End your account by making a clear proposal – we will give you these outputs, and credit for them, and pages in your annual report, and….if you give us £x cash or expert support in kind. Discuss the proposal, answer questions, ask your own questions, find out what other information might be needed.
8.

Start a process – it is most unlikely that the CSR manager will get the cheque book out at the first meeting. So, invite the CSR manager to visit your social enterprise, ask if they would like to meet people you support to hear first-hand how good you are. Assure them that you are a professional and high quality organisation with systems, policies and procedures, and a detailed business plan. Demonstrate that you have a future and you are talking about an on-going relationship and not a one-off payment.
9.

If you get to 'the deal', put it in writing, agree standards of performance (for both parties), then deliver in a way that delights the social customer.
10.

Go back to stage 1 and repeat the process!
Trees are great, everybody loves trees. 
No large private sector business is going to buy social value and impact from a social entrepreneur that is not professional about its marketing. If you want to deliver more impact, if you want to help the corporates with a CSR problem, get serious about your social marketing – otherwise they'll plant trees instead!