Starry eyed musicians take on social discrimination
Fierce competition and ingrained exclusivity within the music industry mean that for many aspiring musicians and singer-songwriters, becoming a successful recording artist is the Holy Grail that only dreams are made of. 
In the latest of our RBS SE100 Insight profiles looking at social ventures on the SE100 Index, Ellie Ward explores Under the Stars – a social venture working towards making this dream a reality for individuals with learning difficulties, for whom the idea of being accepted by society in general, not just within the music industry, can be a daily challenge. 
Under the Stars: RBS SE100 vital statistics
206/946 on the Growth Index
13/43 for growth in the Yorkshire and Humber Region
33/113 for growth in the leisure, sport, arts and culture sector
5/10 impact measurement score (average across the index)
Check out Under the Stars' full RBS SE100 profile on the data platform
It's the middle of a busy week at the Under the Stars HQ in Sheffield when I catch business manager Mia Ali for a chat. A music workshop is about to chime into action, one of the organisation's bands is practising for a festival appearance and a member of The Sparkle Sisters is making an appearance on BBC Radio Sheffield for an interview. 
Mia is currently taking the helm of daily operations because founder Ruth Parrott is on maternity leave. Mia explains that Ruth set up the organisation in 2007 after taking a group of individuals with learning disabilities to a nightclub and witnessing them being treated badly by other club-goers. 
She realised that there was a serious vacuum within provisions for individuals with learning difficulties. There was nowhere for them to socialise, enjoy great music and have fun after dusk, the time when most people are allowed to let their hair down. 
Under the Stars was initially set up to provide safe and accessible nights out for people with learning difficulties that contain all the elements of a normal nightclub – a bar, great music and space to dance. Over 18,500 people have attended the monthly nights held in Sheffield, Doncaster and Barnsley over the past seven years.
I've heard that within the security company people fight to do the security at our nights because it's such a great atmosphere to be in.
Run by a group of volunteers, many of who have learning difficulties themselves, Under the Stars is structured as a social enterprise company limited by guarantee and is modelled around five core values, including – empowering and enabling people with learning difficulties, challenging barriers and improving people's health and wellbeing.
Mia describes a typical night at the Sheffield venue, The Hubs: "We currently open two rooms on the nights. All of our DJs have learning disabilities and have their own style. In the main room there's quite an eclectic mix of music. Then the second room, the underground pod, is more contemporary dance music."
"We have a good team of volunteers and security. I've heard that within the security company people fight to do the security at our nights because it's such a great atmosphere to be in."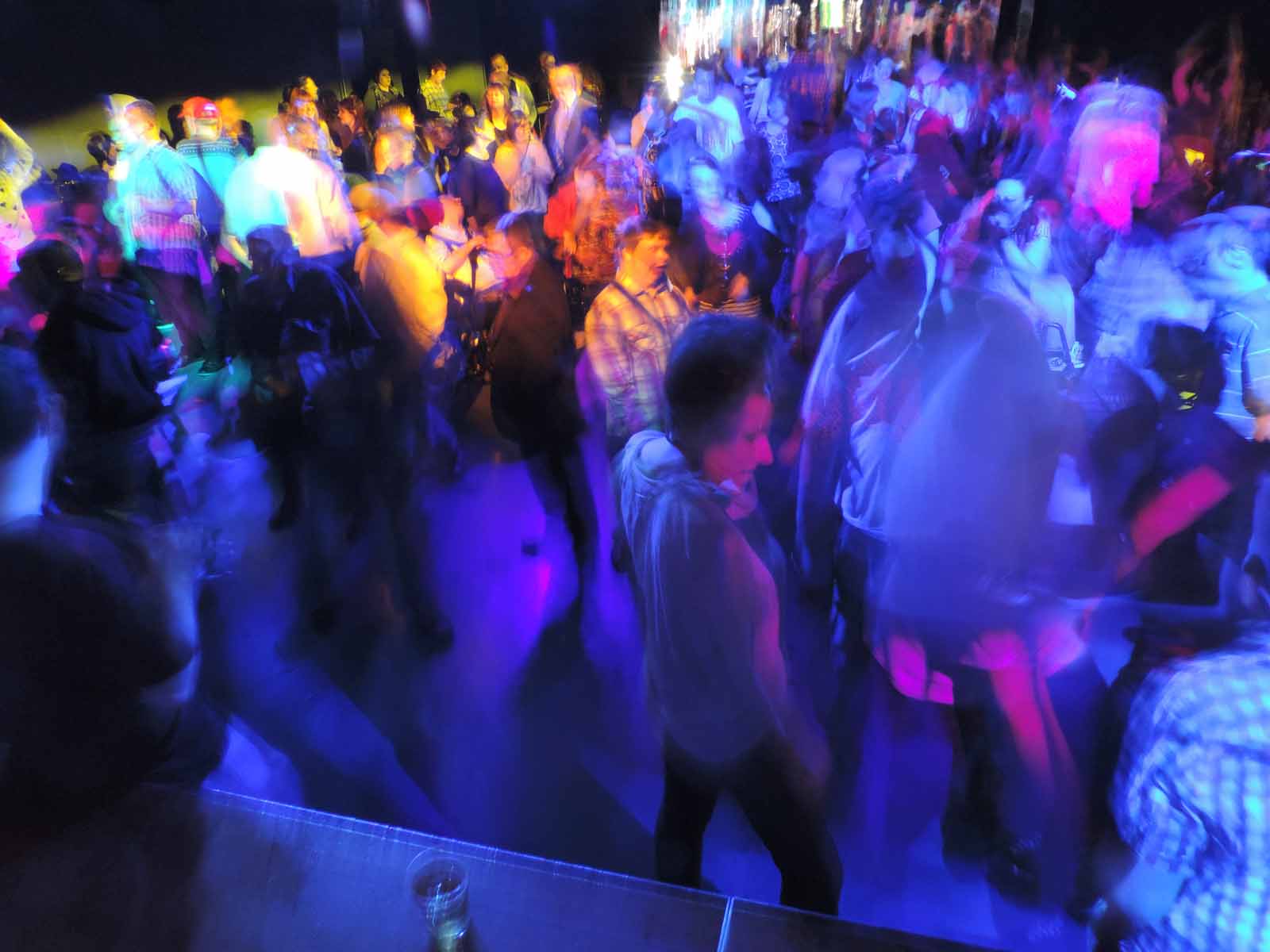 One of Under the Stars' popular club nights. Photo credit: Under the Stars
While the night time events remain a crucial part of Under the Stars, the organisation has been on a fierce path of expansion and is now battering down the doors of the exclusive music industry. 
"We're running workshops five days a week which are run by very experienced music tutors, who are also all gigging musicians and are really involved in the Sheffield music scene. Out of each of the workshops bands have formed," Mia explains. 
The Stars Band is the longest running of the groups. They, along with The Sparkle Sisters, Without Heads and the Clubland Detectives all play regular gigs in South Yorkshire and will be playing at the Tramlines festival in Sheffield this year.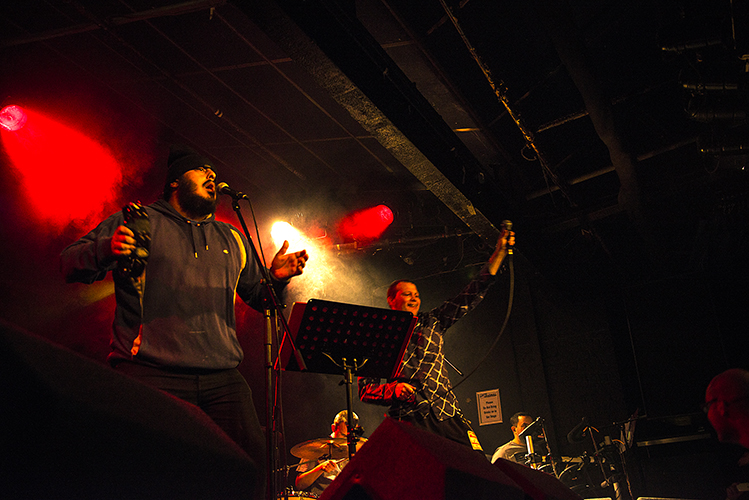 The Stars Band playing at the Leadmill in Sheffield. Photo credit: Under the Stars
Under the Stars has attracted the attention of some high flyers in the music industry. BBC Radio 1 DJ Toddler T provided them with funding and they're in talks with the Arctic Monkeys' producer about recording one of the Stars Band's tracks. Being integrated into the thriving Sheffield music scene means that Under the Stars have good connections with local recording studios and designers who have helped to create professional standard album covers. 
It shouldn't be 'oh lets go and see a learning disabilities band because that's a nice thing to do'. No it's good music so people should go regardless.
The overall aim of Under the Stars is to be self-sustaining. Mia says: "We don't want to be reliant on donor funding…The nightclubs fund themselves through the ticket sales, so everybody who comes in pays and that pays for the venue and the marketing."
The workshop income – generated from attendance fees – currently covers 90% of the total amount it costs to run them and in six months these are predicted to become completely self-sufficient as well. 
In the year 2013 to 2014, Under the Stars had a total income of £118,200, which after expenditure meant they has a surplus of £1,118. Mia explains that in the year 2014 to 2015 the organisation is forecasting that their total income will reach over £125,000, meaning they will be making a surplus double that of the previous year. 
Like many social ventures Under the Stars is trying to get to grips with measuring their social impact in an accurate and efficient way. They have had some support on this through the Big Venture Challenge, an initiative funded by the Big Lottery Fund that aims to support social entrepreneurs. 
Mia says: "We have done various pieces of work on social impact…for example, last year we did a big survey of a lot of our service users and everybody who is involved including parents and carers."
"We do ongoing monitoring all the time. Because of the individual needs of our learners its not so much written down, instead we do a lot of video evidence and the Friday group have been doing some NVQ accredited courses which has been great."
The impact measurement conducted so far has also been used to examine the areas where Under the Stars needs to focus on in order to maximise its social impact potential. Even though lots of people are finding out about the nightclub events and lots of people are coming to the workshops, "there are a group of people who are so invisible and  who are not engaged in the social welfare system at all that they are not able to access what we're doing," Mia explains.
Under the Stars must find ways to overcome these barriers and make sure that everyone who could benefit from their services can actually benefit. Their plans for the future – which include launching outreach music workshops in local SEN schools and applying their model in different geographical areas either through consultation or directly – incorporate this aim.
For the team at Under the Stars, making the music industry inclusive is an important step towards ridding society of discrimination. Mia says: "We want to make everybody in the community realise how great this music is. It shouldn't be 'oh lets go and see a learning disabilities band because that's a nice thing to do'. No it's good music so people should go regardless."
Check out the RBS SE100 data platform for all the latest statistics on growth and impact, and market intelligence across regions and business sectors, collected from social ventures across the UK.  
Photo credit: Iryna Yeroshko, Flickr