African entrepreneurs take on society's toughest problems
From telecomms tycoons to inclusive bankers, Africa's entrepreneurs are pooling ideas and resources to drive progress across the continent. Jane Wales, chief executive of the Global Philanthropy Forum tells us who's who and how they're approaching social and environmental challenges.
In fast-growing economies like Africa an increasing number of entrepreneurs are building businesses and forming philanthropic organisations to address some of society's toughest problems. They are tackling such challenges as endemic poverty, infectious diseases, climate change, food insecurity, violent conflict and government corruption.
As entrepreneurs mobilise, strategic giving is a growing trend, with African members joining the Giving Pledge, growing the Synergos' Global Philanthropists Circle and making the African Philanthropy Forum (APF) the fastest growing affiliate of the Global Philanthropy Forum.
So who are these entrepreneurs and what are they doing?
Aliko Dangote: building resilience in zones of conflict
Africa's wealthiest man, Aliko Dangote, is among those generous entrepreneurs who have moved from charity to philanthropy. He founded and runs Dangote Group, a conglomerate that manufactures and imports products from cement to sugar. Ranked 34th on the global rich list, he has also built the Dangote Foundation, and chose the talented former Ford Foundation officer Adhiambo Odaga to manage its grant-making portfolio. 
Among a range of activities, the Foundation launched a micro-grants programme to support people in Northern Nigeria affected by Boko Haram's insurgency.  Last year, when President Goodluck Jonathan declared a state of emergency in response to the Islamist group's intensifying violence, the Foundation earmarked 54,000 micro-grants for vulnerable communities in the northern states of Adamawa, Borno and Yobe. The goal is to build resilience in the face of conflict by seeding small enterprises and enabling financial independence, especially for women and youth locked in poverty. 
Patrice and Precious Motsepe: promoting health and development​
In recognition of the role that ill health plays in impoverishing millions, South African mining magnate Patrice Motsepe and his wife Precious, a paediatrician, have been giving to efforts to combat AIDS, improve access to health care for women and children, and to advance the goals of inclusive economic development. They were the first African couple to join the Giving Pledge championed by Bill and Melinda Gates and Warren Buffet. And Precious has long been a member of Synergos' Global Philanthropists Circle, along with fellow South Africans Hylton and Wendy Appelbaum and members of the Ackerman family.
Hakeem and Myma Belo-Osagie: support for values-based leadership
As a long term strategy, many of this new wave of philanthropists have focused on values-based leadership, in the public, private and civic sectors.  Deeply moved by his own experiences in Nigeria's rough and tumble financial sector, APF member Hakeem Belo-Osagie's powerful yet understated public speaking invariably focuses on the importance of principled leadership.  He and his wife, an attorney, support the African Leadership Academy, which provides values-based high school education to young people who show the attributes of leadership early on.  Others who champion and help finance the ALA are fellow Nigerians Tunde Folawiyo and Gbenga Oyebode.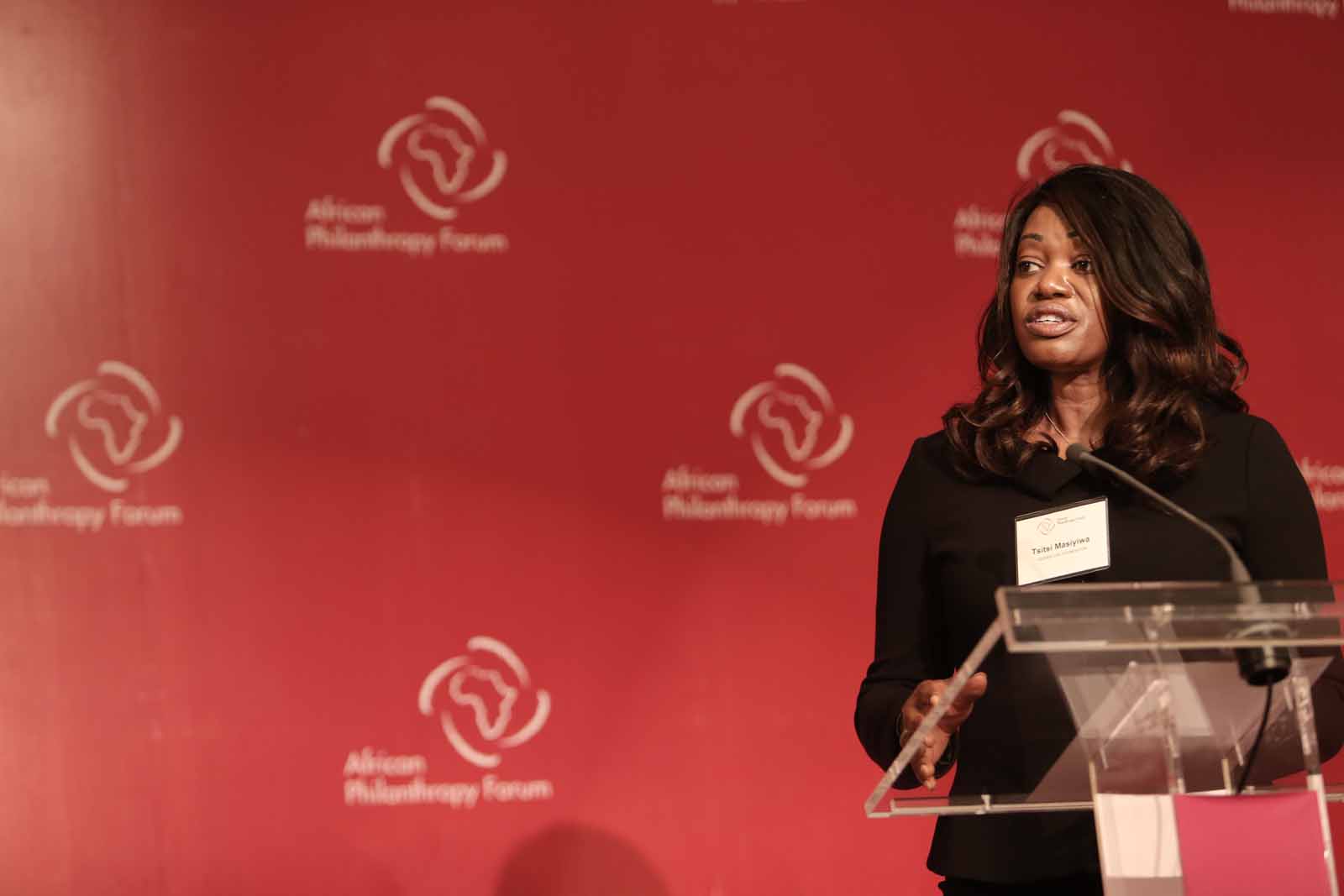 Tsitsi Masiyiwa driving the expansion of African philanthropy at the Global Philanthropy Forum
Strive and Tsitsi Masiyiwa: widening access to education
Zimbabwean-born Strive and Tsitsi Masiyiwa, also believe that a values based network can help sustain emerging leaders throughout their lives.  Like other philanthropists, they extend their concern for the next generation well beyond their immediate family, and have helped African youths gain access to a world-class education, to employment and to a nurturing network. Strive, the founder and chairman of the global telecommunications group, Econet Wireless, also works to create a better future for the next generation,  by seeking ways to reduce carbon emissions to mitigate climate change through his support of the Climate War Room. A similarly long-term perspective prompted Tsitsi to become one of the earliest supporters and members of the African Philanthropy Forum to build, strengthen and expand African philanthropy.
Mo Ibrahim: fostering good governance
For telecom billionaire Mo Ibrahim, good governance is a primary philanthropic objective.   The Sudanese-born  founder of Celtel created a multi-million dollar prize, which provides retirement security for African leaders who exit government through a process of democratic elections – and do so without appropriating public resources for private or personal gain along the way. Through the Mo Ibrahim Foundation, he created the Ibrahim Index, which offers quantitative data on governance in Africa, providing the tools to assess government policy and the reliability of the delivery of public goods and services.  
The values that guide Ibrahim are apparent in the philosophy and philanthropy of his daughter Hadeel, the founding Executive Director of the Mo Ibrahim Foundation. An effective advocate and savvy strategist, she is among the next-gen philanthropists to watch. She shares her parents' convictions (her mother, Hania, a radiologist, has established a hospital in Khartoum) but is very much her own person.  Beyond her foundation obligations, she chairs and champions the new Africa Center, formerly known as the Museum for African Art. It will be housed in a magnificent (and hip) building on Fifth Avenue and 110th Street, on the edge of Harlem and Central Park.  Noting that all of humanity has its roots in Africa, her vision for the Center is one of a policy institute, a museum, and a forum to explore and perhaps solve hard problems—together.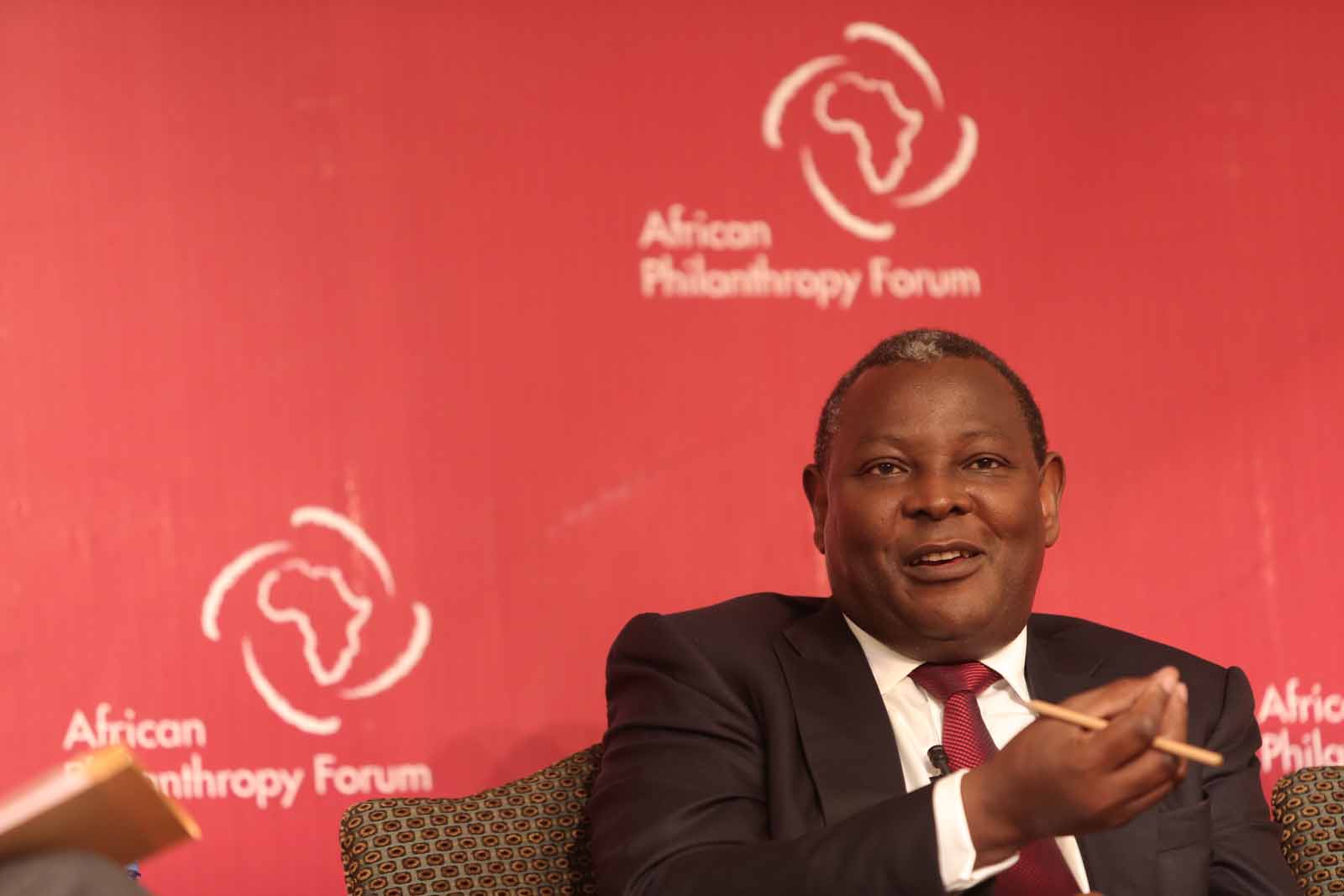 James Mwangi, charcoal seller turned pioneer of inclusive business
James Mwangi: financial services for the poor
CEO of Equity Bank Group, James Mwangi, has put his company to the service of social goals.  A pioneer of "inclusive businesses" Mwangi's Equity Bank provides financial services to the poor at affordable rates with flexible payment plans. Mwangi grew up in a caring family with little money. He has been on an astonishing journey from a young boy selling charcoal on the slopes of the Aberdares in Central Africa to becoming one of the most successful bankers in modern Africa. Through Equity Bank Group, Mwangi's goal has been to lift others from poverty, enabling them to engage in economic activity, saving and investing the money they earn. 
Tony Elumelu: leveraging markets
While the Ibrahims have taken on the improvement of governments, others prefer the more familiar territory of the private sector, taking advantage of their investment prowess to achieve their social goals.  By doubling down, they hope to create both financial and social value. Nigerian banker turned investor Tony Elumelu has coined the phrase 'Africapitalism' to capture the range of private investments that can advance broad-based development throughout the African continent. He joined fellow investor Nicolas Berggruen in financing the East African Commodities Exchange, part of the infrastructure that will allow the growing agriculture sector to thrive. And among his "impact investments" has been Mtanga Farms, a mixed arable farming venture in Tanzania. 
An original funder and promoter of the African Philanthropy Forum and an unabashed booster of his native Nigeria, Elumelu pursues his strategy in the belief that through a combination of smart investments, effective policies and strategic philanthropy, Africa can stand on its own – and more.
By leveraging the public, private or social sectors, African philanthropists aim to advance inclusive development on the continent through giving, investing and voice. While remarkable, they're not alone.  Africa has long been known for its philanthropic families – the Oppenheimers, the Gordons, the Naidoos. But now successful entrepreneurs the world over are organising themselves into learning networks such as the Giving Pledge, Synergos, the Global Philanthropy Forum (GPF) and its affiliates. They are forming grant-making foundations and they are giving through shared platforms and public-private partnerships.  In coordinating with and complementing governments, leveraging private enterprise, and supporting grassroots civic organizations, philanthropists implicitly acknowledge that governments alone cannot solve all problems. Nor can markets or even the most inventive non-profits. These private donors agree: it takes us all.