Exclusive: Minister for Civil Society sets Social Saturday agenda
The UK's first Social Saturday on 13th September aims to boost the numbers of people buying from social enterprises all over the country. In an exclusive for Pioneers Post, the new Minister of Civil Society Brooks Newmark sets the agenda for a day of 'shopping for good' and gives an insight on his first two months in office.
Less than two months into my new job as Minister for Civil Society, and I'm still humbled by the passion and enthusiasm of thousands of charities, voluntary groups and individuals across the country that make a difference every day in the communities where they live.
What is especially great is that my new Ministerial role also gives me an opportunity to promote programmes such as the fantastic National Citizen Service and the innovative work we do with social enterprises.
I'm particularly excited to be directly involved in a new idea called Social Saturday – 13 September. Social Saturday is a day to celebrate and buy from social enterprises in your local community. These are the businesses that put people, their community and the greater society first. The good news is that the sector is growing – there are now 180,000 SME social enterprise employers in the UK and a workforce of over 2 million people.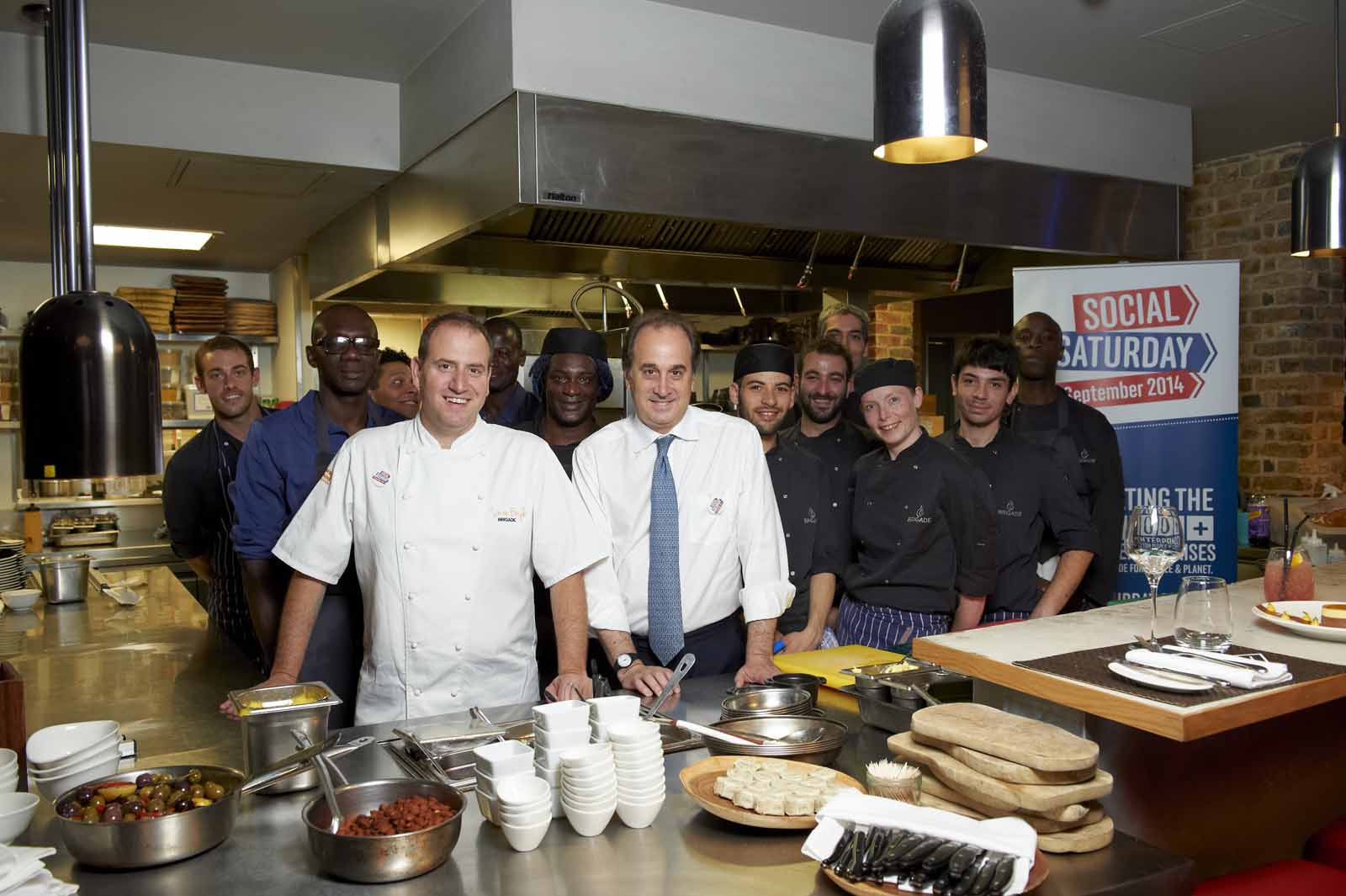 Minister for Civil Society Brooks Newmark visits Brigade Bar & Bistro ahead of Social Saturday
Social enterprises tackle some of the greatest challenges we face, like unemployment and limiting our impact on the environment. You'll know many of them – like the Big Issue, Jamie Oliver's Fifteen restaurants and The Eden Project. And some you might have come across without knowing they were social enterprises – for example, Greenwich Leisure Limited, the largest operator of public leisure facilities in the UK, including the Aquatic Centre and Copper Box at the Olympics site.
This sector is hugely important for the Government because not only does it create jobs and growth – key priorities for any government – but many are set up in disadvantaged areas and help us to tackle difficult social problems. These include issues such as youth unemployment, where organisations like Teens and Toddlers help young people achieve their full potential; community regeneration, where enterprises such as The Gym offer affordable exercise in underserved areas; and services for the elderly, where enterprises like Oomph! design and run specialist activity classes in care homes and the community. All three ventures deliver effective and sustainable interventions, and all have been invested in by people looking to save more than money.
However although social enterprises play an important role in our economy and create employment, polling shows that although nearly 4 in 10 people know what a social enterprise is, less than 1 in 10 has purchased a social enterprise product or service in the last 12 months. And only 1 in 100 has invested in a social enterprise.
That's where Social Saturday comes in – it's an opportunity to increase awareness and promote social enterprise growth across the UK. You can buy from social enterprises or even invest in them. Regional events on 13 September include a 'Social Saturday Shop Window' in Blackburne House, Liverpool where a shop window will be packed with a selection of goods produced by local social enterprises and 'Social in the Square', a two day family festival celebrating social enterprise in Edinburgh. I am planning to spend part of my day visiting local social enterprises where I live in Essex, and look forward to being inspired by the ingenuity and creativity of the people I meet.
I've already visited the Repair Academy in Swindon in my role as Minister – an exciting new social enterprise which started operation in May 2014, as the result of a partnership between local waste and wildlife charities, local colleges, and the Council.  The Academy converts donated waste goods into saleable goods for low-income households, employing young people who are not in education or training. The Repair Academy provides training and skills development to give these young people the training and confidence to achieve more.
And the Government is helping the sector to grow by supporting them to access the finance they need through initiatives such as Big Society Capital and the Social Outcomes Fund.
Get involved in Social Saturday by visiting www.socialsaturday.org.uk and use this opportunity to support those businesses that are making a real difference in your area.
 
Header image: Minister Brooks Newmark visits Brigade Bar & Bistro 
Photo credit: Social Enterprise UK