Social enterprise summit provides global focus
Inverness conference delegates were exposed to all sorts of innovative social enterprises in action around the globe, from the Scottish islands to the deserts of the outback – Lee Mannion was there for Pioneers Post
The social enterprise summit in Inverness has been a whirlwind of speeches, debates and purposeful associating. Both speakers and attendees have represented the diversity of the people involved with and working for social enterprises in Scotland and further afield. 
The two day summit brought together social entrepreneurs, public sector and commercial representatives from across the UK to discuss the challenges and opportunities for rural social enterprises in achieving longterm sustainability. The event was managed by CEIS, (the UK's largest social enterprise support agency) with support from Highlands and Islands Enterprise and Social Enterprise Scotland.
It's difficult to choose between the many inspiring examples showcased but Gordon Cumming's speech vividly described the problems faced in rural communities. He's the land manager of the North Harris Trust, which manages 62,000 acres of estate land on the Isle of Harris. It sits out in Outer Hebrides in the Atlantic Ocean, north-west of the Scottish mainland; just 750 people live on the estate.
Cumming looks how you imagine a man who lives in that wild kind of countryside might. With strawberry blonde hair and ruddy cheeks, you could forgive him for being a little nervous in front of a crowd almost as big as his community. The greatest problem North Harris faces is retention of the population, who often want to leave to further their education, for housing or for work. The estate needs enough people to maintain the environment and attract much needed tourist money but any income also needs to be able to sustain the people that live there, so it's a tricky budget to balance.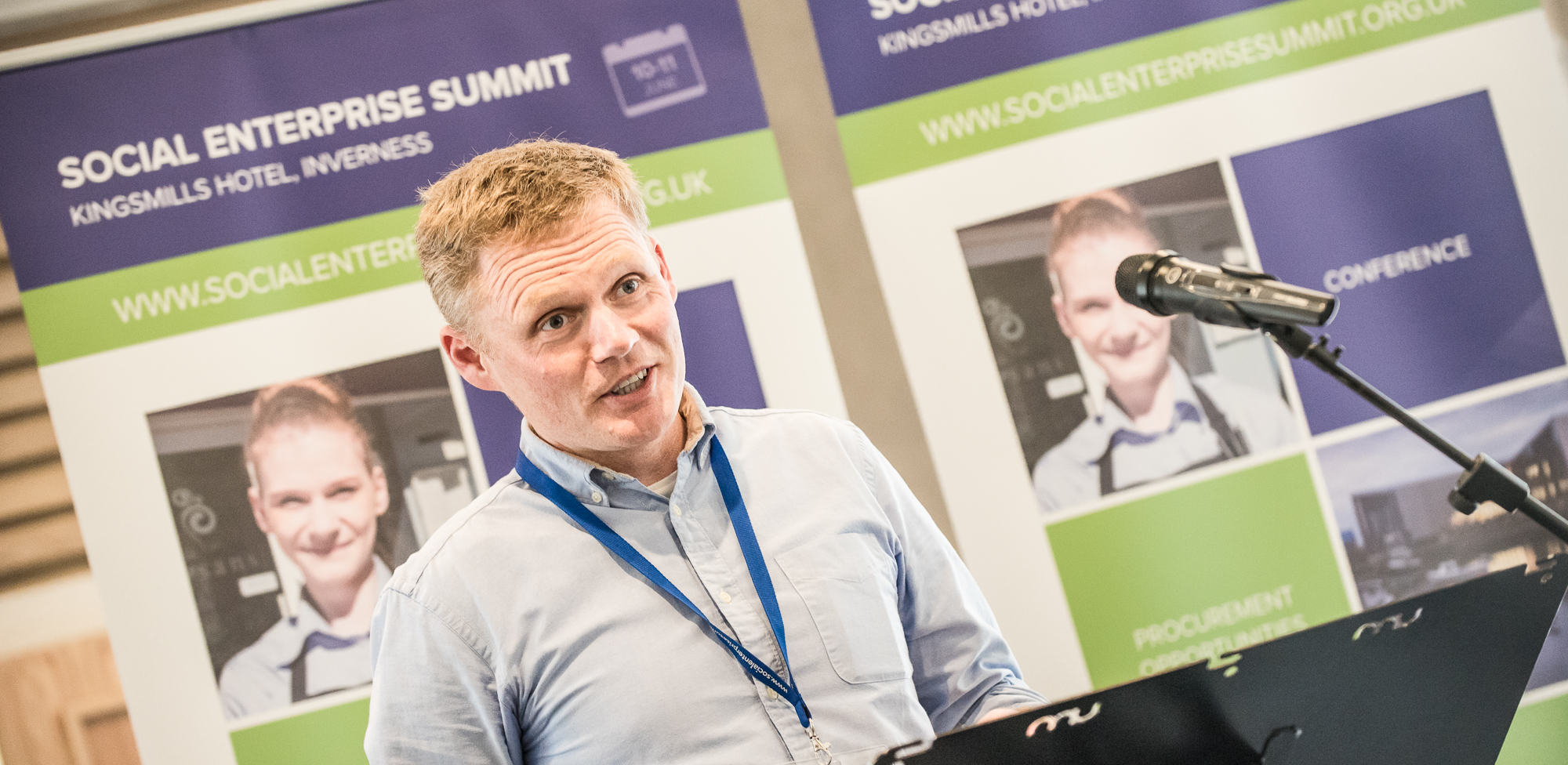 Gordon Cumming speaking at the Social Enterprise Summit in Inverness.
As an example of their size, their recycling facilities give a job to one person. They've had to be innovative too, recycling cooking oil into biodiesel and trying to attract people to the island by building social housing. As Cumming gave his commentary alongside a slideshow depicting the sparsely populated island, it proved an engaging snapshot of a community working together.
Coming from even further afield than Harris, David Brooks of Social Traders had travelled for 33 hours from Australia to attend the summit. Most of the country (a much bigger island) is effectively desert and away from the tourists who flock to see the amazing landscapes, rural communities have to be innovative to support their communities. Unlike Harris, Australia is vast: Europe would fit into it with land to spare.
Amongst other things, David came to talk about the Good Spender website, a sort of Amazon for ethical products. Many items available on the website support small communities, such as the weaved raffia necklaces and baskets made by the Tjanpi Desert Weavers, aboriginal women from 28 remote communities in western and central Australia. Good Spender is a partnership between Social Traders and Australia Post, the national postal company. It's heartening that corporates of that size are looking for opportunities to support the minnows out there.
David also told the audience about Ashoil – an aboriginal business which collects used cooking oil in north-west Australia. The waste is converted into biodiesel in Tom Price township and then sold to mining giant Rio Tinto who use thousands of litres of it in drilling and blasting operations. Ashoil provides training to aboriginal people in biodiesel production. The benefit is threefold: providing employment, recycling waste products, and with less polluting diesel having to be used.
Further to Scottish Deputy First Minister John Swinney's support for social enterprises, Brooks was quick to congratulate the leadership in Scotland. His view is that the sector in Australia wasn't realising it's full potential and could double or triple its contribution to the economy "if we were able to develop an enabling policy environment like you have here in Scotland".
Patriotic attendees would have been heartened to hear the sector in Scotland being viewed with admiration by those on the other side of the world. 
Photo credit: Tim Winterburn