Global social innovation round-up #22
Israel launches higher education social impact bond
The first social impact bond (SIB) in Israel has been launched to "reduce the drop-out rate and extend the studies" of higher education students. The payment by results contract is being managed by Social Finance Israel in collaboration with the Tel Aviv-Jaffa Academic College and University of Haifa. 
According to Social Finance Israel: "Evidence strongly demonstrates that students from weaker socio-economic backgrounds are most likely to drop out of bachelor degree studies". As part of the SIB students will receive the support needed to "acquire life skills" essential to higher education participation and later employment. By reducing the dropout rates of computer science, as well as engineering and exact science degree courses, the contract also aims to prevent academic institutions from losing revenue.
Social enterprise awards season underway in the UK
Across the UK celebrations of exceptional social enterprises have taken place to highlight best practice in the sector. In Edinburgh, COPE Ltd was crowned Social Enterprise of the Year at the Social Enterprise Awards Scotland. The organisation sells goods and services to individuals, local authorities and private businesses, whilst providing employment and skill development for adults with disabilities.
COPE's general manager Ingrid Webb was presented with the award by deputy first minister of Scotland John Swinney and said: "What we try to do every day is to help people with a learning difficulty achieve great things."
Elsewhere, founder of The Bike Project Jem Stein was named Lloyds Bank's Social Entrepreneur of the Year after winning a public vote from a shortlist of five finalists. Stein created The Bike Project in 2013 to provide second-hand bikes to refugees in and around London. He took part in Lloyds' Social Entrepreneurs Programme, which is run in partnership with the School for Social Entrepreneurs.
On winning the award Stein said: "I am incredibly fortunate to have learned from the fantastic team as part of the Social Entrepreneurs Programme… The £10,000 prize will do a huge amount to help the project continue to expand and support refugees across London."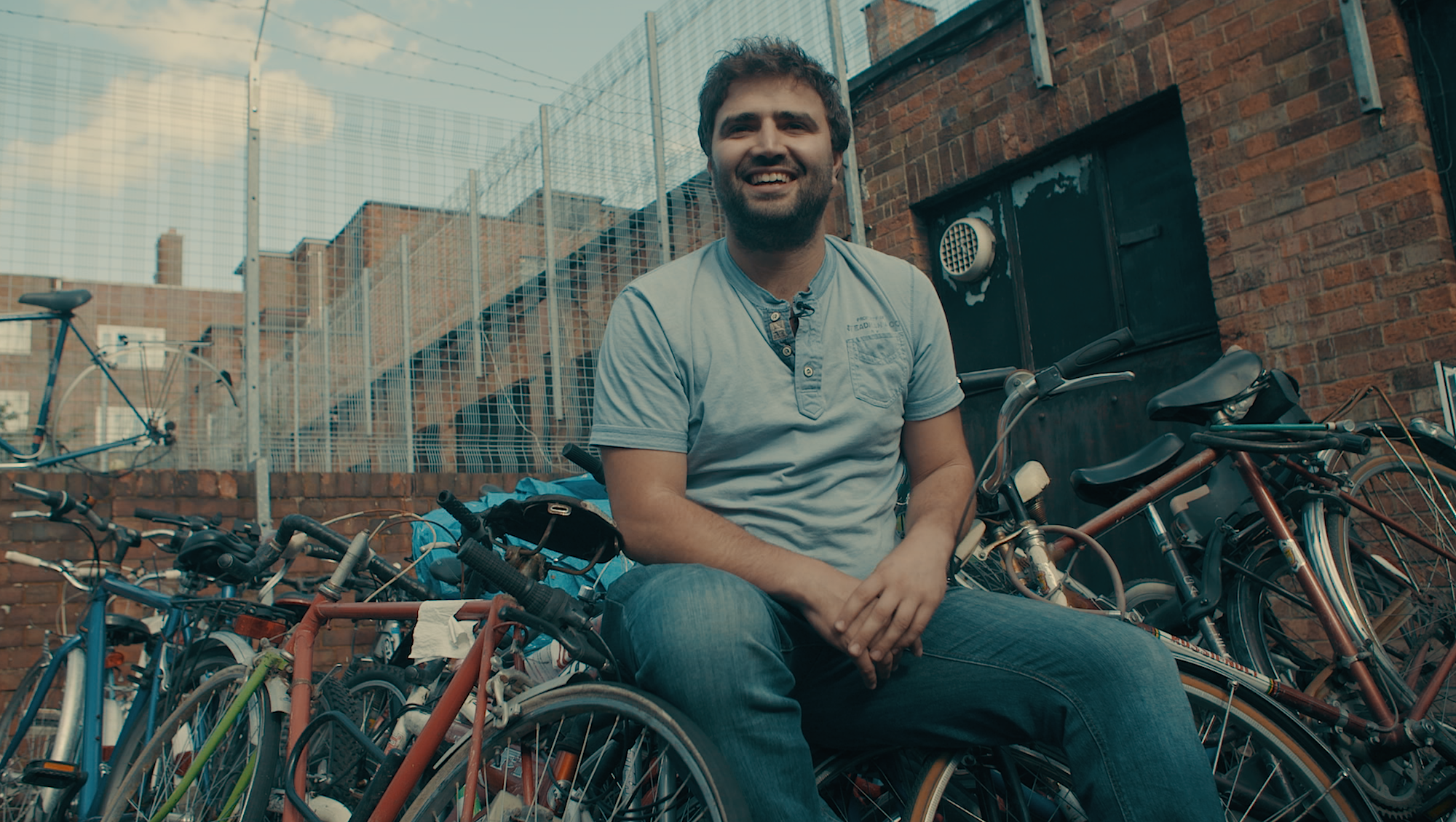 Jem Stein, founder of The Bike Project
And finally to the West Midlands, where Unity Trust Bank was announced the winner of the West Midlands Living Wage Champion Award 2015. The awards are part of Living Wage Week, which is a national celebration of responsible pay.
Unity's head of human resources Kay Gossage, said: "Living Wage accreditation has contributed towards the increased motivation and satisfaction of our staff, evidenced in our Best Companies 'one star' and Investors In People Gold achievements."
Blackrock backs green bonds
The world's largest asset manager Blackrock has announced it is going into partnership with the Climate Bonds Initiative to support the development of the global green bonds market.
Both climate and green bonds are "used to finance – or re-finance – projects needed to address climate change". They fund a range of initiatives including wind farms, solar and hydropower plants, rail transport and the building of sea walls.
Green bonds differ from climate bonds in that proceeds from these can be allocated to environmental projects, which can include the development of public parks. However, according to the Climate Bonds Initiative "in practice they have mostly been the same as Climate Bonds, with proceeds going to climate change projects".
The Climate Bonds Initiative is a registered charity with a mission to mobilise the $100tn bond market for climate change solutions. Its partners include HSBC and Merill Lynch. To find out more about what partnerships entail, please click here.
The Great British social enterprise bake off
In a keenly contested baking competition at London-based social enterprise restaurant Brigade this week, head chef and founder Simon Boyle pitted his culinary skills against enthusiastic amateur (and chair of Social Enterprise UK) Peter Holbrook.
Pioneers Post arrived to find the Brigade kitchen liberally sprinkled with flour and Boyle sporting a fledgling black eye, courtesy of a flying beer bottle top. Mayor of Southwark Dora Dixon-Fyle declared Boyle's black iced Victoria sponge the winner, despite Holbrook's serious attempt at talking up his cupcakes. The bakers aimed to raise awareness for the national Buy Social campaign, which encourages consumers to shop more responsibly.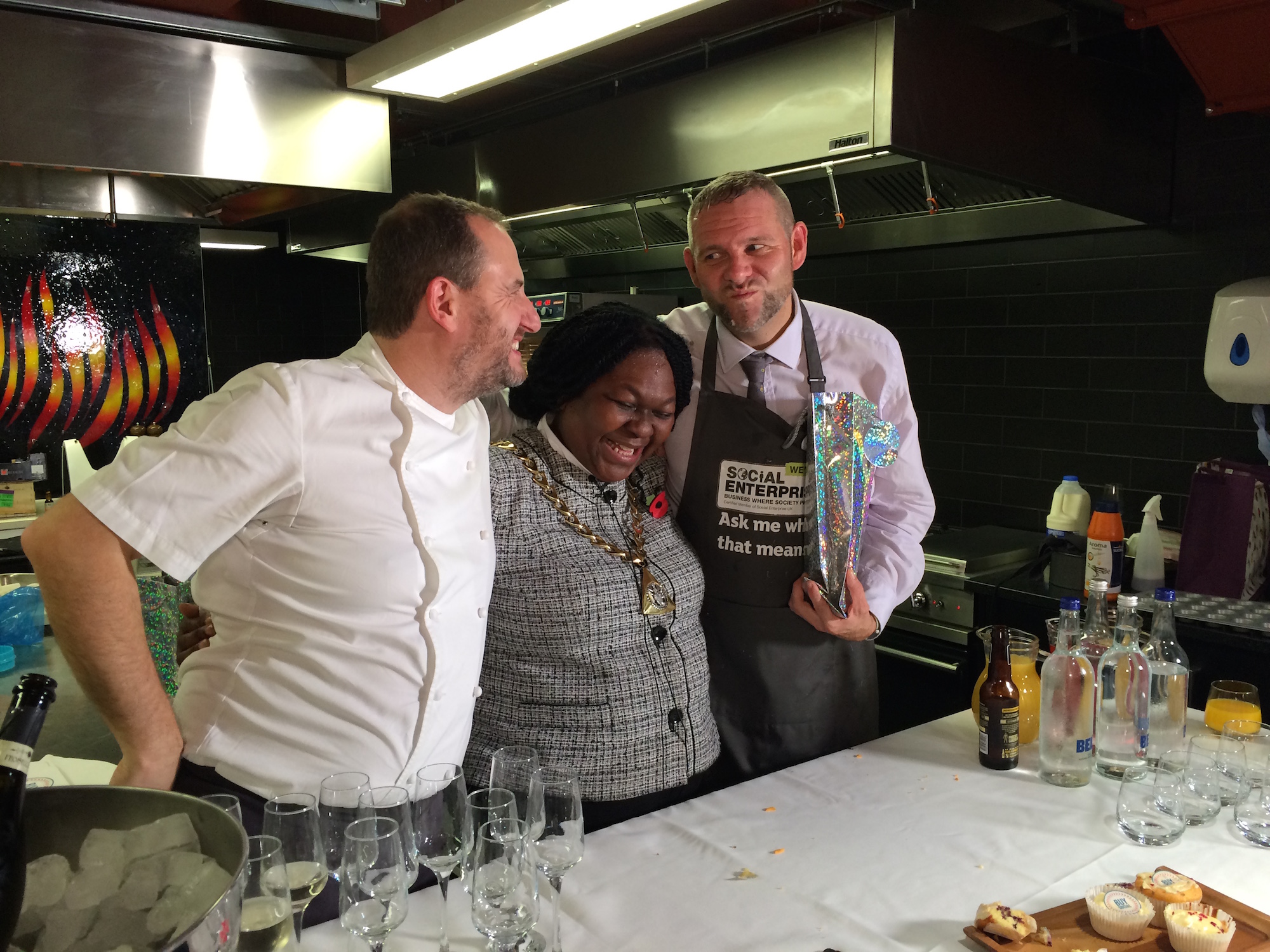 Simon Boyle, Mayor of Southwark Dora Dixon-Fyle and Peter Holbrook
Social investment potential conjures up "powerful vision" for UBS
Jamie Broderick, a group managing director at multinational financial services firm UBS, this week discussed the scale of funds available through social investment. At an event held at the London Stock Exchange, Broderick said: "We have $2trn of client assets in our care... virtually all of our clients are active philanthropically so that's quite a large pool of capital available.
"If you do the arithmetic, imagine if we got our clients to move 5% of their assets into social impact investing, we're now talking about $100bn of capital being put to social purposes. That's quite a powerful vision for us."
New shop opens to support London's rough sleepers
As winter approaches, experimental shop Crack & Cider launched in east London to support rough sleepers in the capital. Intended to surmount the quandary many people have about giving money to homeless people on the street, shoppers can buy items such as warm clothes or umbrellas, which will then be passed on to some of London's 7,500 rough sleepers. The name of the shop came from the response a homeless person gave to the founders: "People don't give me money because they just think I'll spend it on crack and cider". We wish them luck with their experiment.
Header image: Tel Aviv, Israel
Photo credit: Mikhail Kryshen