Rantzen and Bird light up Ashoka awards
Kids wearing rabbit ears and two of the UK's most treasured social activists, Dame Esther Rantzen and Lord John Bird, took the audience on a fantastic journey of positive disruption as they shared the stage at the Ashoka UK annual awards.
The 2015 Ashoka Awards showcased an absorbing and entertaining mix of social entrepreneurs that made for a lively evening. Alongside agitators like Mike Sani and a precocious bunch of kids from Devon, there was recognition for two familiar social change champions – Dame Esther Rantzen and Lord John Bird. Ashoka is the biggest global network of social entrepreneurs and count 3,000 'changemakers' in 70 countries amongst their fellows.
Aside from her TV career, Rantzen is most well known for founding Childline, the free to access, confidential helpline that allows children to share problems including child abuse, bullying and mental illness. In recent years, she's also founded a support line for those at the other end of the age spectrum, called Silver Line.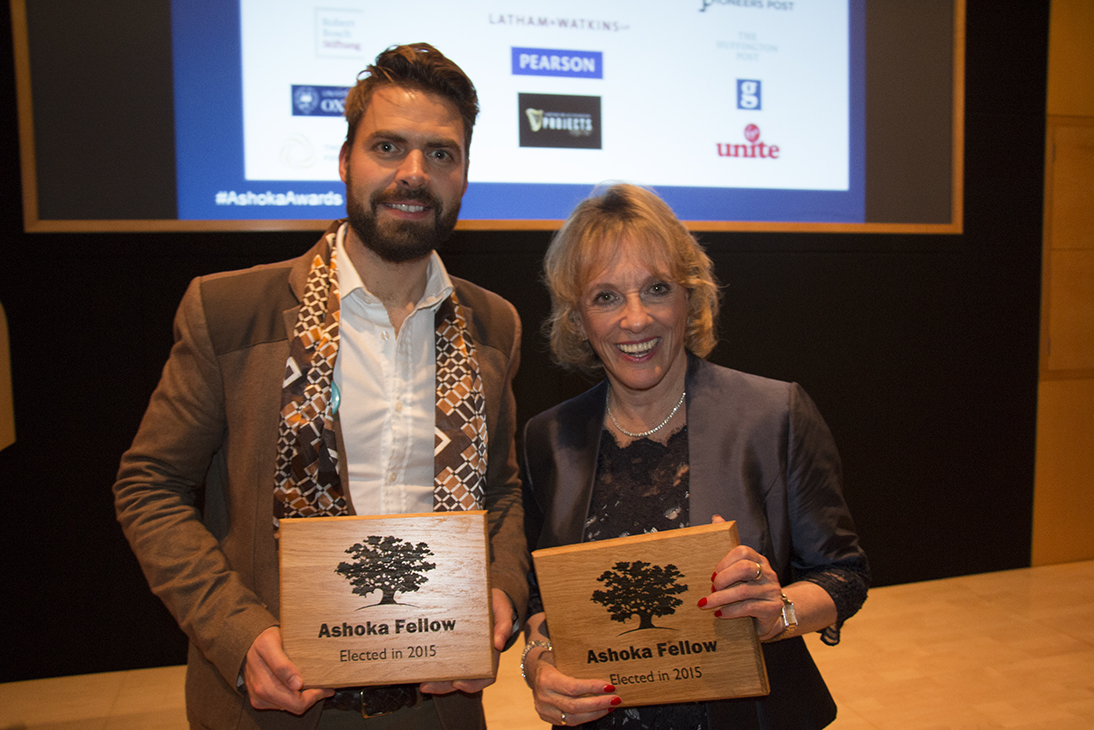 Mike Sani and Esther Rantzen 
She spoke movingly of her own realisation that many senior citizens suffered from loneliness. Rantzen's husband died in the year 2000 and four years ago she downsized to a two bedroom apartment. She found that: "At the age of 71 I was living alone for the first time and I did not like it. No matter how busy your day is you go home and there is no one to make you a cup of tea, no one to sit down and watch television with, no one to ask you how your day was."
Rantzen wrote about her loneliness and "received an avalanche of letters from other older people". She sought advice from Irish Ashoka fellow Mary Nally of Third Age before launching Silver Line, which now gets 1,200 calls a day. The organisation has received more than 600,000 calls in its first two years.
Rantzen also let slip that, at the age of 75, she hasn't finished taking on important social challenges. With the working title 'Is it ok?', she's contemplating a new initiative intending to tackle the confusion around what children and young adults should consider appropriate behaviour in an increasingly sexualised society.
Her advice for any prospective social entrepreneurs and the other fellows was to make sure they put talented colleagues in place: "When you are setting something up, get a team round you that can do the things you cannot do yourself. We all have limitations so make sure you have round you the people who can make the thing work."
The kids are alright
Rantzen had started her speech by testing what the children in the audience knew about Childline. The kids were there to represent some of the several schools that now make up part of the Ashoka Changemaker Schools group, intended to highlight schools that "value empathy, creativity, collaborative leadership and other changemaker skills".
It was probably the first time that an audience such as this had been admonished by a teenager for not speaking to him at the drinks reception "because I was wearing bunny ears. I may be a rabbit but I won't bite", Rowan, a student at Sands school in Ashburton went on to say. 
Sands education model might sound vaguely anarchistic to some. All students and teachers get an equal vote in how the school is run. This has resulted in no school uniform, no traditional classroom geography of teacher at the front and kids behind desks facing them; it even means that students are allowed to vote should a teacher or pupil be asked to leave the school.
The several pupils of Sands that were on stage displayed personalities ranging from extrovert to the sullenness peculiar to teenagers but all were seemingly happy to credit their school with providing engaging education. What's more, they were confident speaking in front of an audience of more than 200 people. Sands is obviously getting education right too, with Ofsted marking them as 'good' and even 'outstanding' in some categories, including personal development.
I'm sick to death of having to be the person thinking outside of the box when it is the box itself that is creating most of the problems
Closing the ceremony with a show stopping performance was the Big Issue founder John Bird, for whom the word 'irrepresible' might have been invented. Liberally sprinkling his speech with profanities and roaring like a man possessed at times, Bird shows no signs that his 69 years of life have diminished his energy. Goodness knows what mischief he will get up to in the House of Lords. 
He kicked off his speech by joking that he welcomed receiving the wooden plaque marking his award as an Ashoka fellow "as he had a stain on the wall at home he needed to cover" and asking Rob Wilson, the director of Ashoka UK, what his name was "as I always remember the women but the geezers… I'm just not that interested."
Jokes aside, Bird explained he had accepted nomination into the Lords "because I'm sick to death of having to be the person thinking outside of the box when it is the box itself that is creating most of the problems." 
He went on to explain that he would work towards a a time when social entrepreneurs were not so necessary as they are presently: "I want to spend the last decade or two of my life trying to prevent us having to need an Esther Rantzen. We should not need an Esther Rantzen or any of the other wonderful people that are here tonight."
Bird finished off by railing against consumerism (and Philip Green in particular) before paying tribute to the strength of the network of the organisation that had made him a fellow: "Amongst the reasons I have joined Ashoka is that they coalesce the energy of all these wonderful projects so that, together, we can bring about social transformation." Show over, Bird left the stage to rapturous applause.
Photo credit: Scott Cresswell