Global social innovation round-up #23
Community energy schemes raise over £12m before tax reliefs are taken away
A record £12.8m has been raised into 28 community energy schemes in the five weeks after the Government announced that at the end of October it was removing the Seed Enterprise Investment Scheme (SEIS) and the Enterprise Investment Scheme (EIS) for the community energy sector on 30 November.
Over one third of the total amount raised was done so through the positive investment and savings platform Ethex. Chair of Ethex Jamie Hartzell said: 
"We are really pleased to see the huge groundswell of support for community energy schemes over recent weeks.
"Last Wednesday we saw over £1m investment raised in just 24 hours. It has involved a lot of hard work – well done to all those concerned. We hope this interest continues with the new community energy share offers we have listed on Ethex the first week of December, albeit without tax reliefs."
£1.5m social investment deal struck to help London childcare social enterprise scale up
One of the UK's leading childcare social enterprises has received a second stage of a acquisition funding worth £1.5m from social investors Big Issue Invest and Bridges Ventures' Social Entrepreneurs Fund.
The latest instalment forms part of a £2.75m financing package from the two investors into the London Early Years Foundation (LEYF). LEYF is a charitable social enterprise that runs 36 community nurseries, employing more than 300 staff across nine boroughs in some of the capital's most disadvantaged areas.
The £1.5m additional finance will be used to drive the social enterprise's expansion through the acquisition of new nurseries across London, and to fulfil its goal of reaching 5,000 children.
European Social Enterprise Law Association launched in Madrid
A new pan-European social enterprise legal network has been launched at the European Venture Philanthropy Association's annual conference in Madrid, following the publication of a European Commission sponsored study into the state of social enterprise across the continent.
The European Social Enterprise Law Association (ESELA) is a network of law firms, legal experts and academics, including London-based law firm Bates Wells Braithwaite (BWB), specialising in all aspects of the law as it applies to social enterprise. Its aim is to promote a better understanding of the relationship between law and social enterprise, with a view to supporting the development and growth of social enterprise across Europe.
Luke Fletcher, the chair of ESELA and one of the authors of the Social Enterprise in Europe report, explained: "The launch of ESELA provides an opportunity for anyone interested to learn more about the relationship between law and social enterprise. ESELA will also help governments and policymakers to design sound legal systems which support the growth of social enterprise."
Great British Entrepreneur Awards put the spotlight on social enterprise
The founder of Pavegen – a social venture that has pioneered flooring tiles that convert kinetic energy from footsteps into renewable energy – Laurence Kemball-Cook has been named the Social Enterprise (International) Entrepreneur of the Year 2015 at the Great British Entrepreneur Awards.
Taking home bronze in the same category was Stand4 founder Josh Turner. Turner's company designs and creates colourful socks that help raise both awareness of social causes and create a tangible impact through a 'buy one, give one' model. There are currently 10 designs of socks for sale, each of which is partnered with a number of internationally focused charities such as War Child, Womankind and Mines Advisory Group. Rather than heading to the high street for stocking fillers this Christmas, why not buy social from the likes of Stand4 or any of the social businesses featured on the Buy Social Gift Guide?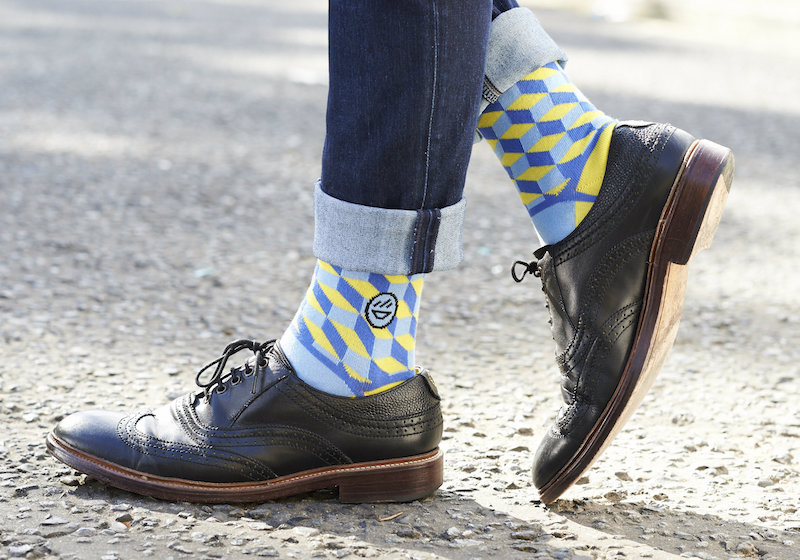 Photo credit: Stand4
Bridges Ventures invests in low-cost gyms in Spain
Specialist sustainable and impact investor Bridges Ventures has invested in Viva Gym, a low-cost gym operator based in Spain. This is the firm's first investment in mainland Europe and the eighth from its Sustainable Growth Fund III.
Bridges has taken a controlling interest in Viva and will work in partnership with Magenta Partners, the investment firm that founded the business in 2011. Bridges will use its experience developing The Gym Group – a similar low-cost gym operator in the UK that aims to make gym facilities accessible to a greater percentage of the population by being based in areas of deprivation and by offering memberships for on average £15 per month – to grow the Spanish business. Viva currently has 16 sites across 11 Spanish cities.
Business Impact Challenge winners in the UK announced
Big Society Capital has revealed the winner of the Business Impact Challenge is a partnership between public service provider Interserve, social business Catch22 and social finance experts Clubfinance.
The three organisations will create the Public Services Lab, a social business that will enable community organisations, charities and social enterprises to deliver public service contracts at scale. The winning partnership will progress through Big Society Capital's investment process with a view to receiving £5 million in matched investment.
Nick O'Donohoe, CEO of Big Society Capital, said: "This challenge has been a great opportunity for private companies to partner with charities and social enterprises and really explore how they can embed social outcomes into their business plans."
Warren Buffett's grandson launches responsible investment firm
The grandson of the world's most successful investor Warren Buffett has co-founded i(x) Investments, which sets out to prove 'Profit should have a purpose'. The venture, which was co-founded by Howard W Buffett and Trevor Neilson, has stated it will:
Invest in companies with high potential for sustained social impact and stable cash flow.

Accelerate the growth of partner companies through proactive engagement on the part of our management team and investors.

Retain earnings to maximize our capital and reinvest – driven by long-term profits and sustained social change.

Measure the social impact of investments in ways that nobody else has in the field.
Photo credit: Jeff Kubina