Business leaders take on global supply chain challenges
"Let's be clear, factories and workplaces around the world have problems." The issue of global supply chains was up for discussion at the 2016 Sedex Annual Conference in London this week. Ellie Ward reports.
Every so often something happens that puts global supply chains at the centre of international media attention and makes consumers around the world gasp.
In 2012 it was the Tazreen factory fire in Dhaka that killed over 100 people, a year later it was the Rana Plaza factory collapse that killed over 1,000 people, also in Bangladesh's capital. Last year it was the unveiling of conditions at tea plantations used by companies including PG Tips by the BBC.
After the dust has settled it often seems as though everyone goes back to their usual shopping habits and its business as usual for the companies involved in the scandal.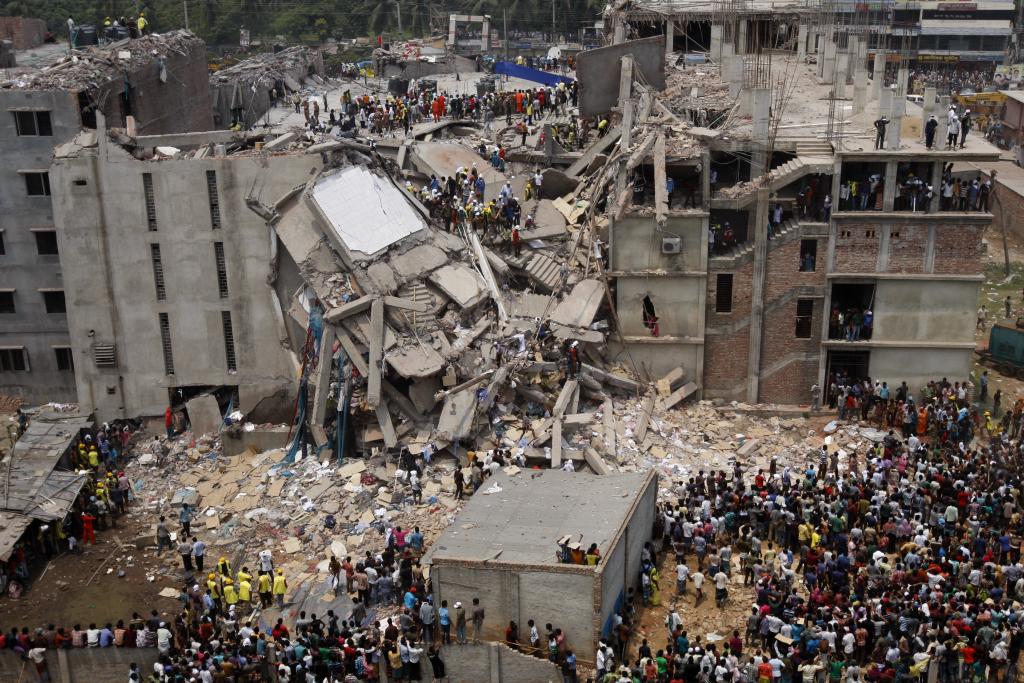 Rana Plaza factory collapse. Photo credit: Jaber Al Nahian
But at the 2016 Sedex Annual Conference in London hundreds of leaders from big businesses, NGOs and international auditing companies gathered with the aim of finding ways to make sustainable and ethical supply chains the norm – the new business as usual.
Jonathan Ivelaw-Chapman, CEO of Sedex, told delegates at the event that key to improving standards in global supply chains is collaboration. "The most effective way to drive change is to build on the great work you've already been doing, rather than constantly creating the new. I accept that collaboration is hard and takes time, but I think outputs are more enduring and effective at driving change in the long term," he said.
Sedex is a membership organisation dedicated to supply chain sustainability and social responsibility. Since its launch in 2004 Sedex has helped over 38,000 organisations around the world share information and knowledge on structuring ethical supply chains.
When thinking about the day-to-day lives of overworked, underpaid factory workers around the world, the notion of collaboration on its own seems somewhat abstract. One of the key issues debated at the conference was that of the role of auditors.
Are audits catalysts for driving systemic change for workers in the supply chain? Ian Spaulding, CEO of Elevate, argues yes.
He explained: "Let's be clear, factories and workplaces around the world have problems. They have excessive working hours. There is underpayment of wages, there are health and safety issues – now we have the evidence through auditing to prove that.
"There has been a reduction in some of the issues over time, for example child labour. In China if you were to audit a factory 20 years ago you would typically find between 3-5% of all audits would result in a failure due to child labour. Today it's more likely to be less than half of 1%. And if you look at factories which were found to have a child labour issue in an audit, if you come back a year later, the likelihood they are going to repeat that violation is very small (Elevate's data shows that less than 2% are reoffenders)."
Spaulding then went on to look at the issues of forced labour in Egypt and Jordan – countries that have historically employed foreign workers. "20 years ago we had a fair bit of withholding documentation – passports and IDs were being withheld, there were excessive recruitment fees and situations where workers were not allowed out of dormitories at weekends or at night.
"Fast forward today, we do not see the same level of violations. There are still problems but the number of violations has been reduced."
Audits did not stop Rana Plaza collapsing or the fire at Tazreen.
The debate did not end there. Rachel Wilshaw, ethical trade manager at Oxfam, contested the notion that the key to improving supply chains lies within good, global auditing practice by big businesses.
"Audits did not stop Rana Plaza collapsing or the fire at Tazreen. It didn't stop sexual harassment in the east African pea industry and it didn't stop slavery in the Thai seafood industry," she said.
Wilshaw explained that a 2013 Norwegian Ethical Trading Initiative report found that in the previous 12 months an Indian supplier's factory have been audited 69 times and a Chinese supplier's factory 83 times. "This is surely a complete nonsense. All of these audits are measuring the same things. They are adding massive costs to supply chains where workers are working in extreme poverty in many cases – working excessive hours. This is unethical".
Do we accept that auditing has its flaws and limitation? Yes, we recognise that.
After listening to both sides of the debate it's difficult not to find yourself agreeing with both comments. Whilst auditing is not a silver bullet for improving global supply chains, surely it is a starting point? The complexity of the debate mirrors the complexity of the systems that are being debated. In 2014 the textile, clothing and footwear industry alone was reported to be employing between 60 and 75 million people. This compares to approximately 20 million in 2000.
The debate at Sedex did not just consist of blame and criticism however. Different visions of ways to help solve this vast global issue of ensuring supply chains meet acceptable ethical standards were set out.
Spaulding concluded: "Do we believe that audits are catalysts for driving systemic change for workers in the supply chain? Yes, absolutely. Do we accept that auditing has its flaws and limitation? Yes, we recognise that.
"We need this industry to mature and evolve... We must move from an audit only model to an 'audit plus model'." This is a model "which puts workers at the centre of what we do" and considers more carefully the processes that happen before and after an actual audit takes place, so it's not just a case of ensuring things are up to scratch on the day.
Alternatively, Wilshaw concluded that it was time to 'go back to basics' and shift from the audit intensive model. "Governments ought to be ensuring regulation with their own labour laws and enforcing them. That they won't is the reason that audits came about in the first place. It's time governments took that role back – that there were sanctions and fines as necessary.
"It's time for companies and employers to take back the principle role of taking responsibility of standards for the people in their employment. And it's time for workers to have the right to raise grievances collectively through trade unions.
"Is this tool [of auditing] really reaching the root causes of the problems we have today? Or has it become a Frankenstein monster and it's time to stop this and start afresh?"
Photo credit: Cory M. Grenier