Lending by UK responsible finance industry hits £1.6bn
The responsible finance industry in the UK has provided £1.6bn worth of loans to over 50,000 businesses and social enterprises over the past ten years, concludes a new report by membership body Responsible Finance.
The 10 Years of Responsible Finance report also found that the responsible finance industry has helped create approximately 68,000 jobs – and helped save an additional 40,000 – across the UK.
Responsible Finance, an organisation representing over 50 affordable and ethical lenders in the UK, including Five Lamps and Merseyside Special Investment Fund, revealed the findings at its 2016 Annual Conference in Manchester this week. The membership organisation also announced that Jennifer Tankard, currently the director of advocacy and research at the Community Development Foundation, is to become its new CEO after Ben Hughes steps down in April.
Alistair Grimes, chair of Responsible Finance, said: "Jennifer joins at a crucial point when our sector has grown from lending £77m to over £250m per year, and has supported over 280,000 people, businesses and social enterprises over the past 10 years."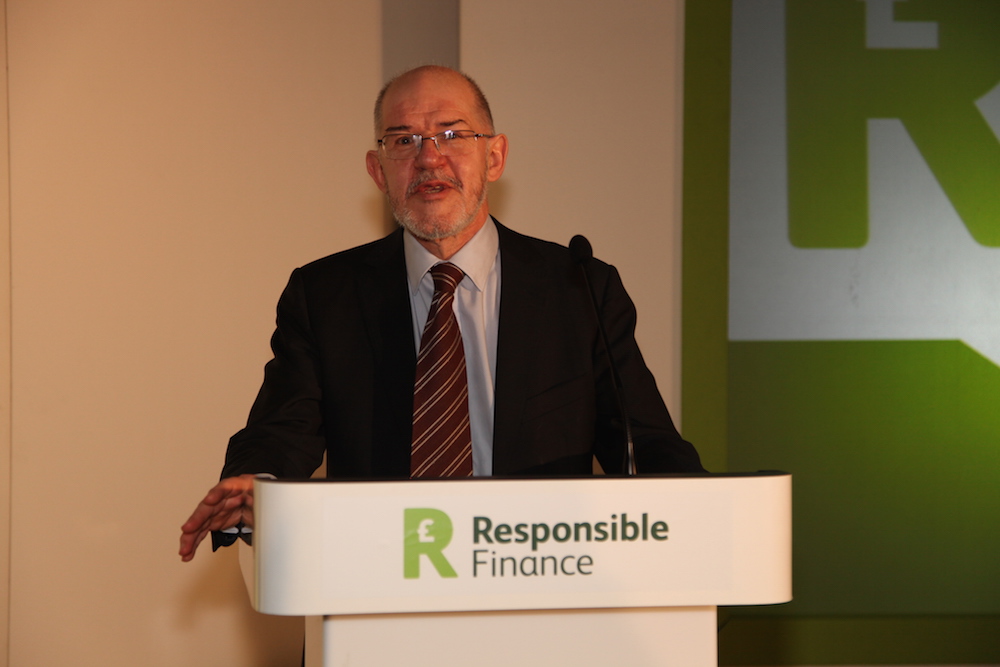 Alastair Grimes speaking at the 2016 Responsible Finance Annual Conference. Photo credit: Chris Hughes
In Manchester Grimes welcomed delegates to the Responsible Finance Annual Conference and reflected on some of the findings in the report. "The need for responsible finance has never been greater and will certainly be greater in the next few years," he said.
"If you look back over the past 10 years you can see how responsible finance organisations have made a huge contribution over that period in terms of loans, jobs and communities they've helped… These are significant numbers and we should give ourselves some credit for achieving that. At the same time we need to remember that roughly what Community Development Financial Institutions (CDFIs) lend in a year, banks lend in a day, if that. We're small but important. We need to have a sense of realism about what we can do but not lose the optimism that we can do it."
The need for responsible finance has never been greater
After the irony of organising an all-male panel on International Women's Day was acknowledged, the conference kicked off with a debate over what counts as 'responsible finance'. The membership body identifies five key aspects of this type of finance on its website:
Serving customers not supported by mainstream lenders
The providers should be mission-driven, as opposed to profit-driven. (e.g. 'social enterprises re-investing profits to deliver economic and social benefits')
Customers should be treated fairly and organisations should be 'clear and transparent about the costs of borrowing, lending only to those who can afford to repay' and should ensure 'customers get the best deal and the best outcome'. This approach intends to counteract that of some organisations in the 'pay day lending' industry.
The service offered to customers should be 'a supportive approach, with decisions made by people for people'.
Responsible finance providers must meet 'all Financial Conduct Authority requirements' and comply with the Responsible Finance Code of Practise.
One audience member pointed out that the fact of the matter is "Responsible Finance as an organisation would not exist if banks were doing their job". Tony Greenham, director of economy, enterprise and manufacturing at The RSA, compared the UK banking system with those in the US and other European countries.
We need to keep pushing our political leaders to not think that problems about banking have gone away
In the US for example, banks have to demonstrate how they are making sure they are working to solve issues around inclusivity – often by partnering with CDFIs, credit unions and other institutions – Greenham explained.
"In Europe often, the way that they solve the inclusivity issue is by having different sorts of banks. They have local banks, cooperative banks, public savings banks and they are the socially orientated banks that make sure all the regions are served, all the SMEs get a chance and that all individuals are given fair credit and banking.
"What's been the answer in the UK? We don't have either of these two things… I think we need to keep pushing our political leaders to not think that problems about banking have gone away… We have to keep the idea of allowing responsible finance to be available to everyone and every place in this country at the top of the political agenda," he concluded.
The report, 10 Years of Responsible Finance, also highlights the need for local integration to ensure every local authority and Local Enterprise Partnership (LEP) is working closely with their responsible finance provider to ensure that underserved individuals, businesses and social enterprises are no longer excluded from finance.
Looking ahead, the report predicts that if the responsible finance industry continues to grow at the same pace, lending could reach £6bn and support 1.4 million businesses, social enterprises and individuals by the end of the next decade.
Before handing over to BBC Today Programme presenter Justin Webb, who was compèring for the day, Responsible Finance's chair joined the RSA's Greenham in putting out a call to action. He said: "We need to put our house in order. If we're calling ourselves Responsible Finance we need to take responsibility for some of the things we can do off our own back, without asking for permission to do it.
"Part of that is recognising we need to be better at serving customer needs and serving the communities we are committed to. We certainly need to be more effective in terms of how we deliver our services. And we need to accept that in the future there is going to be more need for collaboration and partnership that we've had in the past."
Photo credit: Mike Wilson