The Unforgettable story of social investment and dementia
The founder of Unforgettable James Ashwell takes us through the past ten or so years of his life – from strategy consultancy to carer, dementia awareness crusader and social entrepreneur.
When somebody tells you they have cancer you will likely feel a sense of shock and sadness. In practical terms of how the conversation will go, you might then respond by asking 'what treatment are you receiving?' If somebody tells you they have a form of dementia, following the initial devastation, what do you say back? "We are with dementia where we were with cancer 20 years ago," says James Ashwell, founder of Unforgettable.
According to the Alzheimer's Society, 225,000 people will develop dementia this year – that's one person every three minutes. Dementia is the most feared health condition in the UK and almost two-thirds of people surveyed by the charity felt a diagnosis would mean their life was over.
Of course, disease in any form is awful – this goes without saying. It is also a fact that there is no known cure for dementia, which comes in many forms including Alzheimer's Disease, where the chemistry and structure of the brain changes, leading to the death of brain cells. However, this does not mean to say that the quality of life, independence and dignity of somebody doesn't deserve to be protected and enabled for as long as possible.
The Unforgettable story
Aged 25 James Ashwell received a call at work to tell him that his Dad had died suddenly. He left his strategy consultancy job and never returned. When he arrived home it soon became apparent that his Dad had been protecting him and his siblings from the fact that their mother had fairly advanced frontotemporal dementia.
Those first few years were absolute hell
Without their dad around to care for their mother, James and his siblings rallied round to provide the best care they possibly could for her. Along with one of his brothers, James moved back home and took a job in Birmingham. He recalls: "Those first few years were absolute hell, especially when she kept waking during the night. I remember tying string to Mum's bedroom door and putting it on my finger so I'd know if she left her room in the night."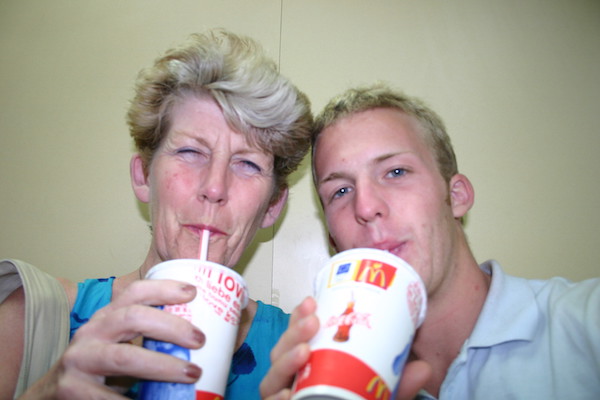 James and his Mum having returned from the drive-through
Amongst the darkness, there were many moments of joy – from ticking things off a bucket list such as travelling to India to the simpler things such as going to the McDonald's drive-through for a milkshake. And other moments of frustration as the family searched for little things that could make their mum's life so much better – from a clock she could understand to cooking gloves that would mean she wouldn't cut herself.
Eight years after being diagnosed with dementia, James' mum Fay died on 17 February 2011, aged 67.
The forgotten market
Not content to accept his experience as a carer of somebody with dementia – and all the challenges that went along with it – as an inevitability, James embarked on a mission to create a social business that would meet the needs of this forgotten market. "If you think about it, where have you seen a dementia product other than Unforgettable? There's nothing on the high street, there's nothing in Boots, there's no stand out brand.
"There are 750,000 births every year in the UK and around 250,000 are people getting dementia each year. That's a third of the size of the baby market. If you walk down Oxford Street and look at how many mother and child products there are – Mothercare, John Lewis – there's absolutely nothing for dementia and that astonishes me. In ten years I believe people will look back in amazement... maybe it will be 20 years but that's where we need to be."
After spending 18 months working at the social investment firm Bridges Ventures as a member of its investment management team, James then decided to go it alone and launch Unforgettable. There are two arms to Unforgettable – the charitable foundation Unforgettable.org and a separate company limited by shares. The charitable foundation gives 'grants to charities and educational institutions registered in the UK so that they can help to improve the quality of life for those affected by dementia worldwide'. The for profit business develops and sells a vast range of products for people with dementia, including shoe soles with GPS trackers, specially designed kitchen equipment and a range of games. It gives 10% of its profits to the foundation.
I want to prove that social investment is a genuine investable asset class
30% of the for profit arm of the company is owned by the people who work for the company (currently ten) and the other 70% is owned by social investors. Having received £44,000 in seed investment from the Bridges Charitable Trust, Unforgettable then went on to raise £1.5m from Bridges and Impact Ventures UK. In order to ensure the for profit business doesn't stray from its core mission, the Unforgettable Foundation has a golden share in it.
James explains: "That one share allows the foundation to have rights over the board, it requires us to maintain our vision, both now and in the future. What that means in terms of now is that we set social targets, which we present to the foundation and they hold us to account on those targets annually. They also have a right of veto over any sale if they don't believe it's in the best interest of our mission. We are mission locked now and we can't change that mission in the future."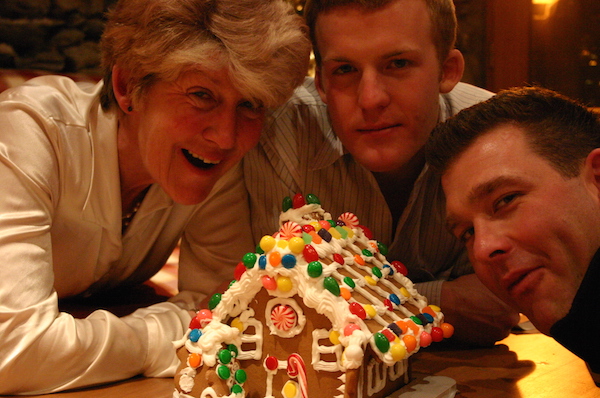 Fay with her sons James and Mark
Social investment has played a critical role in the creation of Unforgettable, which has now been running for six months. James says: "I want to prove that social investment is a genuine investable asset class. It's not just something that is a little better than philanthropy, it can generate returns in line with other venture capital, private equity funds.
"If ever someone from the charity sector asks 'why are you making money out of sick people?' – I'm so ready to explain why what we're doing is so important. Because if we do make money, all that will prove is that social investment can be an investable asset class and attract more money to more businesses to solve more social problems. So yes we want to make money."
With around 50,000 visitors to its site each month, Unforgettable's turnover is currently £0.5m. It is going through a second funding round with the aim of raising between £3m-£5m. In three to five years the team are aiming to be a £8-10m turnover business.
Next steps
Crucial to the business' success will be ensuring that people – from all walks of life – know about it. Dementia doesn't discriminate, which means that there is no specific socio-economic group Unforgettable needs to specifically target through its marketing activities. This is why the team are about to launch a national advertising campaign across 20 channels, including outdoor billboards.
James says: "Our ultimate aim is that everybody diagnosed with or worried about dementia will come to Unforgettable at some point. My CEO David previously ran a wedding website – he got to the point where nine out of ten brides visited his website and three out of four bought from it. That's the point we need to get to."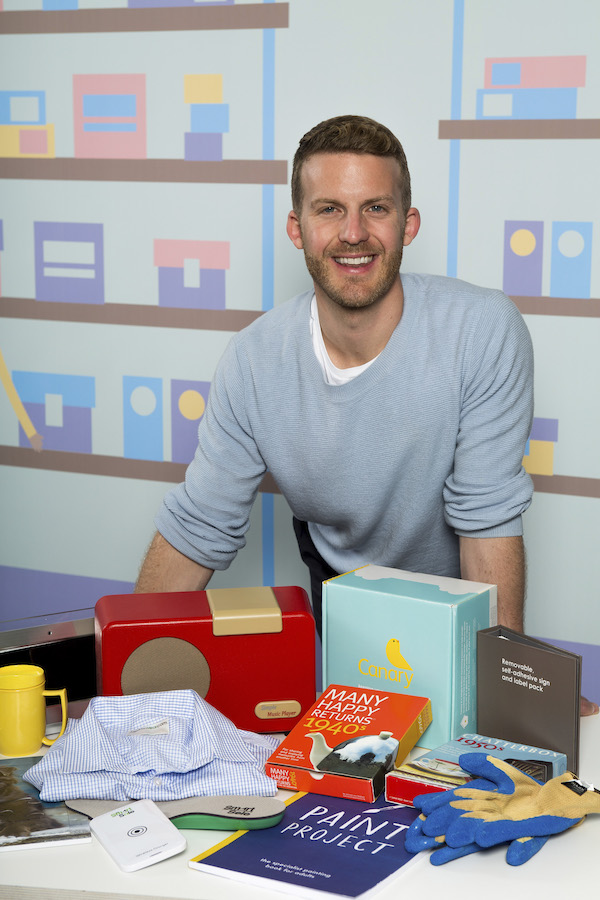 James with a selection of the products available from Unforgettable
Photo credit: Unforgettable