Social Impact Bonds: are they effective?
In September, 40 researchers gathered to discuss the merits of social impact bonds. In the second of two articles, James Ronicle examines their effectiveness.
In the first of these two articles we looked at the reach of social impact bonds (SIBs) across the world and highlighted that some researchers are concerned about whether they are ethical or not.
Later on in the conference which took place on 12 and 13 September, the focus moved to the performance of SIBs. Some presenters speculated that SIBs would not increase outcomes, highlighting the dangers previously evident in other forms of Payment by Results (PbR) contracts. We were reminded of how PbR contracts might increase the measurement of outcomes, but this doesn't necessarily mean more outcomes are achieved – as instead people game the system.
Dr Toby Lowe of Newcastle University Business School also argued, by showing us his 'favourite diagram' (see 'The Obesity System map below), that some social systems are highly complex – there are so many parts to them you can never be sure what impact any intervention has actually had, so you certainly shouldn't be tying payments to them.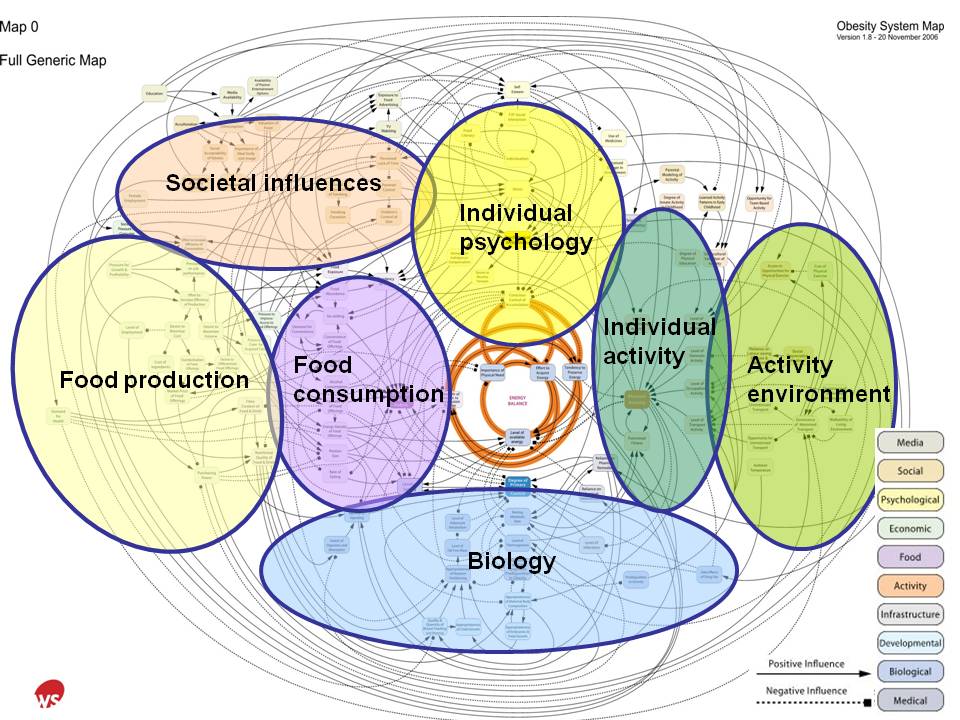 [Above] An example of a complex system – in these systems Dr Toby Lowe questioned how accurately we can attribute changes to specific interventions
In the final session of the event, we heard about the evidence from the independent evaluations of SIBs in the UK. Stefanie Tan from PIRU presented on PIRU's and RAND Europe's evaluation of the SIB Health and Social Care Trailblazers programme for the Department of Health. One of their research aims is to qualitatively explore the impacts that providing an intervention through a SIB, compared with more traditional commissioning arrangements, might have.
A number of emergent themes from early data analysis were discussed in relation to how SIB funding mechanisms impact upon the different actors involved in SIB delivery. These included risk distribution across different SIB actors, impacts on staff morale, and issues of flexibility in service delivery.
Eleanor Carter from the University of Sheffield compared independent evaluations of the PbR Work Programme (a welfare-to-work programme launched throughout Great Britain in 2011) and the SIB Innovation Fund  (a programme aimed at supporting those at risk of disadvantage aged 14 – 24, paying for outcomes directly related to increasing future employment prospects). This showed how some of the problems found in the Work Programme (cherry picking, limited innovation, limited risk transfer), were not evident in the Innovation Fund – and instead the SIB led to better results, more innovation and a commitment to social impact over profit from the investors.
Ecorys' evidence stemming from the first two SIBs we have explored through the Big Lottery Fund's Commissioning Better Outcomes Fund evaluation found that there was a 'SIB effect' in the two areas: the SIB was enabling more public sector experimentation, allowing commissioners to plug funding gaps and increasing the focus on outcomes, though they were also increasing the cost and time it took to develop interventions.
is a complex financial mechanism necessary to generate these benefits?
The ultimate question, we argued, was whether the SIB benefits outweigh these extra costs – and more evidence is required before this can be answered.
Professor Warner also asked an important question about the 'SIB effect' – even where there are benefits, is a complex financial mechanism necessary to generate these benefits? Wouldn't something like a grant be much better placed to enable experimentation?
Whether this is right or not, the reality of those involved in SIBs was that commissioning complexities and funding cuts meant that the SIB was the only way they could experiment in the way they wished. Professor Warner referenced a quote from one of the city leaders in New York (taken from her book chapter Profiting from Public Values: The Case of Social Impact Bonds) who said about the Rikers Island SIB: "If we had the ability to invest in new programs within the city budget, then why would we do this?"
The conference ended with a panel discussion, chaired by Dr Emma Disley of RAND Europe, between Professor Warner, Professor Rob Wilson of the Newcastle University Business School, Alina Selman from the UK Government's Centre for SIBs and Ben Jupp, a director at Social Finance.
Professor Wilson closed this with a feeling of optimism, as Ben Jupp described how many people involved in SIBs were aware of the limitations of outcomes-based commissioning – that SIBs were not a panacea but did have a role to play in certain areas, and that he didn't think it all had to be funded by external investors – the focus should instead be about getting incentives in the system right.
His view was that SIBs need to have a true partnership between providers, investors, commissioners and beneficiaries at their core, and could evolve into a range of partnership structures.
Alina echoed that the UK Government recognises SIBs are not a panacea, but argued that, to date, we haven't cracked the world's biggest social problems. SIBs present an opportunity to work towards some of them and, if we have the political will, the available social investment and interest from service providers, we should test it out to see if it works.
She said: "Getting the right outcomes for beneficiaries, especially the most vulnerable members of our society, is paramount, so anything that helps us to focus more on that has got to be a step in the right direction."
Everyone agreed to reconvene once SIBs have been tested further. One thing is for sure – when that happens it will make for another riveting two days.
Photo credit: Rolf Brecher