Barefoot College: pushing equality globally
Barefoot college has been actioning sustainable development goal #5 (gender equality) for many years by training women as solar engineers. 2017 will see the programme expand to other territories, writes Lee Mannion.
The word 'empower' is overused in the world of social enterprise but there can be no cynicism about the model of Barefoot College. Its programme of teaching women to be solar engineers has given women status in the rural communities they return to. If knowledge is power, all sorts of gender barriers are being impacted as a result.
Barefoot had been training women to be solar engineers in its home country of India since 2005 but in 2008, the organisation invited two women from a village near Timbuktu in Mali to learn to be solar engineers. Timbuktu was chosen as it was commonly thought of as 'the middle of nowhere'. 
The two women were both 40 years old and illiterate. They stayed in India for six months, learning through sign language how to install and maintain solar power systems. When they returned to Mali to put their new knowledge into practice, their village became the first in west Africa to have solar electricity.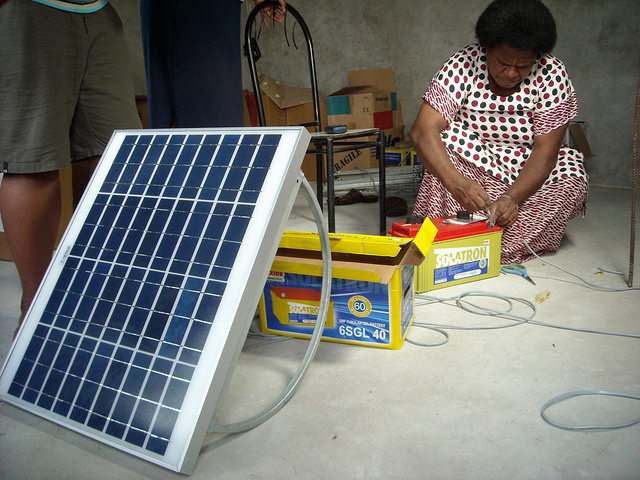 Photo: Graduates from Barefoot College installing solar panels in Kadavu, Fiji (credit: UN WOMEN Pacific)
Since then, Barefoot has hosted women from many different countries – 40 of them every six months. There are now Barefoot solar engineers in 81 countries; the college has trained 926 of them so far. 
The social impacts on the communities the engineers return to are several. Now nothing has to stop when the sun goes down. Kids can study without having to squint their eyes at the minimal light a kerosene lamp provides. Just as importantly, they don't have to breathe in the fumes. 
Solar is cheaper than kerosene (villagers agree to pay a certain amount to the engineers as a wage) so all families have more money. Incomes usually rise as a result of increased productivity of items manufactured for sale, as the manufacturing would formerly only have been done by the light of the sun. The environmental benefits are obvious.
Barefoot in London
On a recent visit to London, we caught up with Barefoot college CEO Meagan Fallone. She was visiting to deliver a presentation to employees of law firm Hogan Lovells, which has made Barefoot a global partner for the next three years. The firm will offer funds and pro bono legal advice throughout Barefoot's expansion into other territories.
Fallone says that the selection of the communities that the student engineers come from is strategic, specifically intended to disrupt the inequality chain: "We do not talk about equality but the way to level the playing field is to put a skill into the hands of women," says Fallone.
"Women do not have the ego thing that men have. They go back to their villages and put up the panels and then, sooner or later, the chief of the village is asking for their opinion about important matters." 
Barefoot uses local partners to source their students but Fallone's favourite suggestions are the ones that see a way for Barefoot to impact an accepted social norm that is damaging: "When you take a community in Senegal that publicly abandons female genital mutilation in exchange for solar then communities shift very quickly. We try to use solar around communities that have inequality to women, domestic violence issues being another example."
She gives another example of the first water well that was enabled by the Barefoot organisation in India: "The first engineer we trained was a Dalit woman (lowest caste) so Brahmin (high caste) farmers had to accept water from a low caste woman."
Other accepted social norms are changed by educating women: "If a girl can talk to her father about crop rotation the value of her goes up and he's far less likely to marry her off to somebody as she's worth something to him."
This year will see the opening of four Barefoot colleges in Africa. The first regional training centre in the continent opened in Zanzibar in 2015. The remaining centres will be in Burkina Faso, Liberia, Senegal and South Sudan. Fallone is confident about their success because she has seen the commitment of students to date. 
"I don't know many of our children who would wake up at 5am, do all of the chores in the morning, herd goats 25km in 52-degree heat and then go to school six nights a week from 6.30-9.30. If you don't think you can trust that woman to do something in her community, you're crazy."