£1bn spend on social enterprises not enough, Adebowale says
Lord Victor Adebowale, the newly installed chair of Social Enterprise UK(SEUK), has challenged corporates to spend more with social enterprises.
At an event to mark a year of the Buy Social Corporate Challenge, Lord Adebowale warned the audience, many of whom were senior executives at large companies that: "There is a burning platform, this isn't just nice to do. It's not just about feeling a little bit better about what you do anyway. The public expect business to do better."
Adebowale was speaking at the Terrace Pavilion at the House of Commons. He suggested procuring from social enterprises would future-proof the businesses of attendees. 
"This is going be core to your business survival over the next couple of years. It doesn't matter who wins the next election, you are all going to be more answerable to the communities that you serve than you have ever been and we (SEUK) are here to help you do that," he said.
Adebowale then urged companes to spend more with social enterprises: "£1bn is not enough, you're going to have to do a lot better than that. This is just the start, it's proof of concept, this is not the end of the journey by any means."
The Buy Social Corporate Challenge was launched with seven corporate partners that included Santander and Johnson&Johnson.
Two more partners were announced at the event: AMEY, which manages infrastructure (such as roads and railways) and public services and Robertson Group, which constructs and maintains buildings.
John Cully, chief procurement officer at Amey, said: "We're committed to working with organisations like Social Enterprise UK and their partners to help us connect to social businesses that we know bring about positive change in our local communities – ultimately helping us to deliver our goal at Amey of creating better places to live, work and travel."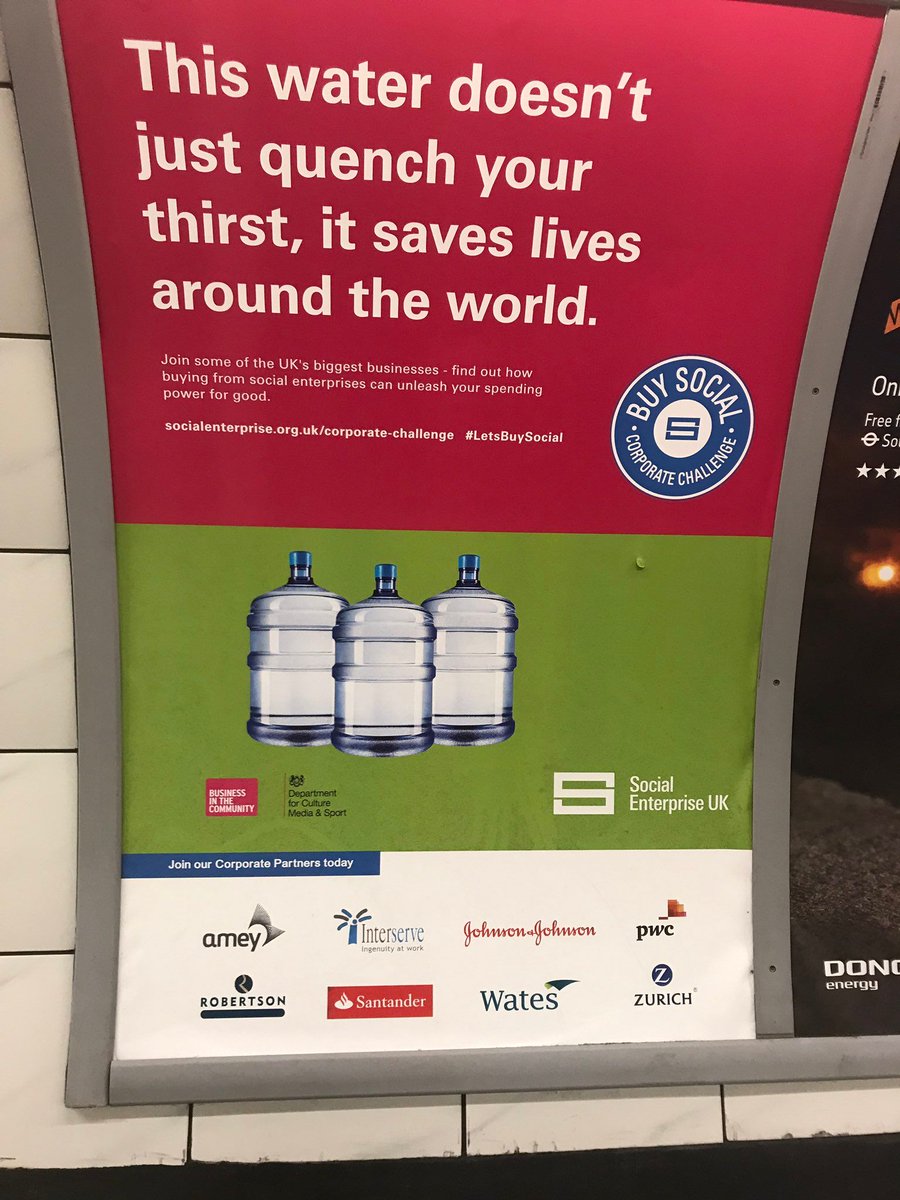 Above: one of the Buy Social posters on display in London Underground stations.
Impact of the Buy Social Corporate Challenge
Peter Holbrook, chief executive of Social Enterprise UK, reported that the corporate partners had introduced 125 social enterprises into their supply chains in the first year of the initiative.
With a stated target of £1bn spent on social enterprises by 2020, Holbrook announced that £19.8M had been spent in the first year of the scheme. He described it as "a huge figure; that is a lot of lives, a lot of opportunities created," and "a terrific target to achieve in year one. There is more to do, which is why we need more support."
As well as inviting executives from corporates yet to commit to the challenge to the event, Social Enterprise UK has trained 35 procurement professionals in how best to work wth social enterprises "and how you can sell this into your organisation," as Holbrook put it.
To strengthen his argument, he referred to a PWC report that assessed the cost of social enterprises in supply chains. In 52% social enterprises were found to be cheaper.
Social Enterprise UK has also recently produced an advertising campaign appearing at major London train stations to further publicise the Big Social Corporate Challenge.
One of the ways you can 'Buy Social' is to support the journalism of Pioneers Post by taking out a subscription. It's less than £9 a month for more than 300 stories a year. Think we're useful for the sector? Then please support us.