Can venture philanthropy save the world?
Ahead of the Asian Venture Philanthropy Network conference happening in June, we talked to founder Doug Miller about how such networks are valuable to the world and how a business approach to social investment is making a difference.
We've got US president John F Kennedy to thank for sending Doug Miller down the road of venture philanthropy. 
At his inauguration in 1961 President Kennedy introduced his Peace Corps with the now oft-repeated phrase: "And so, my fellow Americans: ask not what your country can do for you – ask what you can do for your country."
The Peace Corps, founded the same year, has since seen more than 220,000 pass through it. Trained men and women are sent overseas by the US government or private companies to help foreign countries meet their urgent needs. The 18-year-old Miller responded to JFK's call and signed up to join in 1966.
But he was on his way to West Africa when the US government revoked his posting. Instead, he got drafted and sent to Vietnam. 
Once there, Miller looked to find people that could save him from being cannon fodder and applied to join the US army's Special Forces section, which undertakes covert and other specialised operations.
He tells Pioneers Post: "I was no Rambo-type, but I thought: how did I have the best chance of getting back? Join people that are better than you and who are more experienced. In special forces I was surrounded by them and that became a mantra for my whole career: find people that are better." 
The way to have some influence is to cut off your beard and your hair and go make some money
After three years in Vietnam, Miller came home to the US to become a student radical, mad about the war and civil rights. Upon graduation in 1971 he realised that protestors were useful for holding government to account, but their influence was limited. "The way to have some influence is to cut off your beard and your hair and go make some money and get into positions where you can access government."
He spent the next 19 years working in private equity for a bank and after that he formed his own private equity company. It was successful and "the profits which gave me the freedom to do other stuff." The "other stuff" was philanthropy.
The problem with philanthropy
It was on a return trip to Vietnam in 2002 with 26 other philanthropists to raise money for mine clearing that a conversation started around the impact of their donations, about which the group was largely ignorant. 
Miller says that he would ask questions about the money he was donating but wouldn't get answers back. "I don't think these people were hiding or stealing, I just think there wasn't a culture of transparency or correct accountability."
He says that he knew of one foundation giving out 840 grants a year that was staffed by four people. "So that non-profit wasn't being asked for information because they didn't have the resources to handle those requests."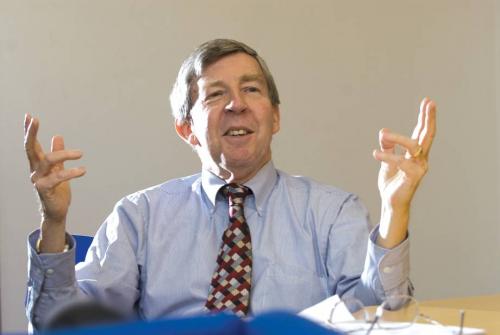 Above: Doug Miller
Venture philanthropy (VP) seemed to provide some solutions to this problem. "There were a lot of things from the business world that we thought could apply into the social sector, at the same time recognising that the culture and the pace is different," he says.
"We thought that changes could be made to create more social value. One of them was to be more strategic. You don't run a business without defining the outcomes you want to achieve. And even if you don't achieve them, look at why and have a feedback mechanism. Another was to treat the non-profit organisations as a partner rather than a supplicant." 
After researching VP in the US, Miller was convinced and the idea for a series of continent-wide organisations took hold: "We had seen private equity go global. Our contribution to society might just be that we can take VP global. We started the European Venture Philanthropy Association (EVPA) because we wanted to accelerate the evolution of philanthropic practices."
Taking venture philanthropy global
After EVPA was formed in 2004 by Miller and four others, the Asian Venture Philanthropy Network (AVPN) came to life in 2012 (Miller is the founder chairman). Five different types of memberships are available, depending what type of organisation is applying. 
Following the establishment of VP networks in Europe and Asia, India (home to 16% of the world's population) is next on the list. The yet to be named Indian network is currently being incubated within AVPN and will launch within two or three years, Miller says.
Following that will likely be an Africa network: "We're seeing a huge amount of interest because the social problems are there and the lack of transparency is there." 
Miller is keen to emphasise that, with AVPN and future subsequent networks, his team have acted as facilitators – it is up to local partners to find the right people to run the network and find the funding.
How useful are all these networks? Miller suggests that business and philanthropy working together will have to fill the gap left by inadequate state funding. "You can either have more income for governments which they can then deploy – but citizens don't vote for that. 
"Then you have issues competing for government expenditure; do you spend it on roads and railways or on defence, for example? Philanthropic money is interesting because not only does it have a zero financial return on the money but it often doesn't have a return of the money. So it can be a lot more risk-taking."
The next big event for AVPN is its conference in Bangkok in June and, given the mention of government and philanthropic money, it seems an apt time to discuss the theme of the conference, which is collaboration. 
When AVPN started out it was engaging with three governments; it's now engaging with 17 throughout Asia. There will be an Asian Policy Forum day at the Bangkok conference, hosted by the UN.
"The real win here is engaging governments to engage with the private sector. That's the hardest thing you can possibly do but that's where the biggest win is," says Miller.
The former student activist was right. Cutting off his hair, making some money and succeeding in business lead him to not only manifest influence with one government, but several.
Asia's top social investment conference, the AVPN conference will take place in Bangkok on 7-9 June. For tickets and information about the schedule and speakers, please visit the website.