Excitement and celebration: Christchurch rebuilds with a new perspective
Christchurch and New Zealand are undergoing big changes - and social enterprise is leading the way. Rata Ingram, a young New Zealander who is attending the Social Enterprise World Forum this week, reflects on the first day's presentations and what the themes raised within them mean for the future of her country.
"We are birds who have come from the four corners of the world," said Alfred Ngaro, New Zealand's minister for the community and voluntary sector, in his welcoming speech at the Social Enterprise World Forum (SEWF17), which this year is hosted in Christchurch city, New Zealand.
Place is an important theme of SEWF17. Only six years on from the deadly 2011 earthquake which destroyed much of the inner city, Christchurch is a space focussed on regenerating and rebuilding community. 
I am attending the conference as a course participant with Inspiring Stories, which is a New Zealand-based social enterprise dedicated to enabling young people develop skills to become successful entrepreneurs. I was in high school at the time of the earthquakes; through my adolescence I didn't have a city, a home base. There were no cultural, social or sporting venues. The Central Business District was rubble.
Now we are in a period of intense change. New businesses are opening in town seemingly every day. The best thing is the excitement — every part of the rebuild is a cause for celebration. There is an atmosphere of embracing new trends. Now, more than ever, we have the opportunity to take part in the global economy. To invest in new infrastructure based on 21st century values such as creating, collaborating and critical thinking. "We can't afford not to take a long-term view," stated Christchurch mayor Lianne Dalziel in her opening address to the event. 
A city of opportunity
She is confident Christchurch is a city of opportunity. The earthquake was a catalyst for a huge change in the social and business landscape, but she acknowledged "no one needs to wait for a disaster" to make such a change.
We suddenly have new spaces and new challenges. A key example of this is Rekindle, a social enterprise repurposing scrap timber to create furniture. Rekindle started in 2012 as a response to the extraordinary waste Christchurch was dealing with after the earthquake. Several hundred businesses and close to 10,000 houses were set for demolition. Rekindle aims to best utilise this waste through resourcefulness and creativity. 
At the welcoming ceremony, following the opening kapa haka (song and dance that forms a traditional welcome in Māori culture), we were shown the Social Enterprise World Forum waka. This waka is a taonga (treasure) gifted by Rekindle to the Forum, sculpted from a salvaged kahikatea tree. It exemplifies another bond with the Forum's setting. In Te Reo Māori (the Māori language), the New Zealand's South Island is known as Te Waka a Māui, the canoe of Māui. Waka represent the wayfinding and resilience that is so close to the New Zealand soul. The indigenous people found their way to Aotearoa New Zealand as mariners, guided by the winds, currents and the moon. We are an island of immigrants, and a multicultural nation. This is not without its dark side of colonialism. The Māori people are overrepresented in many negative statistics such as rates of poverty, obesity and suicide, and this is a real challenge we face as New Zealanders.
There are the beginnings of a conversation about decolonisation currently happening in New Zealand. In the weeks before the election on 23 September, many political parties spoke about teaching Te Reo in schools, and our national broadcasters are beginning to incorporate the language. It's a long time coming. 
Social enterprise is leading the way
By prioritising culture and social and environmental value, social enterprise is leading the way. One of the values of the World Forum is that of radical diversity, celebrating different voices and perspectives. New Zealand as a multicultural nation is coming to the fore.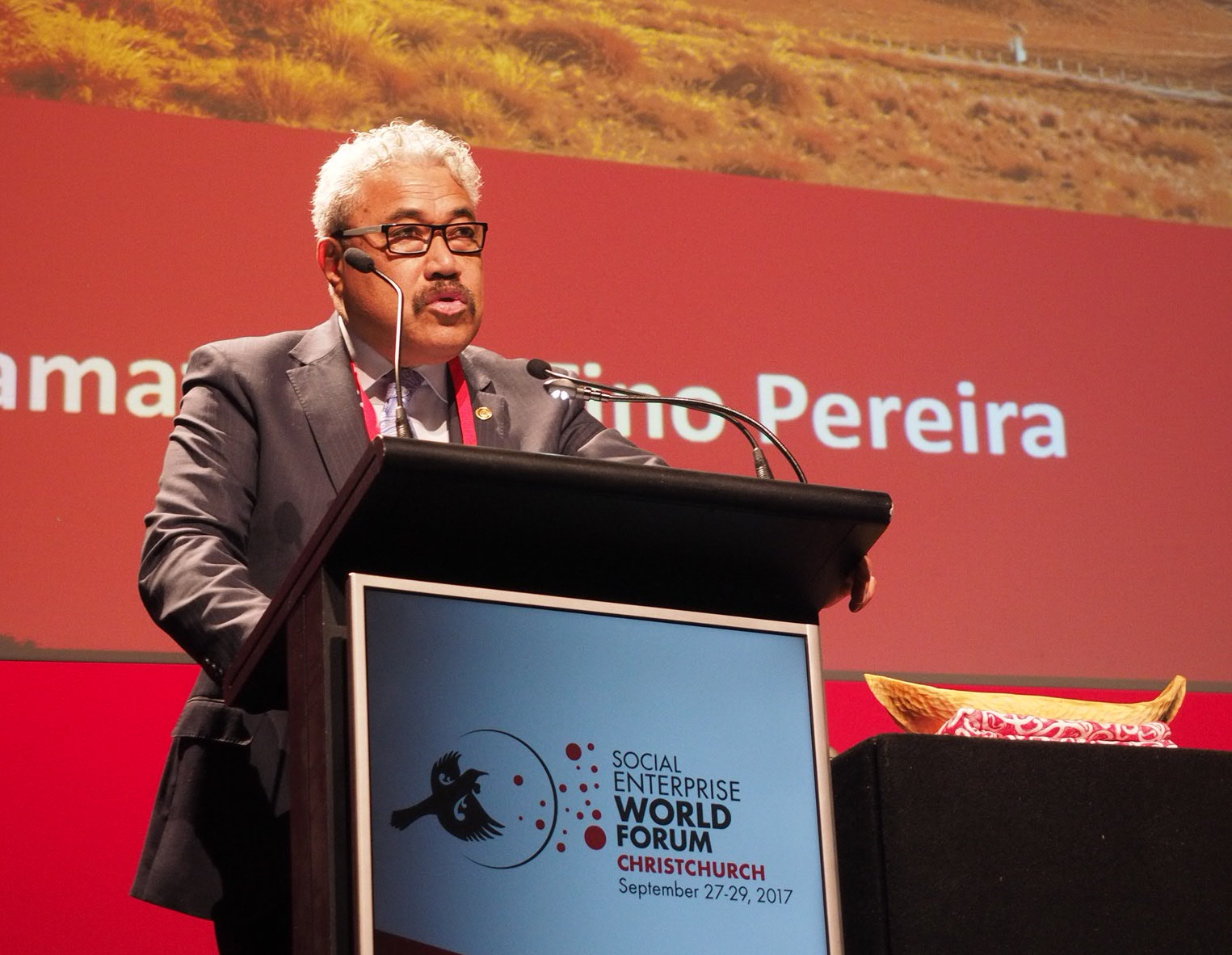 In one of the talks, we heard from Fa'amatuaimu Tino Pereira, chairman of the board of the Pacific Business Trust. He explained that in the Pacific the status quo of global business is clearly not viable. Corporations are still not incentivised to take enough social responsibility for their environmental impact, and this is deeply affecting what sort of future is in store for us. New Zealand lies on the fringe of the Pacific Ocean. The Polynesian islands are our immediate neighbours, and the challenge of global warming and plastic waste could not be more relevant.
Pereira pointed out that many of the businesses he has worked with would not label themselves as social enterprises, as they don't know the jargon, but their practices align with the key ideas in social enterprise. They are community-led, sustainable and purposeful in improving outcomes centred around these challenges. They bring power to the people. Keeping with this theme, Peter Holbrook, CEO of Social Enterprise UK, gave us the analogy of the phytoplankton vs. the trees. Phytoplankton produce more oxygen than all the rainforest in the world; being small is no barrier to change.
My take from the conference is how multilayered is the influence of place. Place is about belonging. Coming from a course where I've been learning about social enterprise within Christchurch, the conference has broadened the horizons of what is possible from my city in Aotearoa New Zealand, to the Pacific, and to the globe. By hosting SEWF17 we have become a nucleus for important conversations and influence. We have become a meeting place to hear and be inspired by stories, international good practice, and discussion about the role we can take in a global context. It is an opportunity to connect, network and to understand the best routes forward.
Alfred Ngaro concluded with two greetings: Kia ora and kia orana, which mean to live long and live well. I believe that this is ultimately what social enterprise is working towards.
Rata Ingram is working with Pioneers Post as an intern during the Social Enterprise World Forum 2017.
Pioneers Post is media partner to the Social Enterprise World Forum. To see all of our Social Enterprise World Forum coverage click here.