John Bird posits a 'social Amazon' as The Big Issue turns 26
If Jeremy Corbyn wins the next election, John Bird will ask him for £1m to create a "social Amazon".
Speaking at the opening of an exhibition celebrating The Big Issue's '25 + 1 Birthday' last month, John Bird, who founded the social enterprise in 1991, explained his ideas about "social trading".
"Amazon comes about because millions of people buy something and they get a sliver of the profits. If people are going to buy stuff, why don't they buy it through the community rather than the gated community?"
"If Jeremy [Corbyn] does get in, I'll go to him and ask for £1m to create a social Amazon. People complain about those who live the charmed 1% life - but we can create the social alternative. Let's have social Tescos." 
The Big Issue released a special edition of the magazine for its '25 + 1 Birthday', curated by Bird and featuring art-related content around the theme of social trading.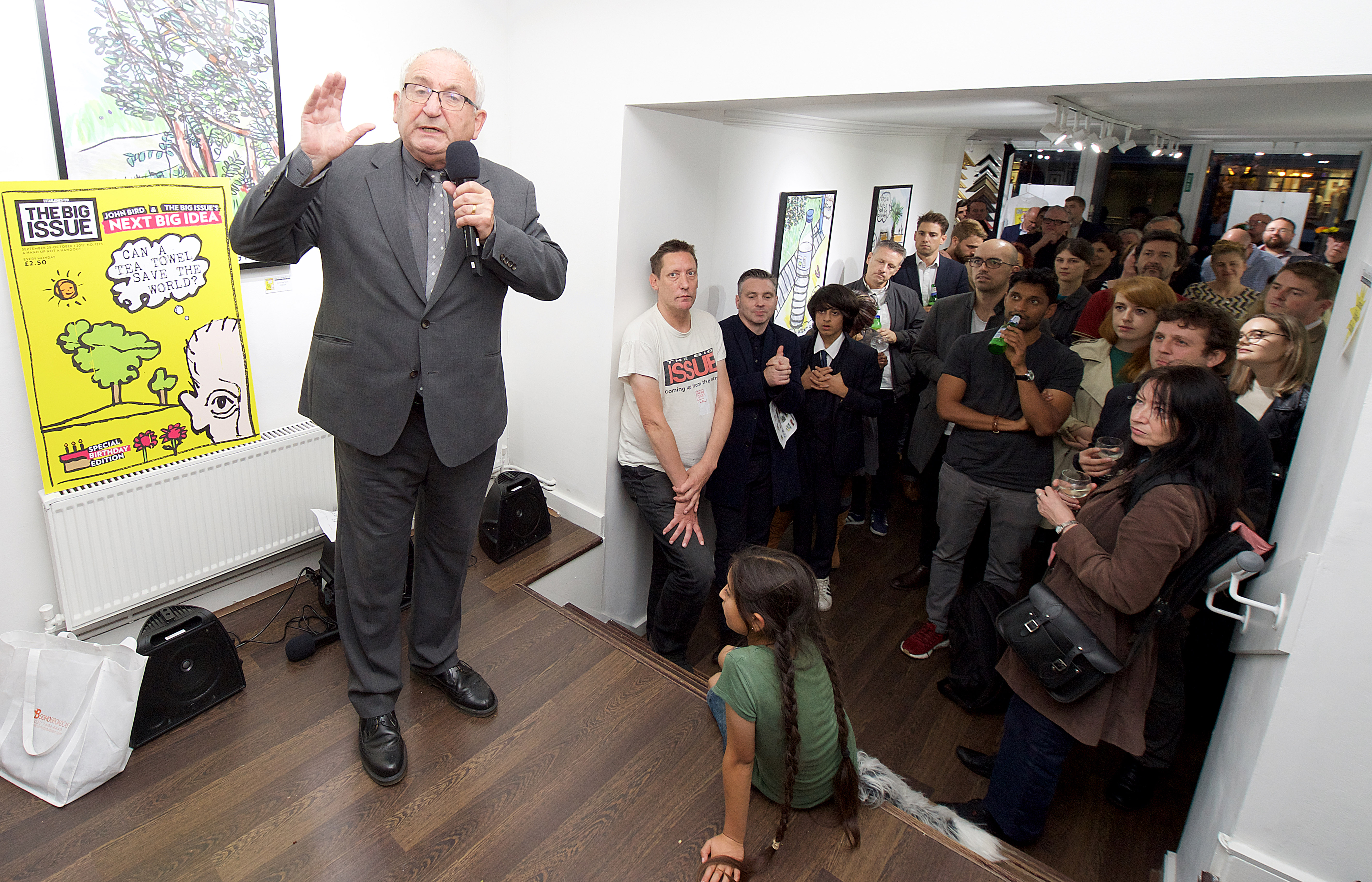 This edition coincided with an exhibition of Bird's own artwork, 'The Big Issue 25 + 1: A celebration of a life-changing revolution', held at the Framers Gallery in London from 25th to 29th September.
The exhibition also featured tea towels for sale, marking the launch of The Big Issue's 'One Million Tea Towel Challenge' which aims to raise money through selling £5 tea towels via the magazine's online shop. Profits will go towards helping The Big Issue's mission to beat poverty. 
"The idea behind the tea towel campaign is that if I can get 1 million people to do something, then I can demonstrate that 1 million people can begin to change the world," said Bird.  
He added: "Social enterprise is a nice way of combining a business-like response to a social crisis." 
The Big Issue circulates around 82,300 copies per week via 1500 vendors. In 2016, it launched The Big Issue Shop, committed to selling products with a "social echo". 
Photos: John Bird at Framers Gallery, and 'Gardener's Question Time' by John Bird. Credit: The Big Issue