4,600 social enterprise jobs created or saved by UK's responsible finance providers in 2017
A total of 4,661 social enterprise jobs have been either created or saved because of support offered by 12 specialist responsible finance providers in the UK throughout 2017. However, less money coming into the responsible finance industry this year means that the total value of loans has fallen.
These are findings in a new report published by Responsible Finance. Responsible Finance: The industry in 2017 also found that 304 social enterprises were created or safeguarded thanks to support provided by the responsible finance industry.
Jennifer Tankard, CEO of Responsible Finance, said: "Responsible finance providers are a critical source of finance helping social enterprises, businesses and micro enterprises contribute to employment and job creation, including in some of the most deprived parts of the UK.
"Social enterprises are outstripping ordinary businesses in innovation, diversity of leadership, turnover growth and job creation. They are addressing environmental and social challenges while creating wealth that circulates in local communities. And responsible finance providers are a crucial source of working capital, investment and support for the UK's innovative social enterprises."
The new report shows that the UK's 12 responsible finance providers – which are themselves social enterprises that specialise in lending to other social enterprises – lent £141.7 million to 363 social enterprises in 2016-17.
Responsible finance providers are a critical source of finance helping social enterprises
During the past 12 months, 34% of social enterprises have sought some form of finance according to Social Enterprise UK, a much higher figure than SMEs. The average size of loan from responsible finance providers lending to start-up social enterprises was £94,000 in 2016-17, for an average term of 4.9 years and at an average interest rate of 7.94%.
Despite strong demand, in 2016-17 the responsible finance industry lent 30% less to social enterprises than the previous year. This decrease, the report says, is driven by a lack of new funding for the industry during the year. In 2017, the responsible finance industry raised £62m in new funding to lend on to others compared with £71m in 2016. 
In response, the new report calls for:
A dedicated, £150m responsible finance fund to scale up the industry's impact.
"Fit-for-purpose" tax reliefs to incentivise greater investment into responsible finance providers.
A guarantee that current EU facilities which incentivise commercial investment into the responsible finance industry, are replaced, or access is maintained.
Tankard concluded: "Responsible finance is helping more people and businesses across Britain build their financial resilience – in 2017 the industry supported 34% more customers than in 2016.
"Responsible finance providers are recognised as trusted and transparent lenders offering considerable value for money in supporting social enterprises; the engines of the UK economy. With access to the right tools: funding; tax reliefs; guarantees and fit-for-purpose regulation; the industry can continue to grow to match the need for access to finance."
Facts and figures: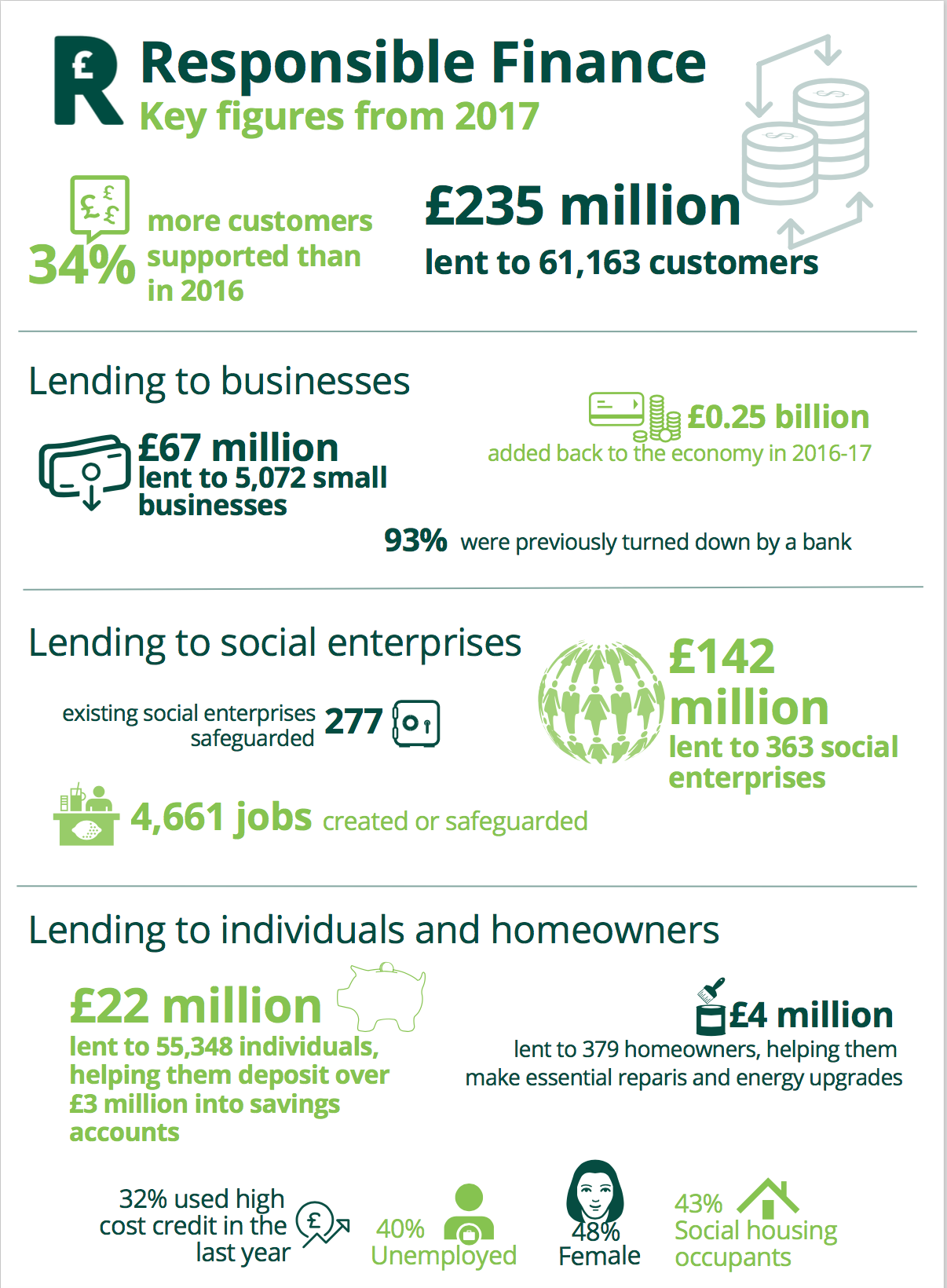 To read the 'Responsible Finance: The industry in 2017' report in full, click here