A serving of social enterprise
Meet the Northumbria University students who are working with refugees to turn their city's surplus supermarket food into a business through Enactus
I have always been very entrepreneurial. When I came to university I wanted to do something different, not just a conventional degree. When I heard about Northumbria offering a degree around entrepreneurship, where students are encouraged to start their own businesses, it sounded like the perfect degree for me. 
During my first year, I was presented with an opportunity to start an Enactus team. For those of you who don't know about Enactus, it is an international non-profit organisation dedicated to inspiring university students to improve the world through entrepreneurial action. 
Members of Enactus create and run community development projects that put people's own ingenuity and talents at the centre of improving their livelihoods. The UK alone has over 59 Enactus teams, with over 2,690 students involved. 
Having started the team at Northumbria University last year, this was my first ever experience managing a team of people. In the first month of launch we went from three members to 27 students. You could certainly say I felt that I was way out of my depth. I had to find things for everyone to do!
Fast forward one year and we now have 42 active members, running two social enterprise projects, which are creating opportunities for refugees in our local community and also creating affordable desalination units for people who live in rural areas of Ghana. 
A new social enterprise 
Our first project, Food4Future began late last year when we started volunteering at the Comfrey Project, a charity which works with refugees and people seeking asylum in the north east of England. 
Many have escaped the horrors of war and persecution in countries like Syria, Iran and Eritrea. Through a shared passion for gardening and the power of friendship, the charity aims to increase their general wellbeing, confidence, self-esteem and purpose. 
Every Wednesday we'd go to the project centre where we would talk to the refugees and have lunch with them. Being a student, I was used to eating ready meals and tins of beans, so when I first tried the food at the Comfrey Project you could say it was somewhat of a shock to the system. It was so incredible! 
All the ingredients used were home-grown from the centre's garden. We had soups, curries, pastas and many other delicious dishes, often inspired by the refugees' home countries.
Having spoken to a lot of the members at the centre, we soon learnt that many were incredibly entrepreneurial. We had masseuses, cooks and gardeners and lots of other people who were highly skilled. However, they lacked the confidence and the knowledge of how to turn these talents into a commercial business.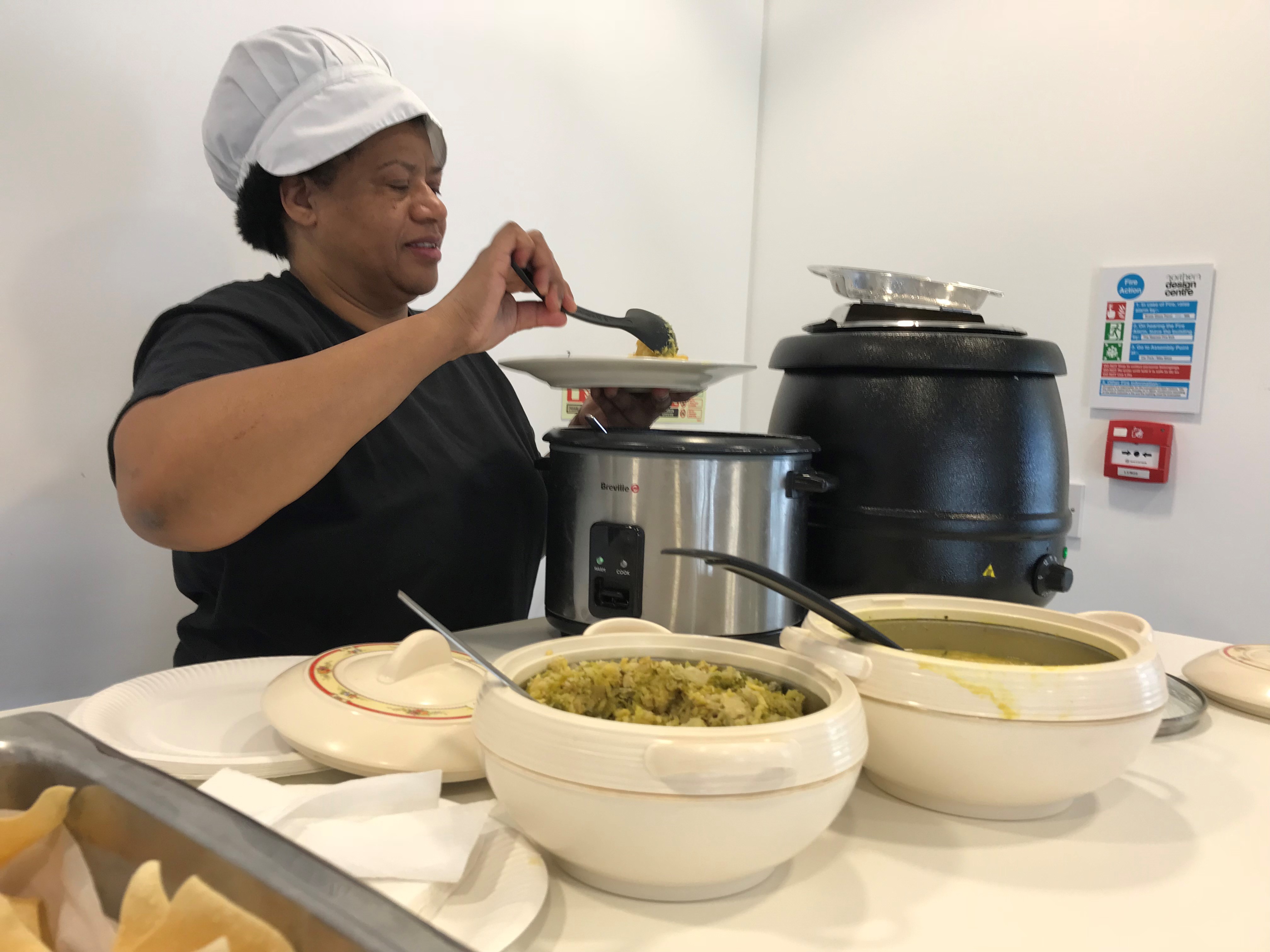 That's how we came up with an idea. What if we could combine the food that the Comfrey Project members make into a project that would teach them the relevant skills they need to set up their own businesses? 
And this is how we came up with Food4Future. 
We now work with Comfrey Project members to create and sell dishes, inspired by their own countries through various pop-up events in and around Newcastle and Gateshead.  
We wanted the project to be 100% sustainable so through FareShare, we partnered with Tesco to receive their surplus food on a Monday night, as well as various market stalls in our local community. We also managed to secure a weekly stall at the Northern Design Centre, in Gateshead every Tuesday.
Although it's still early days for Food4Future, we have successfully run a number of pop-up food stalls which have generated valuable income for the Comfrey Project, this has helped them to fund 12 weekly travel passes for their members. 
We have also offset 36kg of food from landfill and over the next six months we aim further reduce food waste to 150kg. 
In addition to raising vital funds for the charity, the most rewarding aspect is seeing how the enterprise has helped to increase the confidence, business skills and sense of purpose for members on the group.
Expansion for the future
We are now working with the Comfrey Project to expand our selling locations, so that we can provide more opportunities for the members to gain experience and provide important new revenue streams to the project. 
I feel as though the Food4Future project is off to an incredible start, the impact that we are making has been incredible and over the next six months we hope that this will increase dramatically. 
Everyone at the Comfrey Project is getting really involved with the project, with some members now exploring with the idea of running catering events.
Jonny Forsey is a third year BA Entrepreneurial Business Management student and president of Enactus at Northumbria University.