The mighty mediator: IMP's Clara Barby
For years competing organisations have been jostling to create the best tool to measure social impact. Clara Barby, CEO of the Impact Management Project, turned the question on its head and calmly coaxed 2,000 of them into figuring it all out together. Those efforts earned the IMP the prestigious Market Builder of the Year Award in the 2018 GSG Honors – with GSG praising the non-profit for its "tireless work" to create "a unique shot at agreeing on standards of practice that might ultimately become generally accepted globally". We hear how it all came about
She's the definition of a global citizen: grew up in the Caribbean; worked in Colombia, Kenya, Paris and London; now lives in Myanmar and works with colleagues on three continents. Clara Barby's approach to getting things done, though, suggests a no-nonsense Britishness.
How we define impact "is a social construct" – it only works with widespread buy-in, she says on a Zoom call from Yangon. "The minute you look at it that way, this idea that any organisation sitting in a room on their own might have the answer is silly."
It's a simple – yet rather radical – approach to impact measurement that Barby has pioneered as CEO of the Impact Management Project (IMP), a non-profit initiative hosted by UK-based investment firm, Bridges Fund Management.
Importantly, it appears to be working. While others were scrambling to find (and in some cases, sell) the best answer to the impact conundrum, Barby simply changed the question.
"This is not about one organisation saying: this is the right way," says Barby, who is on secondment to IMP from her role as partner at Bridges. "This is about reaching agreement. That, for me, was a really interesting shift." Rather than create another new tool, IMP set out to establish the underlying fundamentals which could be used by tools measuring very different types of activity. 
Barby insists she's all in favour of letting "a thousand flowers bloom" – just not in areas where the market clearly needs to converge. Here, we need to be "pre-competitive". It's a bit like our financial accounting system: numerous analytical tools exist (like different types of credit ratings), but the information they're based on needs to be widely accepted and used. The system may not be perfect, but it's useful if everyone understands it. 
Huddling together
How, though, do you reach agreement among hundreds of organisations – from banks to international bodies to businesses – each doing their own thing and spread across the world?
The question had stumped many. "I was definitely told by people that this couldn't be done… that you'd never get people to the same table, that it was all too complex," Barby says. 
But she had a good reason to question them. In 2013, Bridges had become one of the first companies to make its own impact tracking system public while others were competing to create the best version. By setting an example, the company hoped to convince others to compete on the impact they achieved, not on how they measured it. It paid off: clients were interested, strangers began calling up to find out more – adding up to what looked like a "critical mass" of people not wanting to compete. Alongside, ever more forms of social, responsible and ethical investing were emerging in a jumble of acronyms, causing increasing confusion about what impact actually meant. The time was ripe, Barby felt, for collaboration.
I was definitely told by people that this couldn't be done… that you'd never get people to the same table, that it was all too complex
It was clear that some kind of "brain trust" dictating answers wouldn't work. "So we flipped it and said, we don't have the answers to all the questions, but we do believe that if we get enough people on the phone, we can get to something which everyone can not disagree with."
So that's what happened. In its first phase, IMP spent nine months hosting in-person and online 'huddles': global webinars for up to 90 attendees at a time, sometimes twice a week. 
It may sound like death-by-conference-call. But Barby uses the term 'co-creation', and her approach suggests this actually happened. The team made sure to update content so that contributors could clearly see their views being taken on board. Technical jargon was avoided, instead using concepts like who, what, or how much – easily understood, whatever sector or country you joined from. And Barby, who got to know people as time went on, used that to make the calls a bit more personal. "It allowed me to call on people, maybe say to someone: 'Isn't that what you said on the last call?'… which makes a difference."
The  result was consensus, at least on the basics (see box): a sort of checklist for what any good framework or impact report should cover. Concepts were tested in practice over a further 12 months, and guidance produced. Now, leading investment managers and asset owners around the world have incorporated the IMP approach in their frameworks, as has B Lab, which manages B Corp certification, a sustainability stamp for businesses. Tools have been translated into Mandarin and Spanish. And Barby is delighted with people's willingness to share. "I think the project has brought out the best in everyone," she says. 
The five dimensions of impact 
Through the IMP, more than 2,000 practitioners have agreed on some basic principles for impact measurement, management and reporting, including five dimensions of impact – aspects that every good impact framework should cover. These are:
What: what outcomes the enterprise is contributing to and how important the outcomes are to stakeholders
Who: which stakeholders are experiencing the outcome and how underserved they were beforehand
How much: how many stakeholders experienced the outcome, what degree of change they experienced, and how long they experienced the outcome for
Contribution: whether an enterprise's and/or investor's efforts resulted in outcomes that were likely better than what would have occurred otherwise
Risk: the likelihood that impact will be different than expected
Investor, philosopher, mum
The calls and consultations took in wildly varying perspectives: the banker, say, who just wants to get on with things; the evaluator who's reluctant to reduce a vulnerable person's life to a series of numbers; the 'philosopher' who questions whether scale truly is better than depth.
And there were divisive topics. Some felt additionality – whether something would have happened anyway without your intervention – should be the defining feature of any impact tool. Others disagreed, given that it's often impossible to measure.
How do you resolve this? "What we did was say: what if we call it contribution? Going as far as additionality and attribution is very powerful, if you can do it," says Barby. "But given you can only do it in a small number of cases, don't say you shouldn't do it at all otherwise."  
Similarly, some insisted that factoring in the stakeholder's view of change was crucial, while others argued it was too difficult to capture honest, accurate data in this way. The polarisation wasn't necessary, says Barby. "Our view as the facilitation team was: hang on, you're both making really important points – there's no reason you have to take a side." Stakeholder voice can be one ingredient, balanced with other, more objective measurements. 
Our view as facilitators was: hang on, you're both making important points – there's no reason you have to take a side
Barby is at pains to emphasise that IMP's success has been a joint effort. But it's hard not to admire the apparent ability to listen, reframe, and above all, persist. Her own background may have helped (and not just because, as a mum of four children under seven years old, patience must be second nature). Barby has been on the investor side as portfolio manager at Acumen, and has an MBA, but also studied philosophy – the scale versus depth question, she notes brightly, is actually utilitarian theory. Her new role felt, she says, like a culmination of these experiences.
The multicultural background no doubt also prompted a natural ease with differing viewpoints. Indeed, Barby is keen to avoid any western-centric view dominating IMP's work­ – one of the reasons she's glad to be based in Yangon, where she moved with her husband four years ago, for his work. 
Has living in a poorer part of the world brought some of the issues to life? One case easily springs to mind: just down the road from Barby's home, a brand new telecoms tower was being touted as an investment with huge positive impact. The IMP's five dimensions made it clear this was overstated: "I know for a fact that my entire street has great 4G [network] already!".
This point about context is key – and it's part of what makes IMP valuable. Everyone knew context was crucial, says Barby, but IMP got them to agree on what elements of that context need to be consistently reported, so that you can compare across companies or investments.
Filling the gaps
Some impact frameworks still have gaps. Those that don't factor in risk of not achieving the impact expected are "a real worry", says Barby. Others neglect duration: if you're not factoring in how long the benefits of new solar panels will last, you can't compare them with another product whose shelf life is twice as long.
And even among the most well-intentioned, some data is just really hard to capture. For example: how do you know for sure that people who've gained employment through your intervention wouldn't have found jobs elsewhere? The gaps, at least, are coming to light. "We know now how to talk about which areas have less data. [Before,] we didn't even have the structure to say, this is the kind of data we're struggling with." 
The ten-year vision
In a decade, the IMP envisions that all businesses and investments will:
At a minimum, measure and manage their 'ESG' risks to avoid harm
Account for their impacts that matter most to people and planet, across the five dimensions of performance
Consider the relationship of these to their ability to generate sustained financial performance
Report all of this transparently
IMP is starting to address those gaps, working with Acumen experts who have pioneered a way of getting quick, relatively cheap insights on impact through surveying end users. IMP has developed survey questions with Acumen spinout 60 Decibels across the five dimensions that can be used in different sectors, and is pushing surveying as a critical aspect of tracking impact. 
Nearly three years since IMP was created, there's more to resolve, and discussions are continuing via an online community, Managing Impact. Even with the consensus achieved, Barby says there's still "very little complete reporting" happening. "But that's okay. I feel like we've made quite a lot of progress in a few years."
The crucial next step is widespread implementation, and not just among those already "living and breathing these norms". So, last autumn, IMP brought together 12 influential global organisations in its new 'Structured Network'. The 12 – which include the OECD, the World Bank's International Finance Corporation, and the Principles for Responsible Investment (PRI) – formally or informally set standards around impact measurement or management in their fields. The hope is that getting them together will lead to coordination on standards and benchmarks, ultimately helping all enterprises and investors to measure and manage their impact consistently. That, in turn, will help increase transparency, prevent 'impact-washing' and get more capital flowing where it's needed.    
As for IMP itself: the non-profit will only be around for another three years. That's because there's strong momentum now, but a risk of fatigue if discussions go on too long. Now is the time to have "a damn good crack" at bringing enough people together to get over the line, Barby says. "It feels like an important moment."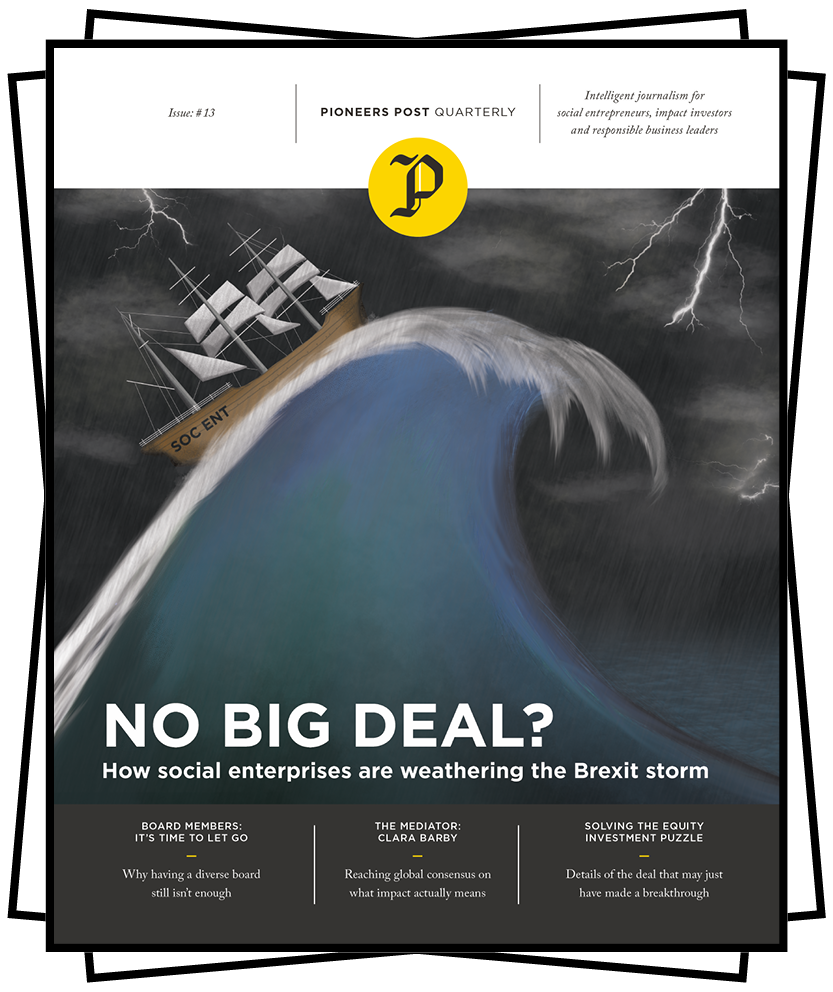 This article first appeared in Pioneers Post Quarterly, issue 13. Read the full issue here – or subscribe now for access.
Your chance to enter or nominate for this year's GSG Impact Honors!
Pioneers Post is this year partnering with GSG in two of the awards categories:
Impact entrepreneur of the year – honor for leaders with catalytic impact on lives or planet through profit with purpose companies (social enterprises), non-government organizations or non-profit social service providers with earned-income models.
Impact market builder of the year – honor for a government, policy think-tank or professional services company that pushes thought leadership in the impact sector or catalyses impact investment. The winnner must demonstrate acceptance through a few major clients from among capital providers, entrepreneurs and intermediaries. Exceptional individuals may be considered.
To submit a nomination, please click through on the links below. The deadline for submissions is 31 July.
Impact entrepreneur of the year
Impact market builder of the year 
Please note: Your entry must be submitted online using the links above. Once you have submitted it is possible to edit your application. 
For further details on the criteria for nominations, see the awards rules and guidelines.