What has the EU ever done for you (and your social enterprise)?
As the UK bows out of Europe, Euclid Network CEO Suzanne Wisse-Huiskes shares what Brussels is doing for social enterprises in the remaining EU-27 – and what more could be done. From our special feature on Brexit and Europe, in Pioneers Post Quarterly #13
The European Commission sees social enterprises as key actors of the single market – and a means to help achieve its 2020 vision of smart, sustainable and inclusive growth across the EU.
The economic and social value created by social entrepreneurs was first formally recognised in the 2011 Social Business Initiative, which set out measures to create the financial, administrative and legal climate in which social enterprises can flourish. This was a significant milestone: it encouraged member states to take social business seriously, and led to several programmes that are making a real difference for entrepreneurs on the ground.
However, the current direction of EU social enterprise policy seems unclear, and didn't feature much in the 2014-19 Juncker Commission's agenda. That needs to change if social enterprises are to keep emerging and growing. Also, there are still too many barriers preventing social innovation from spreading across borders. This prevents enterprises from scaling up and becoming European champions.
Euclid Network is calling on the new commission, which takes office in November 2019, to firstly, put more focus on increased access to innovative finance. Secondly, we want it to nudge consumers to buy social, and finally, to support cross-border learning opportunities for social entrepreneurs and their intermediaries.
EU backing for social enterprise: some examples
Start-ups:
The EU Social Innovation Competition supports early-stage ideas through an incubation programme, with a cash prize of €50,000 for each of the three top ventures. This year's edition focuses on challenging plastic waste.
Scaling:
The EU Programme for Employment and Social Innovation (EaSI) aims – among others – to improve access to preferential finance for social enterprises. Thousands of European social enterprises have benefitted to date. Currently there's €96m available, but the European Commission wants to increase this in the next EU budget (2021-2027) under the Invest EU programme.
Enabling environment:
The European Commission encourages EU regions and cities to create an enabling policy environment for social enterprises through its European Social Economy Regions project. This allows policy makers to exchange best practices on things like innovative forms of finance, tax incentives and support structures for social enterprises – policies that ultimately should help social enterprises emerge, develop and grow. 
Euclid Network is a European network of civil society and social enterprise support organisations, all working to empower civil society and social enterprise to drive positive change. Its 30 members federate over 10,000 social enterprises and NGOs across Europe. Find out more at www.euclidnetwork.eu
Header image: © European Union 2016 - Source: EP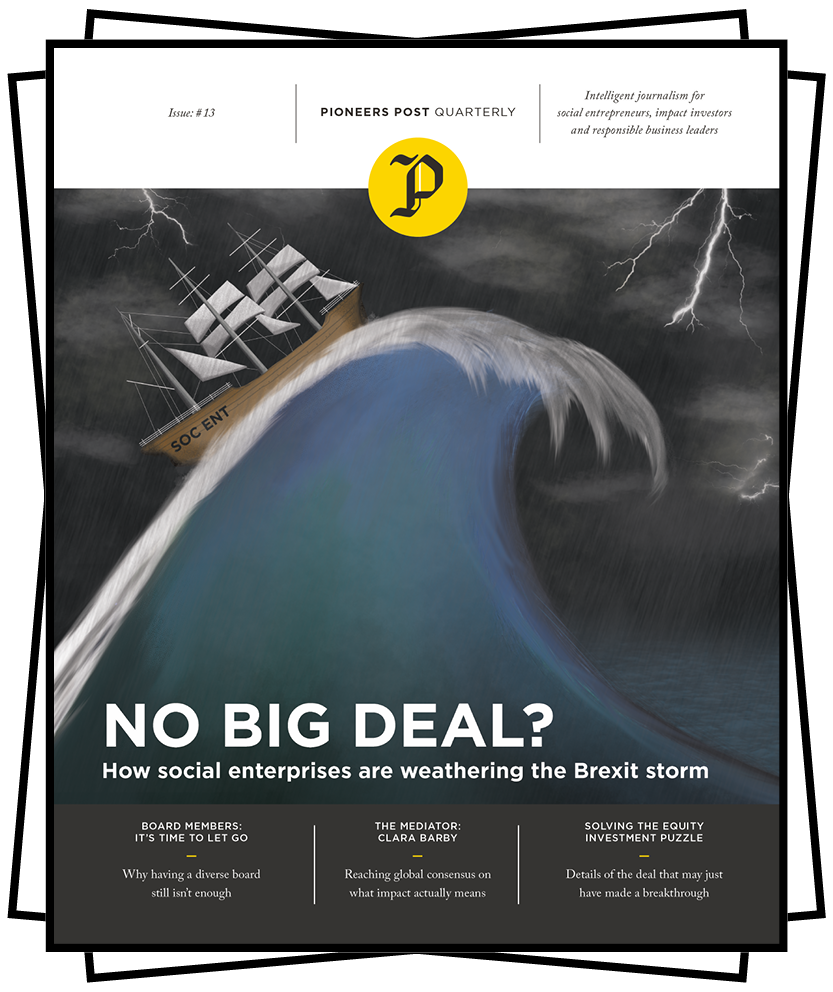 This article first appeared in Pioneers Post Quarterly, issue 13. Read the full issue here – or subscribe now for access.