Questioning our responsibility: Latest issue of PP Quarterly explores the climate crisis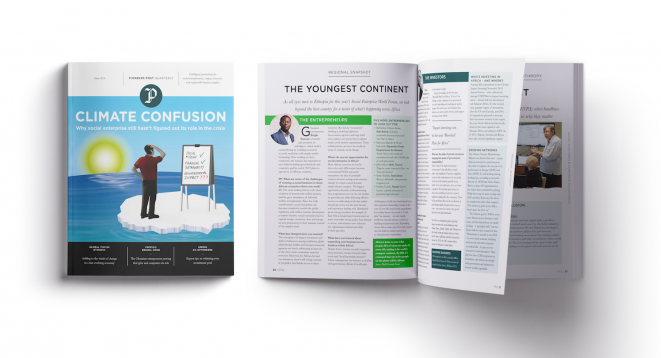 The new issue of Pioneers Post Quarterly, out today, goes deep on how social enterprises are reacting to the climate crisis. Our managing editor introduces the issue and asks: is it time to reconsider our role?
This issue's cover feature took us in a slightly new direction.
While we've reported on all sorts of weird and wonderful social enterprises over our 17 (!) years of existence, this is the first time we've gone into such depth on the topic of climate change. Sure, we've looked at how innovative entrepreneurs have created business models that do good for the environment while selling a great product or service. But we had never really questioned what the responsibility is of every other kind of social enterprise when it comes to environmental sustainability, and particularly acting on the climate crisis.
The question is, in fact, still unanswered for many in our field, as we found when we spoke to dozens of you – entrepreneurs, support organisations and investors. Does being a business with a social mission mean you should be setting a positive example when it comes to the environment, too? Or does the fact that you've often got less profit margin to play with than your commercial counterparts – and arguably a tougher all-round job to do with fewer staff – mean you should leave the radical action to others? Is it even viable to run a business that's consistently achieving excellent social outcomes while also going all-out to limit its impact on the planet?
Should social enterprises leave the radical action to others?
Many would argue there's no choice. While it's easy to highlight individual efforts and innovations – and while it's true that small actions matter too – there's clear frustration from some quarters that the notion of an 'emergency' has changed little in our everyday business. 
Meanwhile, others may be moving ahead. As we went to print in mid-September, momentum was building – with a major UN summit on climate action set to take place, strikes planned around the world, and big corporates making unprecedented statements on their social and environmental responsibility. Will social enterprises find their place among the fray?
Also in this issue, we explore the emerging social enterprise ecosystem in Ethiopia. The east African nation is set to host this year's Social Enterprise World Forum, and its social entrepreneurs are likely to bring energy and ideas aplenty. SEWF is a major event on the social enterprise calendar – but not the only one taking place in sub-Saharan Africa in the coming months, as our regional snapshot shows. Expect lots more news from the youngest continent soon.
Enjoy the issue, and as always, we'd love to hear your thoughts and feedback – drop us a line (news@pioneerspost.com) or find us on Twitter (@PioneersPost).
Get your hands on a copy
To get your hands on issue 14, subscribe now, and a copy will be on its way to you immediately, wherever you are in the world. Your annual subscription also gets you three more editions each year. Your subscription also gets you a personal login so you can access all premium content on pioneerspost.com, including articles, podcasts and videos.
Pioneers Post is itself a social enterprise. By subscribing, you'll be helping us to become financially sustainable so we can keep helping you do good business, better!
Yes, I want to subscribe to Pioneers Post!