SEWF 2020 flies west from Addis Ababa to Nova Scotia
UPDATE: Due to the coronavirus pandemic, SEWF 2020 will be a digital event. Halifax will host SEWF from 15-17 September 2021.
The Social Enterprise World Forum 2020 will be held in the town of Halifax in Nova Scotia from 23 to 25 September.
The 2020 host city was announced at the close of the Social Enterprise World Forum 2019 in Addis Ababa, Ethiopia, on Friday 25 October.
Lauren Sears, managing director of Common Good Solutions, the organisation that will host the event, told delegates: "Halifax is the epicentre for social enterprise in Canada. Common Good Solutions will be welcoming the world to the Social Enterprise World Forum."
Halifax is a town of 0.5m people on the Atlantic coast of Canada with a strong fishing industry. The Social Enterprise World Forum was held in Canada in 2013, when Calgary was the host city.
We want to put Halifax on the map
Speaking to Pioneers Post in Addis Ababa before the official announcement was made, Sears explained that she and her fellow Nova Scotians had been convinced to bid to host the 2020 forum after attending the forum in 2018 in Edinburgh, Scotland.
"Edinburgh was a transformative experience," she said. "It made us realise that we can do more, and that people are doing fantastic work all over the world. We want to put Halifax on the map."
She added: "I have felt so welcomed by our Ethiopian hosts, and we share that spirit."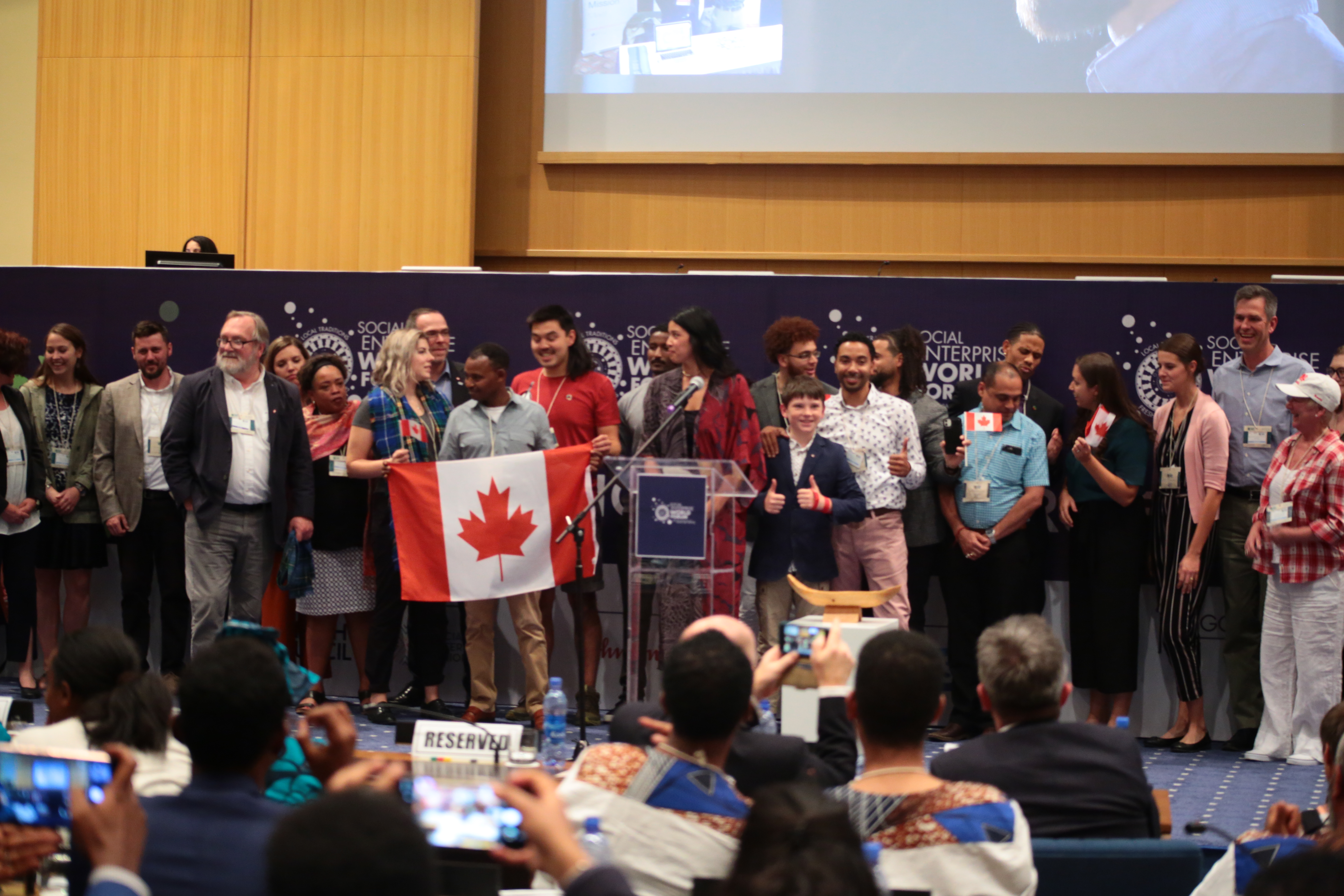 The area has a strong network of rural enterprises, she said. "We are a very proud region and people, and incredibly resilient."
People who come to the 2020 forum could expect to be offered lots of opportunities to learn about best practice, said Sears. She added that she also wanted people to have the opportunity to work together during the event, and that the hosts would help delegates make useful connections before they arrived.
David Upton, Common Good Solutions CEO, added that invitations would be extended to a wide range of "purpose-led" businesses as well as social investors. 
Young people would be strongly involved as well as first nations peoples.
A key theme would be the UN Sustainable Development Goals. "There is work to be done on these," said Sears.
Header photo: Dr Ephrem Tekle, commissioner for Ethiopia's job creation commission, hands over the Social Enterprise World Forum's waka, a model of a Maori war canoe, to Lauren Sears of Common Good Solutions.