Simple solutions to the plastic plague: Europe's award-winning innovations
Last month, the EU Social Innovation Competition selected three leading ventures tackling plastic waste: among them, a natural food preservative spray and a smart tech solution to zero-waste shopping. Our Young Storymaker Julia Cass Hebron finds out more – and hears why the changing attitude to sustainability is good news for innovative entrepreneurs.
Plastic: once regarded as the solution to everyday inconveniences. Now, the tables have turned, with minds focused on finding a solution to environmentally unfriendly practices, including the use of single-use plastic. So it's no surprise that this year the European Social Innovation Competition chose 'reducing plastic waste' as the theme of its annual contest.
Last month three winners – from a field of more than 500 entries – were announced: MIWA, a Czech zero-waste shopping enterprise, a natural food preservative invention called SpraySafe based in Portugal, and Spanish organisation VEnvirotech, which transforms organic waste into biodegradable plastic. The winning innovations were selected based on capacity for significant impact, scalability, degree of innovation, and both financial and environmental sustainability. 
Speaking at the awards event in Brussels, Timo Pesonen, The European Commission's Director-General for Internal Market, Industry, Entrepreneurship and SMEs, said the winners were helping in ambitions to make Europe "the first climate neutral continent... That's why you social innovators are so important – you show us how growth and job creation go hand in hand with sustainability."
I had the opportunity to catch up with Mirek Lizec, executive director of MIWA, and Márcio Soares Carocho, one of the creators of SpraySafe, after the award ceremony in Brussels.
First, I was curious to hear about the origins and motivations behind the two enterprises. MIWA is focused on using smart technology to make zero-waste shopping easier. It works like this: you take a microchipped container to a store. Using an app, you choose the product you want and how much you want to dispense. The dispenser automatically fills the container. You can pay automatically through the app and leave without needing to take the container to a till to be weighed.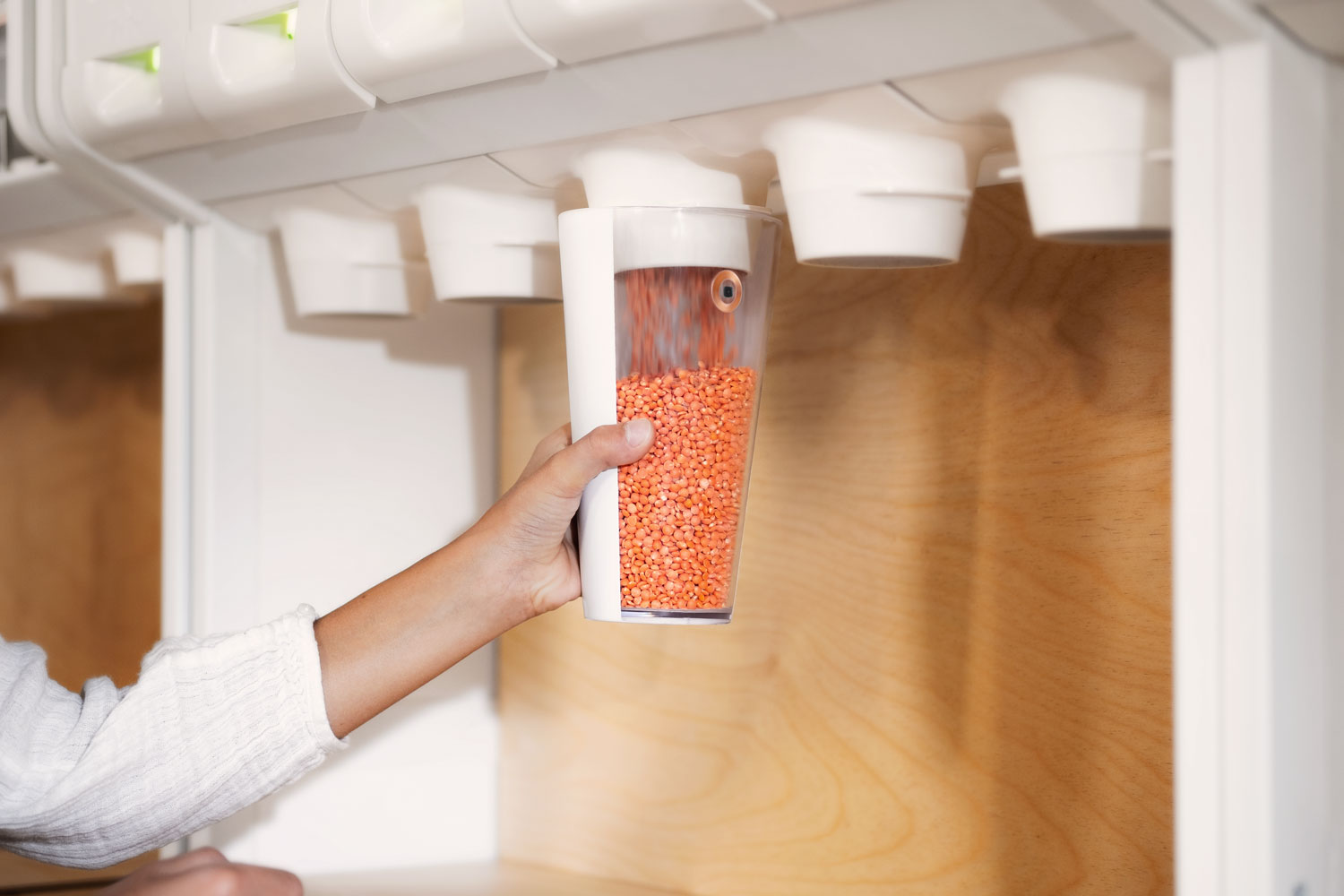 Above: MIWA (the name comes from 'minimum waste') has designed a system to simplify the distribution and sale of packaging-free goods. Its refillable capsules are sent to producers to fill, and once in store, smart technology helps consumers to buy only the exact amounts they need. (Photo credit: MIWA)
Lizek says the overall aim is to "redefine" the supply chain when it comes to food packaging: "We try and close loops and apply circular principles to the distribution and packaging of goods, both between the producer and the retailer, and between the retailer and shoppers." At the moment, he points out, zero-waste shops have no standardised way to offer information about products, such as allergens or place and date of origin. MIWA's smart packaging allows goods to be tracked, and makes this information available to both retailer and shopper. 
Spraysafe is also concerned with reducing waste in food packaging. Created in the Mountain Research Centre of the Polytechnic Institute of Bragança in Portugal, their plant-based spray works as a natural meat preservative, reducing the need for plastic wrapping. Carocho highlights the abundance of plastic used in food packaging: "40% of all plastic produced [in Europe] is for packaging and it gets thrown into the dump and not recycled. We wanted to combine the issues of food waste and plastic and find a solution." 
"40% of all plastic produced in Europe is for packaging and it gets thrown into the dump"
Both innovations are still in the early stages. MIWA is rolling out its first test operations in supermarkets in Europe, while SpraySafe is the result of about a decade of research into the properties of plants, and only now ready to scale up to industrial proof of concept. 
So when will we see these innovations in action? 
From MIWA's perspective, it's a matter of time. "We started our first trials using our dispensers in a supermarket with Nestlé in Switzerland, for dispensing Nescafé and cat food, and we're opening our first supermarket operation in Germany soon." The company plans to expand to more chains and supermarkets in the second half of next year, and aims to reach around 700 stores within five years. 
For Spraysafe, though it has taken time to perfect the combination of ingredients (and testing is still ongoing), Carocho believes getting the product through the Portuguese regulatory bodies, food safety agencies and onto supermarket shelves will be a swift process. In fact, securing the support of major organisations has not been a struggle so far. "When we were perfecting the dosages we were working with one of the biggest food retailers in Portugal. Now we have our first major €150,000 investment by a Spanish seed capital firm [BeAble Capital] to create the industrial prototype."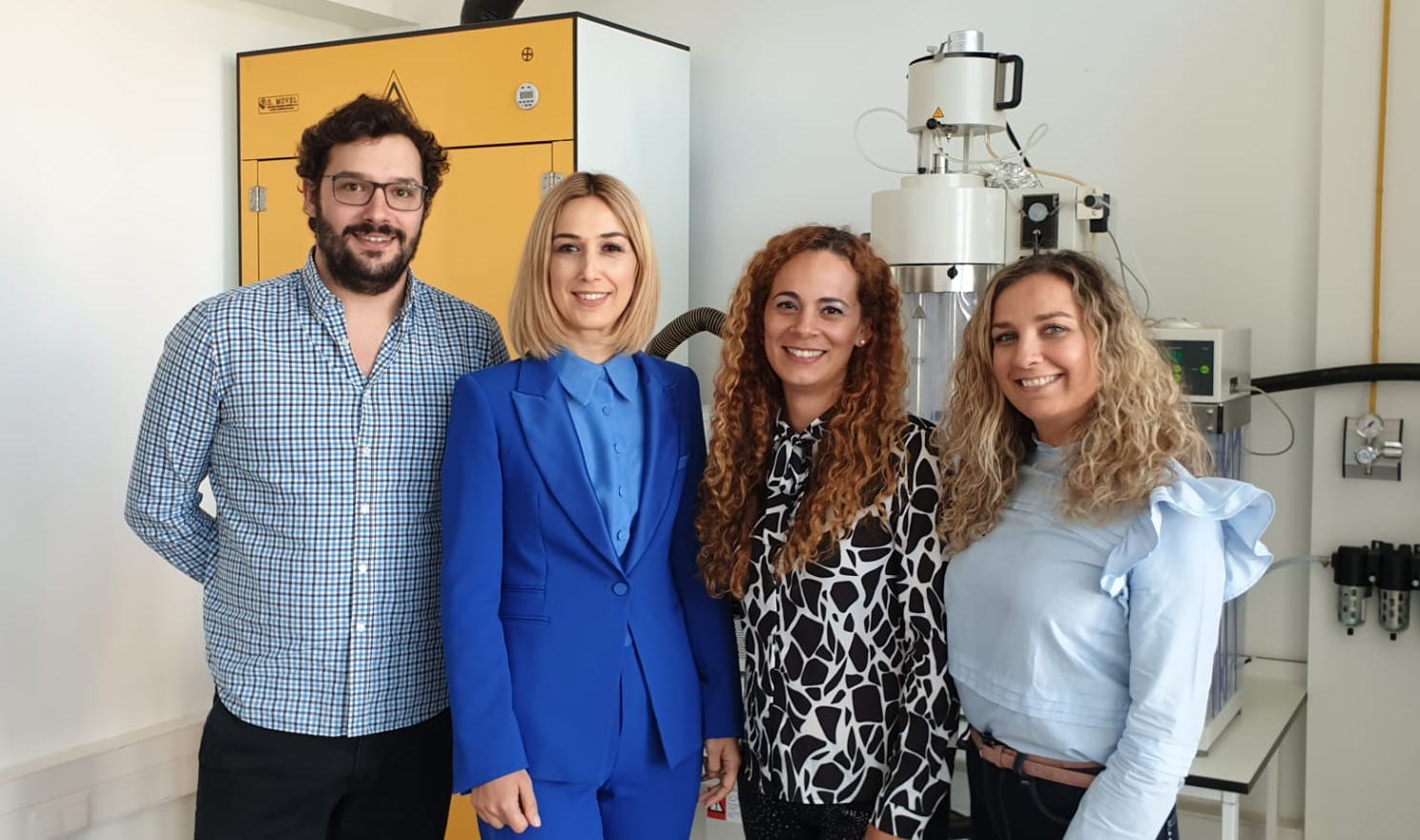 Above: the team behind Portugal-based Spraysafe, which has developed a plant-based spray that works as a natural meat preservative, reducing the need for plastic wrapping. (Photo credit: Spraysafe)
While the two ventures want to work with clients in multiple countries, the market does differ across the continent. Although based in Prague, in the Czech Republic, MIWA's primary market is in western Europe. "In Germany, France and the Netherlands... consumers are calling for solutions the most loudly and pushing companies for new solutions," says Lizek. "It's easier to enter into conversations with big retailers there." Many businesses there are committed to achieving certain targets within the UN Sustainable Development Goals, and are now struggling to meet them. Faced with growing public pressure, they are very open to hearing about new innovations and tangible solutions.  "We will see an increase in a search for – and willingness to adopt – new solutions, by the companies that made those sustainability commitments," he says.
"We will see an increase in a search for – and willingness to adopt – new solutions"
And when it comes to regulatory bodies, Carocho says they have no choice but to welcome new ideas that help reduce plastic. "Plastic is in all our ecosystems so the Portuguese and all European regulatory bodies and food safety authorities have to be open [to these innovations]. We cannot look at it and think it's someone else's problem, it's our problem." He believes more restrictive laws on plastic are on their way: "Everyone is alert to this issue now." 
As for the consumers, both entrepreneurs stress that innovative, zero-waste ideas are gaining popularity, not just among a niche of committed eco-friendly shoppers, but also among those who may not be so proactive in changing their buying habits. In fact, MIWA's strategy is not to focus on the zero-waste shops that go fully 'back to basics' but rather on combining the need for plastic-free solutions with technology that allows consumers to buy the brands they're familiar with, like Nestlé, in a convenient way. 
So what's the next step for the two companies? For Carocho, there's no time to waste, with his team heading back to the lab to continue testing and preparing an industrial prototype to demonstrate the scalability of Spraysafe. 
For MIWA, the priority now is validating the product. "We need proof that there is acceptance from the consumers, get feedback from them, and it needs to work for the retailers as well," says Lizek. "If those two things work it will prove to the producers that it makes sense to start selling goods like this." 
And both interviewees are confident that the next milestones will come quickly – with the EU social innovation prize a sign that people believe in their concept. As Carocho puts it: "SpraySafe is a very simple solution for a very big problem, and this is how solutions should be."
Thanks for reading our stories. As an entrepreneur yourself, you'll know that producing quality work doesn't come free. We rely on our subscribers to sustain our journalism – so if you think it's worth having an independent, specialist media platform that covers social enterprise stories, please consider subscribing. You'll also be buying social: Pioneers Post is a social enterprise itself, reinvesting all our profits into helping you do good business, better.
Read more about the DICE Young Storymaker programme.
Header photo: MIWA