A Day in the Life of The Body Shop's Chris Davis
Founded in England in 1976 by the environmental and human rights campaigner Dame Anita Roddick, The Body Shop was a pioneer of ethically-sourced, cruelty-free products, becoming a much-loved UK high street brand. After 11 years under the sometimes controversial ownership of cosmetics giant L'Oréal, it was acquired in 2017 by Brazilian firm Natura & Co, one of the world's largest B Corps. Last September The Body Shop certified as a B Corp itself. Chris Davis joined the company in 2004, and is now the firm's director of CSR and campaigns, responsible for its triple bottom line strategy across 70 markets worldwide. He talks us through a typical day – from throwing 'hand grenades' into planning meetings to avoiding after-hours work events.
I love working early in the morning, when no one's awake and only Asia is bothering you – it feels like you're on top of everything. In reality, you're not – but it's a lovely false dawn! The danger is it keeps getting earlier and earlier.
I go snowboarding every four months, which is my motivation to go running every morning – it's purely a means to an end. Then I hang out with the kids [a son, 10 and daughter, 13] drop them at the bus stop and head off to work.
I live in Brighton, by the sea. Our head office is in [nearby] Littlehampton – it was designed by Anita Roddick and it was one of the first eco-friendly office buildings in the world at the time. It's still really lovely, and being there is quite a calm, reflective place. We've got an office in London Bridge as well. I split my time between both sites, plus a fair amount of international travel. Natura is in Brazil; Aesop, our sister brand, is based in Australia; plus we have 70 markets around the world.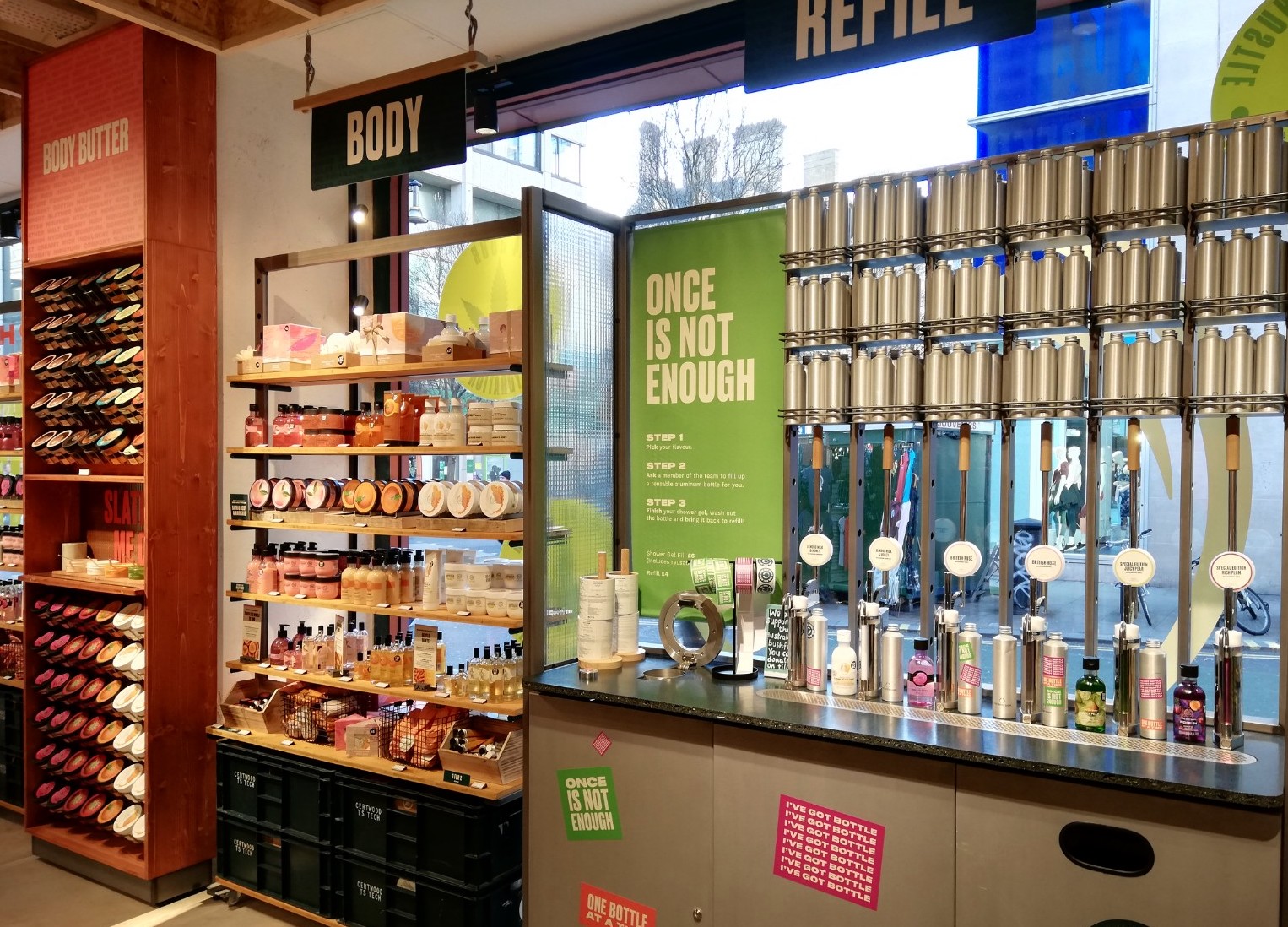 Above: A refill station in a Body Shop store in central London; below, the store also displays a poster of founder Dame Anita Roddick (photo credits: Pioneers Post)
A tougher job now, but ten times better
I advise our CEO on how The Body Shop can drive its triple bottom line. My job is to build the strategy, build the framework and make sure that we're measuring our impact and heading towards the objectives that we set.
Has the job become easier or harder recently? I'd say harder, because we're taking it really seriously and our new CEO and board of directors challenge us in a way that we weren't challenged before. So it's harder, but it's ten times better. We're lucky because The Body Shop is the kind of company that everybody's gunning for, everybody's got good memories of it – they want us to succeed.
The vision for my team is that we don't exist any more
Events over the last 18 months have turned the world upside down. I think most big businesses don't know quite what to do with the fact that the world is turning against the idea of a linear business model. We're a little luckier because we're quite tapped into that subculture, we saw it coming and, even during the days when we were not part of Natura, we'd been working on a really long-term business regeneration plan.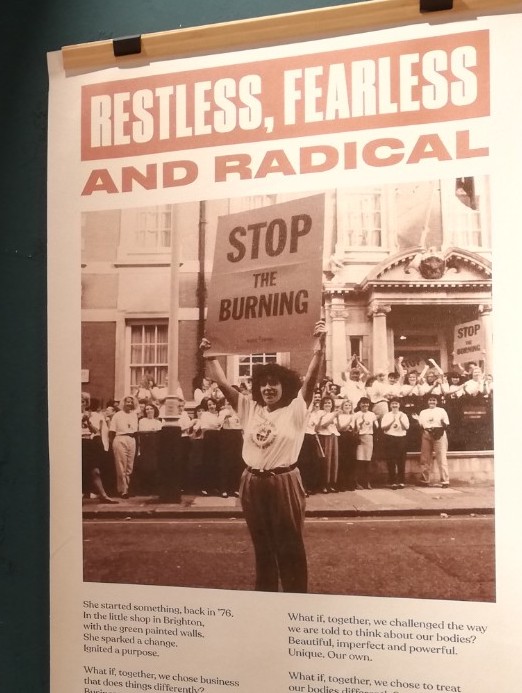 I make a point of working from home at least one day a week because my role is to be really reflective on what's happening in the world and to try to bring that 'outside-in thinking'. But my team of four are all based at Littlehampton. We've got this astonishing American-themed diner with a jukebox which could have dropped from the Midwest. That's where everybody goes at lunchtime; it's really sociable.
Our current work is very much focused on data. One of the challenges we discovered during the B Corp certification process was that our in-depth knowledge of what our business does isn't as good as it needs to be. The woman who founded us was an astonishing woman of course, and her philosophy – despite the L'Oreal years – is still very strong. She was a creative soul. But she wasn't data-driven. Trying to get us to think about data, rather than just do what we think is right, is quite a shift.
I think there's a misconception that people in sustainability just talk about social and environmental, and they're on this warrior mission to make business less bad. I don't see it like that. I talk as much about economics as about the social and environmental. If we don't look at the three we're not sustainable at all.
The vision for my team is that we don't exist any more. Making your business sustainable is when you don't have a sustainability team, and it's just how you do everyday business.
Helpful hand grenades
My peers describe my approach as 'throwing in hand grenades'. For example: if we don't fix the way we're looking at our packaging, we're going to be taxed to high heaven (and rightly so), what are you going to do about it? And that prompts big debate within the company, which I think is quite helpful. So, hopefully helpful hand grenades!
With sustainability, for a lot of people it's more than a job... it takes quite a lot out of you emotionally
Unless I'm travelling, I normally get to see my kids in the evening – we watch football, and play music. I know a lot of people go to a corporate event two nights a week – I can't bear them, I never do that. With sustainability, for a lot of people it's more than a job. And I think if it's more than a job it takes quite a lot out of you emotionally. It feels quite tiring. So I don't like to burn out so much.
There are phases of the year when I do one long-haul trip a month. That's less fun in terms of home life, but I still love it, I love seeing the people in stores. It reminds you just why The Body Shop is so special because you've just got these wonderful people, some of whom have been in the business much longer than me.
The company does get under your skin. There's a lot of us who've stayed stubbornly because they think – maybe naively – that we owe it to the people who came up with the idea, to prove that it can still work. I think that's why I stay. And as part of Natura and Co, I genuinely believe it's our time to thrive – for business and for the world.
My only complaint about the company at the moment is I'd like to bring my dog to work. I think that's good for the soul. I might change that policy soon.
Chris Davis was speaking to Anna Patton.
Thanks for reading our stories. As somebody working in the impact economy, you'll know that producing quality work doesn't come free. We rely on paid subscriptions and partnerships to sustain our purpose-led journalism – so if you think it's worth having an independent, specialist media platform to share your news, insight and debate across the globe, please consider subscribing. You'll also be buying social: Pioneers Post is a social enterprise itself, reinvesting all profits to help you do good business, better.
Header photo: Hazel Thompson, 2018