Hackathons and hand soap: Seven social enterprise initiatives helping communities through Covid-19
Thousands of brave, ingenious and downright creative initiatives have been launched by social enterprises in recent weeks in response to the global Covid-19 pandemic. Here are seven to make you smile. 
It just takes a few scrolls around the internet to see that social enterprises have been very busy adapting to new and unprecedented challenges across the globe.
Dozens of organisations have pulled together to set up webinars in support of their communities at short notice, or to build lists of useful resources for social businesses on social finance support, advice on legal structures and tax, and more. Others have been delivering everything from food to medical supplies to the people on the front line who need it the most. 
We've collected seven of our favourite examples of social enterprise solidarity.
1. PAKISTAN: Did you see the news? Vital lockdown updates made accessible for deaf people
People with hearing impairments in Pakistan were this week able to access a vital public update about Pakistan's Covid-19 response thanks to an online video by social enterprise ConnectHear. The video, published across social media, featured the Pakistani Sign Language interpretation of an important government announcement about the lockdown of the country's Sindh province. 
It has so far been viewed nearly 20,000 times across ConnectHear's Facebook and Twitter channels.
READ MORE: ConnectHear was founded by student Azima Dhanjee to provide online sign language interpretation across Pakistan. Read her story in our Pakistan Global Focus.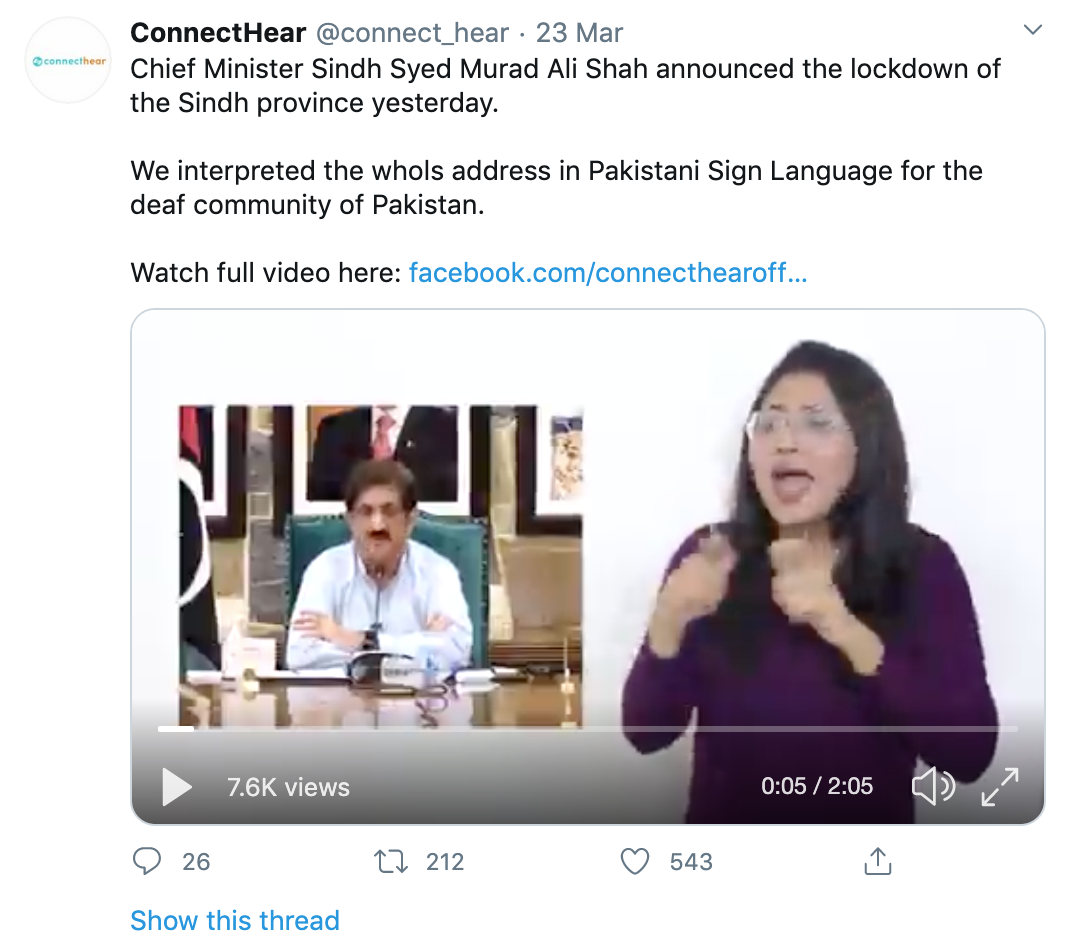 ​
2. SCOTLAND: Social Bite café crowdfunds to become a nationwide food delivery service
Social Bite's five cafés across Scotland are known for being a popular destination for A-list guests, including actor George Clooney and the British Royal family. But just like many others in hospitality, the current crisis means business cannot continue as usual for the social enterprise, which employs people who have experienced homelessness.
In response, Social Bite last week announced that as its cafes and corporate catering business have been forced to close, its services would be repurposed as a nationwide food delivery service: distributing 4,000 packs a day of sandwiches, fruit and crisps to vulnerable people – including homeless people, people who have been made redundant and families that relied on free school meals – across Glasgow, Edinburgh and Aberdeen. The initiative has so far raised nearly £100,000 of its £150,000 crowdfunding target on JustGiving.
 
3. ETHIOPIA: Social enterprise donates hand soap to people who need it
Ethiopian social enterprise Beautiful Minds is providing free hand soap to people who are unable to afford it as well as raising awareness of the importance of hand washing
Earlier this week the organisation – which is dedicated to improving hygiene practices – made a donation of social enterprise-branded liquid hand soap to Kibebe Tsehay orphanage, one of the largest government-run orphanages in the country's capital, Addis Ababa.
READ MORE social enterprise stories from Ethiopia.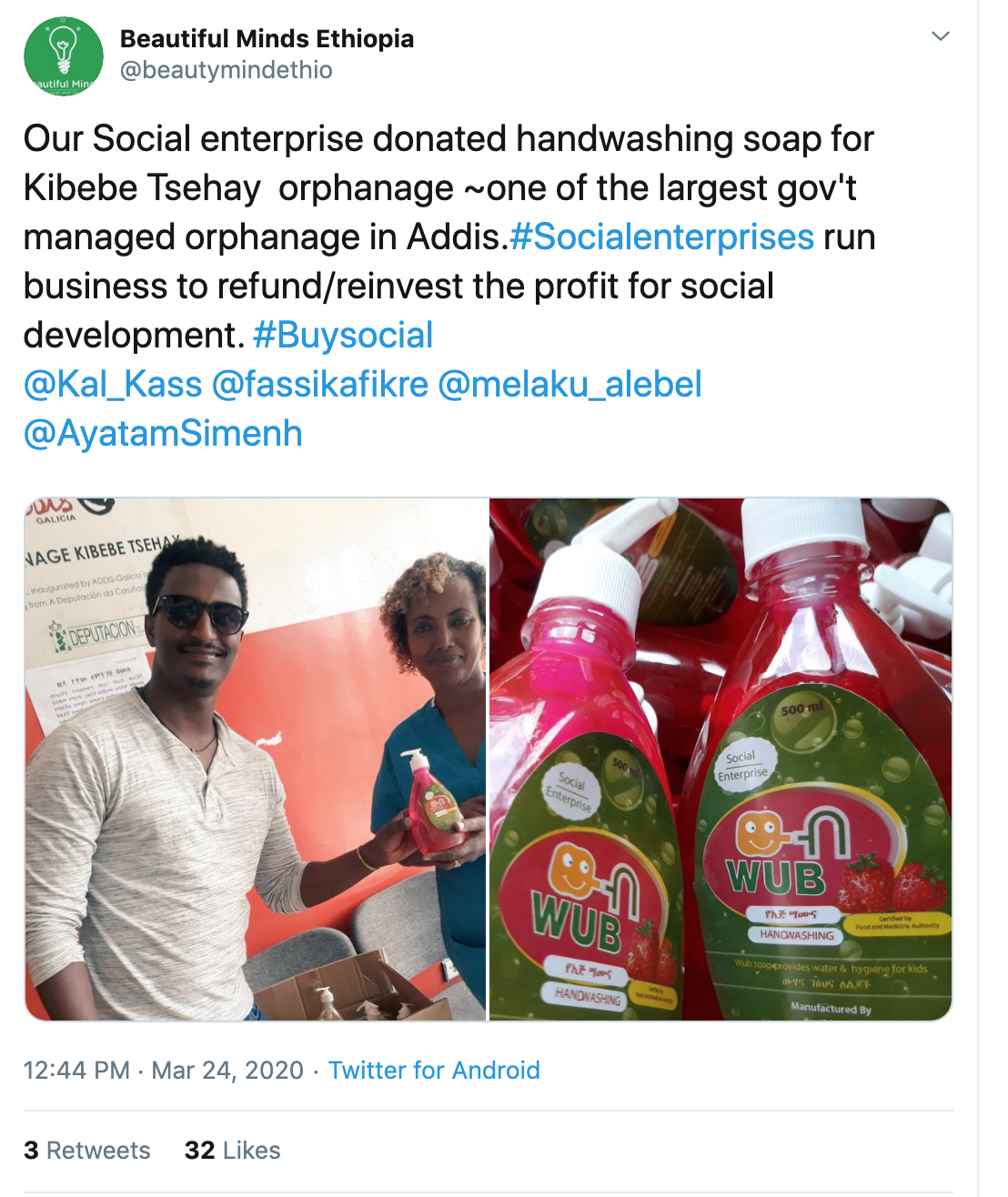 4. GERMANY: Hackathon inspires nearly 2,000 new ideas for tackling the pandemic
Around 43,000 participants took part in an online "hackathon" in Germany earlier this week – which called on programmers, designers, creatives and social entrepreneurs across the country to build and submit new solutions to the coronavirus crisis.
The #WirVsVirus ("Us vs the virus") hackathon was supported by the German federal government, along with Impact Hub Berlin, Social Enterprise Network Deutschland (SEND) and other mission-driven organisations – and ran over two days.
The participants generated 1,924 new ideas for tackling the crisis, and the initiative is soon to provide a new digital platform to support those who want to take their ideas to the next level.  
A similar initiative – "Hack the crisis" – took place in Estonia on 13 March. Participants had just 48 hours to submit their ideas to an "online brainstorm" hosted by Garage48 on the digital communication platform Slack. Funding of up to €5,000 was available to support the best ideas.
5. UK: New platform makes receiving donations simpler for grassroots response groups
A free online platform has been set up to help some of the new mutual aid and community groups that have formed in response to the pandemic over the past two weeks receive donations and pay expenses.
Social campaigns organisation The Social Change Agency launched the platform in response to the emergence of many new grassroots groups – particularly those without a bank account.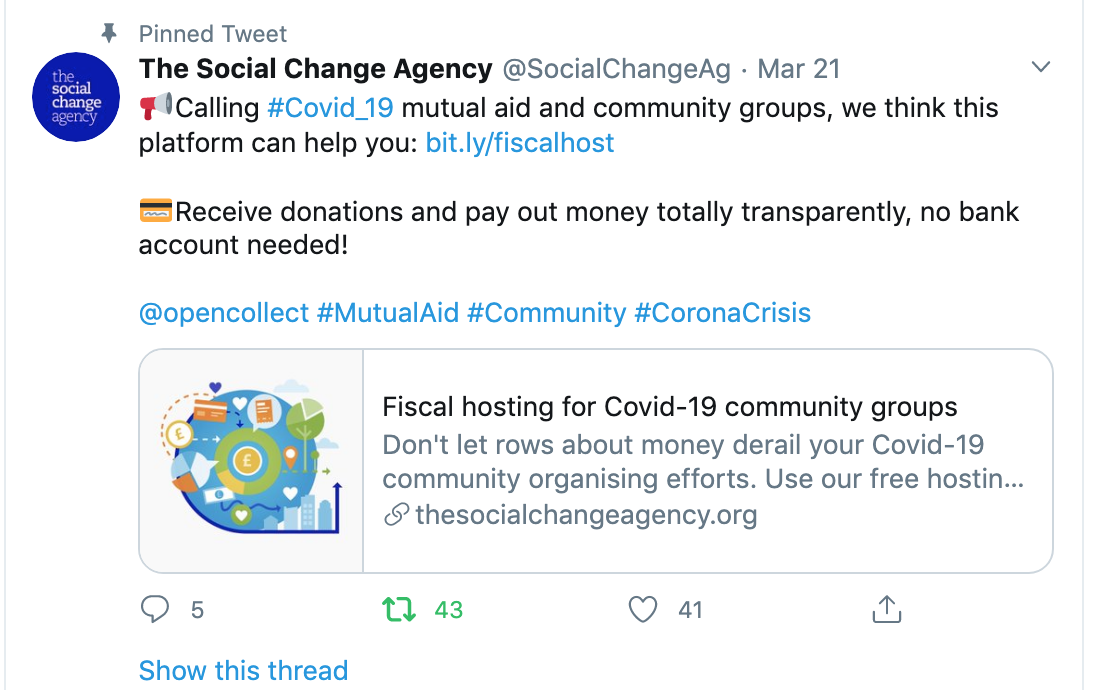 6. SWEDEN: Catering business enables elderly and isolated people to receive free meals
Swedish catering social enterprise Sopköket has created a food delivery service for elderly and isolated people to receive free meals.
Customers can use an online booking form to order meals which are 50% made from surplus food – and send them to an elderly person in their community, who receives it at no cost. 
Menu items include beetroot and grilled cheese salads and organic vegetable soups.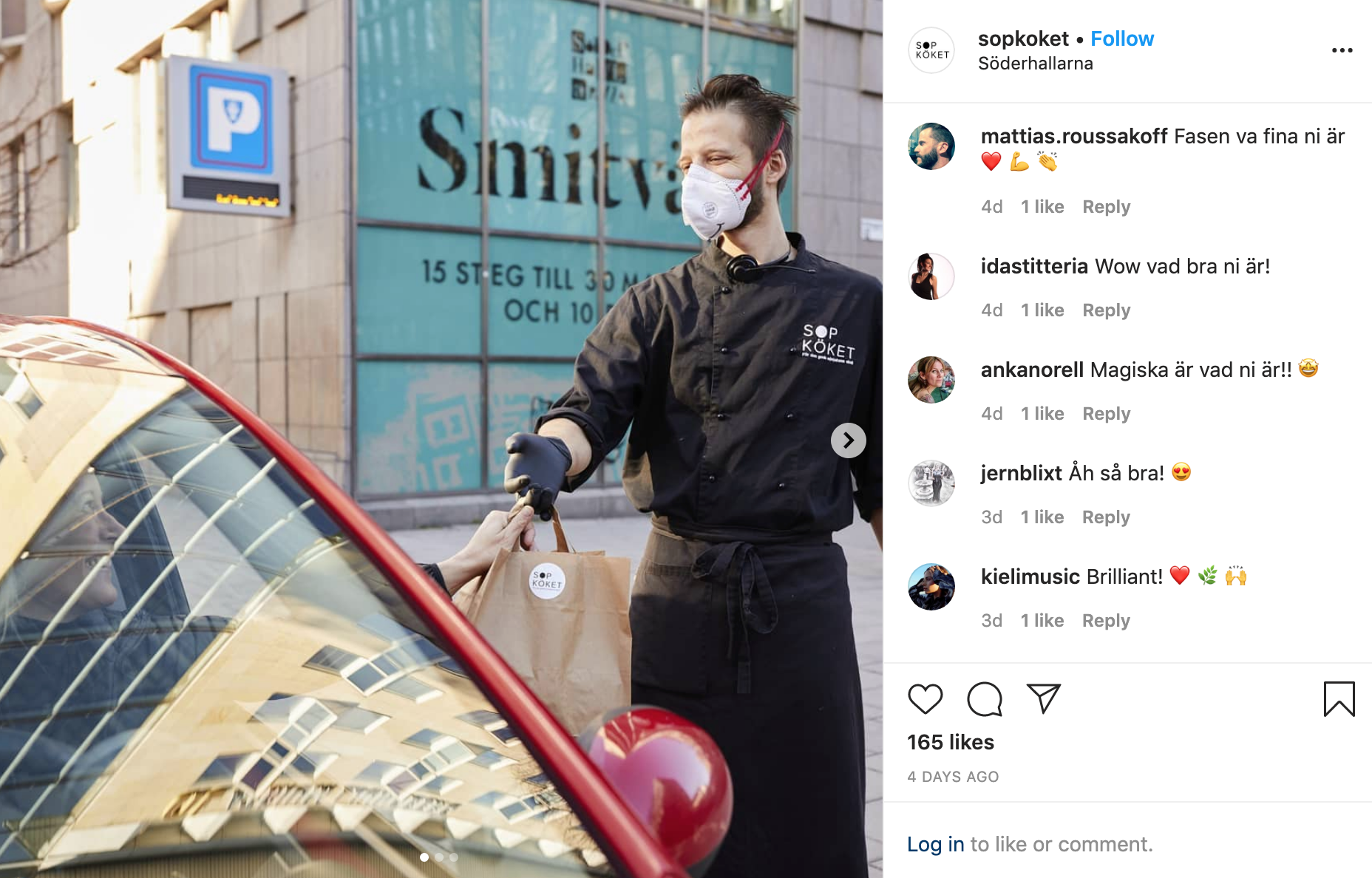 7. ENGLAND: Community transport for all!
UK community transport organisation ECT Charity is offering its minibus services and staff  to community groups, councils and health authorities who might need it across three UK regions.
In less turbulent times, the social enterprise provides accessible minibuses and highly trained driving staff to enable people who are elderly or who struggle with mobility to get out and about.
However, following requests from driving staff who were keen to help their local communities during the pandemic, ECT is now offering its services to anyone who might need it at this time: from health workers who need help travelling to work; to the children of key workers who need a lift to school.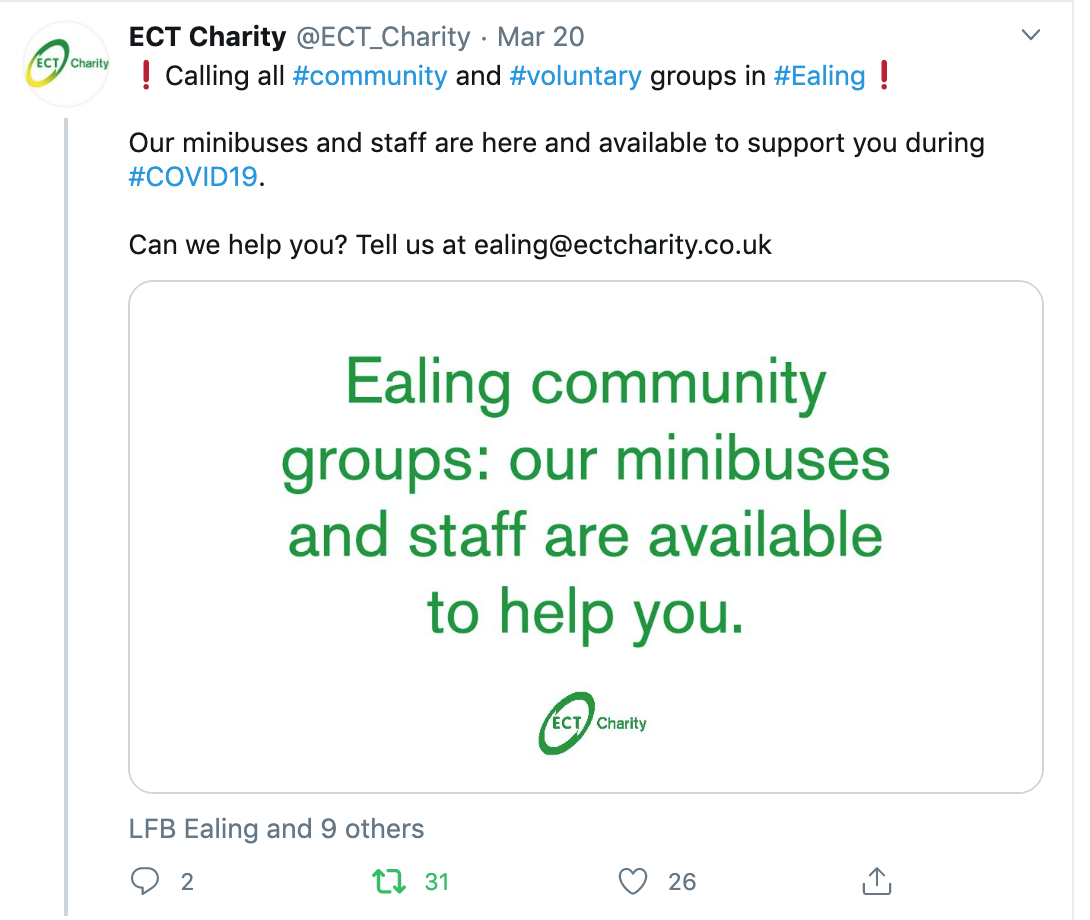 There are too many positive examples of social enterprise solidarity to cover in just one story – so keep an eye on our website for more of them in the upcoming weeks. 
If you'd got a positive story you'd like us to know about, share it on Twitter using the #SocEntSolidarity hashtag– or contact us at news@pioneerspost.com.