'Extraordinary leaders' of five social ventures take home 2020 Skoll Awards – and $1.5m each
Five outstanding social entrepreneurs have been named as the winners of the 2020 Skoll Awards for Social Entrepreneurship, taking home $1.5m each to scale up their work and increase their impact.
The five awardees – selected from around 700 referrals – are being officially announced today during an online awards ceremony, as part of this week's Skoll Virtual Forum. The series of online events and talks replaces the Skoll World Forum, which takes place every year in Oxford, UK, but was cancelled due to the coronavirus.
"These extraordinary leaders are working to solve some of the world's most pressing problems. They are bringing new and innovative solutions into healthcare, climate and transportation, corruption, violence prevention, and democracy," said Don Gips, CEO of the Skoll Foundation, which presents the awards. "Each social entrepreneur brings a distinct approach, yet all are working toward a shared vision of a more just and sustainable world."
Founded by film producer Jeff Skoll in 1999, the foundation has invested around $763m worldwide, including the Skoll Award to 135 social entrepreneurs and 111 organisations. On Monday, the Skoll Foundation also bestowed its Global Treasure Award on The Elders, a group of global leaders founded by Nelson Mandela and dedicated to working together for peace and human rights. 
This year's winners
Dr. Aparna Hegde and Ramesh Padmanabhan, ARMMAN (India)
ARMMAN expands access to preventative care information for mothers during pregnancy and infancy, through mobile technology. It uses a 'tech plus touch' model to work at scale – leveraging the existing frontline health worker network of the government and partner NGOs, alongside the ubiquity of mobile phones. 
The nonprofit organisation works in 16 states of India, partners with 100 hospitals and 43 NGOs, and has reached more than 18 million people. (Dr Aparna is pictured above.)
Tiana Epps-Johnson, Donny Bridges and Whitney May, Center for Technology and Civic Life (USA)
Center for Tech and Civic Life (CTCL) trains local election officials to ensure elections are inclusive and secure, and connects Americans with the information they need to become and remain civically engaged. 
Founded in 2012, the nonprofit is now the country's largest provider of training and professional development for election officials, and also publishes free, open-source datasets that are used in some of the most powerful tools driving civic participation.
CTCL has a team of civic technologists, trainers, researchers, election administration and data experts based in seven cities. Executive director Tiana Epps-Johnson was last year named among the world's 100 most influential people in digital government by Apolitical.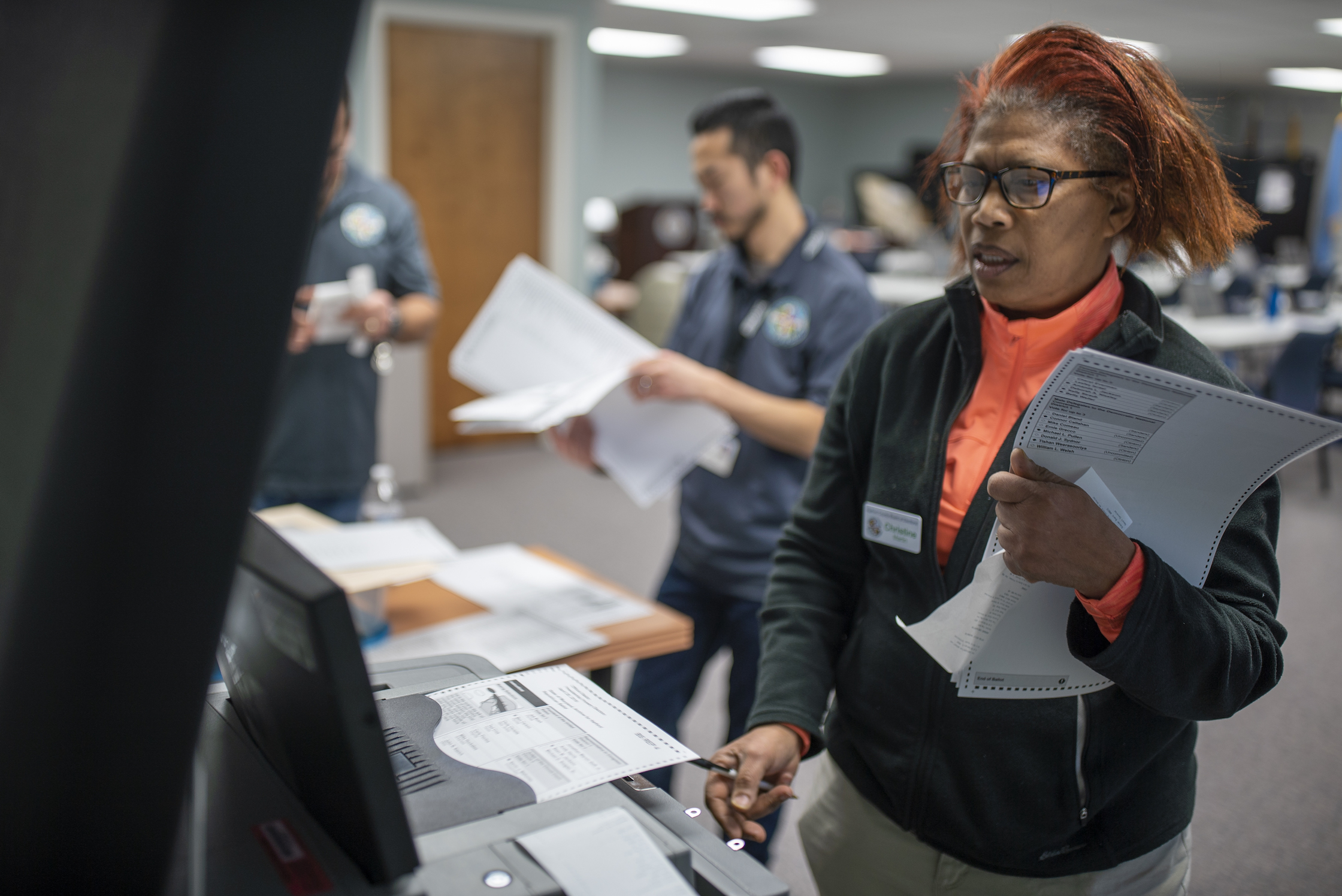 Above: Staff setting up election judge training at the Harford County Board of Elections (credit: Gabriel Diamond / Skoll Foundation).
Celina de Sola and Ken Baker, Glasswing International (Central & South America)
Glasswing addresses the root causes and consequences of violence in the Americas through social and emotional learning and community-based mental health programmes for children and youth.
Founded in 2007 in El Salvador by husband and wife team Celina de Sola and Ken Baker, and Celina's brother Diego, the nonprofit now works in New York City, Central America, the Caribbean, Ecuador and Colombia, and has reached more than 1 million people to date. It has also mobilised 137,000 volunteers and trained 4,800 students as leaders in school-based first aid and mental health.

Drew Kodjak, The International Council on Clean Transportation (global)
The International Council on Clean Transportation provides top-rated, unbiased research and technical and scientific analysis to environmental regulators, to help them improve the environmental performance and energy efficiency of road, marine, and air transportation.
It works in the largest vehicle markets across the globe (US, Europe, Japan, China, India, Mexico, Brazil, Canada, and Korea), as well as in international venues such as the International Maritime Organization and the International Civil Aviation Organization.
Kodjak, formerly an attorney for the US Environmental Protection Agency, co-founded the ICCT in 2005.
Drew Sullivan and Paul Radu, Organized Crime and Corruption Reporting Project (global) 
The Organized Crime and Corruption Reporting Project (OCCRP) develops and equips a global network of investigative journalists, and publishes stories to expose crime and corruption.
Founded in 2006 by Sullivan and Radu, the US-based nonprofit now connects 45 non-profit investigative centres in 34 countries, scores of journalists and several major regional news organisations across Europe, Africa, Asia, the Middle East and Latin America.
It has produced more than 90 cross-border investigations informing more than 6 million readers and viewers.
It develops and deploys cutting-edge tech tools to enable collaborative, secure, data-driven investigations, also partnering with advocacy groups to arm civil society with information to meaningfully press for justice and change.
Header photo: Dr. Aparna with mMitra subscriber Rupali and her one-month old baby​, pictured in Sawpna Sidhi Chawl, Borivali East, Mumbai (credit: ARMMAN).
Thanks for reading our stories. As somebody working in the impact economy, you'll know that producing quality work doesn't come free. We rely on paid subscriptions and partnerships to sustain our purpose-led journalism – so if you think it's worth having an independent, specialist media platform to share your news, insight and debate across the globe, please consider subscribing. You'll also be buying social: Pioneers Post is a social enterprise itself, reinvesting all profits to help you do good business, better.