Pandemic prizewinners: Five top social entrepreneurs win Cambridge contest to bolster their leadership resilience
Baking, social prescribing, smartphone repairs and fitness formed an eclectic social innovation showcase this week as a select group of UK leaders were rewarded and revitalised for the pandemic recovery challenges ahead.
As businesses have struggled through Covid-19 lockdown, many social entrepreneurs have faced an unprecedented demand for their services, which address deep needs in the community.
The second annual Cambridge Social Innovation Prize, announced this week, aims to help four outstanding social entrepreneurs to meet this increased need with a £10,000 grant and advice from experts at the University of Cambridge.
The prize, awarded by Trinity Hall and the Cambridge Centre for Social Innovation at Cambridge Judge Business School, aims "to enable leaders boost their own leadership capacity so they can meet new challenges head-on".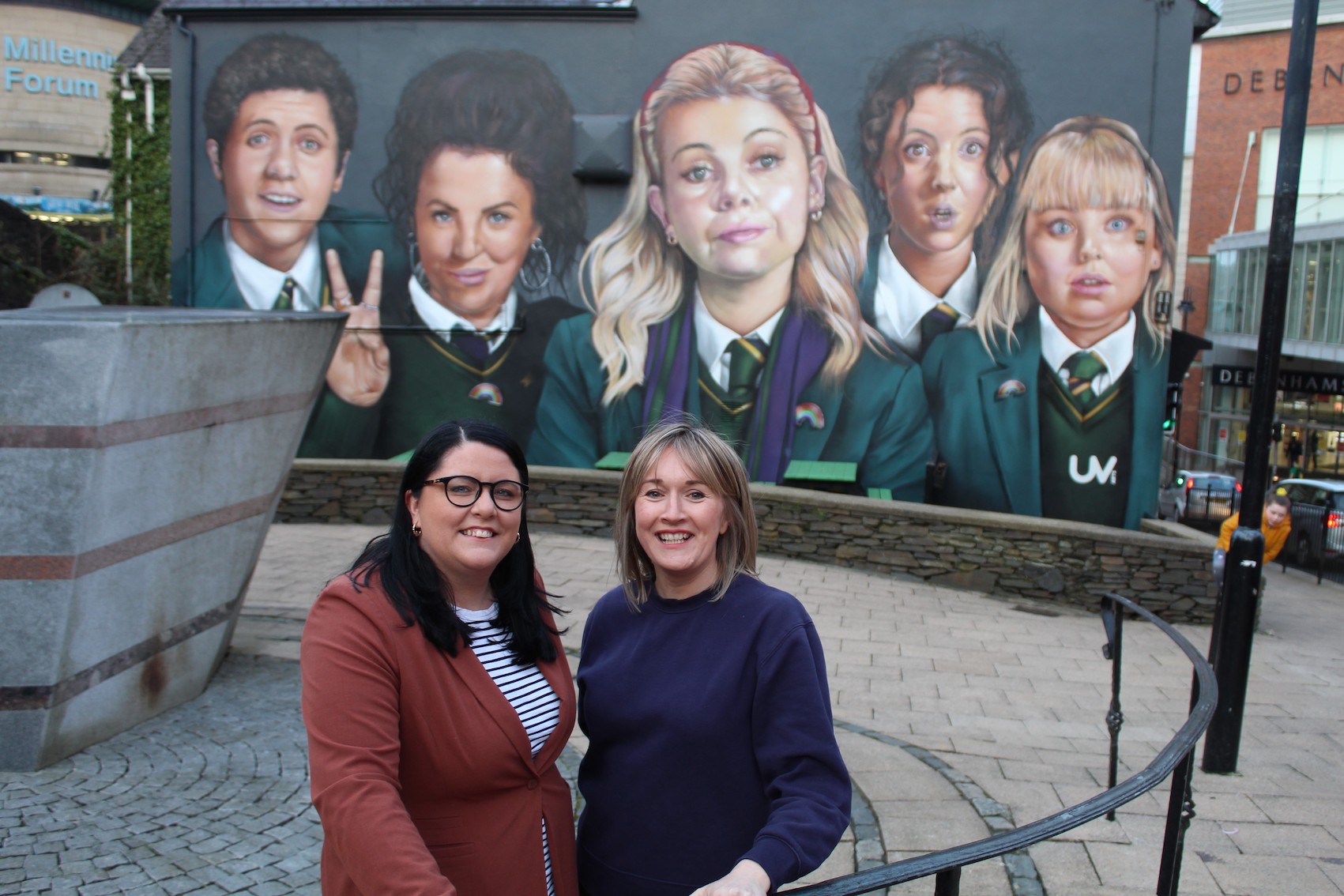 Addressing unmet needs in healthcare, social prescribing firm Elemental Software (whose founders, Jennifer Neff and Leeann Monk-Ozgul, are pictured left) helps frontline health workers connect vulnerable patients to community services; and volunteering platform GoodGym combines getting fit with doing good, linking joggers with volunteering tasks on their morning run.
We want to operate in every major city in which physical inactivity, isolation and loneliness and care for older generations are issues – Ivo Gormley, GoodGym
Boosting employment, mobile phone repair company Cracked It gives ex-offenders work experience and employability training; while community-owned bakery Homebaked is rebuilding Liverpool high streets 'brick by brick and loaf by loaf' through local retail.
Baroness Glenys Thornton, former Minister for Health and a long-standing champion of social enterprise, was one of this year's judges for the prize. "The covid-19 pandemic is a public health crisis, but also a crisis of social care and the economy," she said. "Social enterprises across the UK have formed a key plank in our national response to the pandemic, responding in unique and creative ways to the health and economic crises. They need our support to meet the explosion in demand for their proven, impactful interventions."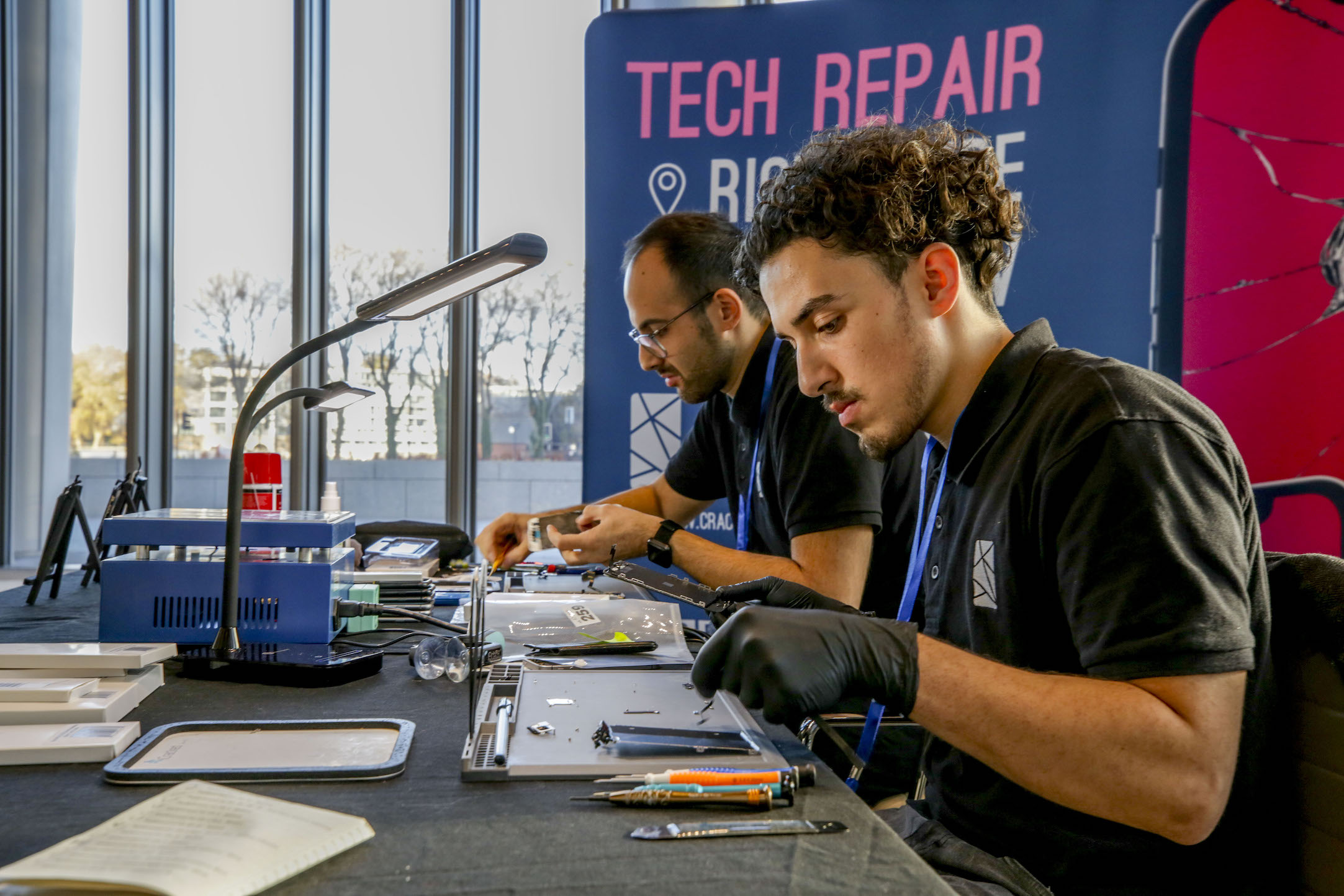 The prize is intended to support the winners' growth as social CEOs and the growth of their businesses, with a £10,000 grant for professional development, 10 days of business advice from experts at Cambridge Judge Business School, and introductions to new partners, investors and other opportunities.
Lockdown revealed an even bigger opportunity: we have five years' experience successfully supporting ex-offenders and collaborating with some of the world's biggest organisations to do it – Josh Babarinde, Cracked It
Tamzin Byrne, programme manager at Cambridge Social Ventures, said: "We've designed this prize to focus on the entrepreneurs themselves – to help them become the leaders their businesses need them to be to thrive through adversity."
Dr Belinda Bell, who leads the team delivering the prize, said: "Our support will help social CEOs develop personally and professionally so they can lead in rebuilding the economy on more equitable and sustainable terms."
University of Cambridge (Trinity Hall) alumnus Graham Ross Russell has supported the prize as part of the college's ongoing work to nurture entrepreneurial ambition among its students and academic fellows.
We aim to halt health inequalities by scaling the rollout and implementation of the social prescribing model of care, making it accessible for all who need it – Jennifer Neff, Elemantal Software
Cambridge Social Innovation Prize – read more about the winners below...
Homebaked Bakery: Angela McKay
Elemental Software: Jennifer Neff and Leeann Monk-Ozgul
London, South East
GoodGym is a digital platform for people who want to run and to use their running time to 'do good' in their communityWhether running to an isolated person's home for a 'social' or to do an errand, or to a community project to do a bit of manual labour, GoodGym members are using their energy to benefit their community.
GoodGym's work is unique in the world, and has been shown to have significant impact on two of the most pressing issues of our time: care of our ageing population and physical inactivity. Larger than any other running club in the UK, GoodGym is funded by runner subscriptions, brand partnerships and local authority contracts.
GoodGym is now ready to scale up. Meeting a ten-fold increase in requests for support from older people in most UK major cities during the covid-19 lockdown, the scope to do so is clear.
How does GoodGym work?
In gyms all over the country people work away furiously, peddling, pushing, lifting, running and sweating. They achieve no external benefits, other than driving up the profits of the gym to which they belong. GoodGym is different. GoodGym makes it easy for members to harness their energy and channel it towards social good. 
Runners sign up online and are given community tasks to run to. Tasks include:
Making a social visit to an elderly person
Visiting an elderly person to help with a household task
Doing manual labour on community projects, such as laying a path, planting trees, installing community gardens or sorting food at foodbanks.
In essence, people who chose to join their local GoodGym can transform their workouts into community actions that simultaneously make them fitter and the communities they live in better places to be.
How did GoodGym come into being?
Ivo Gormley, the founder of GoodGym, had been preoccupied for some time with the notion that, so many people around the UK were expending energy in gyms, whilst people in the communities where they lived were suffering from isolation and loneliness.
Seeing so much human need alongside so much untapped potential inspired Ivo to find a way to connect these two things. So, in 2008, after a couple of years of thinking, testing and developing this idea, he submitted an entry to Social Innovation Camp, a competiiton for software developers, designers and social innovators to create new businesses that achieve a social goal. He won and a pilot project in Tower Hamlets soon gave proof of concept.
In 2009, GoodGym came into being as a not-for-profit company. Following the lean startup methodology, the organisation grew steadily, garnering support from the likes of Nesta along the way. Today, there are GoodGym communities in 58 cities across the UK. A total of 20,000 members have helped over 5,000 of the most lonely and isoloated people living within their community, and have contributed their energy and time to 3,000 community projects and charities. Of those people regulalry visited, 100% described themselves as happier and on average, reported a 28% improvement in their life satisfaction.
GoodGym has also increased volunteering within the communities it is active. Prior to joining, 61% of members did not volunteer. Members' exercise levels have also increased by an average of 20 minutes per week.
With 93% of older people reporting that they feel better connected, and a ten-fold increase in requests for support since lockdown, GoodGym's contribution to community cohesion is impressive.
What's next?
GoodGym is poised to scale up. Its response to community needs across the UK during the covid-19 lockdown evidences the role it could have in building healthy, resiient cities. The capacity that the organisation has to to engage younger people in social action beyond the screen is also clear.
"This prize will help to cement our sustainability and lay the groundwork for expansion," says Ivo. "Long term, we want to operate in every major city in which physical inactivity, isolation and loneliness and care for older generations are issues. There is increasing evidence that younger people are lonely and that social media is causing negative social pressure. GoodGym's combination of social interaction, physical activity and volunteering makes it easy for them to form positive social ties within cities that may otherwise feel hostile and distant."
"Similarly, as populations age, cities across the world are looking for new ways to keep older people connected. GoodGym is an efficient and scalable way to achieve this," Ivo concludes.
Thousands of runners across the world are already requesting a GoodGym in their cities. Foundations, government representatives and the sporting community in the US are also expressing an interest.
 
Liverpool, North West
Homebaked Bakery, a thriving community-owned business with an international reputation, showcases how community-rooted businesses can regenerate the UK's left-behind high streets.
A co-operative bakery located opposite Liverpool FC's iconic Anfield stadium, Homebaked is famous across Merseyside and beyond for its award-winning pies. Having taken over the local neighbourhood bakery to save it from demolition, the co-operative has grown to become a thriving business and community space with over 30 active volunteers and 20 members of staff, all with strong links to the Anfield and Everton areas of Liverpool.
Inspired by the belief that 'we all deserve to live well', Homebaked Bakery is more than just a local bakery. Creating good jobs, great food and welcoming spaces in one of the many left-behind areas of the UK, it is a model for community-led regeneration enterprise from which other left-behind cities could learn.
With plans to scale up and bake-in further community-led solutions to Anfields's high street with its neighbour, Homebaked Community Land Trust (CLT), this award will support Homebaked Bakery to not only sustain its impact through and beyond the covid-19 crisis, but to demonstrate how other left-behind cities can do so too.
How does Homebaked Bakery & Community Land Trust work?
Using co-operative working models, the Homebaked Bakery & Community Land Trust is regenerating a deprived region of Liverpool 'brick by brick, loaf by loaf'.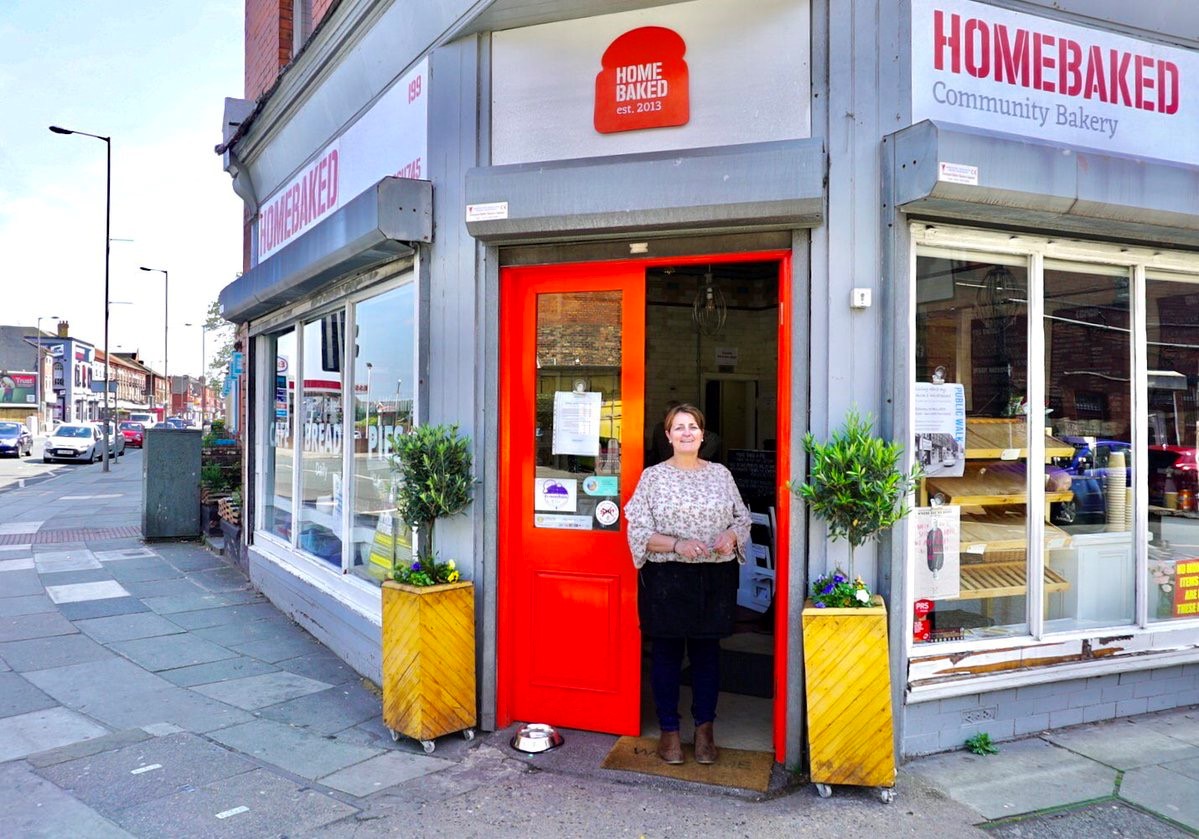 Homebaked Bakery
Income generated from the sale of pies to football fans during match days (and to local and wholesale commercial customers throughout the year) subsidises the daily baking of bread, affordable good quality food in its community café, the purchase of ingredients from a local supply chain and the provision of training, support and employment to local people.
Before the covid-19 lockdown, Homebaked provided employment to 20 local people, paying above minimum wage, and circulating nearly £250,000 into the local community. Further community enterprises were also springing up, thanks to activists' involvement in Homebaked.
"Our cafe and bakery have become a real hub and a meeting point for the different communities in our area, as well as visitors," says founder Angela McKay (pictured left), who manages the bakery. "Next to the day-to-day business, we offer training courses for local people and put on events in the evenings. We also run a wholesale and catering business and prior to the covid-19 crisis, we operated a stall most weekends at markets across the region."
How did Homebaked come into being?
In the early 2000s, swathes of terraced houses were earmarked for demolition in Everton and Anfield, but the plan fizzled after the 2008 banking crisis and the onset of the UK's austerity programme. Closed shutters over shops, abandoned buildings and derelict houses became a common feature of this once thriving area.
Saddened by the degeneration of their community and united in the belief that "we all deserve to live well", Anfield residents came together to form the Homebaked Cooperative in April 2012, supported by a grant from the Liverpool Biennial, the famous contemporary arts festival.
Renting the high street building, which had been a family-run bakery for over 100 years, the aim was to refurbish and relaunch it as a social enterprise. Homebaked CLT would convert the rooms above into affordable social-housing too.
Homebaked Bakery is run today by a board of volunteers and a growing collective that includes people from the local area and professionals from the fields of business, finance, and education. It has become a model for community-led regeneration.
What's next?
Whilst the Homebaked Bakery team has a robust plan for seeing them through the covid-19 crisis, which this award will help make happen, its focus moving forwards is to scale up what it calls its 'Build your own High Street' project along Homebaked CLT.
This project takes forward the process that evolved from developing the bakery for designing, planning and learning together with the local community. If successful, this could become a 'resilient high street' regeneration model, replicable in other locations.
Elemental Software: Jennifer Neff and Leeann Monk-Ozgul
Derry, Northern Ireland
Elemental Software's online social prescribing platform helps the health, housing, local authority, prison, higher education, charity and voluntary sectors work together to connect people, build communities and improve lives. The leading platform of its kind in Ireland and the UK, co-founders Jennifer Neff and Leeann Monk-Ozgul hope to bring their evidence-backed intervention to Canada, Portugal and Finland too.
Social prescribing allows healthcare professionals to refer patients to local, non-clinical services which meet their wellbeing needs. These lifestyle interventions could include community gardening groups, creative writing or debt advice: the range of activities that patients can take part in depends on what's available to them locally, which in turn is dependent on how local services work together.
Elemental Software tech-enabled service helps local organisations work together to offer joined up solutions that match patients' wellbeing needs to their interests, and to track the impact of these interventions against public health data. The need for such a platform, as national governments, local authorities and other sectors involved in wellbeing come out of Covid-19 lock down, is immense.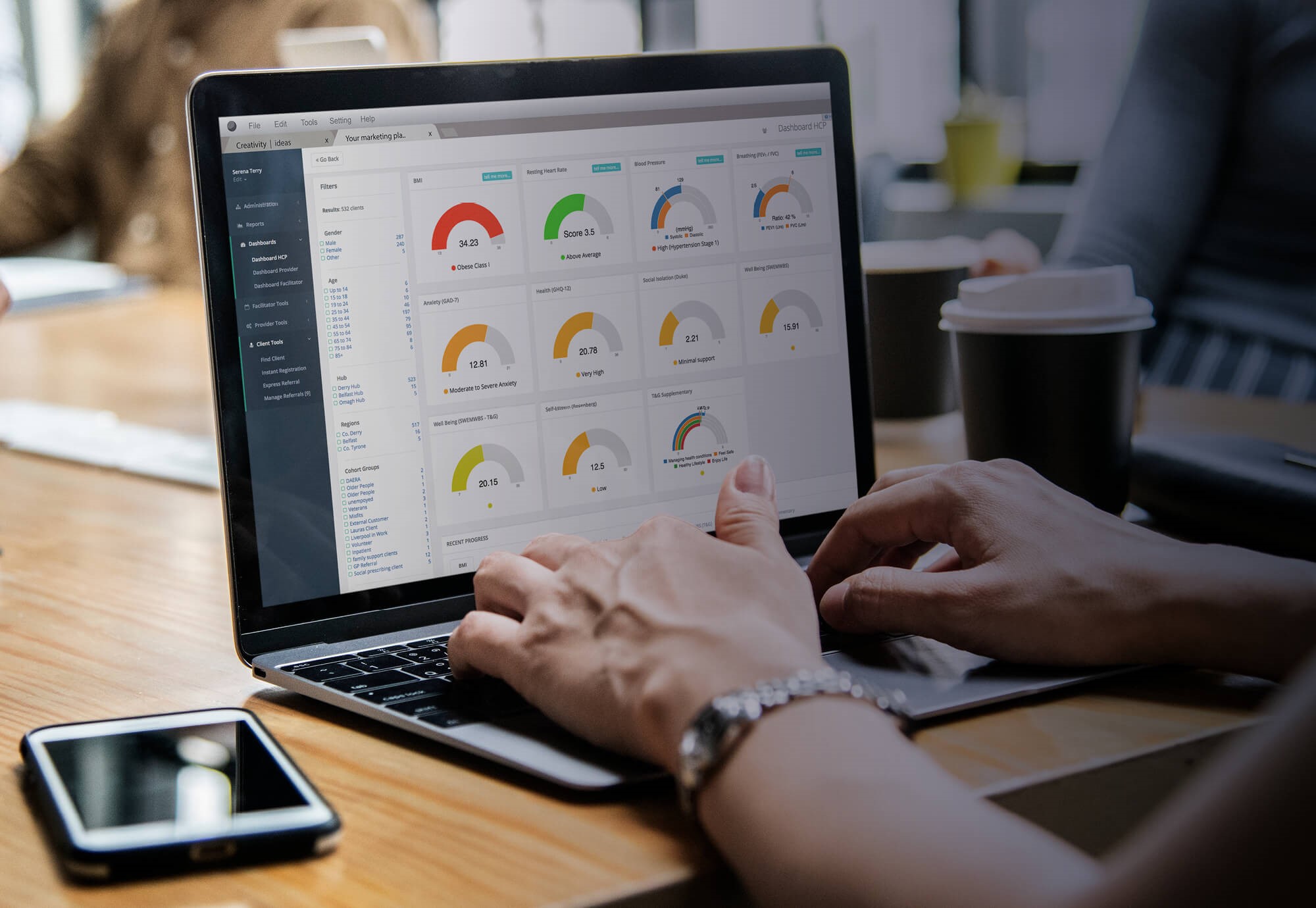 How does Elemental Software work?
Social prescribing was here to stay, even before Covid-19. In the UK, for example, its role in preventing a wide range of health conditions and improving health and wellbeing is highlighted as a priority for the future of healthcare in the NHS Long Term Plan.
Elemental Software's cloud-based platform is designed by experts with hands-on experience working in one of Northern Ireland's most socially deprived neighbourhoods. It makes it simple for health and wellbeing professionals to make, manage and monitor referrals into community activities and programmes. Doing so improves the health and wellbeing of those being referred, transforming their lives and creating more resilient communities. Its ability to enable these professionals to evaluate the impact of a referral, means that the health and wellbeing benefits of activities can be clearly demonstrated too.
As Covid-19 began to present unplanned challenges for community health and wellbeing professionals, Elemental swiftly enhanced capabilities to enable its customers to support more people, connect to more services, and better evidence impact.
How did Elemental Software come into being?
Though founded as recently as 2016 by two former community development workers, Jennifer Neff and Leeann Monk-Ozgul, Elemental Software has been a work in progress since 2013.
Whilst both community workers, Jennifer and Leeann came from different, yet complementary, sides of social and economic development: Leeann was a specialist in community health and wellbeing; Jennifer was a specialist in community digital skills and employability.
"We were consistently asking ourselves: How can we further reduce health inequalities?" says Leeann. "The answer became clear: by combining our skills to connect all stakeholders, giving anyone everywhere the ability to make, manage and monitor referrals into community activities and programmes."
When Derry was awarded the first ever 'UK City of Culture' status in 2013, with a strong emphasis on anything being possible, Jennifer and Leeann pitched their idea to the TMED Health Challenge. They didn't win. However, the winner, Professor Maurice Mulvenna, recognising their idea's potential, gave them his prize money.
Armed with this £500 gift, Jennifer and Leeann have grown their idea into a company that employs 32 people and, as of July 2020, turns over in excess of £1m.
Jennifer and Leeann are widely recognised as social prescribing and population health experts. Leeann has been named as one of the most influential women in tech in Computer Weekly's long list for four consecutive years, while Jennifer has delivered TED Talks and is a leading speaker at national and international healthcare conferences. Both regularly consult on the development of social prescribing strategy and practice. This includes being asked to make recommendations to health secretary, Matt Hancock on the future of social prescribing, and helping to develop the Mayor of London's social prescribing vision.
What's next?
Elemental, already the UK's largest and most widely used digital social prescribing provider, aims to be world-changing.
"We aim to halt health inequalities by scaling the rollout and implementation of the social prescribing model of care, making it accessible for all who need it," says Jennifer. "We will continue to develop practical, simple but effective tech solutions to connect communities to services and support that will improve their lives. We will continue to champion and lobby for social prescribing at a strategic level, sharing learning around effective models, partnerships and approaches too."
Their plans include:
Launching new products;
Extending functions to meet the needs of professionals in health, housing, the voluntary and community sectors, local government and prison care; and
International growth.
"Integrating our technology with secondary care, community and housing systems and developing the use of analytics to enable professionals to estimate the cost savings of social prescribing to other public services, is top of our list," says Jennifer. 
Elemental pride themselves on being effective, making a difference and being fun to work with. Aiming to be an employer of choice in the tech for good sector, they plan to employ the best people in the industry to continue to develop services and expertise in technology and social prescribing.
Greater London
Cracked It is London's award-winning social enterprise smartphone repair service. Staffed by young ex-offenders and youth at risk, its mission is to harness the smartphone repair market to support vulnerable youth away from crime and towards employment.
Cracked It takes mobile phone repair to offices across London, with pop-up repair clinics in large corporate workplaces such as UBS, the Ministry of Justice and the US Embassy, staffed by young people trained in both repair skills and workplace behaviour. A benefit of this model is that young people are exposed to professional workplaces, and corporate teams have the chance to get to know young people who they may not have considered employable.
Named one of 'London's best iPhone fixers' by the London Evening Standard and described by Mobile Magazine as 'disrupting the industry,' Cracked It has been featured in The BBC, The Observer, The Guardian, TimeOut, The Huffington Post, London Live and VICE.
Achieving a success rate of 64% of trainees on its transitional employment programme gaining employment within a year, and 70% not re-offending in the same period, it's easy to see why its founder, Josh Babarinde, was named in Forbes' Europe 30 under 30 list in 2019. With many other awards under its belt too, Cracked It's impact is widely recognised.
Reflecting on his business model during the covid-19 crisis, Josh realises that the time has come to focus on the bigger picture by creating a platform to share his organisation's learning with the wider business and social enterprise community.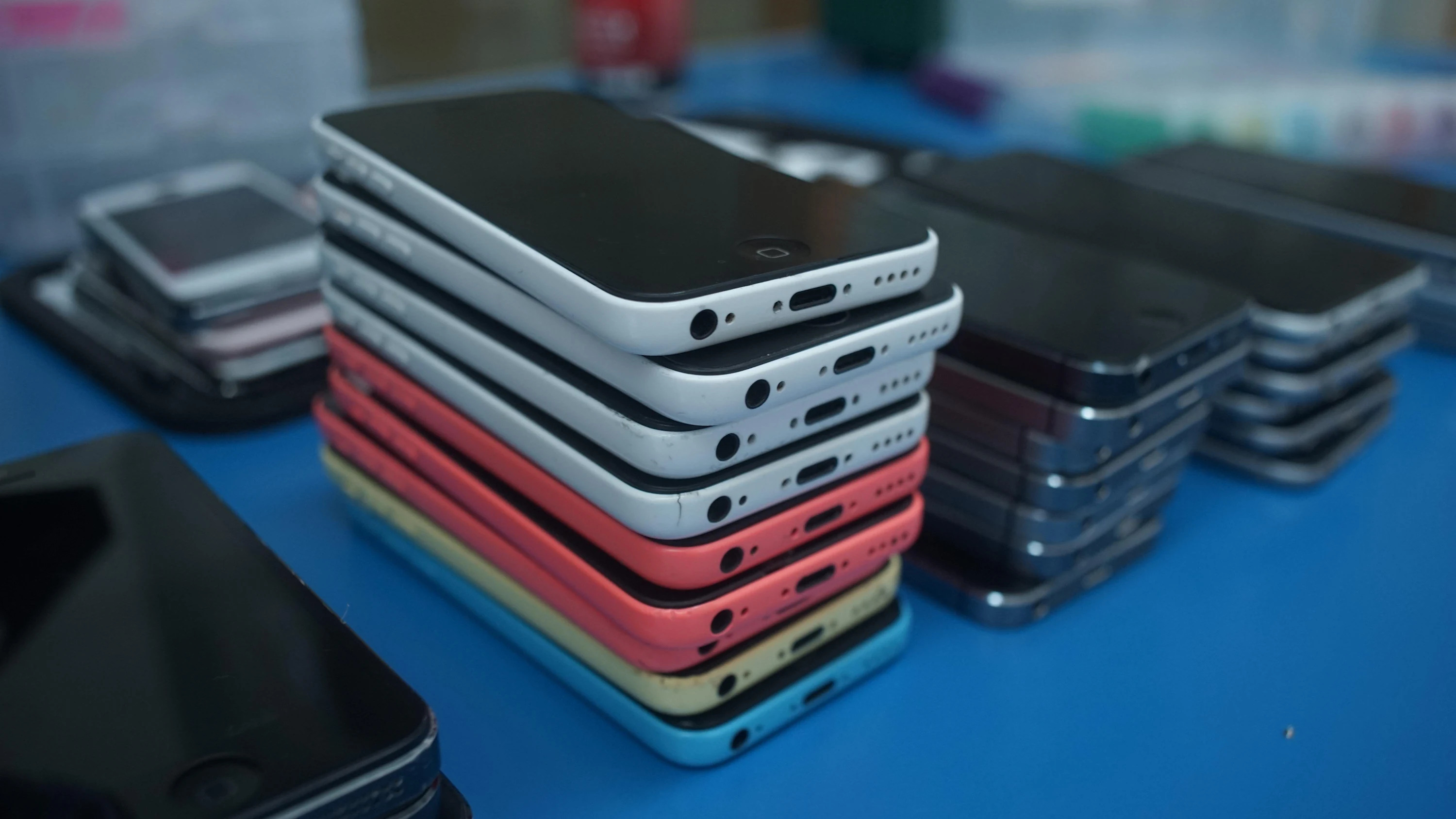 How does Cracked It work?
Cracked It's tranistional employment programme gives paid employment and training to young offenders and at risk youth aged 18-30. These trainees benefit from:
Work placement – six to twelve months learning about the norms of employment and developing key employability skills during a paid placement in Cracked It's repair operation;
Coaching – trainees are coached (rather than disciplined) through mistakes made on placement, a style of learning that is often new to them;
Signposting – trainees are connected with specialist support services to help overcome barriers to their progression, e.g. mental health support;
Employability experiences – trainees benefit from mock interviews and CV writing sessions with Cracked It's corporate partners. 
With 64% of trainees gaining employment within one year and 70% not re-offending in the same period, it's clear this model works.
How did Cracked It come into being?
Cracked It was the brain child of former political intern and youth worker, Josh Babarinde.
"Bad luck can play a big part in shaping people's lives. I myself experienced some seriously challenging times during my childhood, yet, thanks to great family, education and networks, have pursued a fulfilling life," says Josh. "Many don't get this chance. Recognising this inspired me to study politics and begin my career as a political intern."
"I soon realised that I could make a bigger difference in a more community-based role though, so volunteered as a youth worker. Working with ex-offenders and youth at risk, helping them go as far as their talents - rather than luck - could take them, became my focus."
Working in this field, often-quoted statistics began to feel increasingly unsettling to Josh:
People aged under 30 commit 85% of violent crime
Employment is known to reduce the chances of an offender re-offending by up to 50%
Hearing the life stories behind some of these stastics, and witnessing first hand how young ex-offenders and at risk youths were being dismissed or shoe-horned into roles they did not fit, he began to think about how to do things differently.
"It was clear we needed a new way to engage with at risk youth," says Josh. "To succeed, any new intervention would need to appeal to the need among many young people for instand gratification, their desire for income and their need for positive recognition, which often hasn't been a feature of their lives outside of crime. I wanted the intervention to be tech-based too, since this matched their aspirations and an economic need."
Gathering facts, Josh discovered that the UK's smartphone repair market was worth £2bn annually and that 76% of people with a smashed screen didn't get a repair within six months, because existing repair options were inconvenient. Being located in Greater London, where so many work hubs presented an opportunity to take the service to people in their workplaces, the idea for Cracked It was born.
What's next?
Before lockdown, Cracked It had reached the tipping point of achieving systemic impact, thanks to their corporate partnership model. Many organisations are offender-averse in their hiring practices, yet Josh and his team have proven that ex-offenders are a valuable part of the workforce and do contribute positively to the workplace.
"Lockdown, of course, has made many businesses aware of the need to digitise their offering," says Josh. "This is something we're already working on, but for me, Lockdown revealed an even bigger opportunity: we have five years' experience successfully supporting ex-offenders and collaborating with some of the world's biggest organisations to do it. The time has come to share our learning across the sector, and leverage our corporate partners, profile and team to achieve change beyond Cracked It and the young people we engage with directly."
See the full shortlist. 
Find out more about the prize.
Find out about the Trinity Hall Entrepreneurship Network.
We're working hard to provide the most up-to-date news and resources to help social businesses and impact investors share their experiences and get through the Covid-19 crisis. But we need your support to continue. As a social enterprise ourselves, Pioneers Post relies on paid subscriptions and partnerships to sustain our purpose-led journalism – so if you think it's worth having an independent, mission-driven, specialist media platform for the impact movement, please click here to subscribe.