"Challenge your colleagues on measuring what matters" – Social Value International CEO
We must all be bolder and braver during these desperate times. 
Delegates at Social Value Matters 2020, which is taking place online this year, were urged by Ben Carpenter, CEO of Social Value International, to seize the moment and help the world to "build back better". 
In his opening address at the event for social value practitioners, which runs all week and this year is convened by Social Value Canada, Carpenter pointed out that the world was facing the Covid-19 pandemic, the climate emergency and protest movements such as Black Lives Matter. 
He said: "The last six months have amplified issues of inequality which means that Social Value International and our work have never been more relevant."
"As a movement, we must be bolder and braver," he said.
"These are desperate times, and they call for desperate measures."
These are desperate times, and they call for desperate measures
He said that practitioners should be bolder in their actions and braver to call out things that were wrong or not going far enough.

He said they must call out racism and all kinds of discrimination as well as being more inclusive in their conversations to build communities.
He added that practitioners should be prepared to challenge colleagues if they think they could go further. And he said practitioners should be better at calling out examples of impact measurement "where we're not measuring what really matters to people".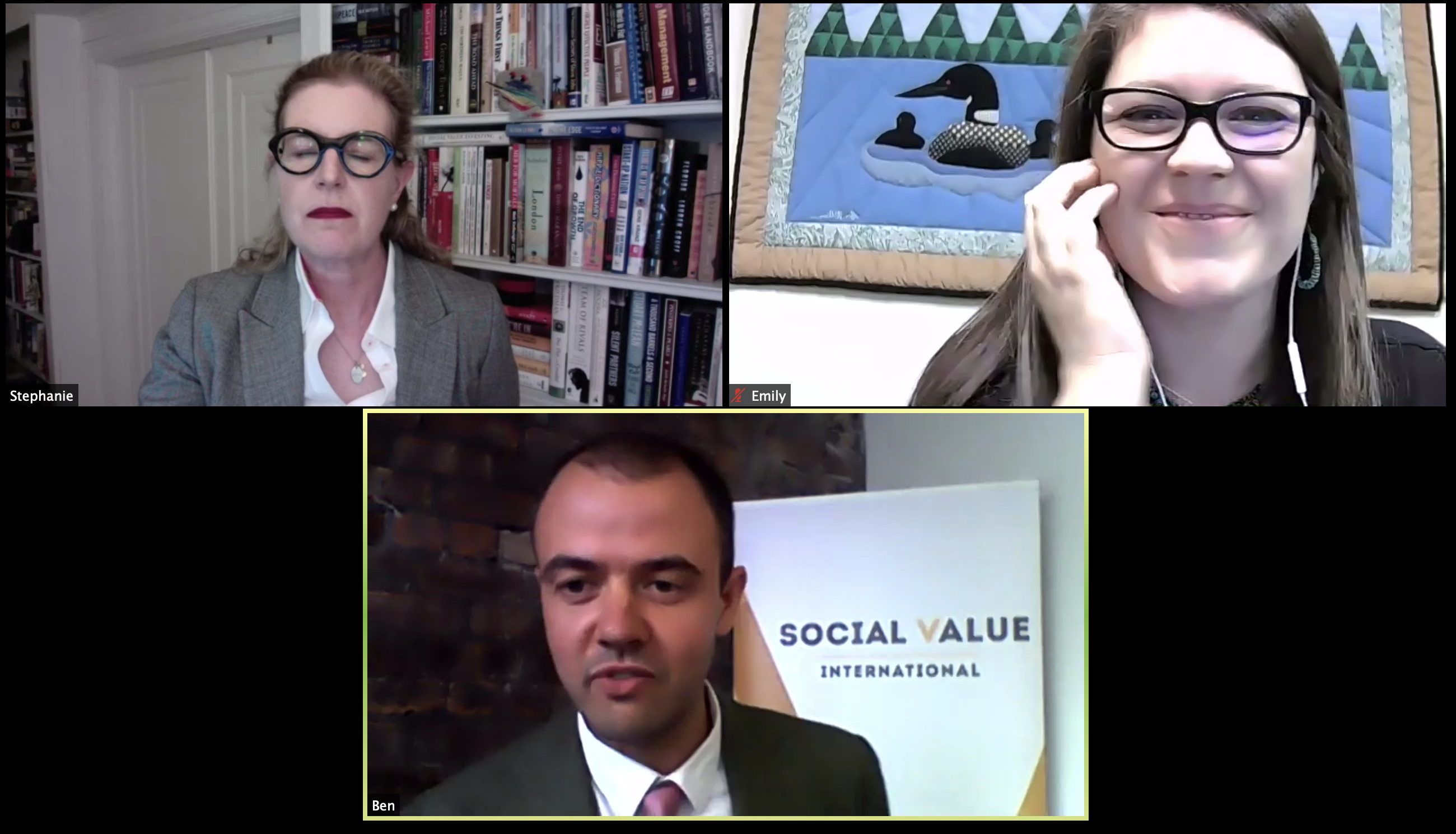 Carpenter took to the virtual stage after Chief Emily Whetung of Curve Lake First Nation (pictured, top right). Although this year's event is online only, it is hosted by Social Value Canada and Whetung was invited to welcome delegates to her native land.
I hope that you can think about the value my people put on each aspect of a community
Whetung pointed out that her people, the Mississauga, believed that all things needed to be in balance, and for a long time the colonial settlers destroyed that balance.
"We remember that all things are related, the relationship is not just one being to another, but to all the plants and animals too," she said. 
She added that his indigenous perspective should influence the delegates. "I hope that this history can help inform your conversation in the next few days," she said. "I hope that you can think about the value my people put on each aspect of a community of men and women being in balance and existing in relation to all things and respecting the fact that all things are required to be in balance for the continuation of our society."
Thanks for reading our stories. As an entrepreneur or investor yourself, you'll know that producing quality work doesn't come free. We rely on our subscribers to sustain our journalism – so if you think it's worth having an independent, specialist media platform that covers social enterprise stories, please consider subscribing. You'll also be buying social: Pioneers Post is a social enterprise itself, reinvesting all our profits into helping you do good business, better.