Mosul Space: the hub that's investing in Iraq's future
A maker space in Mosul in northern Iraq not only offers a space for young people to learn practical skills, it has also helped to manufacture and repair critical medical equipment, while promoting what founder Salih Mahmod calls a "new culture" of entrepreneurship among a community that was controlled by ISIS for three years. Hanneke Kastelijns hears Mahmod's story – and finds it is one of perseverance and optimism.
A simple Google search on 'Mosul', a city in northern Iraq of 1.6m people, will most likely return plenty of pictures of destruction. However, when you add the word 'space' to the search term, you will find images of young people working on their future and the future of their city. This community of young people is Mosul Space, a maker space founded by Salih Mahmod and whose story is full of courage, perseverance and hope.
The story of Mosul Space goes back many years. In his days as a student – while studying electrical and communication engineering – Mahmod got fed up with the style of teaching at his university. "The education in some Iraqi universities is hopeless," he explains. Eager to learn, he got the idea to start a club of like-minded people, so that they could buy electronics together, such as microcontrollers, sensors and actuators, and learn by doing.
Under siege
By the time the second purchase of electronics arrived in August 2014, ISIS had taken over the city. Mahmod fled while his friend, Zeid, who stayed in Mosul, received all the recent purchases instead.
After one year under the siege, all universities and schools closed. But students still wanted to learn, so they called Mahmod for advice
People inside Mosul could not get a proper education for three years. First, the government stopped recognising the university in Mosul. After one year under the siege, all universities and schools closed. But, because some students still wanted to learn, they called Mahmod for advice. To help them keep learning, he recommended specific books to read and advised them to borrow electronics from Zeid to practise with them. "You should use this time in a good way, you are basically in jail," he told them.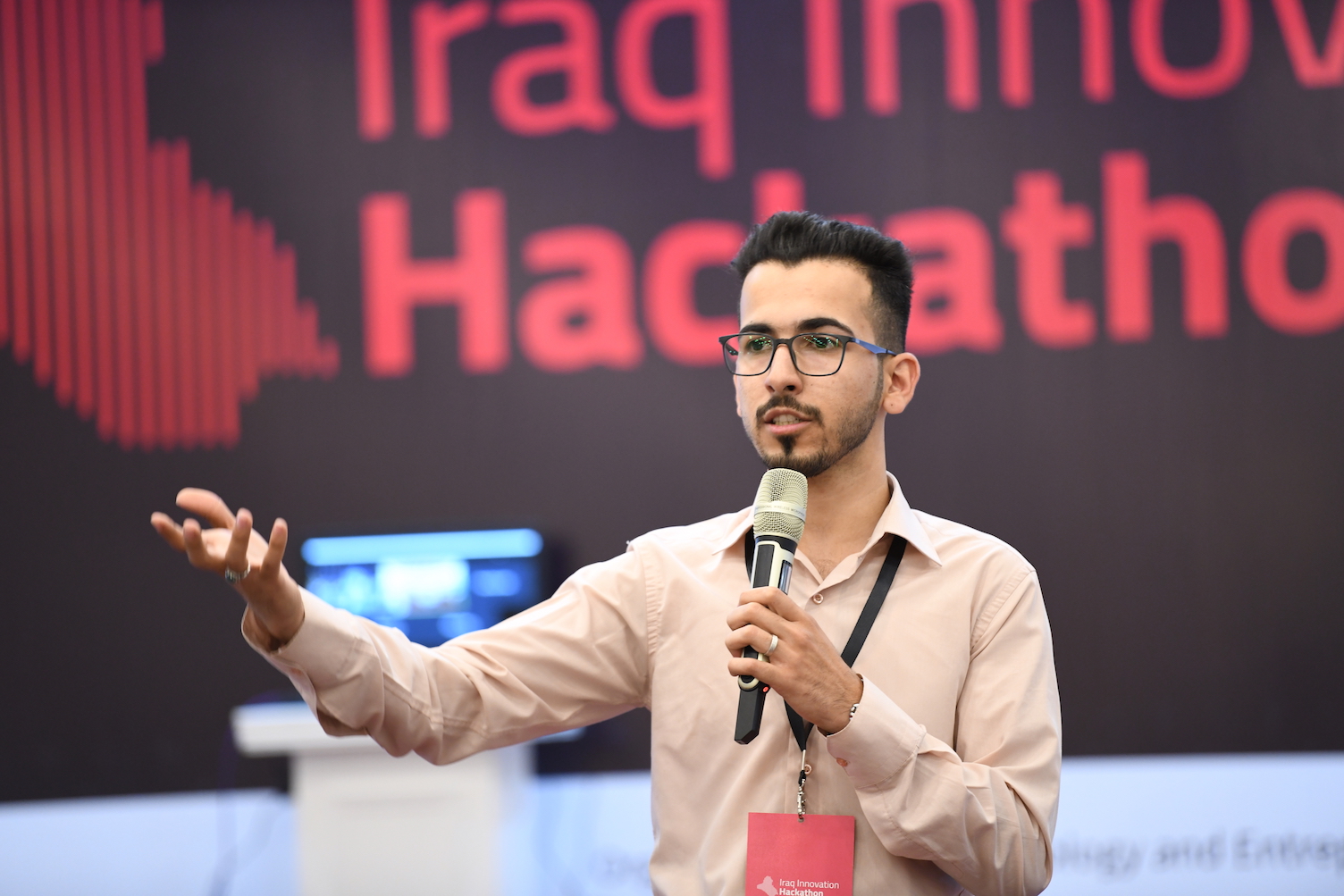 Above: While studying electrical and communication engineering, Salih Mahmod came up with the idea of a club of like-minded young people who could learn and create together 
Mahmod could not attend university for one year – but he could go to the alternative university of Mosul, set up for students who fled from the city who had settled in Kirkuk. With inspiration and some pocket money from the Innovation for Development programme – a training programme focused on innovation, entrepreneurship and the SDGs by the United Nations Development Programme (UNDP) – he also started to further develop Mosul Space from afar. He was able to organise a big workshop in 2016 for 200 people from the university on the Internet of Things, and a 'build session' with 15 people: participants brought electronics and tried to build something together. In the last year of the siege of Mosul by ISIS, there was no internet connection anymore, and he lost contact with Zeid. "I didn't know whether Zeid was alive at that moment," he says.
Reunion – and return to Mosul
In the meantime, district after district was liberated from ISIS, including the district where his friend, Zeid, lived. Other friends from previously-liberated areas had already joined the alternative Mosul university in Kirkuk, Mahmod says. Ultimately, Zeid found Mahmod's phone number and also went to Kirkuk. When Mahmod recalls the reunion with his friend, there is emotion in his voice. "It was fantastic. I can't describe it, because it is something very emotional. It is a part of you coming back to you."
The idea of Mosul Space was still alive for both of them, so they started to develop it with the help of another friend. The important thing for them was to go back to Mosul and find a premises to create a maker space.
The only group of young people who had experience with 3D printing at that time were people from Mosul Space
The group soon began renting a physical space – when they began running projects for the NGO Caritas Czech Republic (helping maintain and repair medical devices damaged in the war), and later for the German development agency GIZ. Mahmod says: "The only group of young people who had experience with 3D printing at that time were people from Mosul Space."
Volunteers at the heart
In recent years, Mosul Space has been able to expand the capacities of the organisation. By November 2020 they have a maker space, a small co-working area, a training room and a meeting room. They are also operating training courses in business and technology, Mahmod tells me. By delivering training, the founders also try to create awareness about entrepreneurship. "We want to promote this new culture for people who were controlled by ISIS for three years."
Although Mosul Space has its own revenue stream, among others by offering paid training, Mahmod says it is difficult to achieve complete financial sustainability due to the small private sector in Mosul.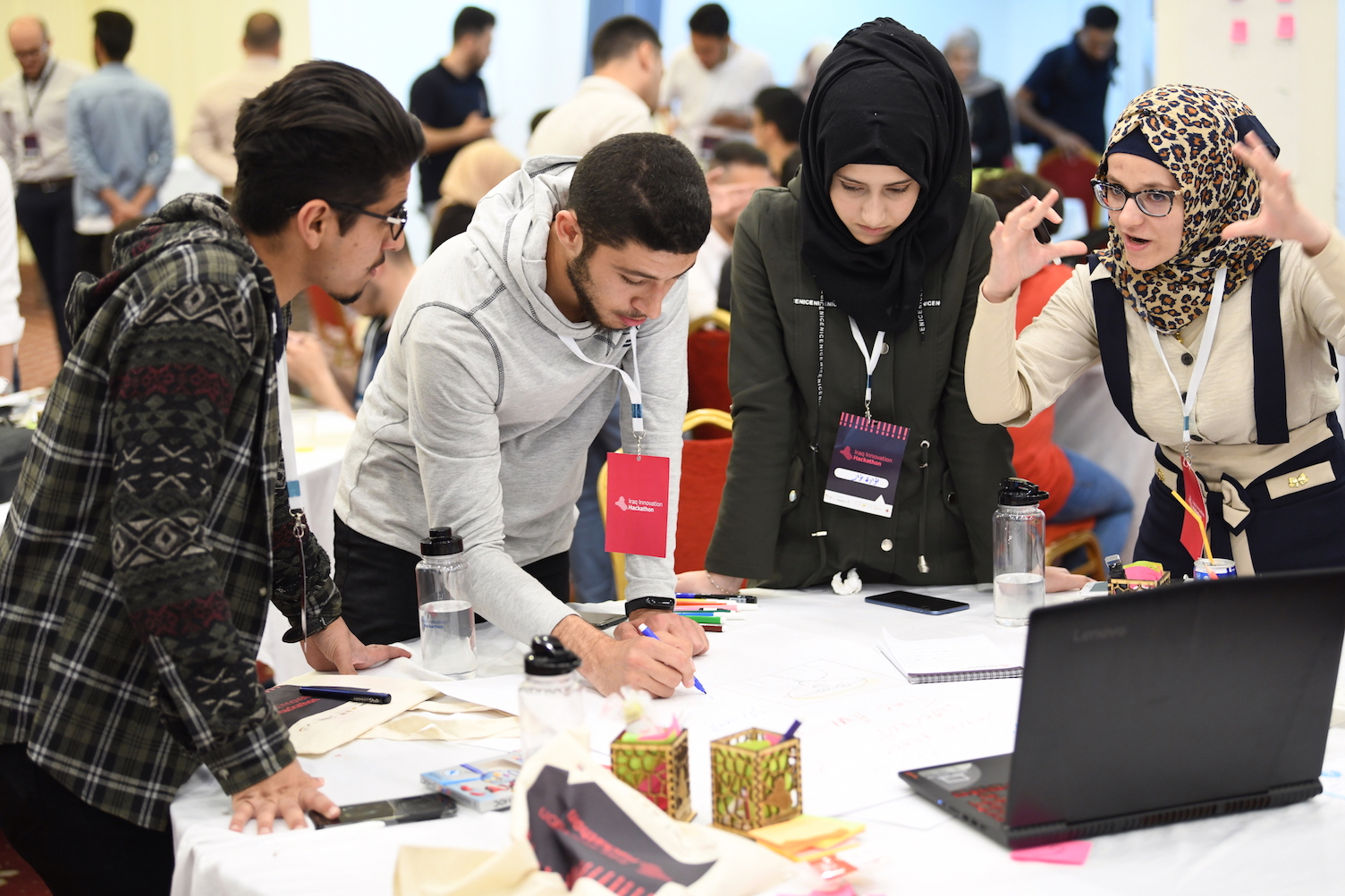 Above: Mosul Space gives young people a chance to develop valuable work experience and skills
If it does not become financially sustainable through grant funding plus its own revenue, Mosul Space will continue to rely on volunteers. Since the start of Mosul Space, they built up a community, and Mahmod and the other current leaders now want the new generation to take the lead. "At the end of the day, it is not my business alone. A non-profit is something social that aims to build a better future for me and my city," he says.
By being involved in Mosul Space, the volunteers can get useful work experience, while contributing to the community. "Maybe the opportunities are still not attractive and the market is not good, but they learned everything to start new initiatives and then develop it."
The model I believe in, is to invest in young people, invest in their skills
Critical medical supplies
During the coronavirus crisis, Mosul Space showed that it was possible to create something in Iraq. With a shortage of many medical supplies, the group produced face shields and prototyped an electric machine to wash hands without touching any surfaces; they are currently working on a machine to produce oxygen. During the lockdown in spring 2020, they offered 300 face shields to the hospital. Now they are looking for clients so that they can also produce the face shields in larger quantities. "We want to deliver the message that you can produce something even if you are a small team," Mahmod says.
Despite all the challenges Mahmod and his team are facing, he is optimistic about the future. "One of the models, the one I believe in, is to invest in young people, invest in their skills, and give them all the facilities to try and do things. Maybe they will fail, but in the future, when a component of the ecosystem will grow, they will become successful. We are coming from a very difficult situation, so our investment is community."
A version of this article was first published on so/creatie and is republished here with permission. All image credits: Mosul Space​
Thanks for reading Pioneers Post. As an entrepreneur or investor yourself, you'll know that producing quality work doesn't come free. We rely on our subscribers to sustain our journalism – so if you think it's worth having an independent, specialist media platform that covers social enterprise stories, please consider subscribing. You'll also be buying social: Pioneers Post is a social enterprise itself, reinvesting all our profits into helping you do good business, better.