Impact Finance Bulletin: $15bn boost for gender lens investing; Mackenzie Scott backs impact entrepreneurs
Our regular impact finance bulletin brings you the latest funds, deals and programmes in the world of investing for good. Read on for our selection of impact investment headlines from the past month.

Global: Gender lens investing gets $15bn boost plus new industry body
An initiative created by development banks of the G7 countries is to raise $15bn more for gender-lens investment. 
The 2X Challenge, which committed $7bn between 2018 and 2020 and mobilised another $3bn from private investors, aims to complete the new raise by the end of 2022. 
In the last three years it has invested in more than 200 businesses (including affordable energy company PEG Africa, pictured above), which met criteria based on women owning, managing or working for investee companies, or benefiting from the final product or service. Latin American businesses secured the most 2X funding followed by sub-Saharan Africa where the volume of deals quadrupled over the last 12 months. 
Since the 2X Challenge was founded by the G7 development finance institutions, others have joined including those from Sweden, Finland, the Netherlands, Switzerland, Denmark and Belgium as well as the European Investment Bank. New members joining this next round of the 2X Challenge are the World Bank's International Finance Corporation, the European Bank for Reconstruction and Development and the Austrian Development Bank.
Last week, the 2X partners launched a new global industry body to promote gender lens investing across the entire spectrum of investors. The 2XCollaborative aims "to serve investors making their first gender-focused investment as well as investors at the frontier of the field". It has been backed among others by the Investment Leadership Network, which counts Allianz, calPERS and Generali among its 14 members and has combined assets under management of over $5trn.
Separately:
Send news of your deals, funds or programmes to news@pioneerspost.com and we'll consider them for our next update.
Global: Mackenzie Scott donates to "historically underfunded" infrastructure organisations in $2.7bn giveaway
Mackenzie Scott announced in a Medium post in June that she has given away $2.7bn to nearly 300 "high-impact" but typically "overlooked" organisations, including several that support impact entrepreneurs.
The billionaire novelist and philanthropist, who was previously married to Amazon founder Jeff Bezos, made two similar announcements in 2020, with donations last year totalling around $6bn.
Scott did not disclose the size of the grants in her latest announcement – although Ashoka shared that it had been given $10m. She emphasised that the "relatively large gifts" were to be spent however grantees chose. This, she writes, "empowers receivers by making them feel valued and by unlocking their best solutions".
Social sector infrastructure organizations empower community leaders, support grassroots organizing and innovation, measure and evaluate what works and disseminate information - Mackenzie Scott
She adds: "Social sector infrastructure organizations empower community leaders, support grassroots organizing and innovation, measure and evaluate what works, and disseminate information so that community leaders, elected officials, volunteers, employees, and donors at every level of income can make informed decisions about how to partner and invest.
"These organizations, which are themselves historically underfunded, also promote and facilitate service, which in turn inspires more people to serve."
Grantees this time include:
South America: NESsT gets Erol Foundation grant to support impact enterprises in Amazon region
NESsT, an impact investor with offices in Europe, the US and Latin America, has secured a multi-year grant (amount undisclosed) from Switzerland's Erol Foundation to support impact-driven businesses in the Amazon basin.
The NESsT Amazonia incubator will support an initial cohort of 12 conservation enterprises that improve forest conservation in the Amazon basin and provide sustainable livelihoods to local communities. Selected enterprises will receive grants, 'recoverable grants' and mentoring from NESsT's local teams in Brazil, Colombia and Peru.
The Amazon basin is home to an estimated 10% of the earth's species and 20% of its fresh water; 40 million people, or 28% of the total population in the region, live in poverty.
The incubator began its first selection process in January, 2021; interested enterprises span 15 different value chains, protect 13 million hectares of rainforest, and support the livelihoods of more than 9,000 families. A first NESsT Amazonia incubator will work with enterprises that improve traditional value chains, including sustainable and regenerative agriculture, fisheries, Brazil nuts, biocosmetics, ecotourism, and açaí, among others. The second cohort seeks enterprises that provide technology-based and gender inclusive solutions to Amazon value chains.
Erol Foundation joins existing partners including the Climate and Land Use Alliance, USAID and WWF.
Spain: impact investments reach €2.3bn, reveals new research
The impact investment market in Spain reached a total of €2.3bn under management in 2020, a 26% growth on the previous year – and a tenfold increase in impact investments identified in earlier research.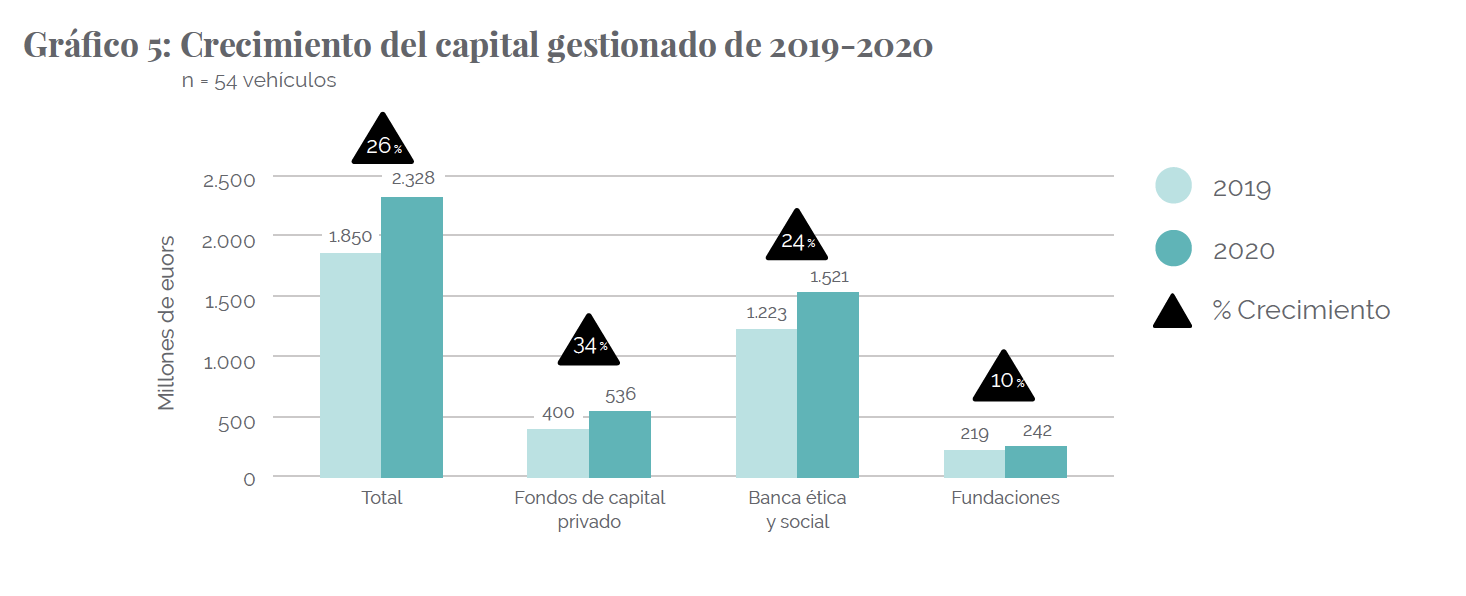 The increase in impact investment in Spain from 2019 to 2020. The columns (left to right) indicate the total under management, private capital, social and ethical banks, and foundations. Graphic from La Inversión de Impacto en España: Oferta de capital, segmentación y características​​​​​​
The latest figures were revealed in June at the annual conference of the Spain National Advisory Board on Impact Investment (SpainNAB). 
When Spain joined the Global Steering Group for Impact Investment (GSG) in June 2019, research for the SpainNAB had identified just €90m euros in impact investments during 2018. Then in September 2020, at an annual conference that had been delayed by the Covid-19 pandemic, the SpainNAB celebrated an "exponential increase" in impact investments to €229m for 2019.
The new figures for 2020 have increased by a multiple of ten because of a radical change in the methodology. Past research identified only private capital in impact investments. The new research, La Inversión de Impacto en España: Oferta de capital, segmentación y características, carried out by the Esade Center for Social impact in Barcelona, has broadened the field to include as many different types of investors as possible.
Read the full story on Pioneers Post.
Africa: Rich country development banks and multilaterals to invest $80bn in African businesses
G7 nations and multilateral institutions announced an $80bn commitment to invest in the private sector across Africa.
The five-year investment marks the first time G7 development finance institutions (DFIs) have made a collective commitment to the African continent.
The World Bank's International Finance Corporation, the African Development Bank, the European Investment Bank and the European Bank for Reconstruction and Development also join the pledge.
This will create jobs, boost economic growth, help tackle climate change and fight poverty - UK minister for Africa, James Duddridge
Investments will support long-term development objectives of African economies, including those negatively hit by the Covid-19 pandemic.
The G7 DFIs are CDC Group (UK), Proparco (France), JICA and JBIC (Japan), DFC (US), FinDev Canada (Canada), DEG (Germany) and CDP (Italy).
UK minister for Africa, James Duddridge, said the investment would "create jobs, boost economic growth, help tackle climate change and fight poverty" and came at "a crucial time" as the continent was rebuilding economies hit by Covid-19.
The UK's investments in Africa over the next five years will be drawn from existing capital and focus on renewable power, infrastructure, manufacturing, agriculture and technology sectors. 

UK: £30m blended finance pilot to provide 200 homes in 'life-saving' government first
A government-backed collection of funds will provide more than 200 homes for rough sleepers in England – the first time the housing department has used social investment to fund new homes.
The Ministry of Housing, Communities and Local Government is providing a £15m grant as part of a three-year pilot that will also deploy £15m of Big Society Capital money. 
The £30m will fund the purchase of existing housing, mostly in London, Greater Manchester and Teeside, to be rented at affordable prices. Charities and social enterprises that specialise in housing vulnerable people will provide services such as addiction support, education and employment assistance and counselling. Financial returns will be reinvested into providing homes for rough sleepers or those at risk of rough sleeping for the next 30 years.
The three fund managers, Bridges Fund Management, Resonance and Social and Sustainable Capital, have brought in additional investment from public bodies including the Greater Manchester Combined Authority and Greater London Authority, bringing the total funding available to £80.4m.
Big Society Capital described the partnership as a "life-saving initiative" and said it "could set a precedent for further collaboration between impact investors and the public sector to address housing and other entrenched social needs".
The new pilot is part of wider government spending, totalling £750m this year alone, to end rough sleeping. The unprecedented 'Everyone In' programme, launched at the start of the Covid-19 pandemic to protect rough sleepers, had helped more than 37,000 people by January 2021. This was nearly nine times MHCLG'S last official estimate of people sleeping rough, according to the Public Accounts Committee.
UK: Universities launch £8m impact fund to back campus-created spinouts
A dozen UK universities have set up a 10-year impact fund to back social ventures created on campus.
Impact 12 aims to raise £8m from alumni networks and other impact investors to back up to 15 "mission-led university ventures". It was developed by Social Investment Scotland, an impact investor and responsible finance provider based in Edinburgh, in partnership with the University of Oxford, along with Cambridge, Northampton, Coventry, Aston, Birmingham, Cranfield, Keele, Leicester, Loughborough, Nottingham and Warwick universities. 
Launching later this year, the fund will provide equity investment and debt (seed and follow-on funding), as well as access to financial and other expertise. It will be managed by SIS Ventures, a subsidiary of Social Investment Scotland that invests in early-stage, mission-driven businesses. 
Funding from Impact 12 will help meet "a clear need" for early-stage finance among university social ventures, which often lack the financial support that traditional university spinouts or startups get, according to the partners. 
Read the full story on Pioneers Post.
UK: Bethnal Green Ventures acquired by B Corp asset manager in move to tap pension funds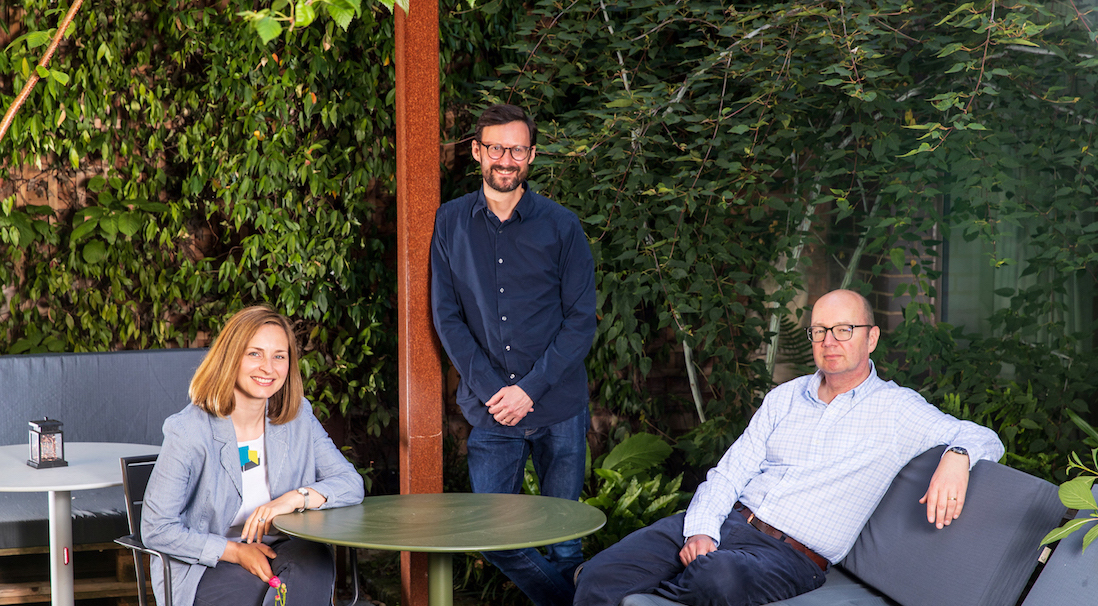 The UK's Bethnal Green Ventures has been acquired by asset manager Connected Asset Management in an unusual deal that will allow tech for good startups to tap into the financial heft of pension funds.
In the past few years Bethnal Green Ventures has invested £1m to £2m a year in startups, CEO and managing partner Paul Miller (pictured above, centre) told Pioneers Post. The acquisition, for an undisclosed sum, "straightaway means that next year we'll be able to invest over £10m. So it's a big step up for us".
The pensions industry is heavily regulated, and Bethnal Green Ventures had until now been "too tiny", Miller said, to access the pension fund market, worth £3trn in the UK alone. Joining Connected was a chance to be part of "something bigger". "Tech for good is becoming mainstream, and actually we are competing with mainstream VC investors, so it was important to us that we had the same financial firepower that they did."
Rather than increasing the number of investees, the capital boost will provide more follow-on investment, with the goal of filling the post-startup financing gap, Miller said. His firm would retain independence under the Connected umbrella, with the tie-up not affecting its existing funds or investors.
Read the full story on Pioneers Post.
Singapore/Asia: Circulate Capital raises $14m for new plastic waste fund
Circulate Capital, a Singapore-based investment firm focused on climate tech, plastics, recycling and the circular economy, announced a $14m first close of its new venture capital fund. 
Circulate Capital Disrupt will invest in solutions that combat plastic waste and advance the circular economy as well as high-growth waste management and recycling businesses in south and southeast Asia.
The new fund complements its $106m Circulate Capital Ocean Fund (CCOF I), launched in 2019 as the world's first investment fund dedicated to preventing ocean plastic waste in south and southeast Asia. By 2030, CCOF I expects to avoid at least 17m tonnes of CO2, prevent 13m tonnes of plastic pollution leakage, and create 17,000 jobs.
It's time for Circulate Capital to strengthen our strategy to fight ocean plastic by also investing upstream - Rob Kaplan, CEO and founder
Rob Kaplan, CEO and founder, said: "It's time for Circulate Capital to strengthen our strategy to fight ocean plastic by also investing upstream to capture a range of exciting investment opportunities at the nexus of climate-tech and plastics that can help us take recycling into the next century." 
Circulate's founding investors include PepsiCo, Procter & Gamble, Dow, Danone, Chanel, Unilever, The Coca-Cola Company and Chevron Phillips Chemical Company LLC.
Netherlands: ABN AMRO to make private equity and VC investments through new €425m impact fund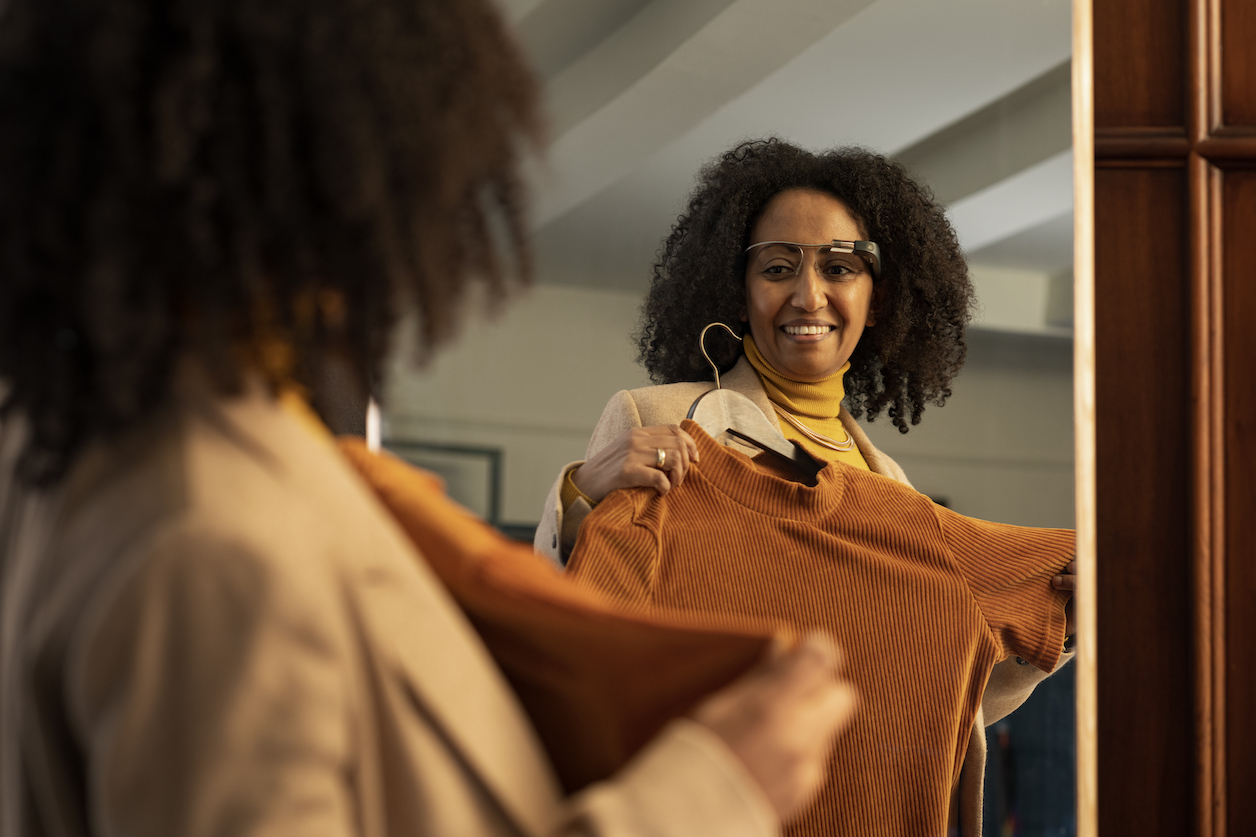 Dutch bank ABN AMRO is creating a €425m fund to invest in "companies accelerating the transition towards a sustainable and inclusive society".
Through the Sustainable Impact Fund (SIF), ABN AMRO will make private equity investments of €4m to €30m in companies with a proven business model that are ready for the next phase of their growth. The fund will also make venture capital investments ranging from €500,000 to €4m in companies with a proven concept. 
With the fund investing both private equity and venture capital, early-stage enterprises as well as established companies qualify for investment through this fund. 
Rutger van Nouhuijs, who sits on the bank's executive committee, said the goal was to "provide a solid financial basis for companies with potential that will help to accelerate the transition towards a sustainable society".
Investments will focus on three areas: circular economy, energy transition and social impact; it will invest in companies in the Netherlands and around north west Europe. Owned and funded by ABN AMRO, SIF will pursue a combination of social and financial returns.
The new fund made its first two venture capital investments last month. One was in Envision (pictured above), a Dutch tech firm whose products are aimed at blind or visually impaired people, and the other was Danish company Foodlogica, which makes food transportation greener. 
France: €3.6trn investor coalition launches to support 'just transition' to low-carbon economy
A group of France-based asset managers and asset owners have teamed up to promote a shift to low-carbon economies with a strong social dimension.
Those involved in the Investors for a Just Transition coalition commit to engaging with companies, encouraging them to integrate the social aspects of the transition into their strategies and to highlight best practices within key industries. Investors will also work with labour unions, universities and research institutes to define a strategy and engagement objectives.
Founding members include Amundi, Aviva France, AXA & AXA Investment Managers, Caisse des Dépôts and CNP Assurances. The Principles for Responsible Investment (PRI) is among the coalition's observer members.
The coalition, set up by Finance for Tomorrow, will launch internationally at this year's COP26 in Glasgow.
As the home of the milestone 2015 Paris Agreement on climate change, Paris and its financial sector are a "leading sustainable and green finance hub in Europe", Finance for Tomorrow says.
Seven more deals in brief
Seven more funds and programmes in brief
Thanks for reading Pioneers Post. As an entrepreneur or investor yourself, you'll know that producing quality work doesn't come free. We rely on our subscribers to sustain our journalism – so if you think it's worth having an independent, specialist media platform that covers social enterprise stories, please consider subscribing. You'll also be buying social: Pioneers Post is a social enterprise itself, reinvesting all our profits into helping you do good business, better.