Impact Finance Bulletin: $14m refugee impact bond launches with IKEA Foundation backing
Our regular impact finance bulletin brings you the latest funds, deals and programmes in the world of investing for good. Read on for our selection of impact investment headlines from the past month.

Middle East: $14m refugee impact bond launches with DFC, IKEA Foundation backing
IKEA Foundation, the US Development Finance Corporation and partners have launched a $14m development impact bond to help refugees and their host communities. 
The Refugee Impact Bond will fund a micro-enterprise creation programme, delivered by Near East Foundation UK, that will enable Syrian refugees and their host communities in Jordan to build economic resilience.
Development impact bonds (DIBs) enable the funding of relatively high-risk development programmes. Like social impact bonds, they involve social investors providing a loan to a service provider, which is repaid by an outcomes funder – in this case IKEA Foundation, Novo Nordisc Fonden and Norad – if the provider achieves pre-agreed goals.
Described as the first DIB entirely focused on refugees, the four-year programme aims to create 2,560 sustainable micro-enterprises, and provide training and grants to several thousand entrepreneurs. Three quarters of beneficiaries will be women and 30% will be young people.
Per Heggenes, CEO of the IKEA Foundation, said the DIB had "huge potential to attract new social investors to support refugee livelihoods programmes". 
Investors DFC and Ferd have committed $9.8m to prefinance the programme, and the three outcomes funders have committed $13.8m. 
Send news of your deals, funds or programmes to news@pioneerspost.com and we'll consider them for our next update.

Scotland: Social Investment Scotland passes £100m lending milestone
Social Investment Scotland (SIS) has invested more than £100m in 460 social enterprises, community organisations and mission-driven businesses since it was founded in 2001, according to its latest impact report.
The investor reported a 40% increase in active loans and investments in 2020/2021 compared with the year before, reaching £38m invested in 212 social enterprises.
Over the past year, SIS invested £18.6m directly in Scottish social enterprises and loaned £10.7m to responsible investment funds across the UK. The remainder was invested through its subsidiary SIS Ventures. 
Chair Ken Barclay said the investor had worked "incredibly hard" during "an exceptionally difficult year". 
He added: "We are humbled to have worked alongside the many social enterprises responding as only they know best, to the needs of their local community. We continue, patiently, supporting those social enterprises to build resilience, while providing support for those moving towards recovery and growth."
In August SIS invested £100,000 in Social Print and Copy, which claims to be Scotland's first ethical printing and photocopying business, to develop a new apprenticeship programme for 16 to 24-year-olds.
We continue, patiently, supporting those social enterprises to build resilience
UK: Key Fund achieves £447m 'total impact' as it turns 21
Sheffield-based investor Key Fund has invested more than £61.3m in social ventures since it was founded 21 years ago, its impact report reveals. This includes £18.5m in grants and £43.3m in loans, leveraging an additional £43.3m from other investors.
In that time, the fund enabled the creation of 533 new businesses and supported 2,200 existing enterprises, creating more than 1,400 jobs and safeguarding another 2,300. The social investor estimates its overall social impact across the north of England and the Midlands to be worth £447m.
Sam Keighley, chair of Key Fund, said these figures showed how investing the right money, in the right way could "support enduring and sustainable social enterprises in poor neighbourhoods, which go on to improve individual lives in innumerable ways".
In 2020/2021, Key Fund awarded £3.6m in grants (more than in previous years, due to Covid-19 response grants) and lent £1.6m to social ventures. 
The report shows that 80% of Key Fund's investments are made in organisations in the top 30% most deprived communities.
Matt Smith, CEO of Key Fund, said social investment was vital for enterprises that support local people, which offered "hope, regeneration and recovery, especially to those even more at risk of falling through the cracks in society with the fallout of the pandemic".
Europe: Ananda raises €65m for fourth impact fund, €25m above target
European venture capital firm Ananda Impact Ventures has raised €65m for the first close of its fourth Core Impact Fund, €25m above its original target.
The fund will support European technology startups committed to tackling societal and climate challenges through innovation.
Investors include the European Investment Fund, Big Society Capital and a number of family offices. The final closing target was extended from €75m to €90m–€100m. 
We're seeing a fundamental reshaping of finance taking place
Ananda's existing investees include IESO Digital Health and Auticon. It has recently invested in two climate-focused startups: Klim (which works in carbon farming) and OroraTech (which develops satellites to prevent wildfires).
Johannes Weber, who co-founded Ananda in 2009, said: "We're seeing a fundamental reshaping of finance taking place. Younger investors want to provide support that is aligned with their values and there is the desire for private fortunes to be directed in more meaningful ways.
"This evolution requires the tools and mechanisms to support their goals. Impact investment vehicles, like Ananda's Core Impact fund, are at the forefront of this change."
UK: Oxfordshire County Council invests £5m in Resonance supported homes fund
Resonance's Supported Homes Fund (RSHF) has secured a £5m investment from Oxfordshire County Council to provide an additional 25 supported living homes for adults with care needs in the region. 
The investment brings the total size of the fund, which finances housing for people with learning disabilities, autism and mental health challenges, to more than £15m. With a target size of £50-£100m, RSHF aims to provide 275 long-term, specialised supported homes across the UK.
Oxfordshire County Council is the second local authority to invest in the RSHF, after Greater Manchester Combined Authority, one of the seed funders.
John Williams, managing director of property funds at Resonance, described the investment as "a major milestone" that would create significant impact while helping to attract further investors.
Also in the region, Oxford City Council announced a £2m investment in the Resonance National Homelessness Property 2 Fund. The fund buys properties and leases them to the social housing sector and homelessness charities; in Oxford, it will enable the purchase of 10 shared houses, housing at least 30 people.
The National Homelessness Property 2 Fund launched in December 2020 with a first close at £20m. Resonance is targeting a £100m fund size by 2024, to provide about 870 affordable homes. 
Ireland: Government offers €1.5m in grants for publicity and capital expenditure 
The Irish government has announced a €500,000 scheme to help social enterprises promote understanding of their positive role. 
The Awareness Raising Initiative for Social Enterprise (ARISE) will distribute grants of up to €10,000 to social enterprises to highlight how their work improves people's lives, and grants of up to €50,000 to social enterprise networks and support organisations to communicate what social enterprises are and how they can deliver sustainable, inclusive development.
The money for the ARISE scheme will be provided through Ireland's dormant accounts fund. The scheme is open for applications until 20 October. 
Minister for rural and community development Heather Humphreys said ARISE would promote the "essential role played by social enterprises" across the country and help them to grow.
The Irish government also announced a €1m capital grants scheme, to allow social enterprises to buy equipment or do repairs or refurbishments.
US: Career impact bond fund grows to $49.9m with foundation backing
Social Finance's UP fund, which invests in career impact bonds, has grown to $49.9m after the close of its third funding round.
Career impact bonds (CIBs) finance initiatives that help unemployed or underemployed people to upskill to qualify for jobs that are in high demand. The fund currently supports CIBs with four different training providers: General Assembly, Acuitus, Alchemy Code Lab, and American Diesel Training Centers. Social Finance plans to double the number of partnerships in the next year and aims to serve more than 8,000 individuals in total. 
Third close investors include the WK Kellogg Foundation, the Inherent Foundation, and the Philips Foundation. Over a third of commitments for this round came from 15 individual investors through donor advised funds.
The fund was launched in 2019 with a 10-year lifetime. Its fourth and final close is to take place at the end of this year.
UK/Global: Olio and Oddbox lure investors hungry to fight food waste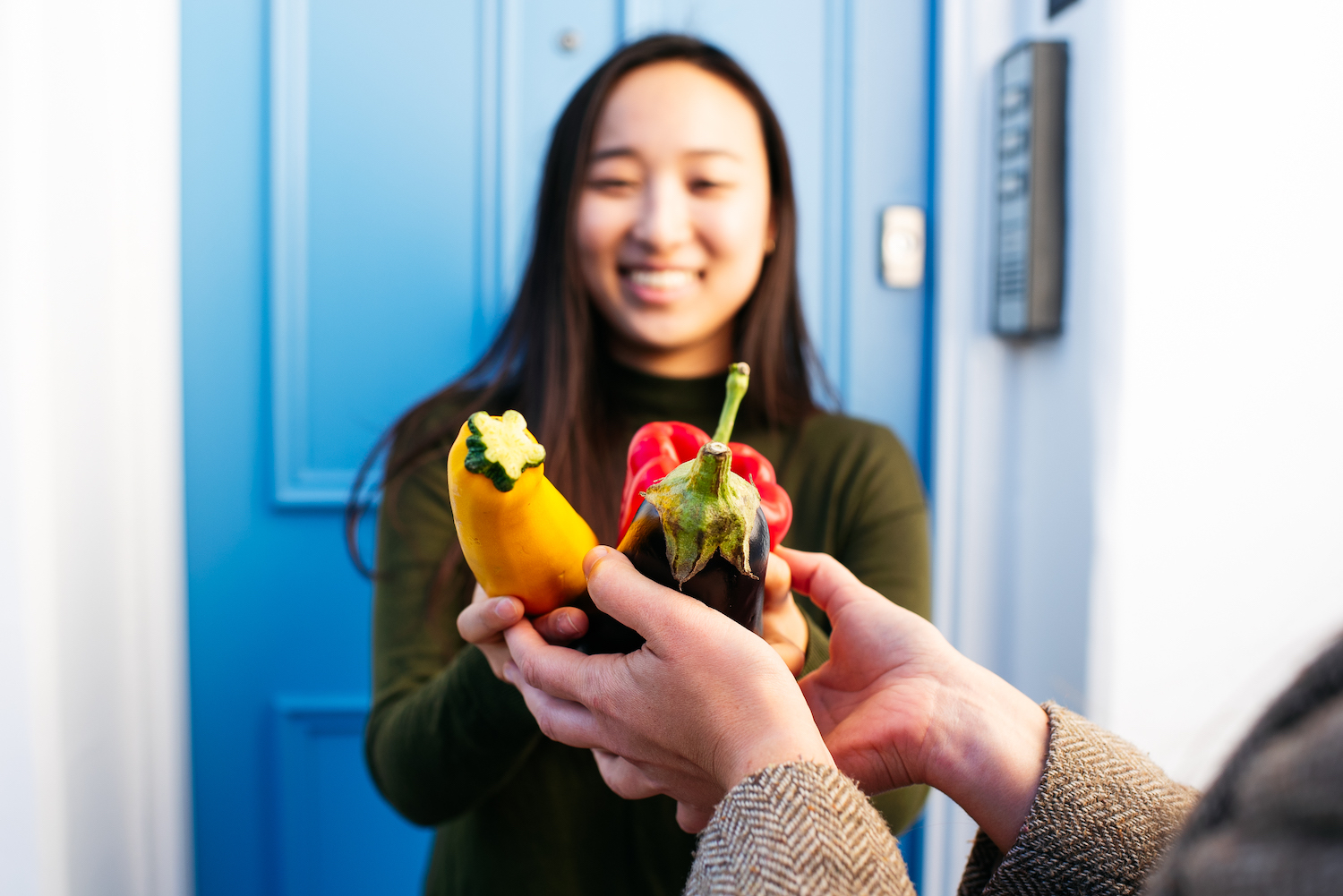 Above: Food-sharing app Olio has almost 5 million users in 59 countries (credit: Olio)
Food-sharing app Olio has raised $43m in a series B funding round. The startup, founded in 2015, connects neighbours with each other and with local businesses so that surplus food can be redistributed. 
During the pandemic, listings on the app have grown fivefold. It has almost 5 million users in 59 countries and partners include Tesco and Pret à Manger. The company estimates it has enabled 31 million portions of food to be shared.
The round was led by VNV Global and other investors included Octopus Ventures (which led Olio's £6m series A investing round in 2018) and US-based venture capital firm Accel among others, according to Crunchbase.
Meanwhile, England-based Oddbox, which tackles food waste by selling boxes of odd-looking fruit and vegetables which would otherwise be discarded by growers, has sealed a £16m investment deal with Burda Principal Investments (BPI), UK Tech News reported. 
Oddbox launched in 2016 and has since "rescued" 20,500 tonnes of fruit and veg and prevented 22,750 tonnes of carbon emissions, according to the company. Prior to this, Oddbox completed an angel and crowdfunding round in 2018, and a £3m series A investment round led by Northern Venture Capital Trust in 2020, according to Crunchbase.
UK: Resonance, Sumerian receive first Flexible Finance for Recovery grants from Access 
Resonance and Sumerian Foundation will receive the first grants under the Access Foundation's Flexible Finance for Recovery programme. 
The scheme provides subsidies to social investors to enable them to raise other forms of repayable capital, so that they can develop patient, flexible social investment products. 
The first two grants total £2.76m. Just over £2m was committed to the new Resonance Community Developers Fund – which helps community groups to provide community-owned affordable homes, sports and leisure facilities and renewable energy initiatives. A further £700,000 is going to Sumerian Foundation, which offers various forms of patient and flexible capital paired with pre-investment support.
UK: Fresh equity investment in Charity Bank to unlock £32m in new loans for social ventures
Charity Bank will be able to make more than £32m in new loans following a £4m equity investment from six new shareholders. The social investor, which lends money to charities and social enterprises, also received an additional commitment of £1m from existing shareholder Big Society Capital.
Charity Bank CEO Ed Siegel said: "UK charities and social enterprises are responding to an array of urgent social issues, but following an extended period of public budget austerity, many have struggled to secure sufficient funding.
The new equity investments will enable us to continue to grow our lending and to offer bespoke financing solutions 
"The new equity investments we have secured will enable us to continue to grow our lending and to offer the bespoke financing solutions that will be needed by many organisations as they rebound from the effects of the pandemic."
The new shareholders include Garfield Weston Foundation and The Clothworkers' Foundation (each of which have committed £1m), plus Bank Workers Charity, Places for People, Drapers' Company and Alternative Bank Switzerland.
More funds in brief
More deals in brief
Header image: A market stall in Zaatari refugee camp in Jordan, pictured in 2013 (credit: Russell Watkins for the UK Department for International Development; licensed under CC BY 2.0. Original image has been cropped)
Thanks for reading Pioneers Post. As an entrepreneur or investor yourself, you'll know that producing quality work doesn't come free. We rely on our subscribers to sustain our journalism – so if you think it's worth having an independent, specialist media platform that covers social enterprise stories, please consider subscribing. You'll also be buying social: Pioneers Post is a social enterprise itself, reinvesting all our profits into helping you do good business, better.